This classic Easter recipes roundup has all the inspiration you need for celebrating, from Easter brunch ideas to appetizers, mains, sides, and desserts.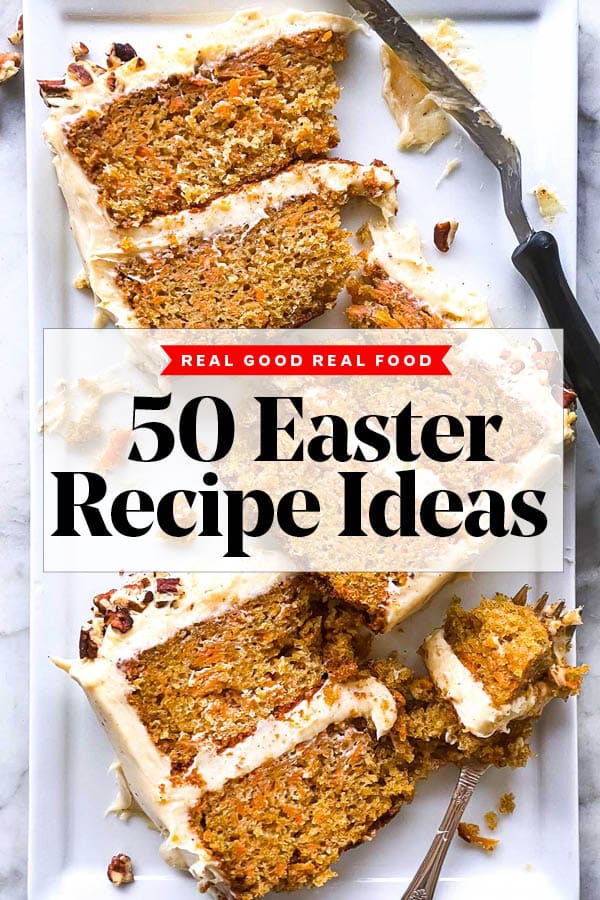 No matter how you celebrate, Easter is full of delicious traditions. For us, the cheesiest scalloped potatoes and my sweet carrots bathed in orange and tarragon scented honey butter are always guaranteed to make an appearance on the dinner table. And let's not forget the BEST classic lemon bars, which chocolate Easter candies just can't hold a candle to.
Whether you've got a large gathering or a small one, or whether you're brunching or lunching, this roundup of 50 best Easter recipes has all the holiday inspiration you need.
Breakfast & Brunch Easter Recipes
From classic eggs benedict to cinnamon rolls, these recipes are perfect for an Easter brunch of any size.
from FoodieCrush
These scrambled eggs, roasted asparagus, and pancetta toasts make a light and savory breakfast or brunch that will keep you full for hours.
from Sally's Baking Addiction
This traditional Easter treat features a sweet spiced dough studded with currants and topped with an orange glaze.
from FoodieCrush
These melt-in-your-mouth buns are baked in the oven and tossed in melted butter and dusted with sugar and lemon zest, for an irresistible breakfast treat!
from Brooklyn Supper
This sheet pan spinach quiche, made with ramps, green garlic, and chives, is perfect for a crowd.
from FoodieCrush
Traditional eggs Benedict is the Queen of brunch dishes. Toasted English muffins, savory Canadian bacon, perfectly poached eggs, and a luxuriously creamy sauce—what's not to love?
from FoodieCrush
Mimosas made with bubbly sparkling wine instead of expensive champagne adds one more reason to toast "cheers" to lazy weekend brunches or any special occasion.
from Supergolden Bakes
These easy to make baked eggs with salty, crispy prosciutto are a fun spin on toad in the hole (using bagels instead of toast). They come together in just 15 minutes and are great for feeding a crowd.
from FoodieCrush
This easy Dutch baby recipe (aka German Pancake) is mixed in the blender and can be served sweet or savory with your favorite toppings.
from FoodieCrush
This classic French quiche lorraine recipe is made of a luxuriously creamy egg custard, bacon and cheese filling. It's perfect for an easy, make-ahead breakfast, brunch, or lunch.
from FoodieCrush
I've searched for the best homemade cinnamon roll recipe forever. Perfectly fluffy and slathered with a buttery cream cheese frosting, this is it.
from Foodiecrush
Breakfast for a crowd has never been easier thanks to this incredibly easy to assemble, ham and cheese with bread, make-ahead overnight breakfast casserole that some may call a soufflé or a strata, but I just call delicious.
from FoodieCrush
This classic chicken salad recipe with grapes and nuts is a classic when it comes to a light, springy brunch, and is especially delicious served on a buttery croissant.
See More: 21 Recipes to Make With Leftover Ham
Easter Recipes for Appetizers
From usual suspects like deviled eggs (but with a twist) to the creamiest spring soup, here's some inspiration to whet your appetite with.
from Spoon Fork Bacon
Gild the deviled egg lily with this fun fried version that is guaranteed to be a hit with your family and friends. The egg whites are coated in a panko mixture and then fried for a crispy twist on the classic.
from A Beautiful Plate
This silky asparagus potato soup is perfect for spring. It's made with fresh, tender asparagus, creamy yukon gold potatoes, sweet leeks, and onions, and is dolloped with a chive-infused cream.
from Freutcake
This gorgeous spring entertaining board is filled with the essentials: creamy goat cheese with fresh dill, Boursin, and a beautiful blueberry stilton, plus colorful spring veggies, crackers, pistachios, and pretty pastel candies.
from FoodieCrush
Curry and onion powder add an exotic heat to the traditional egg salad sandwich, making it fit for an every day breakfast, lunch or light nibble. I love cutting these into little triangles and serving them as a light appetizer.
from Fox and Briar
Asparagus spears, prosciutto, and gruyere cheese are wrapped up in flaky, buttery puff pastry for a super easy and delicious Easter appetizer (that would also work great for brunch).
from FoodieCrush
This easy Greek yogurt fruit dip recipe is made with just 3 ingredients and makes eating fruit dip with apples, strawberries and more seem like a party.
from Joy the Baker
These clever deviled eggs are inspired by the classic New Orleans sandwich—the muffuletta. They're topped with salami, ham, provolone, olives, pickled veggies, hot sauce, and chives and are so fun and flavorful to snack on.
Side Dish Easter Recipes
From glistening sweet carrots to a crunchy salad fit for spring, these sides will add amazing color and flavor to your holiday table.
from FoodieCrush
Made on the stovetop, these easy, one-pan glazed carrots are sweetened with brown sugar, orange juice, and butter for a side dish everyone will love, whether you're serving these for a holiday or a regular dinner.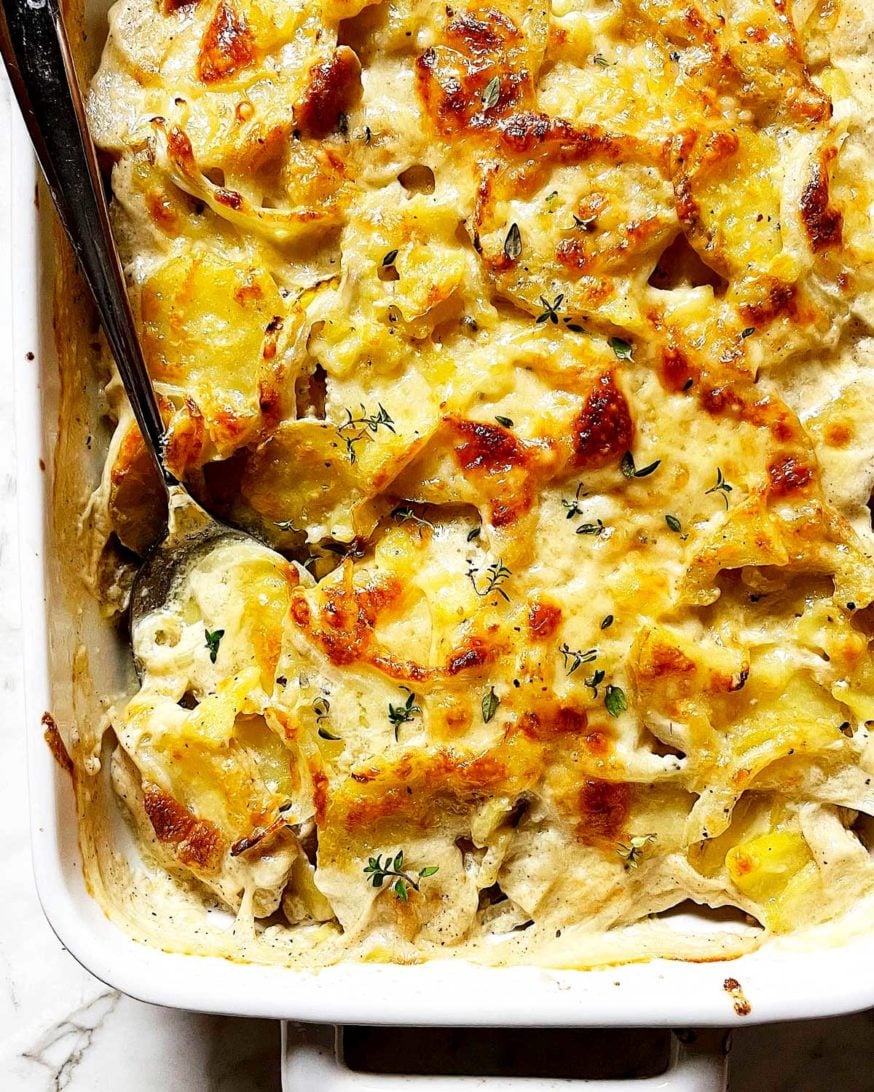 from FoodieCrush
When your main dish recipe needs a decadent side dish sidekick, there's nothing like a creamy, thyme-infused cheesy potatoes au gratin recipe to do the job, and to do it easily too.
from FoodieCrush
Simple roasted asparagus gets gussied up with this lush yet easy-to-make 3-ingredient blender hollandaise sauce.
from 40 Aprons
Tender on the outside and creamy on the inside, these radishes are roasted and then tossed in a fragrant garlic, browned butter sauce scented with thyme and lemon.
from FoodieCrush
Healthy swiss chard gets the comfort food treatment thanks to a light but creamy sauce topped with crispy garlic Panko breadcrumbs that'll give creamed spinach a run for it's "most-loved side dish" title. Plus, it's the perfect companion to your Easter ham.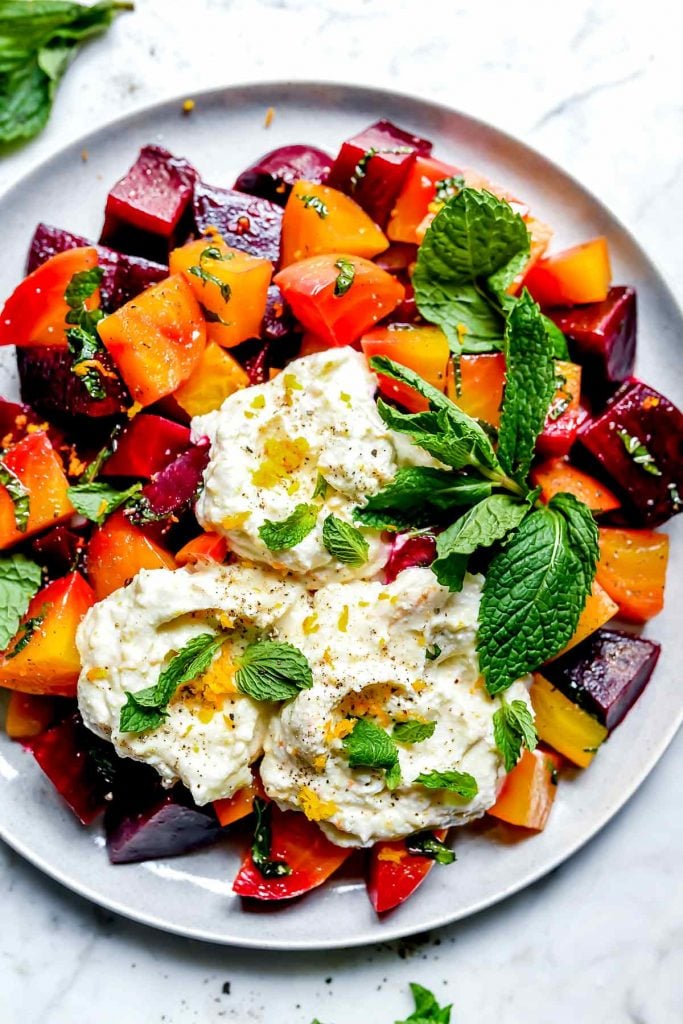 from FoodieCrush
This roasted beet salad topped with dollops of ricotta cheese sweetened with honey and orange is a fast to make salad that is delicious served chilled, or at room temperature.
from FoodieCrush
30 minutes and six ingredients are all you'll need to make these easy and delicious roasted carrots topped with a fresh and zesty dill gremolata, crumbled feta cheese, and pistachios.
from FoodieCrush
This roasted asparagus recipe is a fast and healthy side dish that gets sweet and tender with just a little olive oil, salt and pepper, and a hot oven.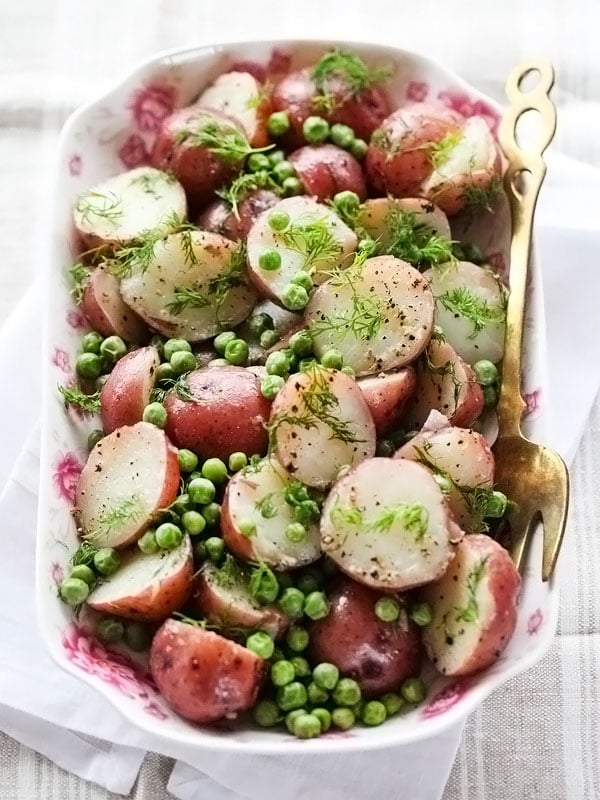 from FoodieCrush
There are only three steps in this easy recipe for boiled red potatoes and English peas with butter and fresh dill, making this a lovely side for a spring lunch or dinner.
from FoodieCrush
This easy dinner rolls recipe is made with buttermilk to make soft, buttery, yeasty, slightly tangy, old-fashioned rolls that melt in your mouth with each bite.
from FoodieCrush
These sweet and tender carrots are a breeze to make and are steamed and then sautéed in butter, honey, tarragon, and orange zest for an easy, delicious side dish to any meal.
Easter Mains
From traditional glazed ham to slow roasted lamb, you can't go wrong with any of these Easter meal centerpieces.
from Platings and Pairings
This sweet and salty ham is lacquered in a brown sugar, mustard, pineapple, and honey glaze for a showstopper holiday centerpiece.
from FoodieCrush
While poached salmon may seem complicated to some home cooks, poaching is one of the simplest ways to cook this popular fish once you know the poaching secrets, and it's even better topped with this deliciously easy mustard dill sauce that's ready to serve in under 30 minutes.
from The Cookie Rookie
Rack of Lamb is an elegant option for holidays and special occasions. This delicious Herb Crusted Rack of Lamb recipe is simple yet filled with incredible flavor! The Mint Yogurt Sauce is the perfect complement to the savoriness of this dish. Try this roast rack of lamb for a beautiful Easter Dinner!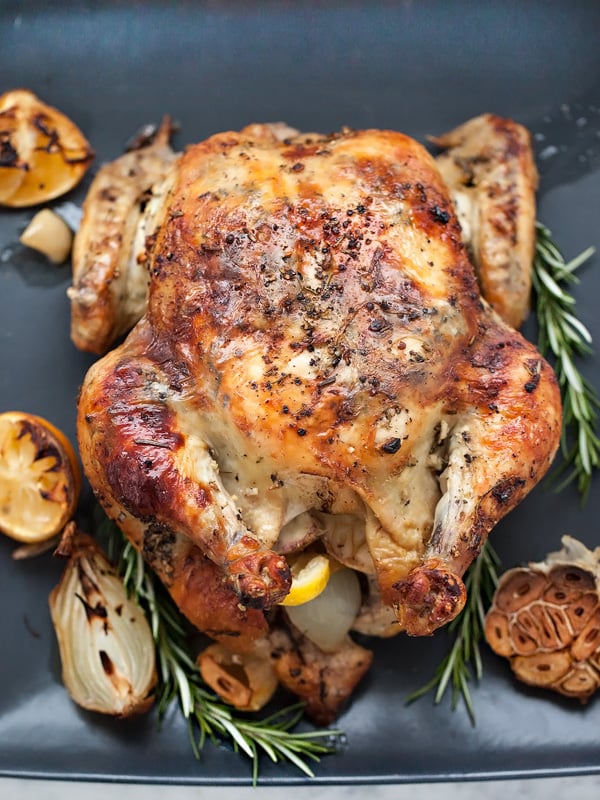 from FoodieCrush
This perfectly tender and juicy whole oven roasted chicken gets brushed with a fresh lemon rosemary garlic butter and stuffed with aromatics for extra flavor. It's perfect for Easter dinner.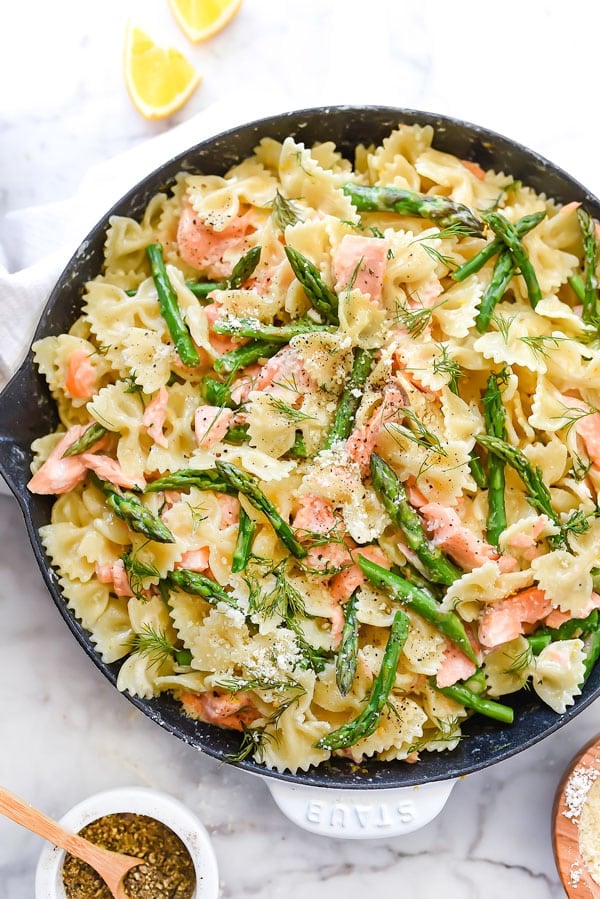 from FoodieCrush
Salmon, bowtie pasta, fresh asparagus, and dill are tossed in a super simple Parmesan cream sauce for a light and easy spring lunch or dinner.
from RecipeTin Eats
This super simple leg of lamb is slow roasted for the most succulent, fall-off-the-bone flavor and texture and is paired with a rosemary-garlic infused gravy.
from FoodieCrush
One pan is all you need for this savory and super easy, chicken with a creamy mushroom and leek sauce.
from FoodieCrush
Fresh snow crab and sweet bay shrimp sub in for the traditional chicken in this light but filling Cobb salad tossed with a tangy red wine vinaigrette that's perfect for Easter lunch.
from FoodieCrush
This almond milk braised pork roast is a twist on the classic Italian slow-cooked dinner, delivering fall-off-the-bone bites of meat and a lush sauce that's incredibly easy to make and destined to become a Sunday dinner favorite.
from FoodieCrush
Infused with fresh ginger, star anise, and cloves, this Asian-inspired ham is packed with amazing flavor, and lacquered in a sweet, sticky honey, orange, and Chinese five spice glaze. It's a stellar showstopper for Easter.
Easter Desserts
Every Easter lunch or dinner needs to end with something sweet, and these treats are fun, festive, and springy.
from FoodieCrush
This easy to make berry tart features a tender base of almond crust filled with a luscious whipped lemon curd mascarpone filling and topped with fresh strawberries and mint.
from Wood and Spoon
This decadent triple layer almond coconut cake is incredibly moist and fluffy. It's made with coconut milk and shredded sweetened coconut, so each bite is bursting with coconut flavor. It's slathered in a cream cheese buttercream scented with a little almond extract and decorated with toasted coconut and sliced almonds.
Now this is what Cadbury Mini Chocolate Eggs were meant for! Chop them up and make a big skillet cookie with them (contemplate sharing with your kids but no judgement if you keep it all to yourself).
from Grandbaby Cakes
This lovely dessert features moist and tender lemon cake layered with a luscious lemon cream cheese frosting.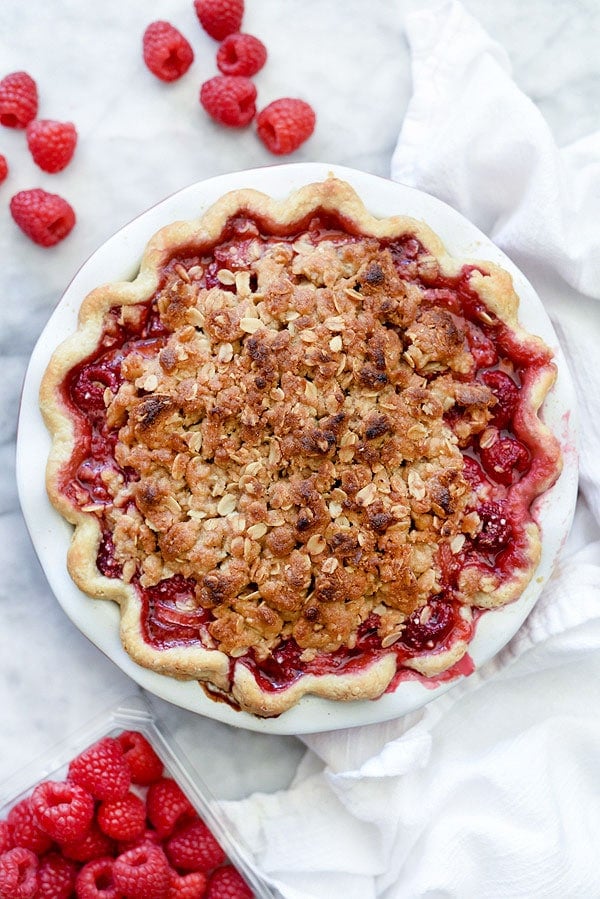 from FoodieCrush
This rhubarb and raspberry pie is brimming with sweet-tart fruit and topped with an irresistible brown sugar oatmeal crumble that will melt in your mouth.
from Cloudy Kitchen
Inspired by the Cadbury Creme Egg, these irresistible and beautifully speckled French macarons are filled with a super smooth Creme Egg ganache.
from Teak & Thyme
These mini lemon meringue tarts are made with a shortcrust tart shelll that's filled with a sweet, zingy lemon filling and topped with toasted Swiss meringue.
from House of Nash Eats
These fluffy vanilla cupcakes are topped with a robin's egg blue, speckled buttercream and Cadbury mini eggs for the most festive Easter treat.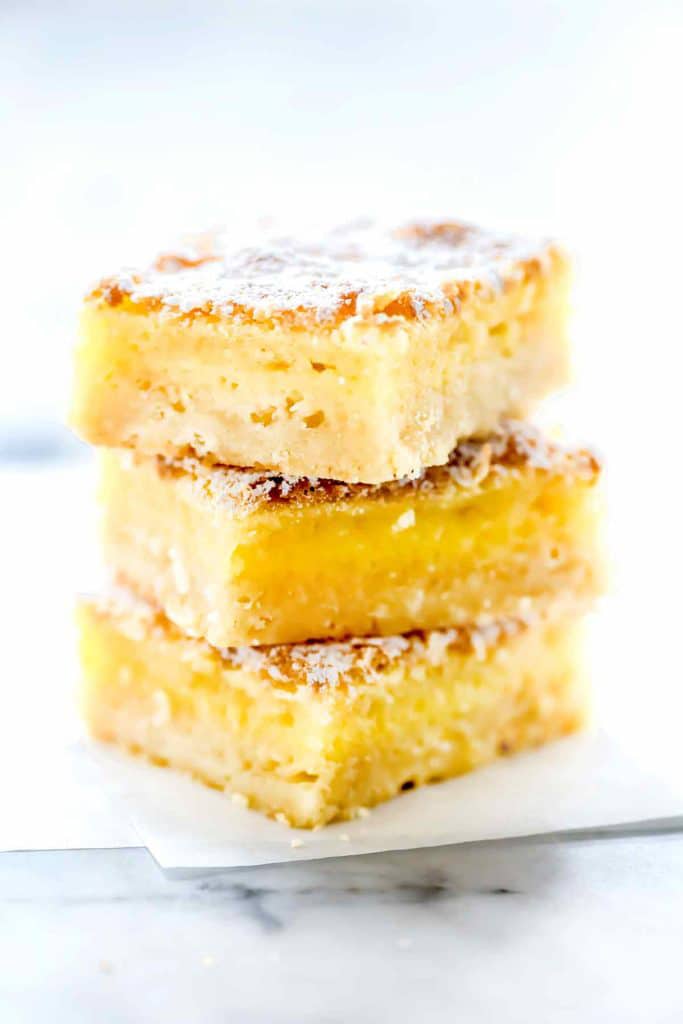 from FoodieCrush
These classic lemon bars are at the same time sweet and tart and have the most delicious, tender crust with a lightly crisp top that sandwiches the custardy center.
from FoodieCrush
This simple carrot cake recipe yields an incredibly moist cake with warm spices and a to die for luscious, tangy, nutty browned butter cream cheese frosting. Put simply, it's seriously THE BEST!
If you make this recipe, please let me know! Leave a ⭐️⭐️⭐️⭐️⭐️ rating on this recipe below and leave a comment, take a photo and tag me on Instagram with #foodiecrusheats.
Print
50 Easter Recipes | The BEST Carrot Cake Recipe
This Easter recipes roundup has all the inspiration you need for celebrating, from Easter brunch ideas to appetizers, mains, sides, and desserts.
Ingredients
For the Brown Butter Cream Cheese Frosting
16

tablespoons

unsalted butter

, two sticks at room temperature, divided

1

pound

full fat cream cheese

, at room temperature

¼

teaspoon

kosher salt

3 ½

cups

powdered sugar

4

tablespoons

maple syrup

, the darker the better

1

teaspoon

vanilla extract
For the Carrot Cake
1 ½

cups

light brown sugar

½

cup

granulated sugar

1

cup

vegetable or canola oil

¾

cup

full fat buttermilk

, at room temperature

1

teaspoon

vanilla extract

1

pound

carrots

, peeled and either shredded in a food processor, or coarsely grated with a box grater (about 4 cups)

2

½

cups

all-purpose flour

2

teaspoons

ground cinnamon

2

teaspoons

baking powder

1

teaspoon

baking soda

1

teaspoon

kosher salt

1

teaspoon

ground ginger

¼

teaspoon

ground nutmeg

⅛

teaspoon

ground cloves
Instructions
Lightly brush the bottoms and sides of two 8-inch or 9-inch round cake pans (or 9 X 13-inch pan) with oil, or spray with non-stick baking spray. Line the bottoms with parchment paper rounds and set aside.

First, brown the butter for your frosting. Add one stick of unsalted butter to a medium sized saucepan and heat over medium. Cook for about 3 minutes or until browned and fragrant (it will smell nutty), swirling the butter and stirring occasionally (be sure to scrape the sides and bottom of the pan to release all the brown bits that might have gotten stuck). Once browned, remove from heat and pour into a mixing bowl. Let it cool and solidify while you make your cake.
To Make the Cake:
Preheat the oven to 350°F. In a large mixing bowl (or in the bowl of a stand mixer), whisk the sugars and eggs together until the mixture is thick and lighter in color, 5-6 minutes. While mixing, slowly add the oil to the eggs and sugar until blended and smooth then add the buttermilk and vanilla.

In another bowl, whisk the dry ingredients together. If adding nuts, add them to your dry ingredients now, tossing to coat. Gradually add the dry ingredients to the wet mixture in three additions, mixing between each addition and scraping down the sides and bottom of the bowl to ensure everything is evenly mixed. Gently fold in the carrots (and raisins, if using), making sure there are no remaining pockets of dry ingredients.

Divide the batter between two prepared cake pans (or your 9 X 13-inch pan). One trick I like for even cake layers is to place each pan on my kitchen scale, zero it out, and then add half the batter. Do the same with the other pan and add a bit more as needed so they weigh the same. Bake for 35-40 minutes for 8-inch cake pans, for 9-inch cake pans or a 9 X 13-inch pan bake for 30-35 minutes or until a tester inserted in the centers comes out clean and the sides of the cake pull away from the edges of the pan. Cool for 10 minutes in the pans then run a knife around the edges of the cake pans and carefully invert the cakes on a cooling rack to cool completely.
To Make the Frosting:
While the cake cools, make your frosting. In the bowl of a stand mixer, combine the cooled 8 tablespoons of browned butter with the remaining stick of softened butter. Beat until the butter is light, smooth, and well blended. Add the cream cheese and salt then continue beating on medium to medium-high speed for about 3 minutes, scraping down the sides and bottom of the bowl to ensure everything is incorporated and there are no lumps. Add the maple syrup and vanilla and then the powdered sugar (1 cup at a time), beating until the frosting is smooth, whipped, and fluffy. Set aside until ready to use or refrigerate for up to 1 week if making it in advance.
To Assemble the Cake:
Place a heaping cup of icing on the first cake layer and use an offset spatula to spread it out. Top with your second layer and another heaping cup of icing, spreading down the sides and covering the whole cake.

Note: Depending on how much icing you'd like on your cake, you may have have ¼ – ½ cup extra icing leftover.
Notes
• Add in 1-1½ cups toasted, chopped walnuts or pecans (I prefer walnuts), and/or ½ cup golden raisins if desired. To toast the nuts: Spread them out on a small sheet pan and roast in a 350°F oven for about 8-10 minutes, or until they are fragrant and golden brown.
• Store the cake in the refrigerator for 3-4 days and bring to room temperature to serve. 
Nutrition
Calories:
901
kcal
|
Carbohydrates:
98
g
|
Protein:
4
g
|
Fat:
57
g
|
Saturated Fat:
23
g
|
Polyunsaturated Fat:
8
g
|
Monounsaturated Fat:
23
g
|
Trans Fat:
1
g
|
Cholesterol:
96
mg
|
Sodium:
607
mg
|
Potassium:
385
mg
|
Fiber:
2
g
|
Sugar:
93
g
|
Vitamin A:
8778
IU
|
Vitamin C:
3
mg
|
Calcium:
161
mg
|
Iron:
1
mg
More Round-Ups of Recipes You Want Now
We send good emails. Subscribe to FoodieCrush and have each post plus exclusive content only for our subscribers delivered straight to your e-mail box.
Follow me on Instagram, Facebook, Pinterest, and Twitter for more FoodieCrush inspiration.
As always, thank you for reading and supporting companies I partner with, which allows me to create more unique content and recipes for you. There may be affiliate links in this post of which I receive a small commission. All opinions are always my own.