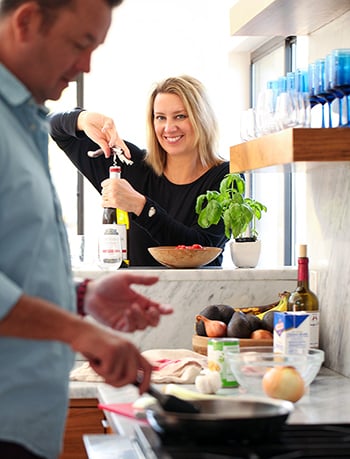 Hi! I'm Heidi, and welcome to FoodieCrush!
If I'm hungry, I'm cooking. I've always been that way.
From making after school snacks of Triscuits with liverwurst, pickles, and mustard (PB&J didn't stand a chance at our house) to serving Thanksgiving dinner and my favorite turkey for 40, I'm the one you'll find happily cooking away in the kitchen.
I like to create and share recipes that feature real good, real food made for real people. My recipes are fresh, seasonal, mostly simple, often healthy, and sometimes peppered with a little cheese and butter mixed in.
My biggest culinary moment was in 4th grade when I won a blue ribbon at the Utah State Fair for my Snickerdoodles. They were, and still are, pretty dang great.
Since then, I've morphed my love of making food with my former career as a magazine designing Creative Director to become a recipe creating, photo-taking, storytelling, food blogging content creator.
The web has become a virtual food buffet and I count my lucky stars that I'm a part of it.
Where to start
First, sign up for my email list to have every post delivered straight to your inbox (plus special offers, giveaways, and awesomeness only my email community receives!) It's totally free and you can unsubscribe at any time. No feelings hurt, I promise.
Check out my recipe index for menu ideas that always use fresh ingredients, are mostly healthy, oftentimes seasonal, sometimes decadent and definitely FoodieCrush approved.
Get introduced to a bevy of food bloggers' inspiring recipes and recommendations in my monthly recipe round-ups.
If you're looking for inspiration to wander the web for new inspiration,check out my weekly list of Friday Faves and discover new recipes, my favorite shopping links, articles and stuff I think is cool that you might too.
To see more of the every day world of FoodieCrush, follow me on Instagram @foodiecrush.
How FoodieCrush got it's start
I started FoodieCrush in 2011 with the intention of creating an online magazine featuring the web's most innovative food bloggers, their recipes and photography. I wanted to take my years of creating magazines for others and make something of my own, to showcase the talents of so many food bloggers who with the simple click of a mouse inspire every level of home cook to create something wonderful in the kitchen.
But then I discovered I couldn't just feature food bloggers' recipes like I did in my first post. I had to create my own recipes. I had to take my own photos. I had to become ONE OF THEM!
And. So. I did.
I worked at my magazine designing day job while blogging wee into the nights. Then in 2013, I quit corporate life to become a full time content creator of my own and I haven't looked back. In case you're wondering where the magazine went? FoodieCrush magazine has been on a hiatus while I dedicate more time to cultivating the community here. Because I love you guys!
20 things you may not know about me
1. I'm a Utah native who grew up with the mountains in my backyard but I always dreamed of living at the beach.
2. That's why my husband and I moved to Venice, CA for 13 years. I created and designed magazines about natural health, bodybuilding, MMA fighters, and as one will do when one is in Hollywood, about celebrity stuff. It was like living on a permanent vacation. Then I got pregnant (surprise!) and had a baby. So we moved back to Utah and our families we love so much. And I couldn't be happier to be home from vacation.
3. Our daughter's nickname is Smudge. I started calling her that when she was in utero because she was just a little Smudge of love. And now at nearly 6'0″, she's our biggest Smudge of love ever and our everything.
4. My husband is my secret weapon in the kitchen.
5. I seek out and explore grocery stores like other people visit art museums or fine boutiques.
6. I wish I was an amazing baker. I try and I try, and one day, I will be. My favorite sweets are German chocolate cake everything like this and this.
7. My last day on earth would include spending the entire day at the beach with my man, my Ali Smudge and a couple of dogs in tow. It would also have to include a cooler full of spicy tuna hand rolls and a couple of beers, while playing Smashball as the sun begins to set on my permanently smiling face.
8. I take a tub every, single, night. And my husband draws it for me. Spoiled I am, indeed.
9. I'm a to-do list and day planner/calendar junkie, and when I couldn't find one that worked for me, I created my own.
10. My dad named me after a family friend who owned the oldest bar in Utah where she danced on the tables. My party spirit started right then and there so you can blame him.
11. I call it bā-zil, not baaa-sil. Sorry Martha.
12. I taught a magazine design class to college students for 4 years. Note to any students out there: Instead of staring vacantly at your teacher, RAISE YOUR HAND AND ASK QUESTIONS. I can almost guarantee you one grade higher if you do.
13. I sneeze in threes.
14. We have bought, stripped, then rebuilt and remodeled 4 homes. We planned on this one being the last, but we're getting itchy.
15. My last dinner on earth would be some sort of pasta with mushrooms and fresh, melty mozzarella. *note to self: make this for the blog.
16. I have a thing for pens. My two current favorites are this one and this one.
17. I will cook all day if you will do the dishes.
18. I have no less than 14 cookbooks and 37 magazines on the floor next to my bedside at any given time. My husband voices his silent protest by not vacuuming my side of the room.
19. I'm a passionate rescue animal advocate and helped run an animal rescue group while living in L.A..
20. My mom is my biggest cheerleader. And I love every one of her pom poms.
Enough about me, tell me about you!
Email me at [email protected] anytime, I'd love to hear from you.
Don't want to miss a blog post? Subscribe to the RSS feed or sign up here to have each post delivered straight to your inbox.