Curry and onion powder add an exotic heat to the traditional egg salad sandwich, making it fit for an every day breakfast, lunch or elegant brunch.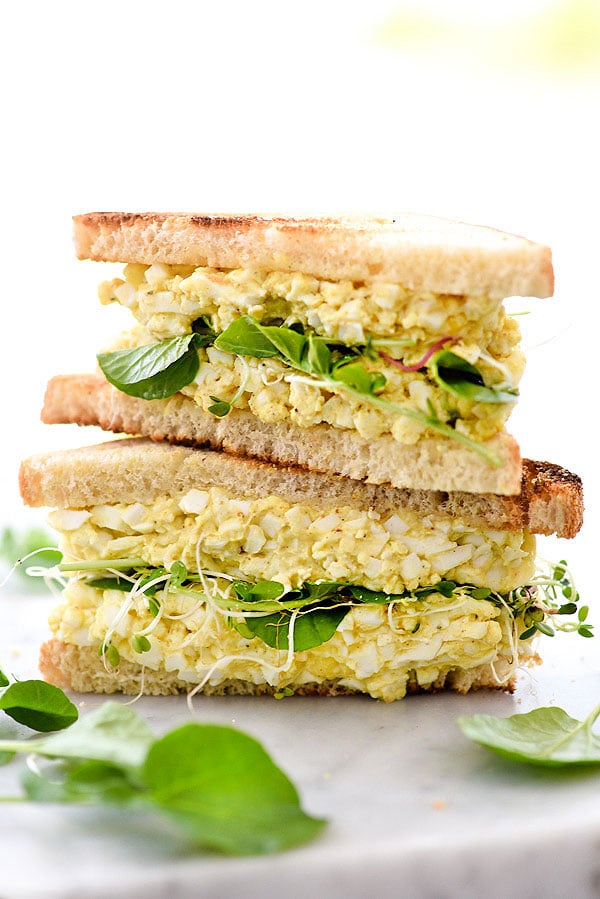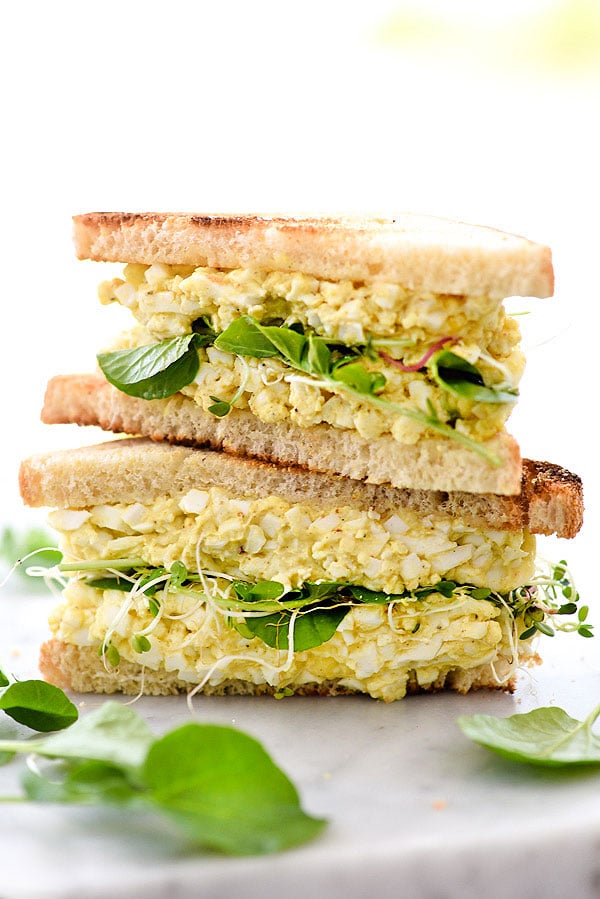 This post is the first in my year-long partnership with McCormick, because I'm a firm believer that we can all use a little spice in our lives. Back in the day, I could peel an egg like no other. As a kid, I vividly remember my Uncle Tom showing me a magic trick. "Hey, Heidi, do you want to see something special?" Well, of course, I did! I was 10 years old! How could I not? Uncle T knew how to make a presentation out of just about anything so when he showed me how he could peel an entire shell from a hard-boiled egg in one movement, I was transfixed! The shell easily fell from the white orb in his large hand in one complete, intact ribbon. It became my mission to master the peeling of an egg just like Uncle Tom did. And I did! For years. And then my success came to a screeching halt. I don't know what my deal is, but for the life of me, I can no longer peel an egg without it ending up as a shaggy semblance of what I see others pulling off all of the time. That's why today's recipe is an egg salad sandwich instead of deviled eggs. Because who wants to see a deviled egg that looks like it's been hacked with a jig saw when you can be making this delicious curry-spiked egg salad sandwich instead?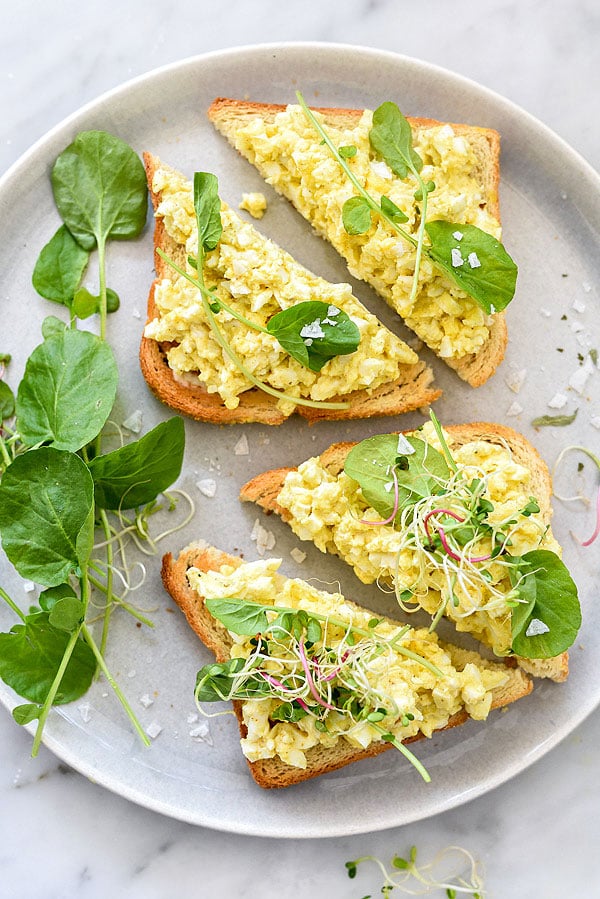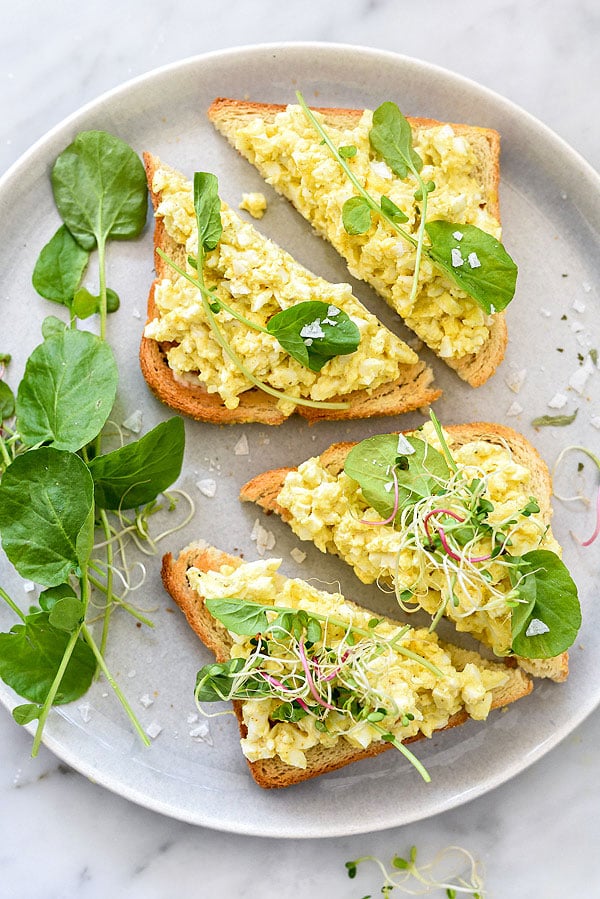 When McCormick Gourmet asked me to come up with a recipe with an Easter theme, my mind first went to the extravagant. Something for a big Easter brunch. Or a bountiful Easter dinner. But I kept coming back to the craving and conundrum I did as a kid, and what has always been the root of eating for me and my family at Easter. Eggs! And what the heck do we do with all of these Easter eggs?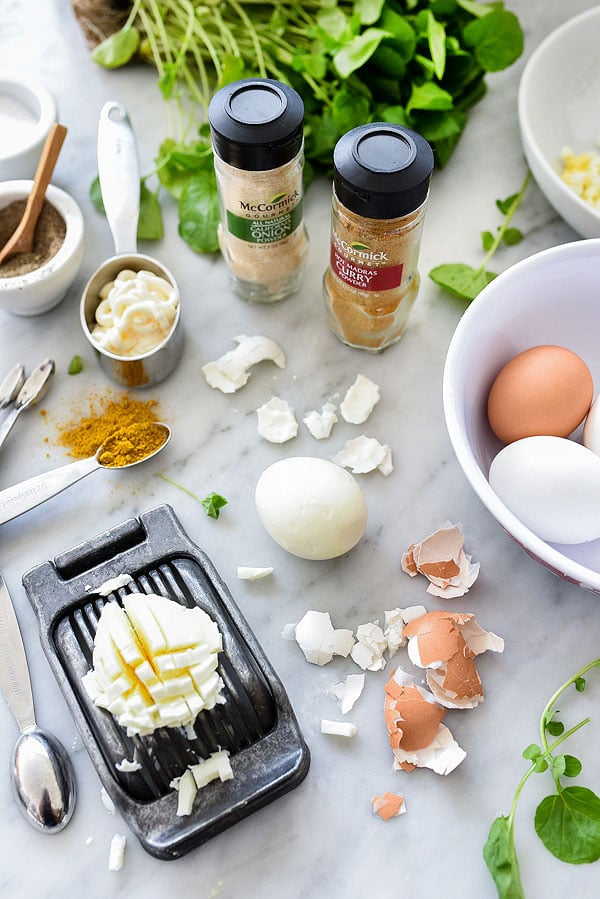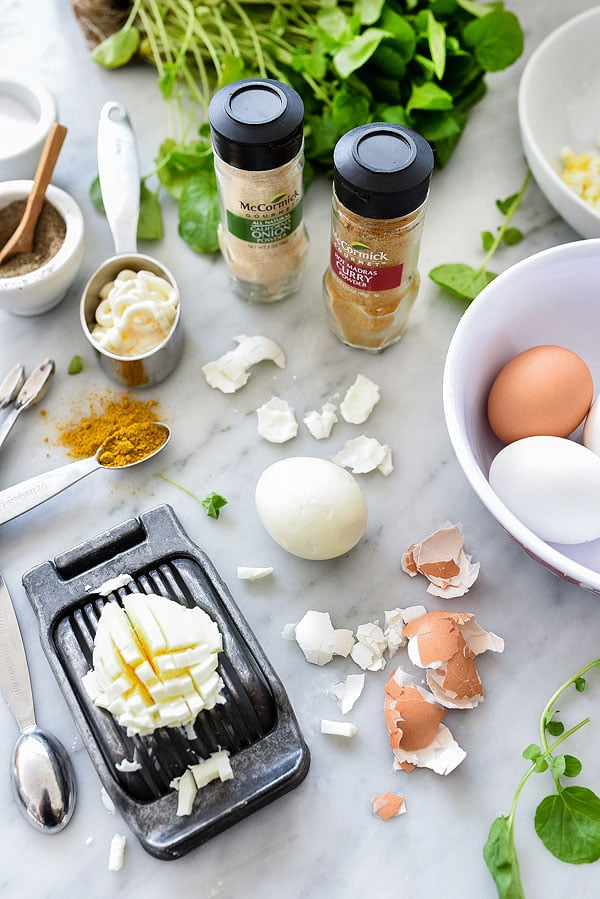 About the recipe
At our house, it's a field day—make that a week—of delicious egg salad post-Easter bunny bash. While this curried egg salad sandwich makes a grand spectacle of a leftover meal, if you choose to serve it open face it's totally fitting for a fancy brunch presentation or potluck, too. That's the thing about eggs. Unlike your unkempt teenager, you can take them just about anywhere.

The Technique (Will I EVER Master???)
I know. This deal with peeling the eggs. I'm seriously at a stand-off with my passion for beating my eggshell opposition. I mean, there has to be a better way for me to do this to get smooth as silk egg whites. I took to my Instagram account to ask for your advice, tips, and trick on what YOU do to get perfectly peeled eggs and I don't think I've ever had so many comments and grand suggestions. Check it out for yourself, there might be something new you can learn from it, too. Now, I'm in the process of vetting each and every tip. Time will tell. And I'll have a whole lot more eggs to boil. And one day, maybe a deviled egg, too.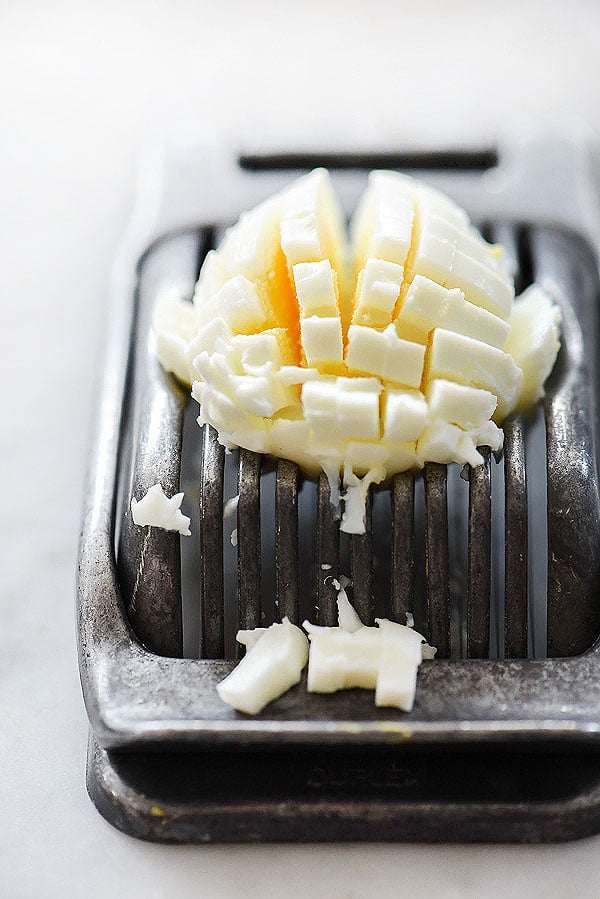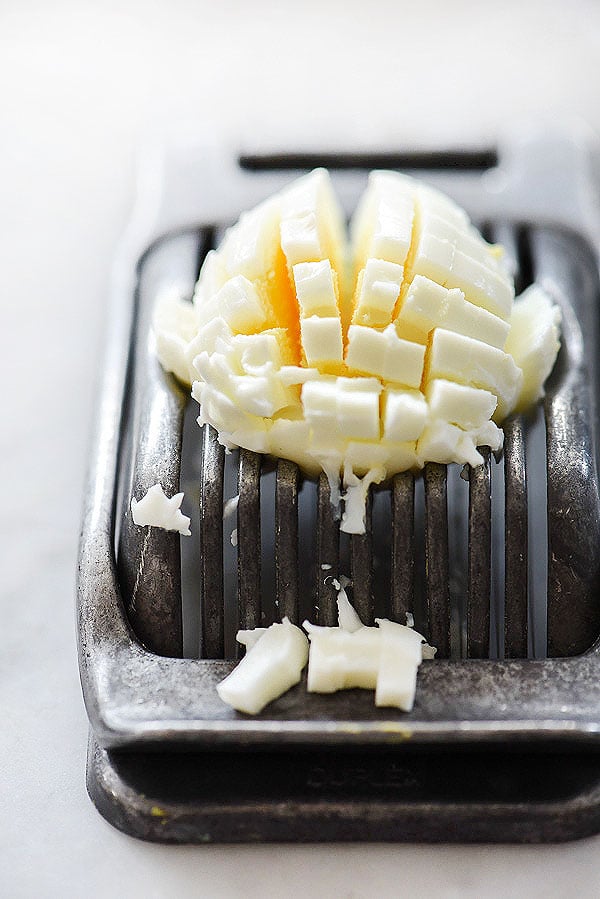 The Gadget
Regardless of my issues with peeling, I'm a master at slicing my eggs thanks to one of my favorite kitchen gadgets, this egg slicer. I've had it for years and because of its metal and sturdy construction compared to plastic versions they seem to lose their grip and wiggle about. I anticipate having it for many more. It's sharp enough to even slice strawberries and kiwis, but I mainly reserve it for my hacked hard-boiled eggs. After uniformly slicing the eggs with my egg slicer, I gently mash them a bit more with a long-tined fork. Some people like big chunks of egg in their salad but I prefer a more uniform bite. It's your salad. You choose.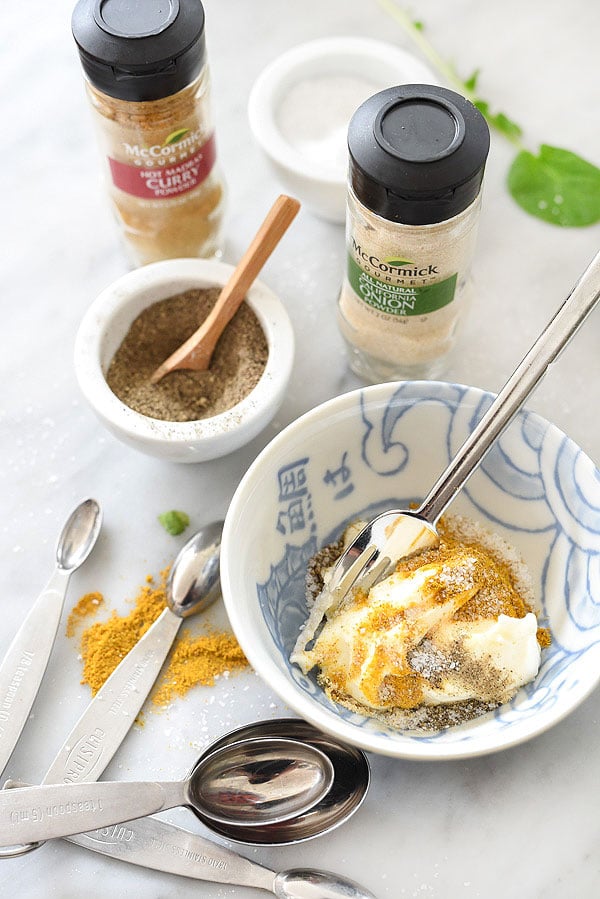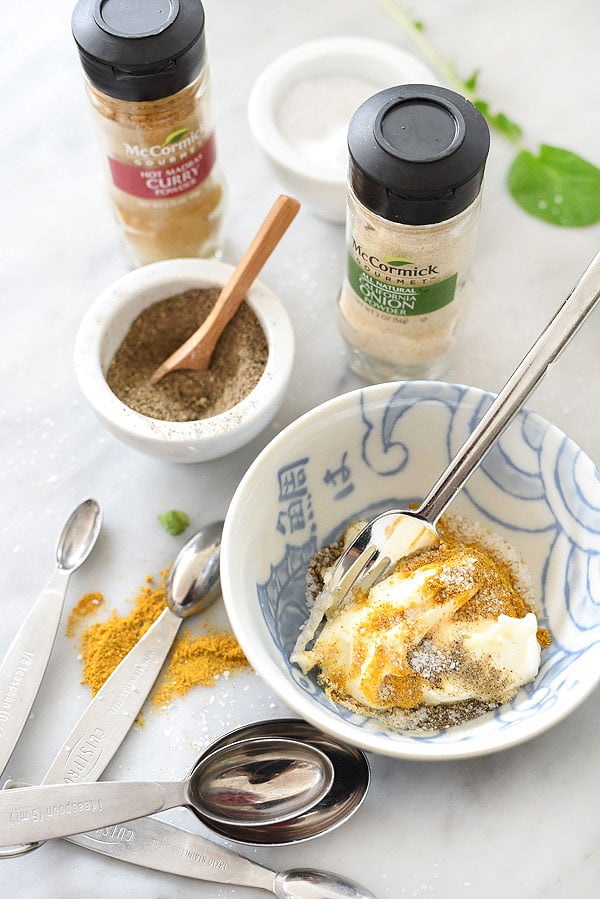 The Flavor
My preference for traditional egg salad calls for yellow mustard added to the mayo. But with this recipe, I'm kicking it up and substituting the mustard with McCormick Gourmet Hot Madras Curry Powder. To round out the flavor I also added a touch of McCormick Gourmet California Onion Powder with a bit of kosher salt and freshly ground black pepper. The difference between Madras curry powder and regular curry powder is the heat. Madras is a bit hotter so if you are using regular McCormick curry powder instead, add more to taste in ¼ teaspoon increments.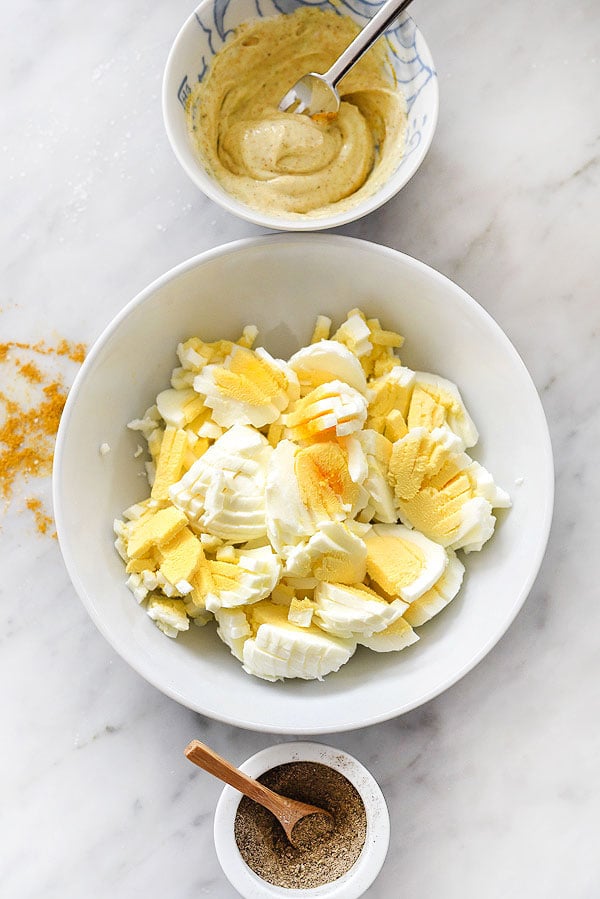 The Mayo
I've professed my family's love of egg salad before in my post on the great debate for The Best Egg Salad Recipe, pitting Miracle Whip against mayonnaise. And even after my husband tasted this new recipe, the debate rages on. I am the mayo fan in the family. My husband and daughter prefer the sweeter Miracle Whip. For this recipe, you can take sides too, and choose whatever tickles your tastebuds.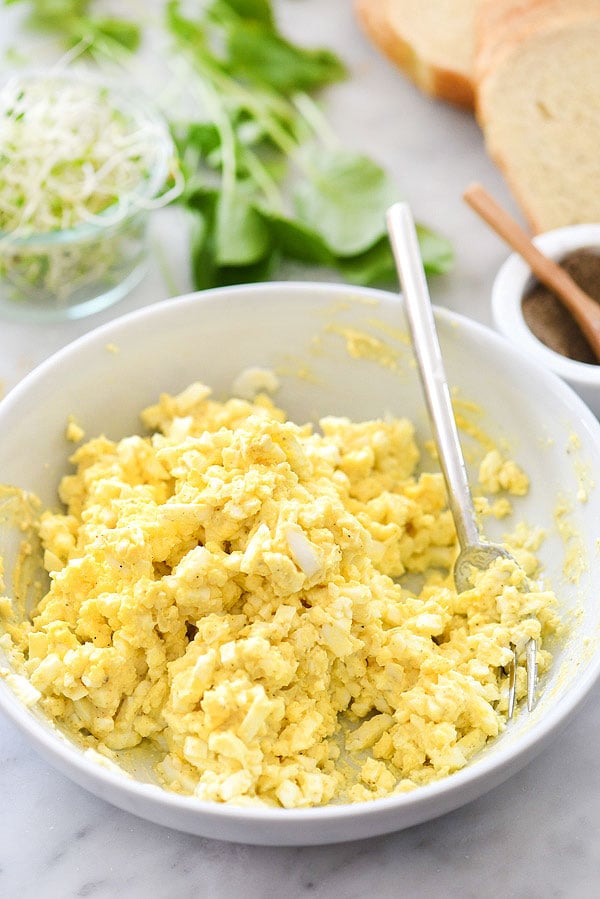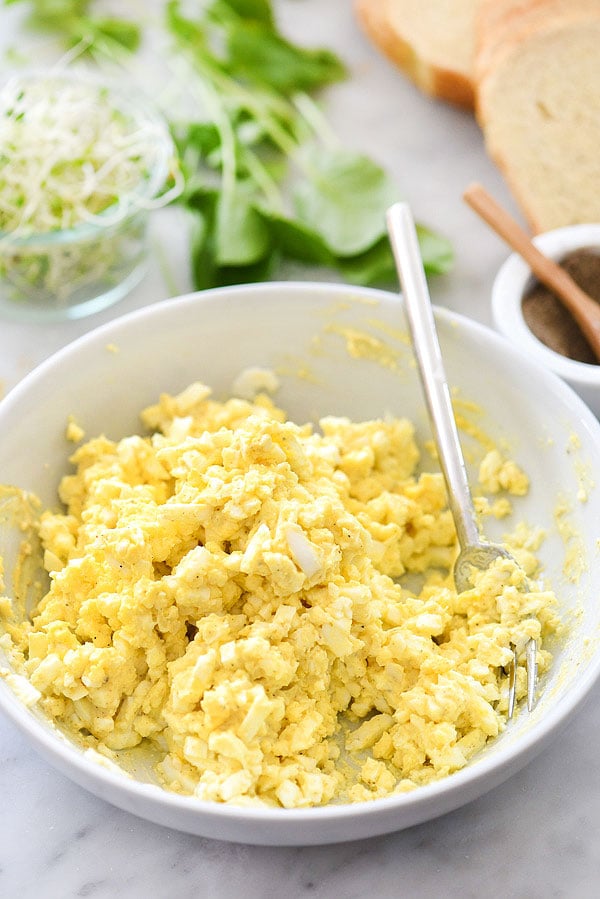 The Sandwich
For my egg salad sandwiches, I prefer white bread. I know, whole wheat is better for me, but it's just one sandwich. A girl's gotta live a little. If you choose to serve this egg salad as an appetizer, the loaves of small dark pumpernickel or rye bread would be a fun choice too. Sure, a standard white bread will work for this egg salad sandwich (I like mine lightly toasted) but what I really like is good quality, thinly sliced English muffin bread for my base. It has just a little more of a delicate crunch after toasting thanks to more air pockets in the bread, and it looks dynamite when served open-faced. Ooooo, fancy! After toasting the bread I give each slice a light slather of butter. It adds just a bit of sweetness and keeps the bread from becoming soggy. My husband puts on another slather of Miracle Whip, but in my opinion, I think that's just too much mayo-ey taste. I topped these sandwiches with a mix of beautiful, fresh, and seasonal watercress, and radish sprouts. Both have a slight bite and heat which is the perfect texture balance for the curried egg salad. You could try arugula or even a nice red leaf lettuce if you prefer, instead.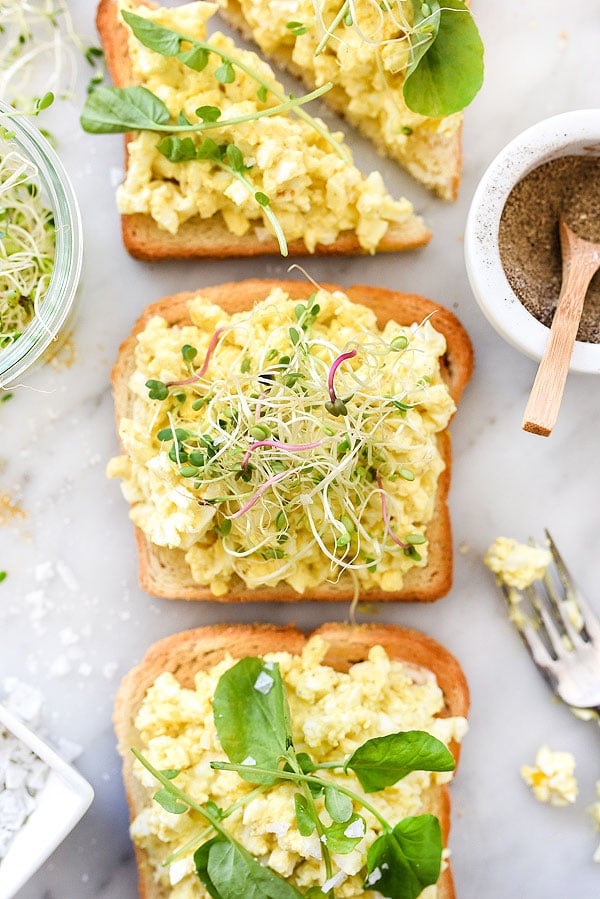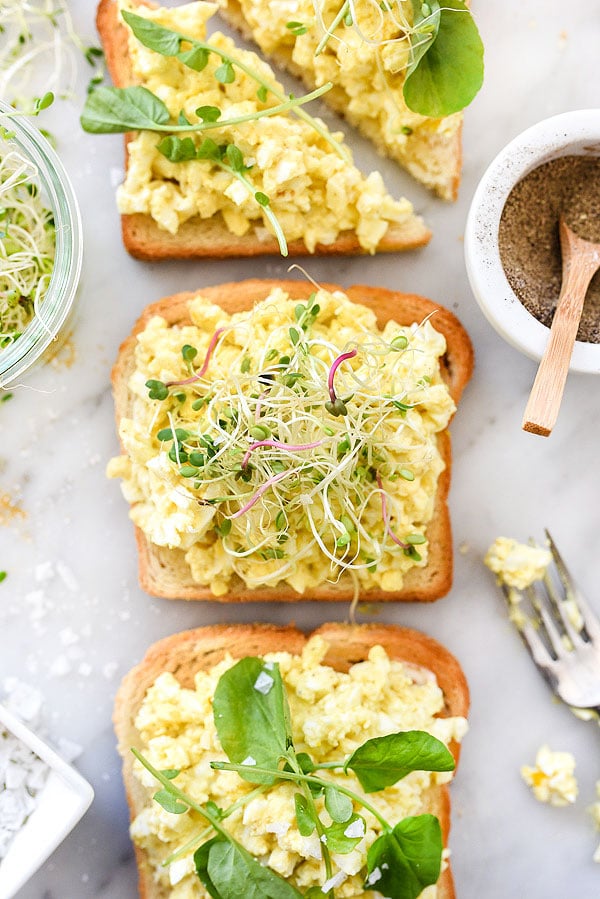 If you make this recipe, please let me know! Leave a ⭐️⭐️⭐️⭐️⭐️ rating on this recipe below and leave a comment, take a photo and tag me on Instagram with #foodiecrusheats.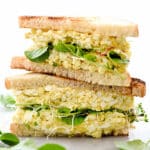 Print
Curried Egg Salad Sandwich Recipe
Curry and onion powder add an exotic heat to the traditional egg salad sandwich, making it fit for an every day breakfast, lunch or elegant brunch.
Ingredients
8

large eggs

⅓

cup

mayonnaise

½

teaspoon

McCormick Gourmet Hot Madras Curry Powder

¼

teaspoon

McCormick Gourmet Onion Powder

¼

teaspoon

kosher salt and freshly ground black pepper

8

slices

english muffin bread

, (4 slices if serving open face)

2

tablespoons

butter

, if desired

Watercress leaves and radish sprouts for garnish
Instructions
Place the eggs in a saucepan and fill with water to cover the eggs by ½ inch or up to the first knuckle on your finger. Bring to a boil, cover and reduce to simmer for 12 minutes. Immediately transfer eggs to a bowl filled with ice and water and cool. Peel the eggs as you run them under cold water.

Slice the eggs and place in a large bowl. Mash the eggs with a fork and set aside.

In a small bowl mix the mayonnaise with the curry powder, onion powder, kosher salt and ground pepper. Add more seasonings to taste.

Mix the curry mayonnaise into the mashed eggs and season to taste.

Toast the bread and spread with butter if desired. Divide the egg salad evenly among the 4 pieces of bread and top with the watercress and radish sprouts. Top with bread if desired.
Nutrition
Calories:
437
kcal
|
Carbohydrates:
26
g
|
Protein:
16
g
|
Fat:
30
g
|
Saturated Fat:
9
g
|
Polyunsaturated Fat:
11
g
|
Monounsaturated Fat:
8
g
|
Trans Fat:
1
g
|
Cholesterol:
350
mg
|
Sodium:
685
mg
|
Potassium:
189
mg
|
Fiber:
1
g
|
Sugar:
3
g
|
Vitamin A:
665
IU
|
Vitamin C:
1
mg
|
Calcium:
184
mg
|
Iron:
3
mg
More Recipes to Make with Hard-Boiled Eggs
This post was sponsored by McCormick. As always, thank you for reading and for supporting companies I partner with, which allows me to create more unique content and recipes for you. All opinions are always my own.  
We send good emails. Subscribe to FoodieCrush and have each post plus exclusive content only for our subscribers delivered straight to your e-mail box.
Follow me on Instagram, Facebook, Pinterest, and Twitter for more FoodieCrush inspiration.
As always, thank you for reading and supporting companies I partner with, which allows me to create more unique content and recipes for you. There may be affiliate links in this post of which I receive a small commission. All opinions are always my own.