Mimosas made with bubbly sparkling wine instead of expensive champagne adds one more reason to toast "cheers" to lazy weekend brunches or any special occasion.
Perfect Mimosa Cocktail Recipe
My best friend Kim is the queen of mimosas. Whether it's going out for a weekend's bottomless mimosas brunch, a lazy summer bring-your-own-mimosa-to-the-beach day, or just the ticket for getting though a long flight on an airplane, her recipe for a good time always starts and ends with mimosas. 
Bubbly and fizzy, light and bright, mimosas are the perfect champagne cocktail for adding a festive flair to any occasion that's fit for bubbly. Or basically, Tuesday :).
Mimosas are an essential for bridal or wedding showers, baby showers, Mother's Day, Easter, Groundhog's Day…just about any holiday you can make an excuse to celebrate. Lest we forget New Year's Day, where they are the best easy eye-opening hair-of-the-dog-sipper that won't take your breath away.
In my humble opinion, there's no better way to set up a cheers than with a little bubbly spiked with a little something sweet. That's why today I'm sharing the perfect recipe for the best mimosas, made with bubbly sparkling wine instead of expensive champagne, making the cha-ching of dollars dropping into your hand just one more reason to toast "cheers" to all the celebrating we're about to begin.
My little family and I recently visited where legend has it the mimosa was created, at the Ritz Hotel in Paris, so naturally I imbibed. I also took notes on how to make the perfect mimosa, so here we go.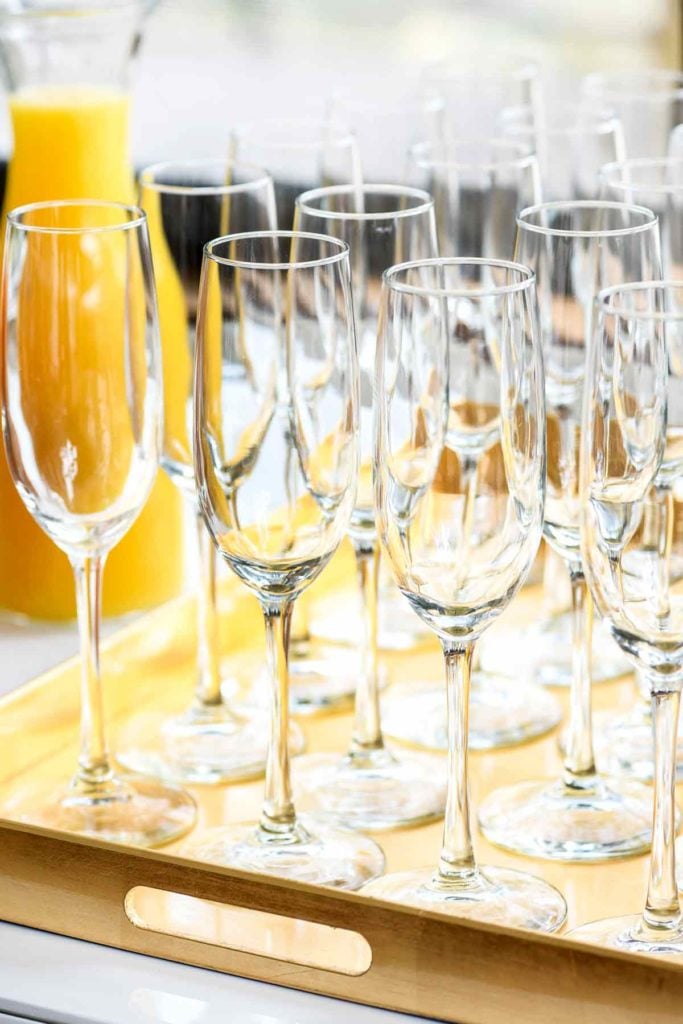 What's in a Mimosa?
The list of mimosa ingredients is short and sweet: Champagne and orange juice. But truly authentic champagne comes from grapes grown only in the Champagne region of France—making it so other regions can't call their sparkling wines champagne. It's expensive, and because mimosas are a blend, I suggest you save the champs for celebrations on it's own and use a less spendy version instead.
What's the Best Champagne for Mimosas?
What kind of champagne to use in mimosas. Choose a dry or semi-dry sparkling wine from California, Oregon or Washington. A Spanish Cava or Italian Prosecco are fine choices too. Try them all! Because at about $12-15 a bottle, it's less expensive to do.
The dryer wine balances out the sweetness of the juices making mimosas more drinkable. If you really want to flaunt and impress with champagne, choose a dry Brut.
So, how many glasses of mimosas can you get per bottle? For every 750 ml bottle of sparkling wine, plan on getting 6-8 mimosas.  Mimosas are best served without ice (who would want to dilute them?) so you'll want to be sure your champagne is kept cold.
What's the Best Juice for Mimosas?
With just two ingredients in this champagne mimosa drink recipe, make the most of what you've got by spending the most you can to get the best you can afford. Unless you're at some janky bottomless, boozey brunch, quality over quantity is key here.
We've talked about the champagne aka sparkling wine above, so all that's left in our recipe is the juice. Make that orange juice, my dear.
For the best mimosas, use a pulp-free, high-quality orange juice and make sure it's nice and cold. Fresh orange juice is best, a good quality store-brand is better, and frozen juice from concentrate or that nasty orange punch that comes in gallon jugs should totally be forgotten from this mimosa maker's recipe.
How to Make Mimosas
If the short ingredients list didn't give it away, this mimosa recipe is easy. Simply pour the orange juice into a champagne flute, then top off with champagne. Once the champagne has gone down a bit, top off your glass with more bubbles as desired.
You can serve your homemade mimosas as is, or garnish with your favorite fruits, berries, or herbs.
see more: 20 Make-Ahead Holiday Breakfasts
The Best Juice to Champagne Mimosa Ratio
Mimosas should never taste overly sweet, so when deciding how many parts orange juice to sparkling wine aka champagne, use the ratio of ⅓ juice to ⅔ sparkling wine, or about 2 ounces of orange juice per drink.
You can add the juice either before the sparkling wine or after, but either way be careful of it flowing over, which in my experience means 1 out of 5 glasses likely will.
Can I Make a Non-Alcoholic Mimosa?
For a non-alcoholic mocktail mimosa, substitute plain or flavored sparkling water or sparkling grape juice instead of the sparkling wine.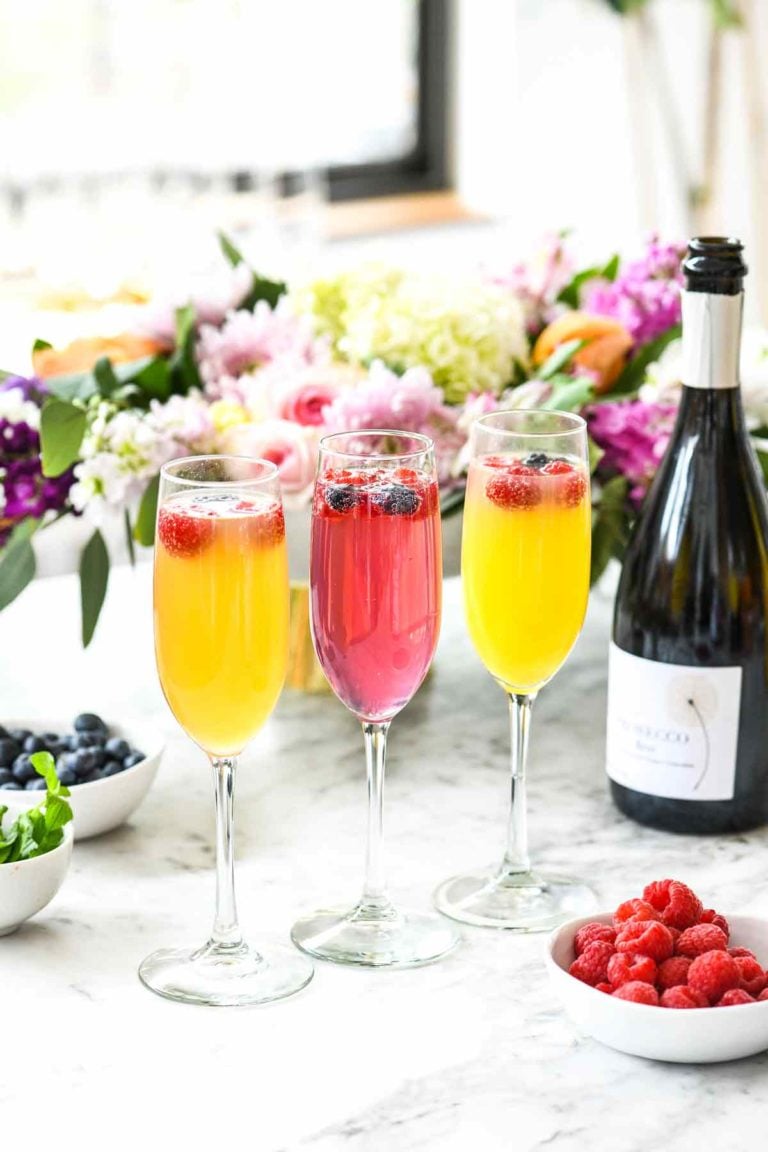 My Go-To Mimosa Garnishes
Leave the mimosa as is or garnish with fresh fruits like:
pomegranate seeds
raspberries
blueberries
strawberries
blackberries
fresh herbs like mint, basil, rosemary sprigs
orange slices
pineapple wedges
kiwi rounds
My Favorite Champagne Flutes for Mimosas
You may wonder why the need of a special glass for champagne. Yes! Because it's all about the bubbles, baby! The narrow top of a champagne flute provides less surface area to keep the wine's bubbles going strong and the carbonation bubbling. The narrow top also brings the drink's aroma closer to the nose. And I must say, I've never smelled a champagne I didn't like.
From stemmed to stemless, I have quite the collection of champagne flutes. Most flutes you'll find come in 8 to 9 ounce sizes, with plenty of space for bubbles to rise, and fall, and sip, including:
TIP: If you have leftover champagne, science says to keep it cold and the fizz will last for days with or without a stopper.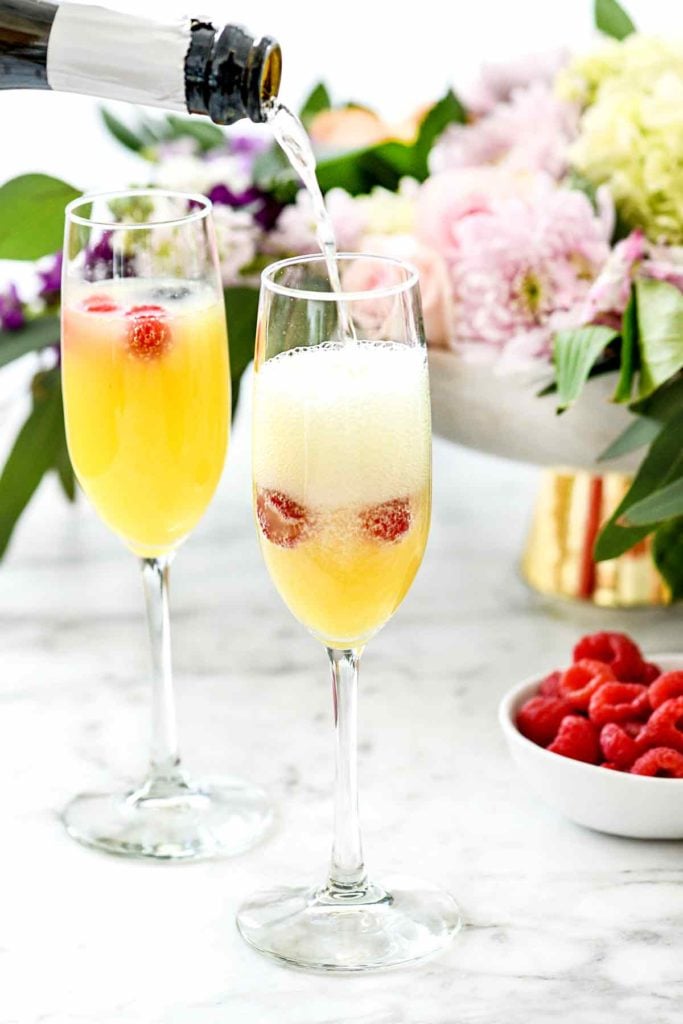 Tips for Making the Best Mimosas
If you're of the adventure seeking type, mix and match flavors by using peach nectar (to create a bellini), pomegranate juice, mango juice, pineapple juice, or cranberry cocktail like I did in my DIY Mimosa Bar.
And because this cocktail is served without ice, be sure to use chilled sparkling wine and cold orange juice. Chill the sparkling wine for at least 3 hours before serving.
Lastly, don't stir a mimosa. Stirring disrupts the bubbles in the champagne and make them go flat.
More Brunch Recipe Ideas
If you make this recipe, please let me know! Leave a ⭐️⭐️⭐️⭐️⭐️ rating on this recipe below and leave a comment, take a photo and tag me on Instagram with #foodiecrusheats.
Print
How to Make the Perfect Mimosa
Mimosas made with bubbly sparkling wine instead of expensive champagne adds one more reason to toast "cheers" to lazy weekend brunches or any special occasion.

Ingredients
1

750 ml

bottle of chilled sparkling wine, Cava or Prosecco

, (makes about 8 mimosas)

16-20

ounces

pulp-free orange juice

, (2 ounces per drink)
Instructions
Open the bottle of sparkling wine.

Pour 2 ounces of orange juice into a champagne flute then slowly add the champagne until the glass is full. Once the bubbles have gone down a bit, add more champagne as desired. Do not stir.

Garnish with fresh fruit if desired. Cheers! 
Notes
Tip: Because this cocktail is served without ice, be sure to use chilled sparkling wine and cold orange juice. Chill the sparkling wine for at least 3 hours before serving. 
Nutrition
Calories:
26
kcal
|
Carbohydrates:
6
g
|
Protein:
1
g
|
Fat:
1
g
|
Saturated Fat:
1
g
|
Sodium:
1
mg
|
Potassium:
113
mg
|
Fiber:
1
g
|
Sugar:
5
g
|
Vitamin A:
113
IU
|
Vitamin C:
28
mg
|
Calcium:
6
mg
|
Iron:
1
mg
More Champagne Drinks to Brunch With
We send good emails. Subscribe to FoodieCrush and have each post plus exclusive content only for our subscribers delivered straight to your e-mail box.
Follow me on Instagram, Facebook, Pinterest and Twitter for more FoodieCrush inspiration.
As always, thank you for reading and supporting companies I partner with, which allows me to create more unique content and recipes for you. There may be affiliate links in this post of which I receive a small commission. All opinions are always my own.