This perfectly tender and juicy whole oven roasted chicken gets brushed with a fresh lemon rosemary garlic butter and stuffed with aromatics for extra flavor. It's perfect for Sunday dinner, but easy enough for a weeknight!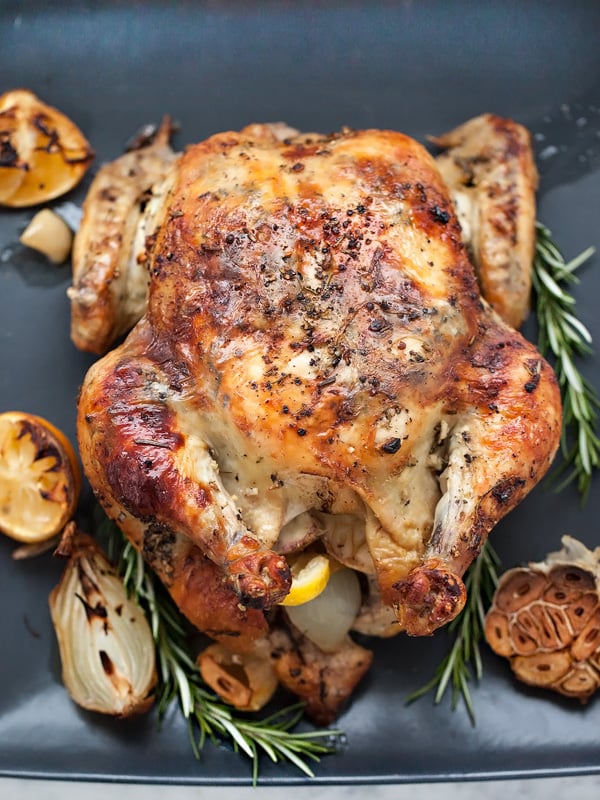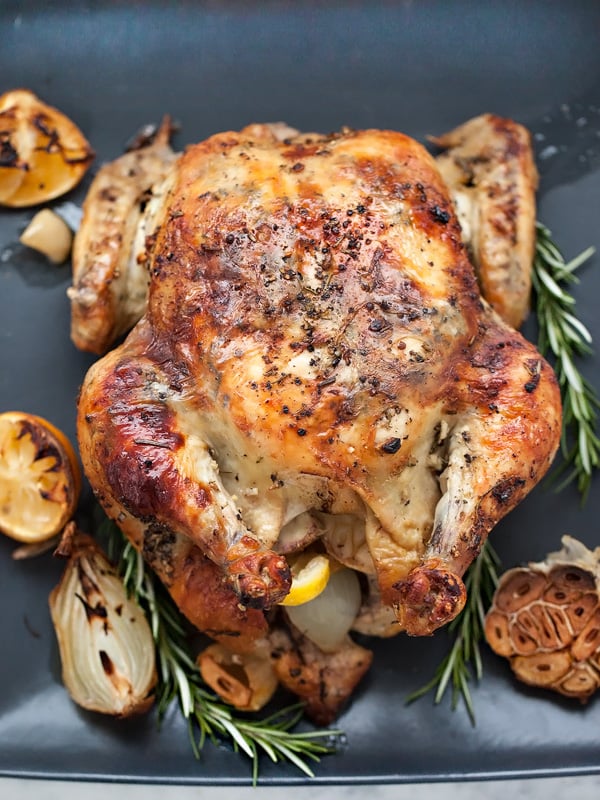 Searching through cookbooks, leafing through food magazines and trolling through food blogs proves one fact over and over again: cooks love making recipes with chicken, myself included. Mine run the gamut—from sautéed, like my creamy lemon chicken breasts and mushrooms to grilled, like my best grilled chicken breast recipe—to this whole roasted bird. While the boneless chicken breast seems to be the star in most recipes, the whole bird cannot be ignored. There's nothing quite like a juicy hen, perfuming the whole house, to get the salivating started.
This whole roasted chicken is a butter infused invitation to belly up to the Sunday dinner table, but it's so easy you could totally make it any day of the week. Chicken on the bone. Chicken with skin. Those two things give chicken a flavor all on its own. But when you layer that baby bird with the soft, buttery mix of garlic, lemon, and rosemary a totally new flavor permeates our chicken-little under, and over, the skin. It's a thing of magic.
What's in This Oven Roasted Chicken?
Simple is the name of the game here. When using fresh herbs, you don't need much else to flavor a whole baked chicken.
Here's what you'll need to make this lemon rosemary chicken:
Whole chicken
Onions
Garlic
Lemons
Unsalted butter
Fresh rosemary—If you have other fresh herbs on hand besides rosemary, feel free to season the chicken with them. Thyme, oregano, sage, parsley and/or tarragon would all be delicious additions
Kosher salt and pepper
White wine—If you don't consume alcohol or have run out, you can substitute chicken stock or broth
How to Roast a Whole Chicken
Cooking a whole chicken isn't as daunting as it may seem. Here's how:
Take the chill off. Before prepping the oven roasted chicken pull your chicken from the refrigerator 30 minutes before roasting to ensure a more even cooking time. Meanwhile, preheat your oven and position a rack in the lower third of the oven. You don't want the top of your bird burning!
Infuse your butter. Stir together some melted butter, minced garlic, salt and pepper, and lemon zest. Gently pry the skin from the meat of the bird's breasts and legs and work that flavored butter over the meat. Then, slather the top of the skin with the butter, too. 
Stuff your bird. Stuffing isn't just for Thanksgiving. Use fresh aromatics (lemons, onions and a full head of garlic) to stuff into the bird's cavity, and pour white wine into the bottom of the roasting pan. Depending on how large your roasting pan is, you might be able to throw in some roughly chopped potatoes and cook those alongside the whole roasted chicken. You don't want to crowd the pan too much though, otherwise it'll be difficult to turn the bird and get it crisp all over.
Roast your bird. Turn it occasionally and roast until an instant-read thermometer inserted in the inner thigh registers 155°F to 160°F and the juices are running clear.
Do You Cover Chicken While Roasting in Oven?
I don't recommend covering your chicken unless is begins to brown too much, then you can tent it with foil.
How Long to Roast a Whole Chicken?
A whole roasted chicken that weighs four to five pounds will take roughly 1 hour 10 minutes to cook through. However, the cook time for your specific bird may vary slightly depending on how big it is and how hot your oven burns.
5 Tips for Making an Oven Roasted Chicken
Add fat and get under it's skin. To get a crispy skin on your roast chicken that's juicy on the inside, slather the bird with a salted or unsalted butter or olive oil (just don't use margarine). Both work equally well and will turn your bird into a bronzed Brazilian bombshell from the beaches Rio de Janeiro with a crackin' crispy crust. Gently work your fingers between the skin and the meat of the breasts and legs, separating the two from one another and work in another layer of flavor with additional butter or oil. Here's how to soften your butter

when you're in a pinch. Also, t

ry any of these blended butters

for maximum flavor.

Add aromatics.

Stuff your chicken with onion, lemon, garlic, and fresh rosemary to deliver a lovely flavor from within that permeates every juicy bite of the chicken meat. You can always play around with these. Some of my other favorite vegetables and herbs to use are: 

celery,

carrots,

turnips, and

fresh thyme, oregano, sage, parsley and/or tarragon.

The best oven temperature to roast chicken. We're roasting our chicken, not baking it. That's why a high temperature will ensure a crispy skin that's juicy on the inside. Roast your chicken at 425°F and baste occasionally while cooking.
How to tell when the chicken is done.

Plan on 15-18 minutes of cooking time per pound, then add 15 minutes plus resting time. For a 5-pound chicken, I plan on 75-90 minutes for a roast chicken to be done. There are three ways I use to tell if a chicken is done, and I do each of them every time I roast chicken: 

Use an instant-read thermometer inserted between the breast and thigh meat, avoiding the bone. This is my favorite thermometer. The temperature of the chicken should read between 155° to 160°F.

Allow 10-15 minutes of resting time once you've pulled the chicken from the oven.

so the juices seal into the meat where the chicken will continue to cook as it rests, bringing the temperature up to the recommended 165°F internal temperature.

Check to see the juices are running clear with no streaks of blood or color. I can usually tell when I pull my thermometer from the meat and the juices run out.
Wiggle the chicken leg. If it is loose and pliable, the chicken is likely done. As you cook more chickens, you'll become better at using this method by touch.

Long live leftovers. If you're lucky to have any chicken left over, you can shred it and add it to soups, sandwiches, salads and more! Although the lemon rosemary chicken is super flavorful, it complements many dishes without overpowering them. 
Watch the Video: Whole Roasted Chicken
What to Serve with Whole Oven Roasted Chicken
If you make this recipe, please let me know! Leave a ⭐️⭐️⭐️⭐️⭐️ rating on this recipe below and leave a comment, take a photo and tag me on Instagram with #foodiecrusheats.
Print
Oven Roasted Chicken with Lemon Rosemary Garlic Butter
This perfectly tender and juicy whole oven roasted chicken gets brushed with a fresh lemon rosemary garlic butter and stuffed with aromatics for extra flavor. It's perfect for Sunday dinner, but easy enough for a weeknight!
Ingredients
one 4-5

pound

chicken

at room temperature, giblets and neck removed from cavity

2

onions

quartered

1

head of garlic

cut in half plus 3 garlic cloves minced

3

lemons

2 cut in half and remaining half sliced into thin slices

4

tablespoons

unsalted butter*

softened

2

teaspoons

grated lemon zest

2

fresh rosemary sprigs plus 1 sprig minced

Kosher salt and freshly ground pepper

½

cup

white wine
Instructions
Preheat the oven to 425°F and position a rack in the lower third of the oven. Mix the butter with minced rosemary, 3 cloves of minced garlic, lemon zest, salt and pepper.

Pat the chicken dry and rub half of the butter, garlic and lemon zest mixture under the skin and the rest over the chicken and season with salt and pepper. Generously season cavity of chicken with salt and pepper and stuff with lemon half, ½ head of garlic, 2-3 quarters of onion and 2 rosemary sprigs. Truss legs with cooking twine and tuck wings under bird.

Place chicken in a roasting pan breast-side-up with the remaining onion, garlic, lemons and herbs. Add ½ cup of white wine.

Roast for 30 minutes or until the breast is firm and just beginning to brown in spots. Using tongs, turn the chicken breast-down, baste with juices and roast for 20 minutes longer, until the skin is lightly browned. Using tongs, turn the chicken breast-side-up and baste again. Add ½ cup of water if wine has evaporated. Roast for about 20 minutes longer, until an instant-read thermometer inserted in the inner thigh registers 155°F to 160°F and juices are running clear.

Transfer the bird to a cutting board and tent with foil. Remove aromatics and vegetables from the cavity, carve the chicken and serve.
Notes
*Use real butter (not margarine) for this recipe.
Nutrition
Calories:
427
kcal
|
Carbohydrates:
9
g
|
Protein:
28
g
|
Fat:
30
g
|
Saturated Fat:
11
g
|
Cholesterol:
129
mg
|
Sodium:
106
mg
|
Potassium:
417
mg
|
Fiber:
2
g
|
Sugar:
3
g
|
Vitamin A:
458
IU
|
Vitamin C:
35
mg
|
Calcium:
42
mg
|
Iron:
2
mg
More Whole Chicken Recipes You'll Love
We send good emails. Subscribe to FoodieCrush and have each post plus exclusive content only for our subscribers delivered straight to your e-mail box.
Follow me on Instagram, Facebook, Pinterest and Twitter for more FoodieCrush inspiration.
As always, thank you for reading and supporting companies I partner with, which allows me to create more unique content and recipes for you. There may be affiliate links in this post of which I receive a small commission. All opinions are always my own.
SaveSave