I've searched for the best homemade cinnamon roll recipe forever. Perfectly fluffy and slathered with a buttery cream cheese frosting, this is it.
The BEST Cinnamon Rolls Ever
Finding the best homemade cinnamon roll recipe has been my mission for more years than I can count on two hands.
Strike that.
Finding the best homemade cinnamon roll recipe and actually making it, now THAT  is what has been my mission for that number of years.
I've Pinned hundreds of recipes on Pinterest, and liked all of them on Facebook. I've torn out every recipe from every magazine that's shared cinnamon rolls deemed fit to bake. And it seems that just about every week of Friday Faves has one more recipe for the perfect cinnamon roll included in it.
Not that I've ever made any of them.
For some reason, the notion of  baking homemade cinnamon rolls has always intimidated me. I blame it on my childhood. That's when my early cinnamon roll baking adventures relied on using the pre-made dough from the can that came out of the oven tasting like they'd been baked 3 days before and then quickly turned into 5-day-old rolls as soon as they cooled.
It ruined the notion of cinnamon rolls for me until I had a REAL cinnamon roll from a true blue bakery and realized just how many light and fluffy pillows from cinnamon and brown sugar slathered with glaze bundles of heaven I'd been missing out on all those years.
Now THOSE rolls are the ones I want to bake. The homemade cinnamon rolls I want to be known for. The rolls that when family and friends take one bite they blissfully roll their eyes in satisfaction as they slowly absorb each sweet, flaky bite, and then look to one another in agreement and say, "Heidi makes THE BEST cinnamon rolls."
And now, I have that recipe.
This is it. This is the recipe I will from today forward forever be known for, the one that will give me the title as the Cinnamon Roll-Making Queen.
But I absolutely cannot take any credit for it. No way. All the credit goes to Sarah Kieffer, the blogger behind the blog that Savuer named the Best Baking & Dessert Blog, The Vanilla Bean Blog, and a friend who is nearly as sweet but hardly as flaky as these rolls. I've featured Sarah on the blog before (check it out here) and this cinnamon roll recipe comes from Sarah's first cookbook, The Vanilla Bean Baking Book.
Cinnamon Rolls Recipe From Scratch
These cinnamon rolls start off with a recipe for sweet dough that Sarah uses as the base for several recipes in her book. The dough is perfectly tender (thanks to honey and eggs) and is actually really simple to make with only the help of a stand mixer that does most of the kneading for you. The only work that needs to be done is setting the timer on your phone to remind you to give the dough its series of flips and folding after its series of rising times.
Start the Rolls at Night
I found the perfect time for making these easy cinnamon rolls was in the evening, starting the dough making process while fixing dinner, then flipping and folding as the evening wore on and finalizing the process before I went to bed. The dough can be kept in the refrigerator for up to three days, making it a good candidate to add to any brunch or breakfast table. One thing to note, the dough will be pretty shaggy and rough the final time you pull it out of the fridge.
But this is a miracle dough. With just a few kneading pushes the dough becomes pliable and smooth, and amazingly easy to work with.
Once that bit is over, the rolling process is the only production piece of the cinnamon roll puzzle left to finish off in the morning. I'm sure that eventually I"ll get the hang of rolling out the perfectly even and 16-by-12-inch rectangle with perfect thickness, because that's what queens do. They perfect things.
This first time of my baking these rolls didn't come out exactly perfect in my cutting proportions, but I'm totally okay with that because these rolls are amazing and who cares if one is a little more misshapen than the other. Builds character is what my mom always said.
Smudge requested BIG rolls (a girl after my own heart), so I cut these down into just 8 rolls. You can certainly make them smaller to 12 portions and pack them in tighter if you prefer.
Cinnamon Rolls Cream Cheese Glaze
Since I followed all of Sarah's instructions to the letter, making the cream cheese glaze was not going to be any different. Sarah suggests slathering a layer on as soon as the rolls come out of the oven so the glaze sticks in every nook and cranny, and then adding more again after they've somewhat cooled. Smart girl that one.
My only comment here is I seemed to have quite a bit of glaze left over, even after swiping my rolls with a double dose. But in cinnamon roll-land, isn't that the best problem to have?
All hail the Queen of Cinnamon Rolls! That would be Sarah. Me? I'm just happy being in her royal court.
What's in These Cinnamon Rolls?
I've already waffled on enough about how amazing these cinnamon rolls are. Now it's time to get to the good stuff — how to make them.
Here's what you'll need to make the cinnamon roll dough:
Eggs
Whole milk
Honey
All-purpose flour
Instant yeast
Salt
Unsalted butter
And for the cinnamon roll filling you'll need:
Brown sugar
Cinnamon
Salt
Unsalted butter
And finally, the addicting cinnamon roll icing:
Unsalted butter
Cream cheese
Vanilla extract
Salt
Powdered sugar
How to Make Cinnamon Rolls From Scratch
If you have a stand mixer, now's the time to use it. You'll first need to make the dough, then cover it with plastic wrap and let it rise for 30 minutes. After 30 minutes is up, fold the dough back over itself 6 to 8 times, then recover with plastic wrap and let rise another 30 minutes. Repeat this series of foldings a total of 4 times (it'll take 2 hours total).
Once the dough has had time to rise and has been folded multiple times, cover it one last time with plastic wrap and let it chill in the refrigerator overnight.
Roll It Out In the Morning
The next morning, roll the dough into a large rectangle. Brush it with melted butter, then sprinkle with a mixture of brown sugar, cinnamon, and salt. Roll up the dough and cut into even-sized pieces.
Place the cinnamon rolls in a greased baking dish, then cover them with plastic wrap and let them rise until doubled. Once risen, bake the homemade cinnamon rolls until golden.
While the cinnamon rolls cool, make the icing and smooth it liberally over the rolls while they're still warm.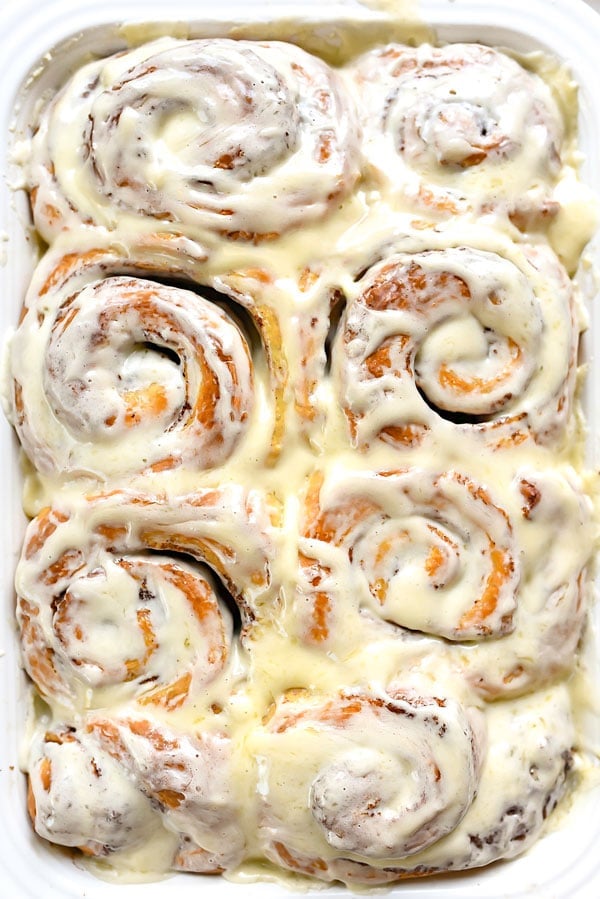 Can I Freeze Cinnamon Rolls?
Yes, you can freeze cinnamon rolls. First let them cool completely, then seal them in a freezer bag and freeze. When you're ready to eat the frozen cinnamon rolls, set them on the counter to thaw. Note that you should freeze them without the icing, and should make a fresh batch of cinnamon roll icing just before you serve them.
Can I Refrigerate These Overnight During the Second Rise?
A few readers have asked whether it's okay to shape the cinnamon rolls and let them rise overnight in the fridge instead of setting them out to rise at room temperature until doubled in size. I personally haven't tried this method myself, but some people have reported success with this method.
I imagine you'd want to let the chilled cinnamon rolls come to room temperature before baking them, but that's just a guess. Again, I've never made these homemade cinnamon rolls other than how the recipe instructs, so use your best judgement here!
Fun Cinnamon Rolls Ideas to Try
Feeling like ways to customize your cinnamon rolls? Here's some ideas:
Orange and Almond Cinnamon Rolls: Add the orange zest of 1-2 oranges to the cinnamon sugar filling and 1/2 teaspoon almond extract to the cream cheese frosting.
Cinnamon Rolls with Raisins and Nuts: Add 1 cup raisins and 1 cup chopped nuts to the cinnamon roll filling
Raspberry Cinnamon Rolls with Lemon Creme Fraiche Frosting: Substitute the 1/2 cup brown sugar with 3/4 cup raspberry jam for the filling and switch out the cream cheese with creme fraiche.
Pumpkin Pie Cinnamon Roll: Add 1/2 cup of canned pumpkin and 1/2 teaspoon pumpkin pie spice to the cinnamon and brown sugar to use as the filling.
More Breakfast Baked Goods to Master
If you make this recipe, please let me know! Leave a comment below or take a photo and tag me on Instagram with #foodiecrusheats.
Print
My Favorite Cinnamon Rolls Recipe
I've searched for the best homemade cinnamon roll recipe forever. Perfectly fluffy and slathered with a buttery cream cheese frosting, this is it.
Ingredients
For the Sweet Dough
4

large eggs

room temperature

3/4

cup

whole milk

warm (100°F - 110°F)

1/4

cup

honey

4

cups

all-purpose flour

2 1/4

teaspoon

instant yeast

2

teaspoons

salt

10

tablespoons

unsalted butter

room temperature, cut into 1-inch pieces
For the filling
1/2

cup

packed brown sugar

1

tablespoon

ground cinnamon

pinch

of salt

2

tablespoons

unsalted butter

melted and cooled
For the Icing
8

tablespoons

unsalted butter

room temperature

4

ounces

cream cheese

room temperature

1

teaspoon

vanilla extract

1/4

teaspoon

salt

1

cup

powdered sugar
Instructions
Make the Sweet Dough
Grease a large bowl. In a liquid measuring cup, combine the eggs, milk, and honey.

In the bowl of a stand mixer fitted with a paddle, mix the flour, yeast, and salt and stir on low to combine. Add the egg mixture and mix on low to combine. Add the butter one piece at a time, then increase the speed to to medium and beat the butter into the dough, until all the small butter piece are incorporated, about 1 minute. Transfer the dough to the prepared bowl. The dough will be very sticky and shaggy, so use a spatula to scrape the dough into the bowl.

Cover the bowl with plastic wrap and let it rise for 30 minutes. Place your fingers underneath the dough and gently pull the dough up and fold it back over itself. Turn the bowl and repeat this folding again. Repeat 6 to 8 more times until the dough has been folder over on itself. Re-cover the bowl with plastic and let rise for 30 minutes. Repeat the series of folding 3 more times, for a rise time of 2 hours and a total of 4 foldings.

Tightly core the bowl with the plastic wrap and refrigerate overnight or up to 72 hours. Sarah suggests the dough can be used right away after the initial 2-hour rise, but she finds it easier to work with after it has been refrigerated overnight.
Make the Cinnamon Rolls
Flour a work surface and knead the sweet dough 10 to 12 times. Shape the dough int o a ball, cover the top lightly with flour, and cover with a tea towel to come to room temperature.

Grease a 9 by 13-inch pan. In a small bowl, mix the brown sugar, cinnamon, and salt.

Roll the dough into a 16 by 12-inch rectangle. Brush the dough with the melted butter so the filling adheres. Sprinkle the cinnamon sugar mixture evenly over the dough.

Starting with the long side, roll the dough into a tight cylinder. Pinch the seam gently to seal it and position the dough seam side down. Use a scissors or a sharp knife to cut the dough into 12 equal pieces or 8 equal pieces if you want larger size cinnamon rolls. Place the pieces in the prepared pan cut side up. Cover the pan loosely with plastic wrap and let the dough rise until doubled, 1 to 1 1/2 hours.

Preheat the oven to 350° F. Remove the plastic and bake for 25-27 minutes, rotating half way through until the rolls are golden.

Transfer the pan to a wire rack and let the rolls cool for 5 minutes before icing them.
Make the Icing
In the bowl of a stand mixer fitted with a paddle, beat the butter and cream cheese on medium until smooth and creamy. Add the vanilla and salt and mix on low to combine. Add the powdered sugar and mix on low until combined. Scrape down the sides of the bowl and mix until light and fluffy, about 3-4 minutes.

Apply a thin layer of the icing on the cinnamon rolls while warm so it seeps into all of the nooks and crannies of the rolls. Add more icing as desired and serve.
Nutrition
Calories:
487
kcal
|
Carbohydrates:
59
g
|
Protein:
8
g
|
Fat:
25
g
|
Saturated Fat:
15
g
|
Cholesterol:
117
mg
|
Sodium:
501
mg
|
Potassium:
135
mg
|
Fiber:
2
g
|
Sugar:
26
g
|
Vitamin A:
814
IU
|
Calcium:
60
mg
|
Iron:
2
mg
More Brunch Recipes You'll Love
Visit Sarah's at her blog here, and purchase The Vanilla Bean Baking Book here. 
Craving more life balance, less stress, and better health? Check out my Nourished Planner, the daily planner to help create simplicity and under-schedule your life.
We send good emails. Subscribe to FoodieCrush and have each post plus exclusive content only for our subscribers delivered straight to your e-mail box.
Follow me on Instagram, Facebook, Pinterest and Twitter for more FoodieCrush inspiration.
As always, thank you for reading and supporting companies I partner with, which allows me to create more unique content and recipes for you. There may be affiliate links in this post of which I receive a small commission. All opinions are always my own.