Follow these easy grilling tips for the best simple grilled salmon recipe that's about to become your new favorite healthy summertime dinner.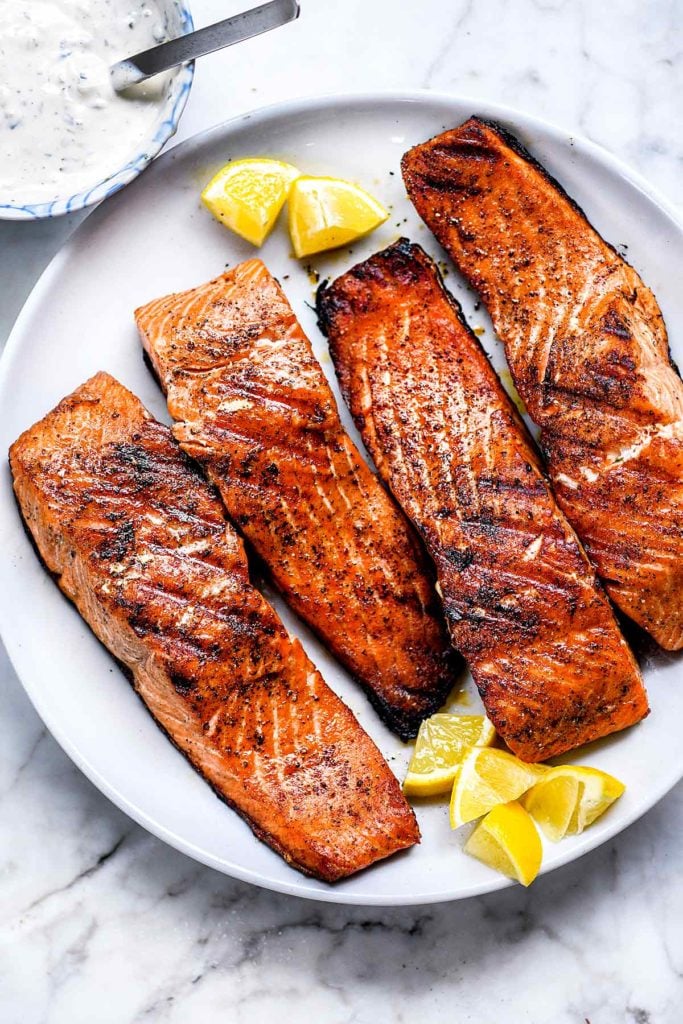 This recipe is brought to you by Weber Grills
There may not be another summertime recipe that hits our grill more often than this one, and that alone has made my husband the master of his domaine: cooking salmon on the grill.
My main man GDawg (aka my husband) has years of experience perfecting the recipe for grilling a simple, bare-bones salmon. Although to be honest, it isn't as much a recipe as it is method. Either which way, this salmon truly is the best because it's easy, fast, healthy and flavorful.
No matter what skill level of griller you claim to be, my man's tips make it easy to take command of the charcoal and serve up a moist and silky salmon dinner that won't turn chalky and overcooked or leave half your fillet stuck to the grill.
Here's how he does it.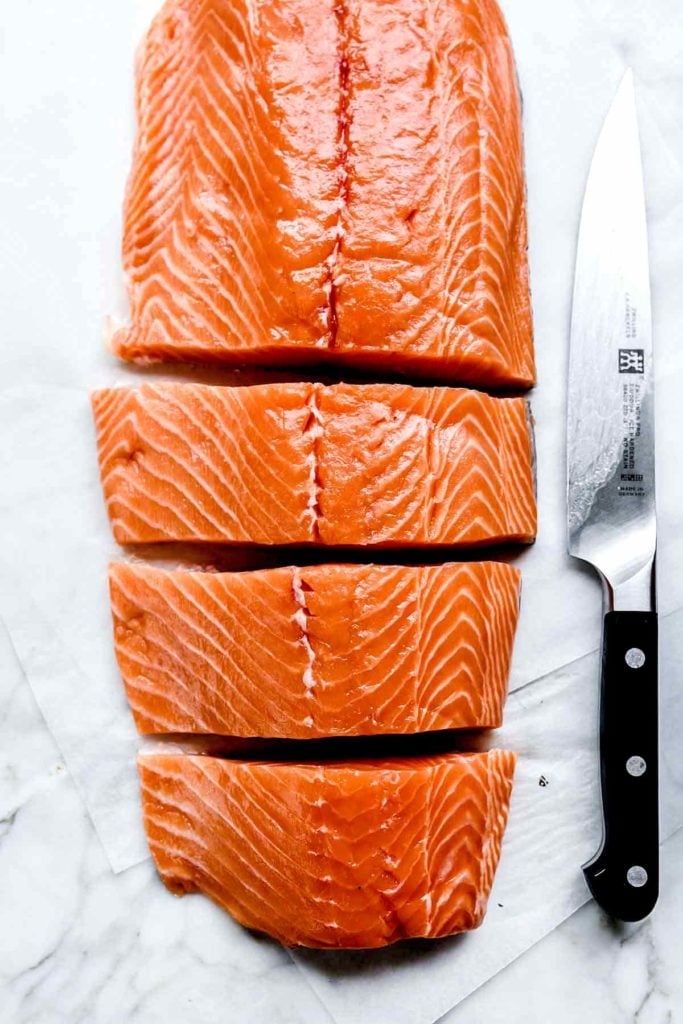 The Best Salmon for Grilling
This recipe for grilled salmon doesn't call for fancy marinades or mercurial methods. All that's needed is quality ingredients and a hot grill.
The main question asked is which salmon is best?
I prefer wild-caught salmon because it has more flavor, but if you're dealing with eaters who are mild fish fans, a quality farm-raised salmon will have a more mellow flavor. Like any protein, higher fat fish yields a more buttery bite. Salmon caught in the wild have to work harder than farm-raised, so they tend to be leaner and more fish-like in taste.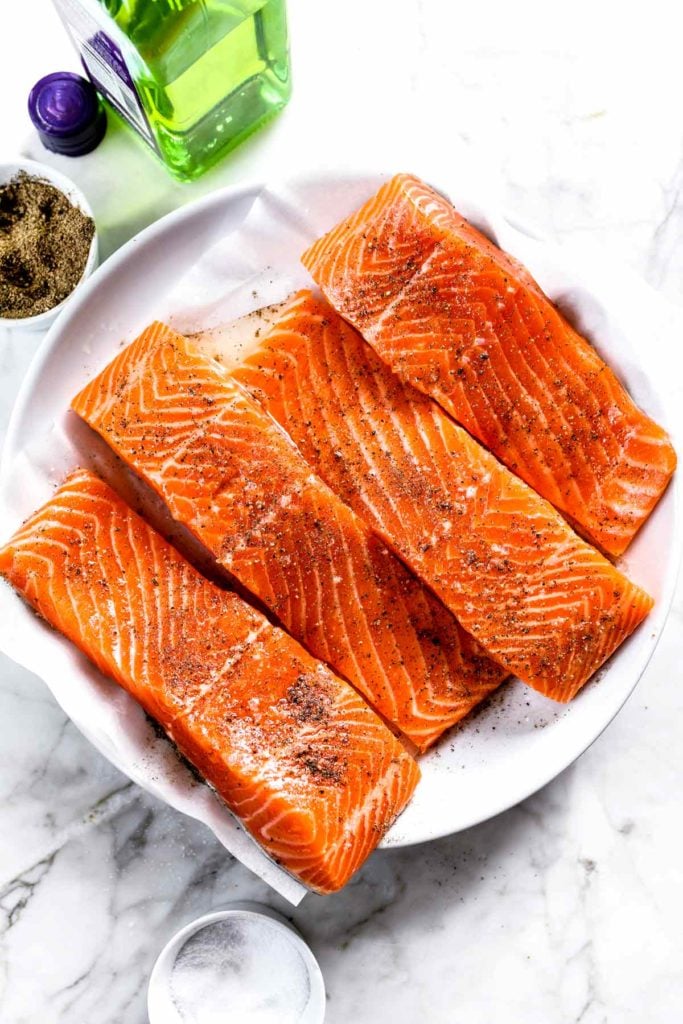 *IMPORTANT* Choose a salmon fillet with the skin ON. More on this later in the post…
The only other ingredients needed are a quality oil, kosher salt and freshly ground black pepper. Grape seed oil for it's high smoke point, or an extra virgin olive oil, will both work well.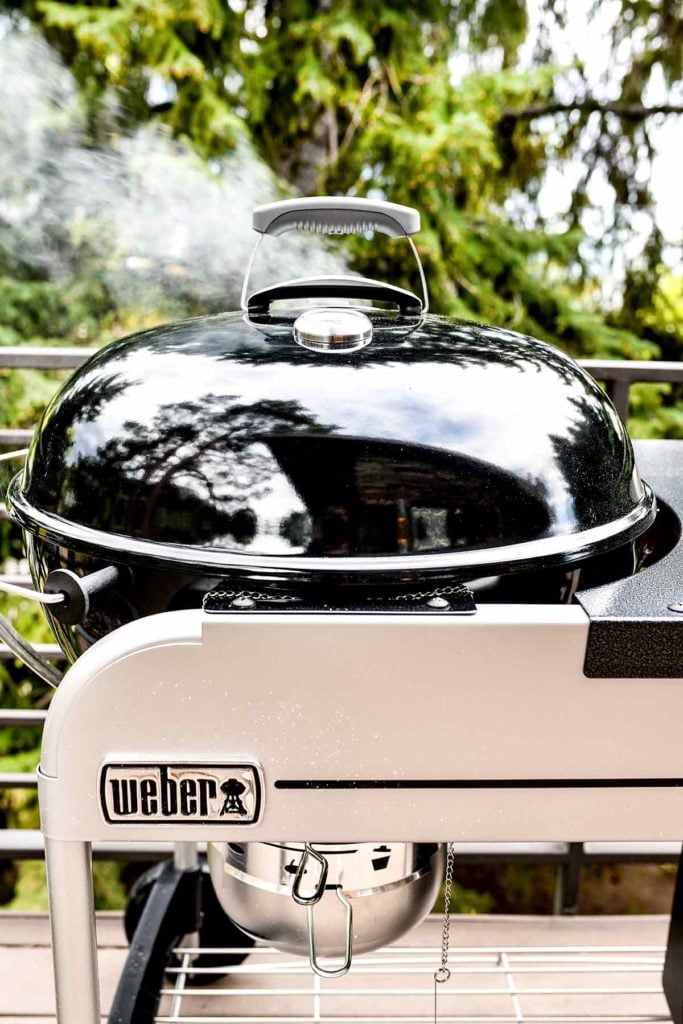 How to Master the Charcoal Grill
Gas grills are popular for their convenience and ease in heat control, but a charcoal grill is where you'll really find that smokey flavor and aroma that makes the neighbor's noses twitch with envy, wishing they were invited over for dinner.
Weber's kettle BBQ grills have come a long way from the classic Weber everyone knows of. Our Weber Performer Premium Charcoal Grill comes with a heavy duty steel cart, side table, propane starter, built in thermometer, LCD timer and a handy bin attached underneath the cart to keep charcoal within reach but out of the elements.
My favorite part is the tuck-away lid-holder so there's a place to set the hot lid other than the ground. After cooking, clean up is easy in just one-step with the removable charcoal ash bin underneath the kettle.
This Weber charcoal grill also boasts a hinged, removable center cooking ring to set the charcoal starter directly inside the kettle (no stinky charcoal fluid needed!) and accommodates other Weber cooking components like a BBQ pizza stone, BBQ griddle, or a wok.
You won't run out of Father's Day gift ideas here. It's the gift that can just keep gifting—and giving.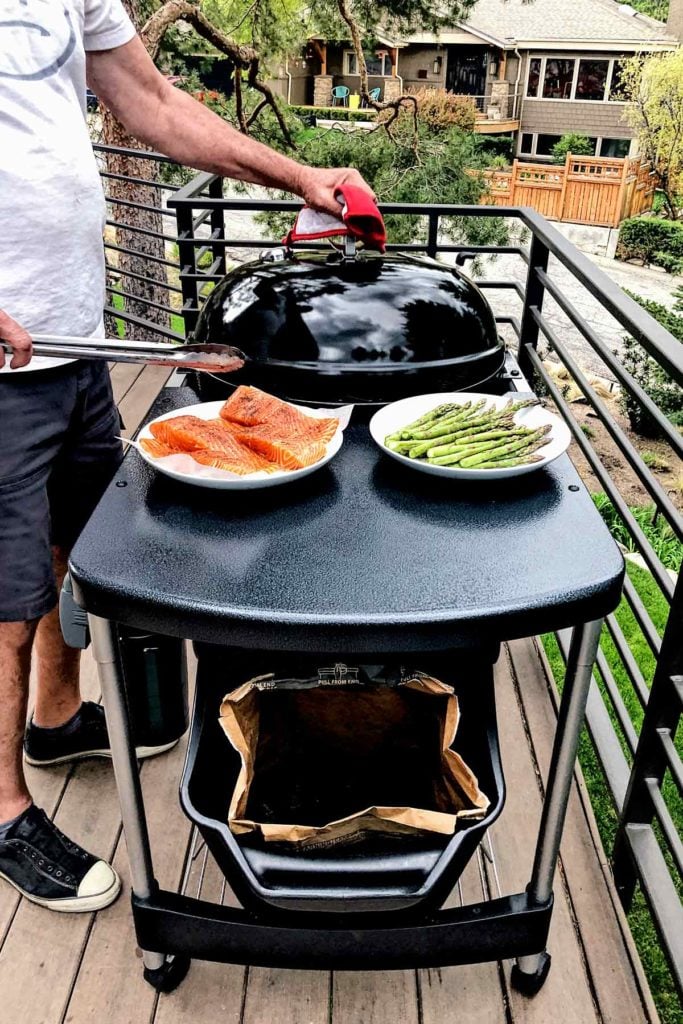 How to Grill Salmon (aka My Husband's Secrets Revealed)
Choose your charcoal fuel. I like all-natural briquettes made form pure hardwoods but shaped in the familiar pillow shape, that burn at higher temperature and have none of the questionable fillers or binders. From hardwood to lump charcoal or briquettes, there are many types of charcoal available these days and each imparts a different flavor and ease in lighting—and lasting. Briquettes now come in a variety of flavors that emulate hard wood flavors like cherry or oak, hickory, mesquite and more.
No lighter fluid required. Avoid using charcoal fluid and it's chemical taste. Instead, use a charcoal chimney starter with a few wadded up pieces of newspaper at the bottom then top with briquettes. Light the newspaper and watch as the fire and heat rise to start the briquettes naturally. Once the briquettes are lightly covered with white ash, use barbecue mitts to empty the chimney starter and distribute the briquette coals on the bottom rack of the kettle.
TIME TIP: Plan on about 20 minutes for the charcoal to be grill ready.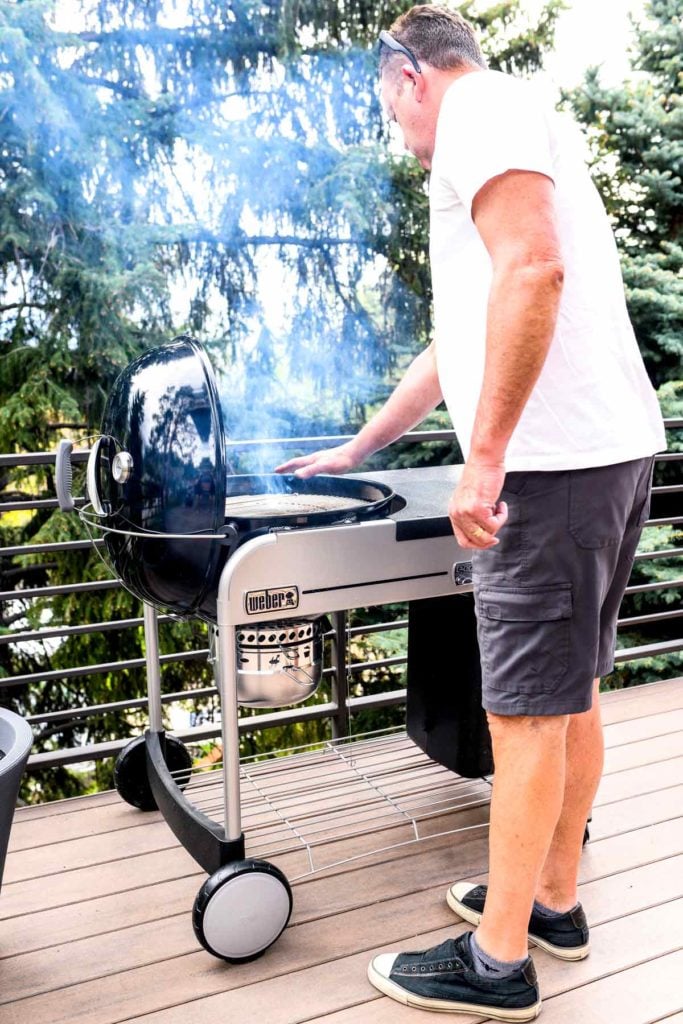 Preheat the grill. Once the coals are in place, top with the lid and preheat the grill grates for about 10 minutes so the temperature will rise, just like you would when preheating the oven.
Grill the salmon on a 450°-500° F hot grill. A smoking hot grill is the number one way to ensure success when grilling fish. Hot grates ensure the fish (or any other protein) won't stick to the grates and will lift easily away once it's cooked skin-side down, for about 6-8 minutes.
MY HUSBAND'S TIP: Carefully place your hand 3-4 inches above the grill grates. When you can hold your hand in place for (3) one-one thousand counts, the grill is the right temperature to start grilling. Be very careful, you never want to touch a grate to see if it's hot! Or, be like me and just look at the temperature gauge on the lid, looking for it to read 450°F.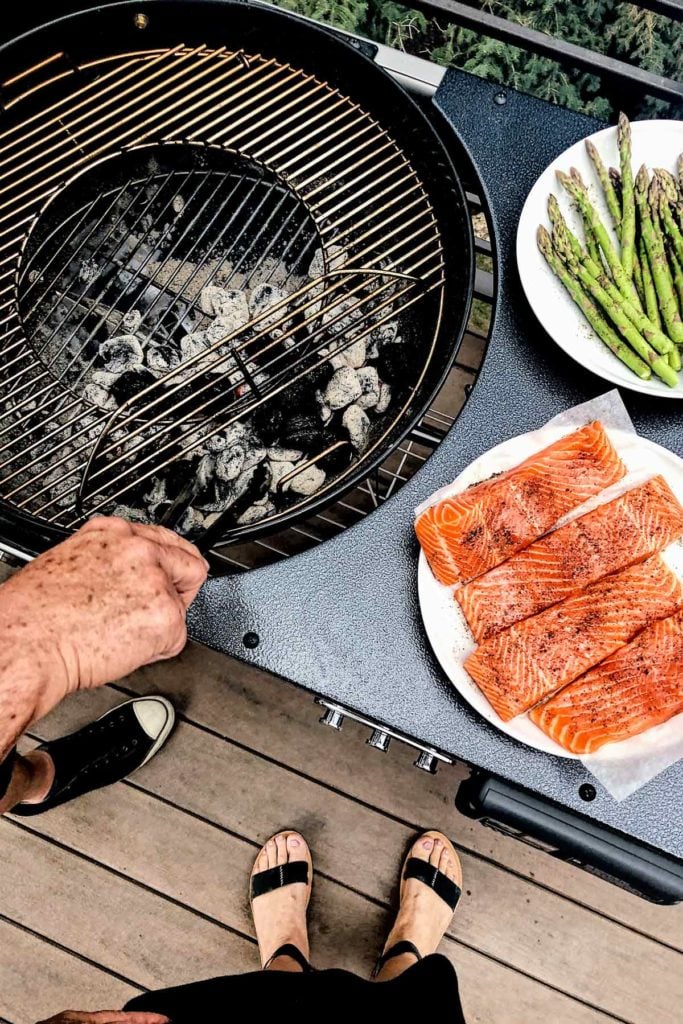 How long will charcoal briquettes last? Plan on a batch of 80 to 100 briquettes to last about an hour, adding more briquettes as needed to increase the heat as you cook.
Oil the fish, not the grill. Contrary to popular belief, there's no need to oil the grill grates. Oiling the fish itself improves the chances of it releasing more easily from the grates to look—and taste—better. Again, a neutral-flavored oil with a high smoke point like grape seed oil is a good one to choose.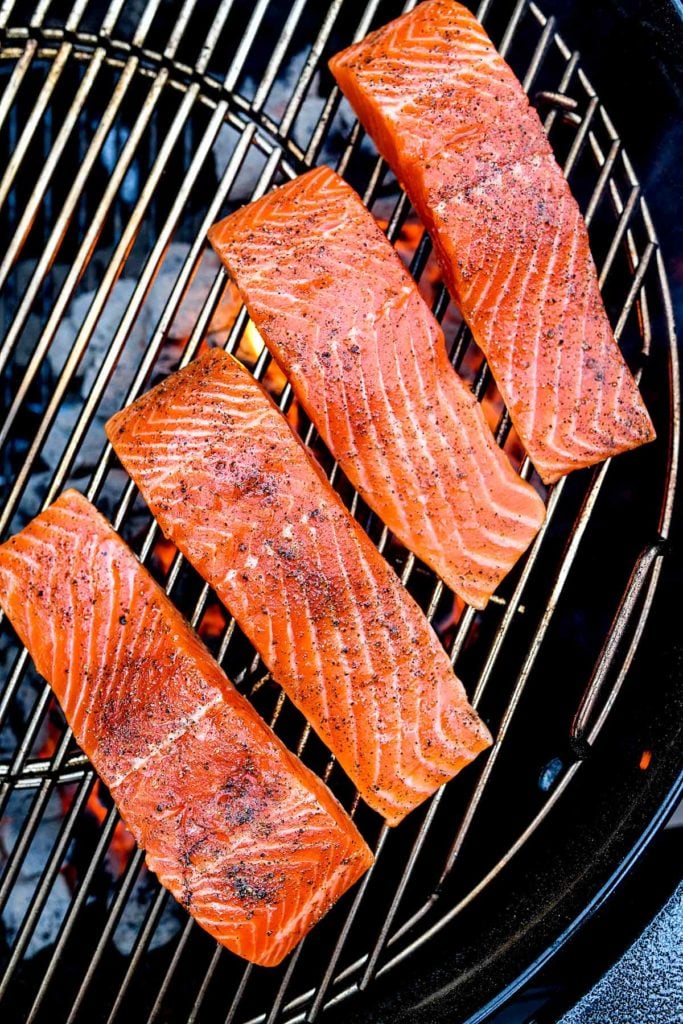 Keep the salmon skin on and grill it down. Whichever variety of salmon you choose, choose a filet or cut of salmon with the skin on. The salmon skin provides a layer of safety between the grill grates and the fish's flesh as it cooks.
Keep a lid on it. Cover the grill with the lid as the fish cooks, ensuring a more consistent cooking temperature, baking the fish as it grills.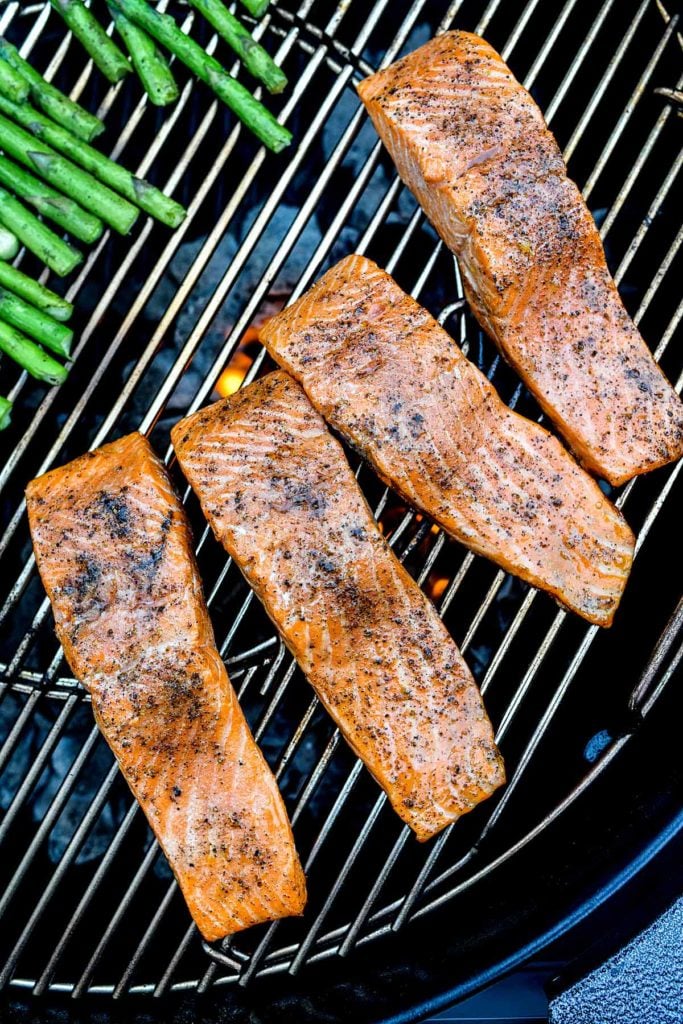 How Long to Cook Grilled Salmon
Flip once, and you're done. Grilling the salmon skin-side down for 90% of the cooking time holds the fish together and ensures it won't fall apart or stick to the grill grate. The fish will stick to the grates at first, but after about 6 to 8 minutes, the skin will crisp and release naturally, making it easy to flip to the other side for just another 1-2 minutes of browning.
Temperature For Grilled Salmon
How to tell when grilled salmon is done. Use an instant-read thermometer or test by eye for doneness by flaking the fish with a fork or when the skin pulls away from the flesh. Grilled fish is cooked when it is 145°F, but remember about carry-over cooking, where food will continue to cook once you've pulled it from the grill or oven. To ensure your fish isn't overcooked, transfer it from the grill when it is 125°-130°F, then let it rest for a few minutes before stripping away the skin and serving.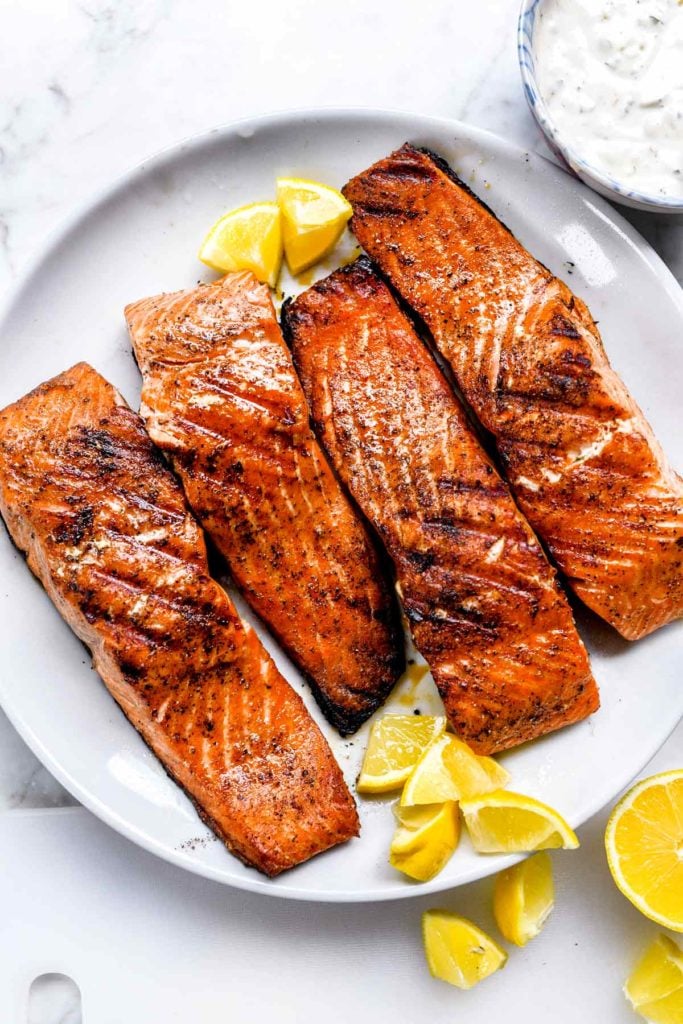 Sauces to Serve with Grilled Salmon
This simple salmon recipe is a deliciously blank canvas for sauces, toppings, and salsas to serve along with it, like:
If you make this recipe, please let me know! Leave a comment below or take a photo and tag me on Instagram with #foodiecrusheats.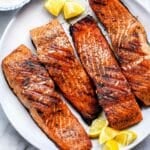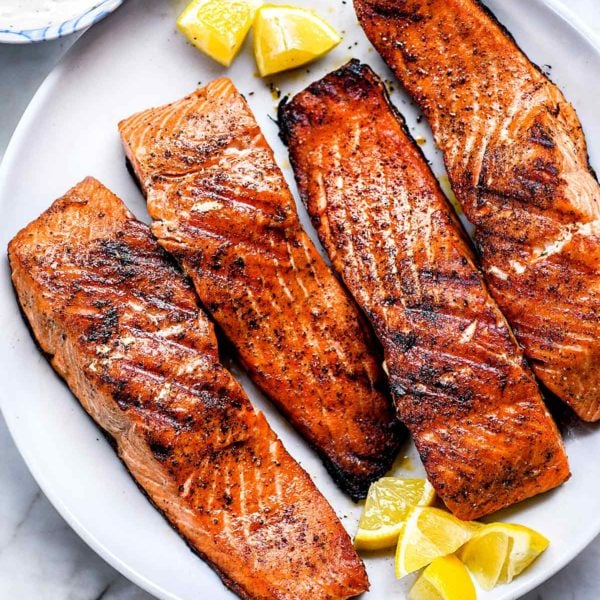 The Best Grilled Salmon
Generously coat the flesh side of the salmon with oil and cook it 90% of the way skin side down until the skin releases easily from the grill, about 6-8 minutes, before turning to the flesh side for 2-4 more minutes.
Ingredients
4

6-8 ounce

skin-on salmon fillets

about 1-inch thick

2

tablespoons

grape seed oil

2

teaspoons

kosher salt

2

teaspoons

freshly ground black pepper

1

lemon

cut into wedges
Instructions
Prepare the grill for direct cooking over high heat, 450°F-550°F. Brush the cooking grates clean and close the lid to heat.

Generously coat the flesh side of the salmon fillets with oil and season evenly with kosher salt and black pepper. Grill the salmon skin side down over direct high heat with the lid closed, for about 6-8 minutes or until the fish lightens in color, becomes more firm to the touch and you can lift the fillets off the cooking grates without them sticking.

Turn the salmon over, close the lid, and cook to 130°F or about 2-4 minutes for medium rare or longer to desired doneness. Transfer to a platter to rest for 1-2 minutes. Slide the salmon skin from the fillets and serve with wedges of lemon and tartar or cucumber dill sauce.
Nutrition Facts
The Best Grilled Salmon
Amount Per Serving
Calories 73
Calories from Fat 63
% Daily Value*
Fat 7g11%
Sodium 1163mg51%
Potassium 50mg1%
Carbohydrates 3g1%
Vitamin C 14.3mg17%
Calcium 11mg1%
Iron 0.3mg2%
* Percent Daily Values are based on a 2000 calorie diet.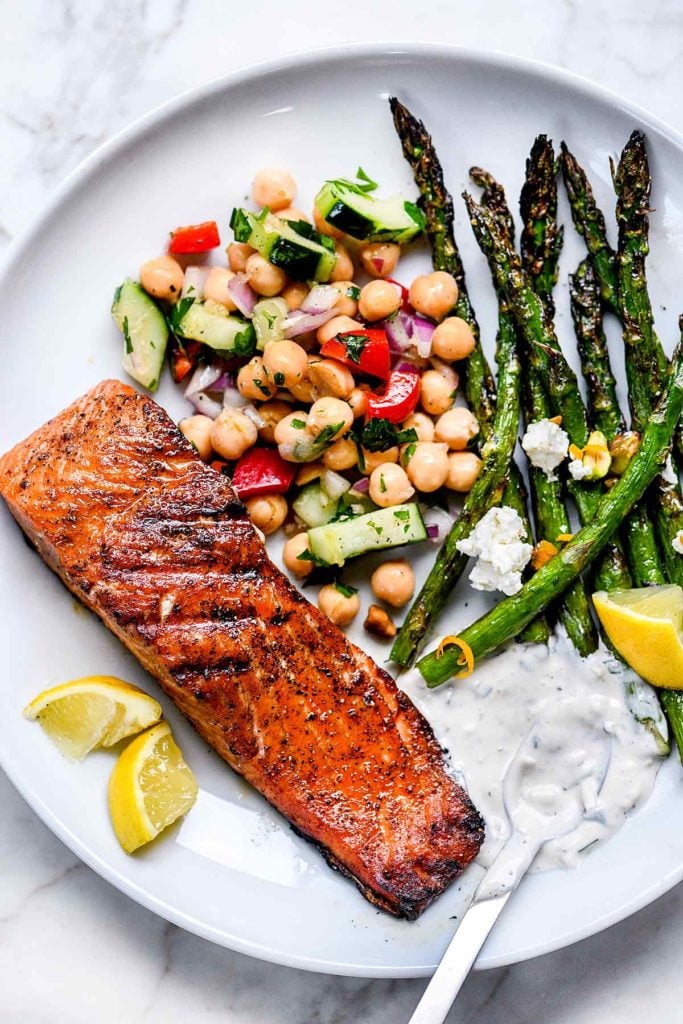 Side Dish Ideas to Serve with Grilled Salmon
See more of my plethora of salmon recipes here. 
Do you have a favorite grilling recipe, or a tip you'd like to add? Leave a comment in the section and share below.
Learn more about the Weber Performer Premium Charcoal Grill series of products.
This post is sponsored by Weber Grills. As always, thank you for reading and supporting companies I partner with, which allows me to create more unique content and recipes for you. There are affiliate links in this post of which I receive a small commission. All opinions are always my own.
Craving more life balance, less stress, and better health? Check out my Nourished Planner, the daily planner to help create simplicity and under-schedule your life.
We send good emails. Subscribe to FoodieCrush and have each post plus exclusive content only for our subscribers delivered straight to your e-mail box.
Follow me on Instagram, Facebook, Pinterest and Twitter for more FoodieCrush inspiration.