As I was driving home from teaching class one of the past Tuesday nights of one of the past months since last September, my mind wandered as I zoned in and out, listening to my favorite part of my Tuesday night teaching gig—Tuesday Night Takeover with Karamea, her songlist is "the jam" as the kids say these days.
Per usual, my thoughts drifted to and fro about blogging. Not necessarily my blog, or even food blogs, but blogs in general.
And I had an epiphanie. Or a comparison, rather, about what blogs are like.
Some of you may be single, looking for that new special somebody. What does a girl or guy have to do these days to meet somebody new?
Date someone from work? Not always the best idea. If things go south you either need to find a new job or walk past one another with eyes averted as you secretly spy on the flirting going on with the new temp.
At a bar? The classic hook up, but unless you're under 25, what you remember as a cute and flirty scene quickly devolves to desperation.
Which has led many singles to online dating sites. Match, e-Harmony, etc., we've all heard encouraging stories of relationships that have blossomed from screen time to snuggle time.
But first there's that suffering vetting process. Screening through candidates and their life stories of roses and unicorns. Why yes of course he's 6'3" with a chiseled jaw, a great job and no baggage, why wouldn't he be single? Look at that perfectly poised photo and read those disarmingly witty texts he sends. And then you meet in real life, only to discover what really lies at the belly of the beast isn't nearly as engaging or real as his onscreen persona.
And that's where I found the comparison. Blogs are a lot like dating sites.
We bloggers try to make our sites pretty, stylish and as our biggest hope: informative. We create scenarios of amazing dinner parties, fantastic vacations and nearly impossible to recreate projects that could possibly contain just a touch of embellishment thrown in. Reading about your neighbor's rather ritualistic, real-life days certainly wouldn't be as fascinating or inspiring to the outside world. We all put our best foot forward, where sometimes things look effortless but in reality, things aren't always as they seem. We all have our groundhog days.
This was my house as I was creating this recipe for ham. It was a Sunday, I had bought the ham the Saturday before. As in the 7 days before. I had boiled it the day before since I thought we could have it for dinner on Saturday night, but knowing I had to take photos for the blog, I ran out of time—food blogger code for light to take photos in—so wrapped it up and saved it for Sunday. Did we even eat dinner that night? I don't remember. But when Sunday rolled around I knew it was now or never and I had better get it cooking or my prized ham would be dog food bound.
The kitchen was a wreck, this photo doesn't show the half of it. Hell, the house itself was a disaster with painting going on in the bathroom, our bedroom, the hall, and now he had snaked into the kitchen. My man was on a terror with lazer like focus and I was not going to be one to complain.
I had three recipes to multi-task and finish that day so I could have fodder for the week. Drop cloths cuddled with garlic peelings, dogs scattered underfoot as I dropped the pile of jalapeno seeds on the floor and quickly shooed them away so none of ended up in the doggie E.R. The glaze overflowed onto the stovetop. Honey and brown sugar glaze. Enough said. And of course Smudge was dancing in and out of the kitchen, declaring loudly how huuuuungry she was and could she please lick the bowl of the Mini Lemon Bundt Cakes?
So by the time the ham came out of the oven, I made way and cleared a 2 foot space on my countertop and quickly got off some photos as the clock ticked toward sunset. I had a bite of the ham, I had too since I cut into it, right? It was really, really good. I then made the mistake of boasting exactly that, out loud rather than keeping it to myself, and then it was all over with.
The vultures descended. And that's when we all declared this a great, great ham.
And that's what we had for Sunday dinner that night. Glazed Asian Sticky Ham. Right then, right there. No sides. No plates. It was somehow just right and not at all smoke and mirrors or unicorns and roses. It was just real life.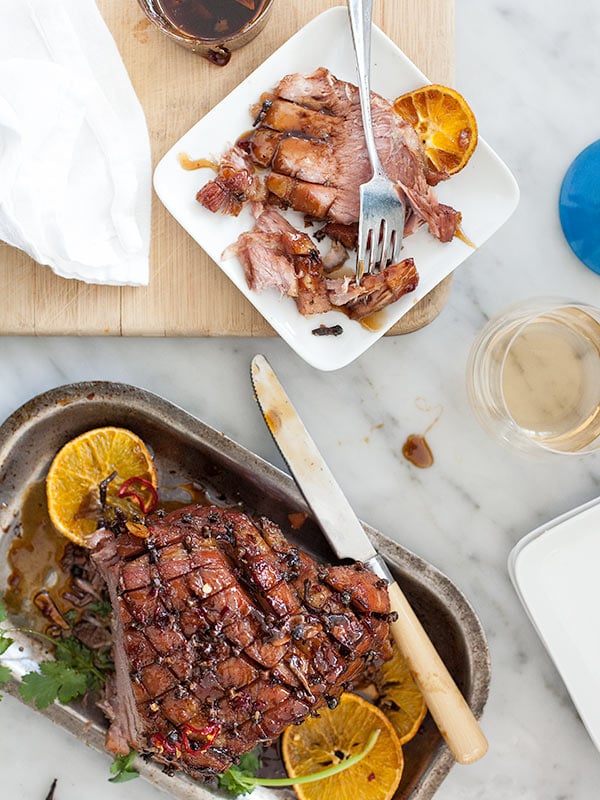 This was a fresh ham I had been searching for high and low and finally, finally found at our indoor farmer's market, procured from a local meat company. I've been holding onto this recipe like a sailor holds onto his lovely lady before he ships his way from shore. I first saw this recipe on an episode of Cooking Channel's Simply Baked with Lorraine Pascal. Oh how I love her. They don't run it very often but thanks to OnDemand, the reruns show up periodically as I scramble to hit save for eternity.
Lorraine says to use a fresh ham. I bet you're thinking all hams are fresh. Well my friend, you'd be wrong. At least in my sense of fresh. Most hams are composite parts that are formed together, stuffed with water and precooked. This ham had several parts, but was tied with a string net that held all of its smoked goodness together.
This may not be the "right" time to showcase a ham recipe since it's past Easter and Christmas is thankfully a strong arm's distance away, but since this is real life, and this is when I found my ham, this is when I'm sharing it. If you end up trying this recipe, I think you'll understand.
A few recipe notes:
I did make this recipe once before with a regular ham. It didn't hold a candle to this version. Really, if you can, find a butcher and get a fresh ham.
The recipe makes quite a bit of glaze, but don't waste it all on the basting of the ham. Save some for dipping, it's the best part. And do watch the glaze as it's coming to a boil. You don't need to scrub your stovetop too since I already took care of that chore for you.
The ham I bought was a smoked ham which really complimented the Asian flavors. Highly recommend.
Print
Sticky Glazed Asian Ham
Ingredients
For ham
1

fresh ham

about 5 1/2 lbs., smoked if you like

1/4

cup

black peppercorns

2

bay leaves

1

knob of fresh ginger

about 2 tablespoons, finely grated

2

star anise

1

large handful of cloves
For sticky glaze
2

cloves

garlic thinly sliced

1/2

orange

zested and juice reserved

2/3

cup

honey

1 1/2

cups

brown sugar

1

red jalapeño pepper

seeded and thinly sliced

1

teaspoon

five-spice powder

1/2

cup

soy sauce

Kosher salt and freshly ground black pepper
Instructions
If using a fresh ham, soak it in cold water overnight to remove the excess salt from brining and smoking or cook the ham in a large stockpot of water for 30 minutes over medium heat. Remove from the pot and discard the salted liquid.

Place the ham in a large, clean stockpot and cover completely with water. Add the peppercorns, bay leaves, ginger, star anise, and half the cloves and bring to a boil, then turn down the heat to a simmer. Cook for 25 minutes per 1 pound of ham.

About a half hour before ham is done cooking, preheat the oven to 425 degrees F. Mix the ingredients for the glaze in a small pan and bring to a simmer over medium heat until sugar has dissolved then reduce to simmer and cook for 20-25 minutes until reduced and thickened.

Remove the ham from the water and pat dry with paper towels and remove net if it has one. Use a sharp small knife to score the meat diagonally, then change direction and score the other way to form diamonds. Stick the remaining cloves into the holes where the lines cross. Pour the glaze evenly over the meat reserving what you don't use for dipping sauce. Place the ham in the oven and cook for 20 to 25 minutes, or until the top begins to caramelize.

Remove from the oven, tent for 10 minutes and then slice an dserve.
I'm heading to San Diego with a group of other food bloggers to attend The Big Traveling Potluck this weekend. Follow the #BTP1 hashtag on Twitter to keep up with the happenings and eating that is sure to be done.
Thanks for reading and please keep in touch by subscribing to FoodieCrush and follow me on Twitter, Facebook, Pinterest. This site includes affiliate shopping links of which I receive a small percentage of sales to allow me to create new and special content like this for my readers, so thank you for your support. All opinions are my own.