While it may seem complicated to some home cooks, poached salmon is one of the simplest ways to cook this popular fish once you know the poaching secrets, and it's even better topped with this deliciously easy mustard dill sauce that's ready to serve in under 30 minutes.
Healthy-ish. Formal-ish. Style-ish. Lately these are words I've been adopting with relish.
In their root form, these lifestyle descriptions can sometimes feel too hard to achieve. Because who can truly devote themselves to always eating healthy and acting healthy when wine and cookies beckon? And who has it in them (not to mention the time) to nail each and every detail as the ultimate entertainer? And if anyone expects me to look like I strutted straight out of the pages of a magazine, I hope they're reading a magazine about how to wear the same uniform day in and day out.
But with that little "-ish" at the end of almost any word, those stricter interpretations become more fluid, somewhat easier, a little less intimidating, and a lot more achievable.
This poached salmon recipe is a prime example of being healthy-ish, formal-ish, and totally style-ish for cooking any time, and because both the salmon and the sauce hold up especially well, its perfect for a simple-ish brunch, lunch or dinner buffet. 
The recipe comes from one of this country's most trusted sources when it comes to recipe creation and verification: America's Test Kitchen. I've been a devout follower of their T.V. programs, bought the magazines, checked out the website, and the cookbooks too. So when they asked me to share a recipe from What Good Cooks Know, 20 Years of Test Kitchen Expertise, I knew that no matter what I chose to share would be stand-out for sure.
The goal of this cookbook is to become a one-stop reference guide for every level of cook to learn the secrets to success in the kitchen. True to America's Test Kitchen form, they cover ALL of the bases. From the essentials of outfitting your pantry and kitchen to testing for the best kitchen tools, plus step-by-step techniques, improvements on classic techniques as well as new solutions for those pesky kitchen problems from how to butterfly a chicken and how to sharpen a knife.
I used my new favorite salmon from Chile, sustainable Verlasso salmon, for this dinner. It's lower fat content and buttery, fresh flavor is why I'm willing to pay extra for it.
So good looking I almost didn't want to cook it!
After poring over the cookbook and being wooed by the likes of Indian-Style Curry with Cauliflower and Vegetables, Eggplant Parmesan, and The Best Prime Rib, I finally settled on the notion that sharing the tricks to poaching salmon is a very spring-ish and healthy-ish thing to share.
Plus, poaching a few of filets for weekly meal prep is always a good plan to have.
The cookbook gives two recipes for topping the poached fish, one with an herb and caper vinaigrette (yes!), and the one I've done here, a mustard, dill and sour cream sauce flavored with shallots.
Both sauces take advantage of the layering of the flavor from the poaching liquid, and they both come together really quickly, and very flavorfully.
There are a few key tips to poaching fish that make it come out perfect every time. First, rest your fish fillets on a bed of sliced lemon, herbs and minced shallots. The lemons keep the fillets elevated for even poaching and the shallots and herbs flavor the broth.
Wine and water make up the poaching liquid, but not too much is required. We're poaching here, not boiling, so only 1/2 cup of each is called for to create an even steaming effect.
Don't be alarmed when you notice the white stuff oozing from your salmon when you cook it. It's simply coagulated protein and can easily be swiped away. It happens pretty much no matter how you cook salmon, but if it really bugs you, America's Test Kitchen did find a way to reduce it as reported here.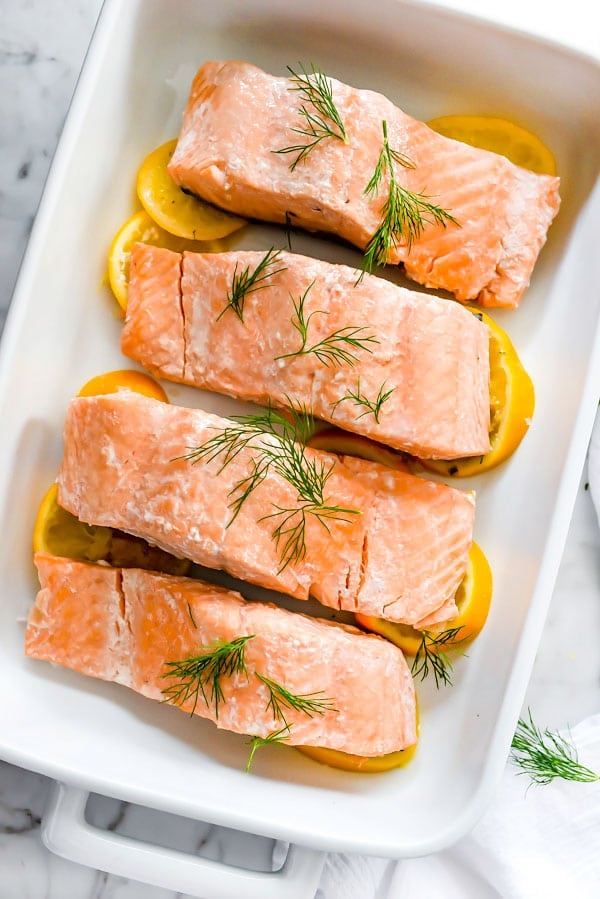 If prepping your fish for meal prep for the week, you could easily skip making the sauce. But then you'd miss out on one seriously wonderful element of this recipe. My advice? Make the sauce and store the fish and the sauce separately, to serve as you eat it through the week.
If you make this recipe, please let me know! Leave a comment below or take a photo and tag me on Instagram with #foodiecrusheats.
Poached Salmon With Dill Sour Cream Sauce
Poached in a lemon and herb flavored bath of white wine and water, this gently steamed salmon is ready for eating in just 15 minutes or less. Save the poaching liquid and add Dijon mustard, sour cream, and a few pats of butter for the a sauce every one will love.
Ingredients
2

lemons

one cut into 1/4-inch slices and the other cut into wedges

2

tablespoons

minced fresh dill plus 8 to 12 dill stems

1

large shallot

minced and divided

1/2

cup

white wine

1/2

cup

water

4

pieces

salmon fillets

1 1/2 inch thick (about 2 pounds)

1

tablespoon

Dijon mustard

2

tablespoons

sour cream

2

tablespoons

butter

Kosher salt and freshly ground black pepper
Instructions
Arrange lemon slices in a single layer in a large skillet. Top with the half of the minced dill, the dill sprigs, plus half of the diced shallots, about 2 tablespoons. Add the wine an and water then top the lemon slices with the salmon pieces.

Set the skillet over high heat and bring to a rolling simmer then reduce heat to low, cover, and cook until the center of the salmon is still transparent with checked with the tip of a paring knife, and registers 125 degrees, or medium rare, about 11-15 minutes.

Remove the pan from the heat. Use a spatula to carefully transfer the salmon and lemon slices to a serving dish and discard the dill sprigs. Tent the salmon with aluminum foil.

Return the pan with poaching liquid to high heat and simmer until the liquid has reduced to 2 tablespoons, about 5 minutes. Whisk in the remaining shallots and the Dijon mustard and simmer until thickened, about 4 minutes. Whisk in the sour cream and butter and season with kosher salt and freshly ground black pepper. Add lemon juice to taste and simmer until thickened, about 1 minute. Whisk in the remaiining minced dill.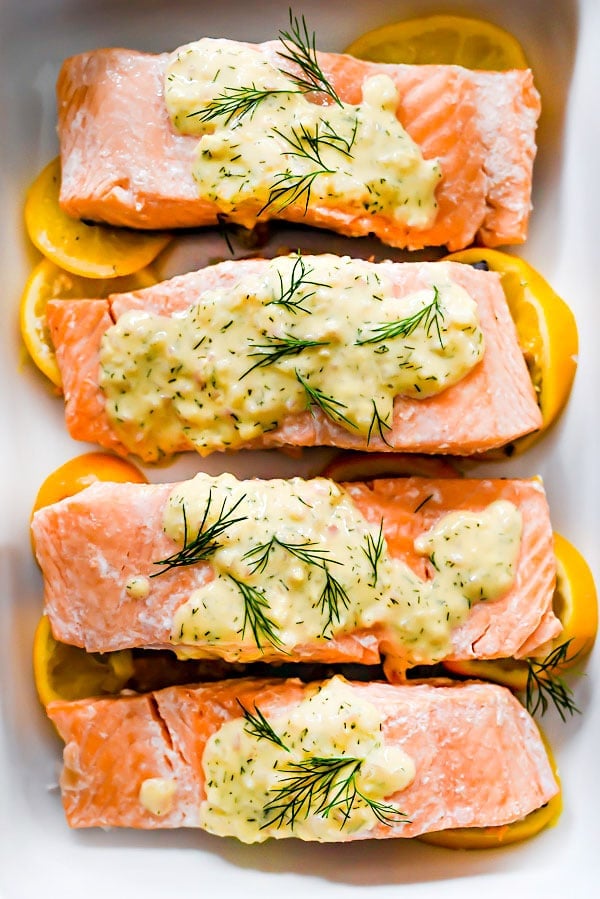 More Recipe Reasons to Poach
Now that you have your poached salmon resting comfortably in the fridge…what next? Here are a few ideas of how to take your basic fish to the next level for a full week of meals.
Superfood Salad with Lightened-Up Poppy Seed Dressing
My ultimate leftover salmon lunch, so good I don't even realize it's healthy.
Get the recipe | FoodieCrush
Salmon Tacos with Green Onion & Asparagus Salsa
So many spring flavors totally ready to cure your Taco Tuesday cravings.
Get the recipe | Snixy Kitchen
Salmon and Bagel Egg Benedict
This is why you take weekend salmon and bagel brunching way beyond partnering with traditional cream cheese.
Get the recipe | FoodieCrush
Salmon Fried Rice
There's barely a more efficient way to use leftovers than in a deliciously flavored fried rice.
Get the recipe | Simply Recipes
Salmon Citrus Salad with Avocado
Oranges and grapefruit add a bright bite to this lunch time salad fave!

Get the recipe | How Sweet It Is
As always, thank you for reading and for supporting companies I partner with, which allows me to create more unique content and recipes for you. All opinions are always my own.  
Are you following me on Instagram, Twitter, Facebook and Pinterest? 
Thanks for reading and subscribe to FoodieCrush to have each post delivered straight to your e-mail box.  
SIGN UP FOR FREE!
THANK YOU FOR VISITING FOODIECRUSH.COM

Subscribe to the FoodieCrush email newsletter and have every new post plus exclusive content delivered straight to your email box,
FOR FREE!