One pan is all you need for this savory, and super easy, chicken with mushroom sauce that's on the table in 30 minutes or less.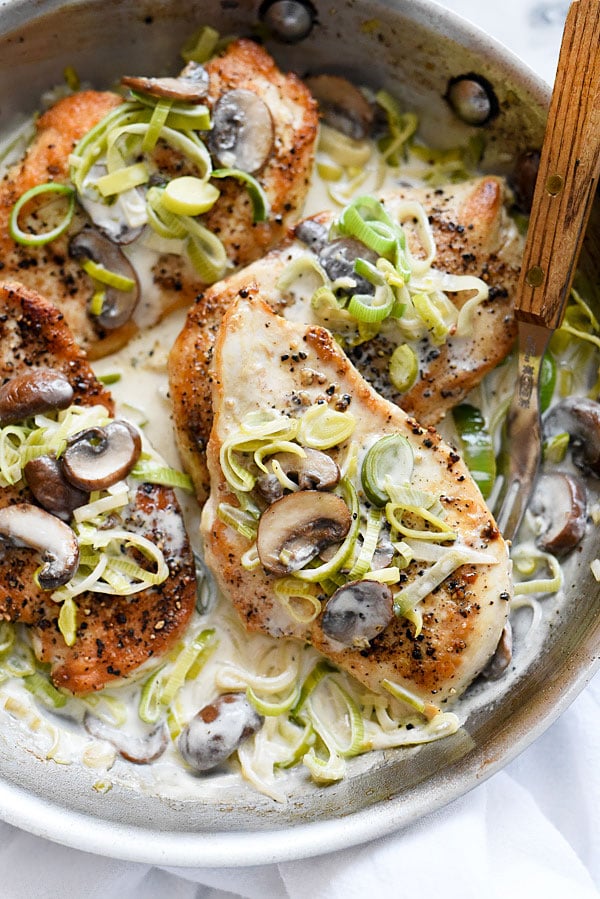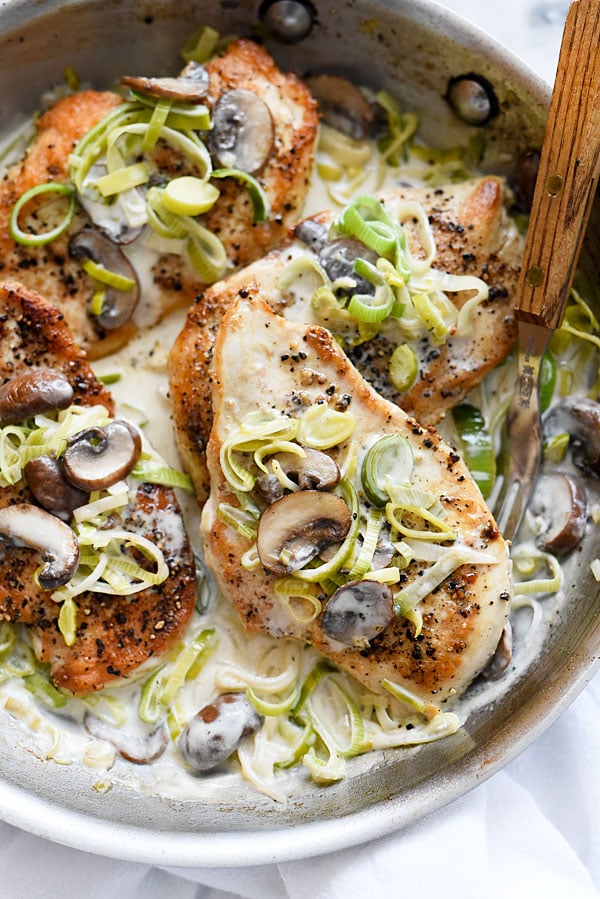 Chicken with Mushroom Sauce
"Oh, man. This is going to be epic for breakfast."
When I hear my husband make this comment as he's eating this 30-minute, one-pan, winner winner chicken dinner, it's like he's whispering sweet nothings in my ear. Yes. My love language is food.
And this is the literal translation of my husband's love language: "This is so good I want to eat it for every meal and holy sh*t, it would be so good with an over easy egg on top." Don't forget the hot sauce. As if.
Why thank you, babe. Chicken for breakfast? Sure! Why not use up those leftovers any which way the cravings blow?
He's a smart man, my guy, with good taste. If I do say so myself.
Each month a gaggle of us food bloggers have made it our monthly mission to spread the eat seasonal love by posting recipes using fresh produce no matter what time of the year. We have Becky of The Vintage Mixer to thank for the inspiration and coordination.
Funny enough, when I'm brainstorming for these monthly recipes I most often lean toward creating seasonal salads or baked goodies that use fresh berries or fruit.
But what about main dishes? Why should they be left out in the cold?
This creamy mushroom chicken recipe combines my monthly cravings to combine more and more seasonal ingredients—like January's ombre colored leeks and earthy brown mushrooms—into our meals with one of the ingredients I most often am asked for more cooking options for: boneless chicken breasts.
Chicken breast. It's so versatile, but if you're like me, you veer toward the same dang recipes time and time again. This one-pan meal is a tasty, easy, get-it-on-the-table-in-30-minutes option you'll find yourself going back to time and time again.
See how we did that? Now it's going into your weekly rotation too. And that's okay, it just gives me more inspiration to come up with more chicken breast recipes for you. I'm on it!
What's in Chicken with Mushroom Sauce?
This spectacular creamy mushroom chicken recipe uses just 9 ingredients. Yep, you read that right! Here's what you'll need to make chicken with mushroom sauce:
Chicken breasts
Kosher salt and black pepper
Olive oil
Butter
Brown mushrooms
Leeks
White wine
Heavy cream
How to Make Chicken with Mushroom Sauce
This recipe uses boneless, skinless chicken breasts that have been cut in half to create two thinner cutlets. Chicken breasts are so big these days! Which makes them take a lot longer to cook.
But, because I wanted to cook these on the stove in just one pan and avoid any baking time in the oven, I cut them into two cutlets to speed up the cooking time. The thinner cut also emphasizes the crispy exterior with a still juicy bite.
To cut the breasts, you'll want a sharp, skinny knife—this one is my favorite. Place your flattened fingers on the top of the breast and starting at the fatter end of the chicken breast, press down firmly with your fingers and slowly but methodically cut your way through the center of the chicken, applying pressure to evenly cut the breast in half.
Once cut, season the chicken breasts with kosher salt and pepper, then cook in a hot skillet with some olive oil and butter. Once cooked through, remove the chicken breasts to a plate and make the creamy mushroom and leek sauce.
After the sauce has reduced and become creamy, add the chicken back to the pan and spoon the sauce over top.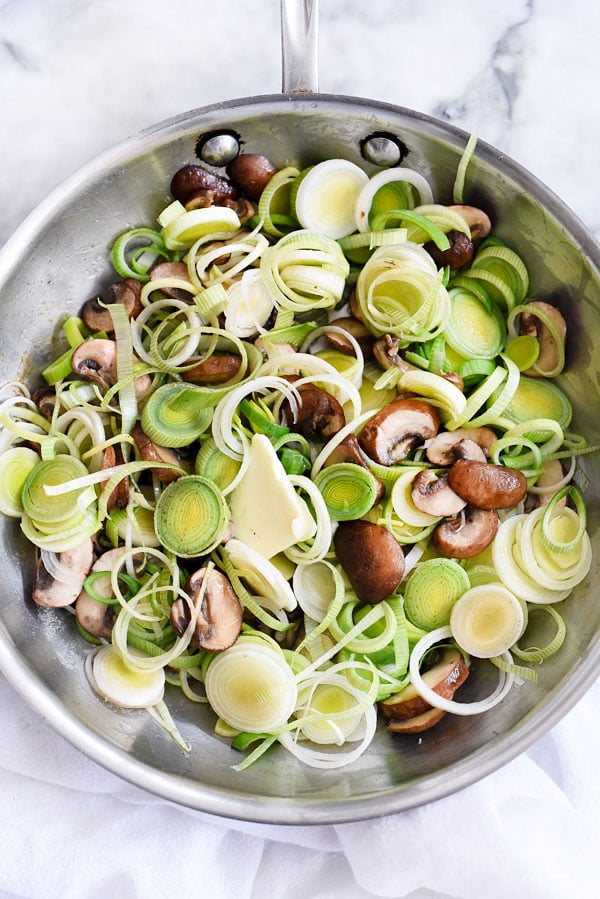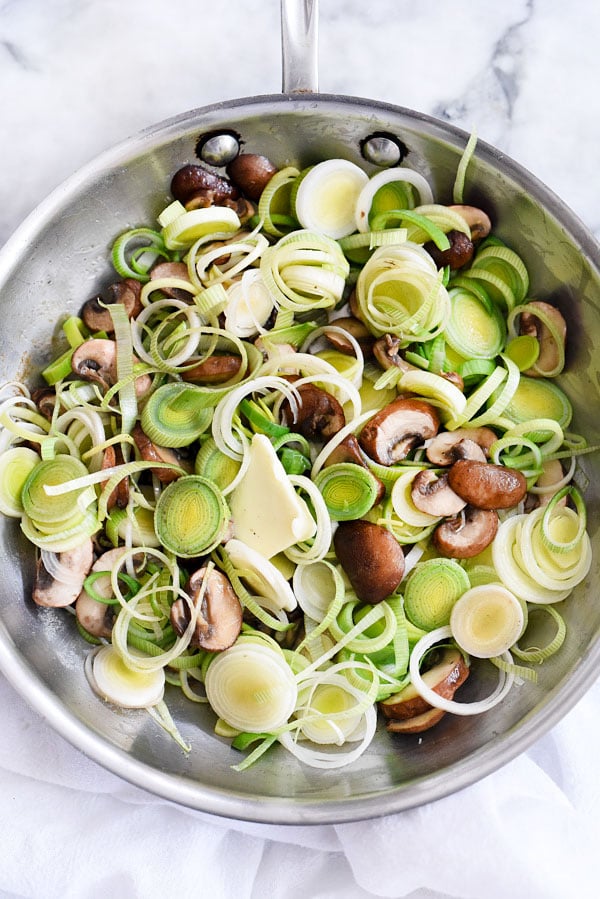 How to Clean Leeks
Leeks, while beautiful once cut with their rings of ombre colors, are notorious for being devils to clean. Dirt is often lodged in the outer layers of the leek (a member of the onion family) before they're pulled from the ground.
To combat the dirt, strip the outer layers of the leek from the stalk (they're pretty tough and won't soften much anyway) and vigorously rinse water through the remaining layers. If after slicing you find a bit of dirt, simply run the leeks through cold water and swish the dirt away.
Is There a Heavy Cream Substitute I Can Use?
I used cream in this recipe but you can certainly use half and half. Just know that your creamy sauce won't be quite as creamy if you do.
Tips for Making Chicken with Mushroom Sauce
When cooking your chicken, be sure not to crowd the pan and let the chicken cook undisturbed until ready to flip. The chicken will release from the pan easily once the side is seared.
I prefer brown button mushrooms, or commonly known as baby bella mushrooms, in my mushroom recipes over white mushrooms. They seem to have more flavor. To clean, lightly rub the dirt from the mushroom caps with a slightly damp paper towel or dish cloth.
It will seem a like you have a WHOLE lot of mushrooms and leeks with this amount. Don't worry. They cook down, wilt and shrink. And once you taste them with the chicken, you're going to want more anyway. At least we do.
More Easy Chicken Dinners You'll Love
If you make this recipe, please let me know! Leave a ⭐️⭐️⭐️⭐️⭐️ rating on this recipe below and leave a comment, take a photo and tag me on Instagram with #foodiecrusheats.
Print
30- Minute Creamy Mushroom and Leek Chicken Breasts
One pan is all you need for this savory, and super easy, chicken with mushroom sauce that's on the table in 30 minutes or less.
Ingredients
3

boneless skinless chicken breasts

kosher salt and freshly ground black pepper

1

tablespoon

extra-virgin olive oil

3

tablespoons

butter

½

pound

brown mushrooms

, (about 16-18 mushrooms), gently cleaned with a damp paper towel

3

leeks

, sliced into ⅛ inch rounds, white and pale green parts only

⅓

cup

white wine

1

cup

cream or half and half
Instructions
To prepare the chicken, start at the thicker end of the chicken breast and use a sharp knife to cut the chicken breast in half into two thinner cutlets. Trim any excess fat and season both sides with kosher salt and freshly ground black pepper.

Heat a large skillet to medium high heat. Add ½ tablespoon of butter and ½ tablespoon of the olive oil until the butter is melted then add 3 of the chicken breasts to the pan. Cook undisturbed until you can see that the chicken is cooking through on the one side, about 3-4 minutes. Use tongs to flip the chicken over once it is nicely browned and cook for an additional 3-4 minutes or until the thickest part of the chicken reaches 160 degrees F. Transfer to a plate and tent with aluminum foil to keep warm and rest.

Wipe out the pan with paper towels and add ½ tablespoon of butter and the remaining olive oil. Repeat with the remaining three chicken breasts. Transfer to the plate with the other cooked chicken.

Wipe out the pan again and over medium heat, and melt 1 tablespoon of the butter. Add the mushrooms and leeks to the pan with a pinch of kosher salt. Cook while stirring occasionally for about 5 minutes or until the mushrooms are softened and the leeks are becoming limp.

Add the wine and continue to cook for 2 minutes. Add the cream or half and half, raise the heat to medium high and cook for 5 minutes or until the cream coats the back of a spoon and has slightly reduced. Stir in the last tablespoon of butter to add a bit of gloss and adjust the seasoning to taste.

Add the chicken breasts back to the pan and top with the sauce, or transfer to serving plates and spoon sauce over them then. Serve with rice, noodles or farro.
Nutrition
Calories:
272.43
kcal
|
Carbohydrates:
12.41
g
|
Protein:
20.52
g
|
Fat:
14.47
g
|
Saturated Fat:
6.39
g
|
Cholesterol:
76.81
mg
|
Sodium:
191.1
mg
|
Potassium:
701.94
mg
|
Fiber:
1.54
g
|
Sugar:
3.78
g
|
Vitamin A:
1400.54
IU
|
Vitamin C:
9.03
mg
|
Calcium:
56.34
mg
|
Iron:
2
mg
More Leek Recipes to Try
We send good emails. Subscribe to FoodieCrush and have each post plus exclusive content only for our subscribers delivered straight to your e-mail box.
Follow me on Instagram, Facebook, Pinterest and Twitter for more FoodieCrush inspiration.
As always, thank you for reading and supporting companies I partner with, which allows me to create more unique content and recipes for you. There may be affiliate links in this post of which I receive a small commission. All opinions are always my own.