Whether it's grilled salmon, baked salmon, salmon in a pan, or salmon baked in foil, everyone can agree that easy salmon recipes are a healthy and delicious protein source for any meal.
50 Top-Rated Salmon Recipes
From the Mediterranean Diet, to WW, paleo, keto and beyond, salmon is one of the best healthy protein choices that works for just about any diet plan. What makes eating salmon such a good idea? Alaskan salmon, pink, chinook, coho, and sockeye salmon are all rich in omega-3 fatty acids, promoting brain and heart health while being low in fat, calories, and cholesterol. Yep, salmon is a certified super food that tastes delicious too.
How to Cook Salmon
This list of 50 top-rated salmon recipes features supremely simply seasoned recipe ideas and others more layered. So many good ideas are on the list, with great ideas and easy methods for combining some of our favorite flavors that go best with salmon including:
salty with soy sauce or miso
sweet with honey and maple
sour with lemon and lime
pungent with garlic, ginger and horseradish
and creamy with crème fraîche or coconut milk
Who else is ready to eat more real good, real healthy food? Eat more salmon and enjoy!
FoodieCrush
This simple salmon recipe works every time, and is a delicious, blank canvas for sauces, toppings, and salsas to serve along with it.
Cafe Delites
Zippy said, "This meal is a taste explosion! It's now one our favorites and is also being added to our "company-worthy" recipe file of meals to make for guests."
Foodness Gracious
This is such a simple recipe and perfect for a weeknight dinner, along with some grilled veggies or garlic bread and dinner is done.
Fit Foodie Finds
The elements of these salmon bowls are simple to prep and enjoy, but know that nothing is set in stone with recipe
Climbing Grier Mountain
When purchasing store-bought Cajun seasoning make sure it's salt-free so you can control the amount of salt to your liking.
Inspiralized
Lite coconut milk works fine here, surprisingly, and with a little bit of broth and the sundried tomatoes, you don't get a heavy coconut taste – it all balances out very nicely and makes for a creamy sauce that spoons beautifully over the salmon, peas, and couscous.
Cooking for Keeps
This marinade is only five ingredients, spicy, salty, and sweet all in one. Whisk everything together, marinade for as long as you want, and then throw on the grill for the easiest dinner on the planet.
The Defined Dish
Small pockets are cut into the side and stuffed with a creamy, spinach creation and a cajun touch that makes it especially special.
The Modern Proper
Mustardy vinaigrette, tender spring greens, briny capers and olives, the crunch of fresh green beans—Niçoise salad is a study in the beauty of contrasting textures and flavors.
Salmon recipes can be cooked many ways, but in my book, there's nothing as easy as oven baked salmon in white wine and lemon for a healthy dinner, or to make and use for meal prep all week long.
Little Spice Jar
This miso salmon is loaded with delicious umami flavor from the combination of soy sauce and white miso paste.
Feasting at Home
Here's a simple healthy dinner recipe that is not only full of flavor, it's full of protein, fiber and healthy fat
Well Plated
Rosa said: "First time my mom made baked salmon with my help, and it tasted delicious! This recipe is simple, easy to make, and we will definitely be using this recipe again! "
FoodieCrush
The best part is that these salmon cakes can be used as one of those meal prep situations by cooking a salmon on Sunday or Monday and use the leftovers for these crispy salmon cakes.
View from Great Island
Jude said: "How scrumptious, and a great way to get plenty of goodness from both the fish and vegetables."
Add a Pinch
Sone said: "I tried it and I absolutely love it. I am so impressed it was on 4 ingredients & super easy to cook."
Everyday Maven
Christy says: "I made this last night with 3 salmon fillets and the same amount of rice. It was fantastic! The timing was perfect and I LOVED cooking the rice and the salmon in the same time – brilliant."
Inquiring Chef
This recipe is both weeknight-friendly and worthy of guests because it can be entirely prepped ahead of time, cooks hands-off in the oven, and is finished with a creamy sauce that makes it feel extra special.
Food Nouveau
The just right salad philosophy is in this delightfully textured dish, peppery arugula is combined with fiber-rich red lentils, good-for-you Omega-3-packed salmon, and crunchy fennel and radishes.
FoodieCrush
Vivian said: "Made this for my family tonight when I was pressed for time to get dinner on the table. It was a big hit Thanks for a great recipe!"
Ambitious Kitchen
Sonja said: "Just made this tonight for my boyfriend and I. He devoured it in basically one inhale.
Bev Cooks
Grated cauliflower creates the rice for these easy, nutritious, delicious salmon bowls.
Diethood
Ann said: "Very flavorful and tender salmon. The sauce was perfect. I added some capers to the sauce and it was great!"
How Sweet Eats
Holli said: "Delicious! Browned butter is life."
Skinnytaste
These low-carb Salmon Croquettes with Dill Sauce are healthier than traditional deep-fried ones and use only egg as a binder rather than breadcrumbs or crackers.
Simply Recipes
Got leftovers? Make salmon fried rice!
FoodieCrush
This thick and creamy, perfectly chunky, and easy to make fish chowder made with the best Copper River salmon gets a Thai makeover with flavors of coconut milk, fresh lemongrass, ginger, and kaffir lime, for a unique spin on a comfort food favorite.
Diethood
These tacos are healthy, fresh, easy, and require only 30 minutes of your time to be ready to serve.
Foxes Love Lemons
This recipe may seem kind of fancy, but it's just cooking pasta + making a simple pesto sauce + roasting a piece of salmon.
Cookin' Canuck
This meal comes together in about 30 minutes. That includes making the sauce (so easy!), cooking the salmon and stir-frying the cabbage.
Dishing Up the Dirt
Kristie said: This was sublime! We're pescatarian, so used a bit of smoked salmon as well to get the bacon flavour and also used the crispy lentil recipe from your cookbook as a topper.
Two Peas and Their Pod
The salmon gets baked with a little butter, honey, rosemary, lemon, and garlic with sweet potatoes added to the pan. Nutritious and delicious.
The Defined Dish
If you're a fan of sour cream and onion potato chips, you're going to love these.
Gimme Some Oven
Jane said: "I prepared this last night and it was fabulous. My husband, who is very particular about curry, couldn't stop raving about how good it was. This recipe is definitely a keeper."
Kitchen Confidante
The honey chipotle sauce whips up in seconds in a food processor. Between the sweet and spicy tang and the smoke from grilling the salmon on the plank, you're left with a seafood dish that is bold and flavorful.
Lexie's Clean Kitchen
Fresh horseradish tops this salmon and then broiled on top to form a crust for a unique weeknight dinner.
FoodieCrush
While poached salmon may seem complicated to some home cooks, poaching is one of the simplest ways to cook this popular fish once you know the poaching secrets, and it's even better topped with this deliciously easy mustard dill sauce that's ready to serve in under 30 minutes.
Dolly + Oatmeal
Roasted salmon works well here, but grilling would also be a great way to prepare it. Cook the filet whole, to avoid drying it out.
The Cookie Rookie
Claudia said: "Just delicious! Super easy to make, few ingredients and great flavor."
Whole Heavenly Oven
Baked salmon tangles with the fresh herbiness from the honey dijon dill dressing, the sweetness from the pomegranate, and silky avocado in this meal in a bowl.
The Novice Chef
Eating healthy has never tasted as good as this baked salmon does. The top gets crusty and is packed with flavor and the salmon is perfectly flaky.
Recipe Girl
Make the salsa homemade, or choose a chunky store bought variety instead. This healthy dinner recipe serves two people, but you can certainly double or triple the recipe to serve more.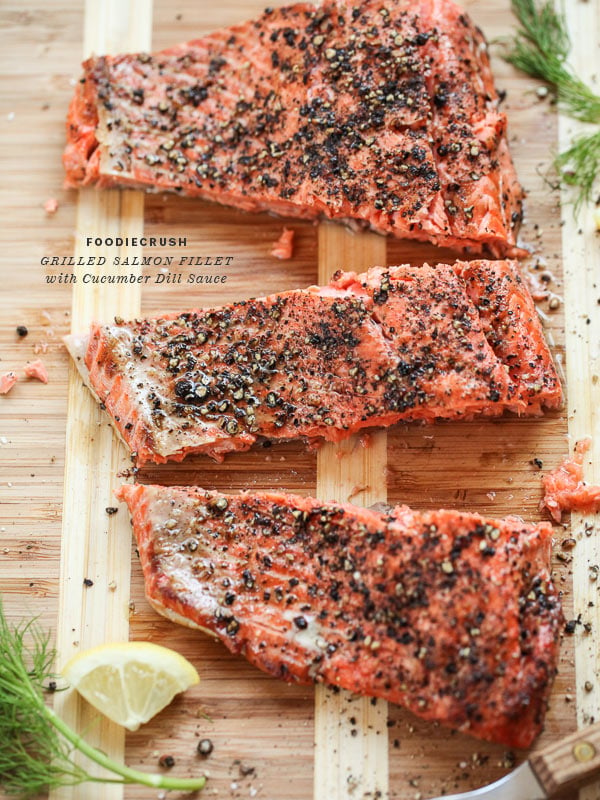 FoodieCrush
In my husband's version of dill sauce, there's a little tweak you might not expect: The addition of just a touch of blue cheese dressing that provides just the right tartness to make a perfect topper for my favorite recipe for grilled salmon.
Feed Me Phoebe
This salmon marinade is light, bright and slightly spicy thanks to the Moroccan red pepper paste harissa. It's easy to throw together, has lots of earthy vibes, and yet doesn't leave you down for the count. 
FoodieCrush
Leftover salmon gets a recipe remake with bowtie pasta, fresh asparagus, and dill in this super simple Parmesan cream sauce that makes meal prep a breeze. This salmon pasta couldn't be easier to make!
Reluctant Entertainer
The sweet and sassy marinade gives this salmon a glossy glaze.
Sweet Phi
This bbq baked salmon is smokey and slightly sweet and the spice rub is sooo good. The mango salsa completes this dish and makes it delicious bite after bite.
Cooking With Books
This salmon pasta is so quick and easy, and perfect for when you have a little bit of this and a little bit of that in your fridge.
Life Is But a Dish
A simple, homemade teriyaki sauce drapes salmon filets for a sweet and savory bite.
FoodieCrush
Both the squash and the salmon are accented with a mix of brown sugar, orange zest and Chinese five-spice powder and brown sugar that caramelizes in the oven.
Recipe Ideas: Good Side Dish with Salmon
If you make this recipe, please let me know! Leave a 
 rating on this recipe below and leave a comment, take a photo and tag me on Instagram with #foodiecrusheats.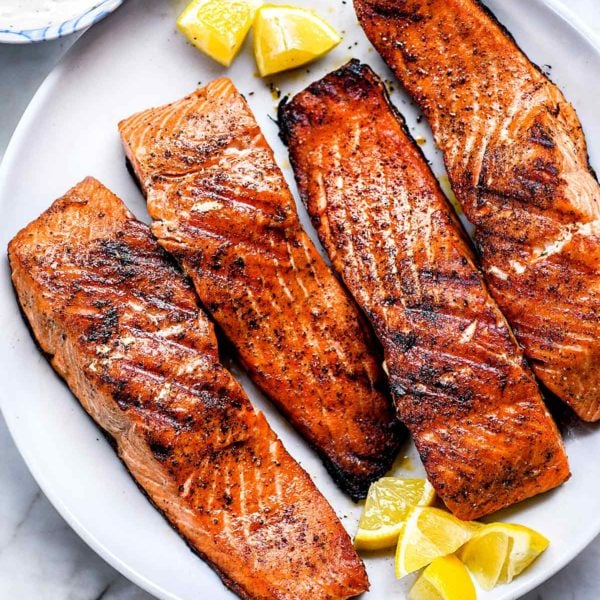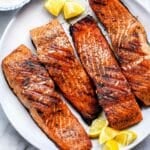 Print
50 BEST Salmon Recipes | THE BEST Grilled Salmon
This grilled salmon recipe is one of the easiest salmon recipes to master. Generously coat the flesh side of the salmon with oil and cook it 90% of the way skin side down until the skin releases easily from the grill, about 6-8 minutes, before turning to the flesh side for 2-4 more minutes. 
Ingredients
4

6-8 ounce

skin-on salmon fillets

about 1-inch thick

2

tablespoons

grape seed oil

2

teaspoons

kosher salt

2

teaspoons

freshly ground black pepper

1

lemon

cut into wedges
Instructions
Prepare the grill for direct cooking over high heat, 450°F-550°F. Brush the cooking grates clean and close the lid to heat.

Generously coat the flesh side of the salmon fillets with oil and season evenly with kosher salt and black pepper. Grill the salmon skin side down over direct high heat with the lid closed, for about 6-8 minutes or until the fish lightens in color, becomes more firm to the touch and you can lift the fillets off the cooking grates without them sticking.

Turn the salmon over, close the lid, and cook to 130°F or about 2-4 minutes for medium rare or longer to desired doneness. Transfer to a platter to rest for 1-2 minutes. Slide the salmon skin from the fillets and serve with wedges of lemon and tartar or cucumber dill sauce.
Nutrition
Calories:
73
kcal
|
Carbohydrates:
3
g
|
Fat:
7
g
|
Sodium:
1163
mg
|
Potassium:
50
mg
|
Fiber:
1
g
|
Vitamin C:
14.3
mg
|
Calcium:
11
mg
|
Iron:
0.3
mg
More Favorite Recipe Ideas
We send good emails. Subscribe to FoodieCrush and have each post plus exclusive content only for our subscribers delivered straight to your e-mail box.
Follow me on Instagram, Facebook, Pinterest and Twitter for more FoodieCrush inspiration.
As always, thank you for reading and supporting companies I partner with, which allows me to create more unique content and recipes for you. There may be affiliate links in this post of which I receive a small commission. All opinions are always my own.