Simple roasted asparagus gets gussied up with this lush yet easy-to-make 3-ingredient blender hollandaise sauce.
The quickest and easiest way to make asparagus the most delicious thing ever is to rev up it's inherent sweetness with a fast and furious roast in a hot oven or on the grill. Simple, healthy, and flattering to any main, roasted asparagus is everything a side dish should be.
But if you're looking to make your green stalked side dish even more, drizzling this lemony lush, 3-minute blender hollandaise over the sweetly caramelized roasted asparagus is a wildly popular way to munch on this stand-out, stand-up vegetable.
This recipe makes more than enough hollandaise for one pound of asparagus, so feel free to double or triple the amount of asparagus to fit your needs. Or, use the extra hollandaise for eggs benedict the next day.
What You'll Need for Asparagus with Hollandaise
1 pound or more of fresh asparagus. Thick or thin spars are equally delicious. Know that thicker asparagus will take a little longer to cook.
Extra virgin olive oil
Kosher salt and freshly ground black pepper
3 egg yolks (reserve the whites for tomorrow's scrambles)
1 tablespoon lemon juice
½ cup hot water
8 ounces butter or 2 sticks, melted (choose unsalted if you prefer to control the amount of salt)
Pinch of kosher salt
Paprika if desired
How to Prep Asparagus
Look for the freshest stalks you can find. Whether thick or thin, choose bright green stalks that are firm and fresh. While asparagus is more readily available in spring, you can typically find good quality year round.
Wash the asparagus. Rinse the asparagus in cool water then gently press with a kitchen towel to remove any moisture so the oil sticks to the stalks and the asparagus roasts instead of steams.
Trim your asparagus. Back in the day I would bend each individual stalk of asparagus until it snapped to discard the woody stem, about one inch up from the bottom of the stalk. These days I just line them up and chop off the ends with a sharp knife.
I don't bother with peeling asparagus spears. But if you want, get a more tender asparagus stalk by using a vegetable peeler to trim the outer layer of the spear.
How to Make Roasted Asparagus
This is my more detailed roasted asparagus recipe with lost of cooking tips, but I've outlined the basics below:
Use high heat. Preheat your oven at 450°F. High heat caramelizes the sugars in the asparagus for a super delicious spear. Adjust your roasting time depending on the thickness of your spears.
Line your baking sheet with foil. This makes for super fast clean up.
Toss on your sheet. Drizzle the olive oil directly on your asparagus and season with the salt and pepper, then toss with your hands before roasting. Why dirty an extra bowl?
Roast for 8-10 minutes depending on thickness. Roasted asparagus should still have snap. Avoid overcooking the asparagus or it will become stringy and mushy.
How to Make Blender Hollandaise
Find my more detailed recipe for blender hollandaise here. 
Clarify the butter. Clarified butter is melted butter where the butterfat is separated from the liquid gold. I take the easy route and place the butter in a glass measuring cup then microwave it in 15-30 second blasts. The solids separate, then drop to the bottom of the measuring cup. After drizzling the clarified butter into the blender, discard the chalky, white fat.
SLOWLY blend the hot water into the eggs and lemon. Slowly adding hot water into the eggs gives them a head start in cooking without scrambling them. The water lightens the blender hollandaise sauce as it thickens when adding the butter later.
Drizzle the warm butter into the blender slooooooowly. This is the most important step so the sauce doesn't break and separate. Place a kitchen towel over the hole of the blender or cover with your hand as you add the butter so the sauce doesn't splatter all over you and your kitchen.
Add a pinch of salt to brighten the flavors. Taste as you go. This isn't an essential addition but does add just a bit of balance.
How to Fix Broken Hollandaise
If your homemade hollandaise sauce looks like it might break, add 1-2 teaspoons of cold water and blend more.
How to Serve Roasted Asparagus With Hollandaise
Plate the cooked asparagus on a platter or individual plates then drizzle with the hollandaise.
Sprinkle with paprika for color and serve with additional lemon wedges if desired.
This hollandaise recipe makes more than enough for 1 pound of asparagus and will likely be enough for 2-3 pounds depending on how much you like.
What to Serve With Roasted Asparagus with Hollandaise
If you make this recipe, please let me know! Leave a 
 rating on this recipe below and leave a comment, take a photo and tag me on Instagram with #foodiecrusheats.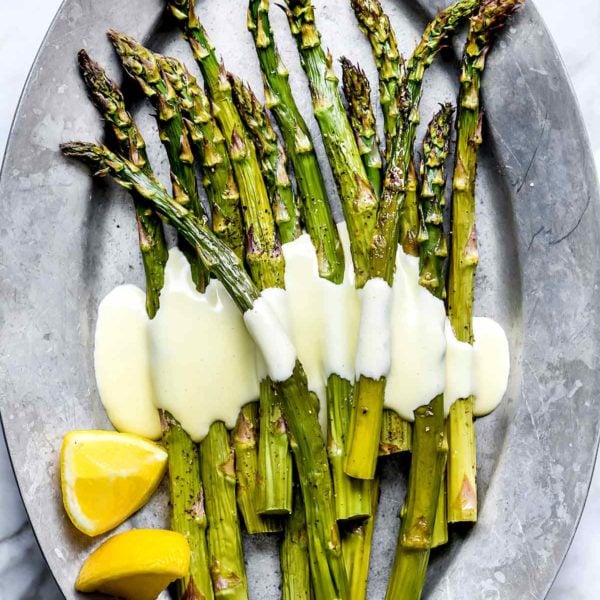 Print
Roasted Asparagus with Hollandaise Sauce
Simple roasted asparagus gets gussied up with this lush yet easy-to-make 3-ingredient blender hollandaise sauce.
Ingredients
For the Roasted Asparagus
1

pound

fresh asparagus

, trimmed

1-2

tablespoons

extra-virgin olive oil

½

teaspoon

kosher salt

½

teaspoon

pepper
For the Hollandaise Sauce
3

egg yolks

1

tablespoon

lemon juice

¼

cup

hot water

1

cup

unsalted butter

, (½ pound)

Pinch

of kosher salt

paprika
Instructions
Preheat the oven to 450°F.

Place the asparagus on a baking sheet in a single layer. Drizzle with the olive oil, coating spears evenly, and sprinkle with salt and pepper. Roast the asparagus for 8-10 minutes (depending on thickness of spears) until tender.

While the asparagus is cooking, make the hollandaise. Melt the butter in a small pan on the stove over low heat or in a microwave-safe bowl or measuring cup on high heat in the microwave for 30-45 seconds. Set aside.

Add the yolks and lemon juice to the blender container. Blend on high for 15 seconds then scrape down the sides. Turn on the blender and slowly add the hot water until incorporated. Drape a kitchen towel over hole in the blender lid to avoid splattering, set the blender to high, and slowly drizzle the hot butter into the egg yolk. Blend for about 30-60 seconds or until thickened. Taste for seasoning and add more lemon juice or salt to taste.

Plate the roasted asparagus on a platter or individual plates and drizzle with hollandaise. Sprinkle with paprika if desired. This dish is best served warm.
Notes
This recipe makes more than enough hollandaise for one pound of asparagus, so feel free to double or triple the amount of asparagus to fit your needs. Or, use the extra hollandaise for eggs benedict the next day.
Nutrition
Calories:
337
kcal
|
Carbohydrates:
4
g
|
Protein:
3
g
|
Fat:
36
g
|
Saturated Fat:
21
g
|
Trans Fat:
1
g
|
Cholesterol:
179
mg
|
Sodium:
204
mg
|
Potassium:
176
mg
|
Fiber:
2
g
|
Sugar:
2
g
|
Vitamin A:
1648
IU
|
Vitamin C:
5
mg
|
Calcium:
40
mg
|
Iron:
2
mg
More Asparagus Recipe Ideas
We send good emails. Subscribe to FoodieCrush and have each post plus exclusive content only for our subscribers delivered straight to your e-mail box.
Follow me on Instagram, Facebook, Pinterest and Twitter for more FoodieCrush inspiration.
As always, thank you for reading and supporting companies I partner with, which allows me to create more unique content and recipes for you. There may be affiliate links in this post of which I receive a small commission. All opinions are always my own.