My family isn't steeped too deeply in family traditions.
As kids, we didn't go to the same summer vacation spot year after year nor did we play the perennial party games at the annual family reunion.
But we did always gather as a group on Thanksgiving and Christmas. And that's why it's my favorite time of year. Memories of us all getting together to eat, share, arm wrestle—and beat—my boy cousins and watch TBS's 24 hour A Christmas Story marathon.
Every Christmas morning for each of my 29 'plus' years, I've had this Breakfast Casserole—officially named Ham Souffle but really more of a strata—made the night before and then baked on Christmas morn in all of its gooey, cheesy, ground ham find me under the mistletoe union.
And it is special.
My mom found the recipe in the Ogden Junior League Cookbook under the section "Beautiful Brunches"—a rag tag binder copy that I still have—and would make it only on Christmas morning, for all of the grandparents, aunts, uncles and cousins to covet and savor.
On Christmas Eve day, my sister and I would help my mom prep: tear the bread, mix the eggs, shred the cheese and start layering over the ham. We'd toss the filled casserole pans in the fridge to rest overnight, ready to be popped in the oven the next morning as we lounged in our PJs and took turns opening presents.
Once the family arrived, slipping off snow shoes and swapping stories of what Santa brought, we'd pull the bubbling casseroles from the oven, and serve buffet style with blueberry muffins and Angela's Frosty Cranberry Mold, savoring every single bite. And the occasional serving of fudge.
The dish never dared make another appearance at any other time of the year because then it would be somehow tarnished, its sparkle dimmed just a touch.
Now that us kids have all gotten older, and are having kids of our own, we've all dispersed and no longer get together as a group on Christmas morning.
But the tradition lives on, with my sister, cousins and extended family sharing Breakfast Casserole with their own families.
Check out Reluctant Entertainer's Pear and Vanilla French Toast on page 32 of FoodieCrush magazine and see Sandy's 5 tips for a stress-free Christmas morning.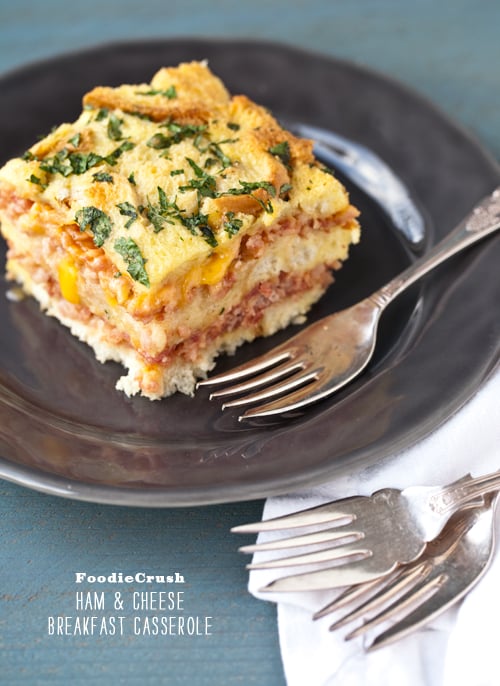 If you make this recipe, please let me know! Leave a comment below or take a photo and tag me on Instagram with #foodiecrusheats.

Ham and Cheese Breakfast Souffle Casserole
Assemble this breakfast casserole the night before and then bake it in the morning for a cheesy breakfast fit for a crowd.
Ingredients
1½ loaves sliced white bread
2 pounds no-water added ham, finely ground in a food processor or by your butcher
1 pound medium cheddar cheese, grated
8 eggs
2 cups milk
1 tablespoon dry mustard
1 tablespoon parsley
Instructions
Prepare 9 X 13 pan with softened butter. Tear slices of bread into 1 inch pieces and cover bottom of pan with bread, fitting tightly like a puzzle pieces.
Layer the ground ham over bread then layer the cheese over the ham. Top with the rest of the bread slices torn into pieces nestled tightly together.
In a 1 quart measuring cup, mix together the eggs and milk. In a small bowl, take 1 tablespoon of egg and milk mixture and mix in mustard until smooth. Add into the quart measuring cup and mix well so that all of the mustard is incorporated. Add the chopped parsley and starting at one side of the casserole, pour slowly over the top of the bread, evenly distributing the wet ingredients. Cover with non-stick aluminum foil and refrigerate overnight.
Bake at 325 degrees F for 50-60 minutes with the foil on the casserole, or until the eggs are set and bubbling. Remove from oven and let sit for 5-10 minutes before cutting and serving.
Notes
makes 9 X 13 casserole pan
allow time for casserole to sit in refrigerator overnight
A big nod to the nog in Lauren's Latest make-ahead Egg Nog Breakfast Pudding with Cinnamon Whipped Cream, perfectly decadent for the perfectly sweet Christmas morning. P.S. Don't miss checking out the link on her website of Lauren out cooking Sandra Lee with her Brownie Cheesecake Peppermint Bars on Good Morning America!
Heeding her husband's wishes (you could too, it is Christmas afterall), Regina created a  crustless quiche, and The Palate Pleaser's gluten-free, Bacon Leek and Asparagus Quiche ala breakfast hero was born.
With a little bit of healthy—thanks to whole wheat bread—and a little bit of sweet—with a touch of turbinado—Melissa's created just the right balance to bring some jingle to your jangle on Christmas morning with The Faux Martha's Baked French Toast.
What better way to show your holiday well-roundedness and celebrate the Hannukah's Festival of Lights than having Michael of Food People Want give us the guide to making your own gravlax and then…
Use that homemade gravlax with Donuts to Delirium's Mini Bagels topped with cream cheese wonderfulness. Slice, spread and serve.
Thanks for reading. Keep in touch, please subscribe to FoodieCrush and follow me on twitter, Facebook and Pinterest
Subscribe and have every FoodieCrush post delivered straight to your e-mail inbox
(Visited 31,735 times, 1 visits today)