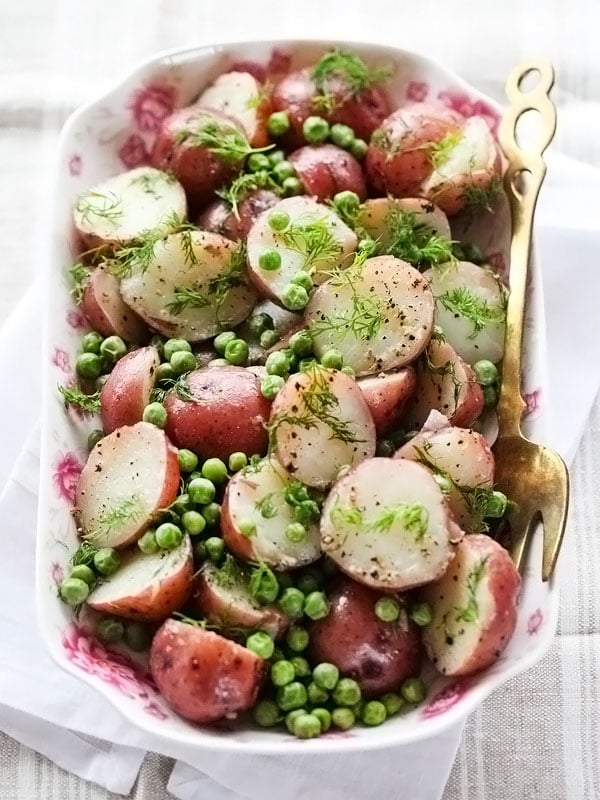 Signs of spring are popping up everywhere.
We cleaned out the last of fall's remnants of fallen leaves so that now the crocus are sprouting through, piles-of-dead-leaves-free, with their yellow and purple happy faces.
This weekend I bought a mess of Girl Scout cookies. How many samoas and thin mints can be eaten in one sitting with three people? 2 boxes is the answer.
And our new rescue pup Zoee is shedding like there's no tomorrow. Pair the vacuuming of dog hair with the sneezes of hay fever and we have quite the symphony going on at our house.
Ahhh, spring.
But most of all, spring gets me craving simple, flavorful eats. With the emphasis on SIMPLE.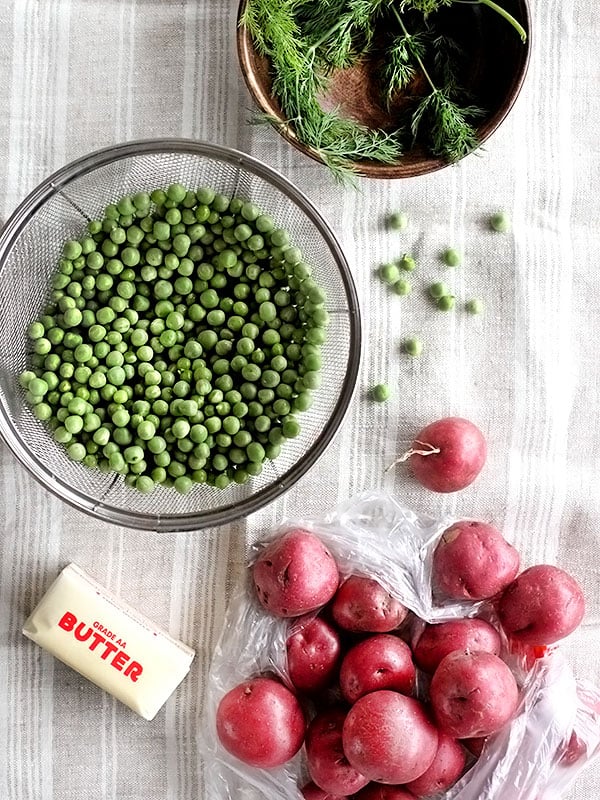 And brunch. I'm craving brunch. This sudden appearance of 70-degree weather is having its way with me, inspiring lazy day Sundays toiling over festive eats.
Easter has brunch in the cards, which I always prefer over that early dinner thing. And Mother's Day? Brunch is a no brainer, just don't forget to invite her along too.
Roasted Asparagus with Brown Butter Marcona Almonds, Scrambled Eggs and Asparagus Toasts, or Grilled Artichokes with Garlic Butter all fit into the brunch cards.Side dishes are one of my favorite things to prepare because they just don't have to be complicated or time consuming to taste delicious. And this one is the ultimate spring perk.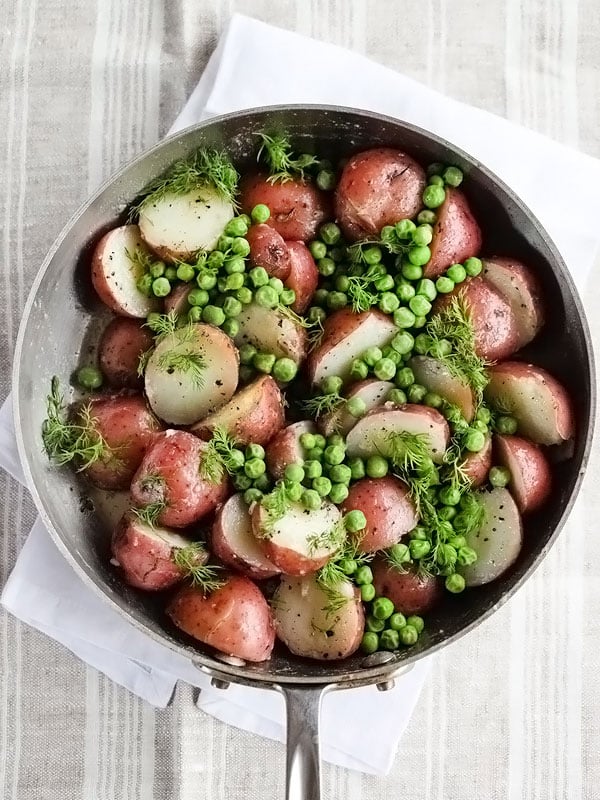 About the recipe
I paired baby red potatoes with fresh English peas. I really think English peas are the epitome of spring's new beginnings. I don't often find them in the usual grocery store but always at Trader Joe's.
Baby red potatoes are perfectly delicious skin on and all. Forget that extra step of peeling! Be sure to remember to salt your water so the flavoring is absorbed throughout the potatoes. And remember, don't salt your water before it comes to a boiling point or you have the potential of pitting your pans (as my husband ALWAYS reminds me as I salt the water too early.)
The pair are gently tossed in melted REAL® butter and sprinkled with fresh dill, kosher salt and freshly ground black pepper.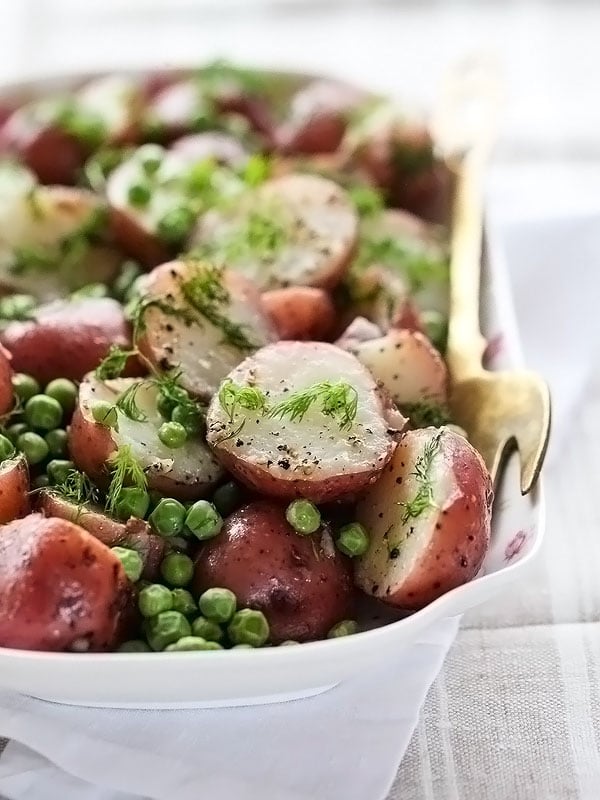 If you make this recipe, please let me know! Leave a comment below or take a photo and tag me on Instagram or Twitter with #foodiecrusheats.  

Dilled Red Potatoes and Peas
Ingredients
2 pounds small red potatoes
10 ounces fresh English Peas, about 2 cups
4 tablespoons butter
¼ cup fresh dill leaves
Kosher salt and freshly ground black pepper
Instructions
Place red potatoes in large stockpot of water with 1-2 teaspoons of kosher salt. Bring potatoes to boil and reduce to bubbly simmer. Cook for about 7-8 minutes or until fork easily pierces potatoes.
Add peas to potatoes and cook for 1 minute more or until they turn bright green. Carefully drain peas and potatoes without crushing peas.
Melt butter in same pot and add potatoes and peas back to pot. Season with kosher salt and freshly ground black pepper. Sprinkle with dill, stir gently to combine and serve immediately.

Seasonally Dishing It Out
I always strive to eat seasonally and its not hard to do and each month I post a seasonal recipe as part of this group. But spring, oh SPRING! It brings out my most seasonal cravings! Share your #eatseasonal eats and recipes on Instagram or Twitter so we can inspire one and all.
Here are a few more side dish recipes I think would be dynamite on any spring brunch table. What am I talking about? They'd be great all year 'round.

Oven Roasted Asparagus with Blood Orange Vinaigrette
Blood oranges AND asparagus? Two of my favorite signs of spring in one stealth side dish.
Get the recipe | The Tomato Tart
Quinoa Kale and Pea Salad
A bounty of spring veggies with whole food quinoa makes this a plentiful side that does double duty as a main.
Get the recipe | Eat Good 4 Life
Strawberry Spinach Salad with Candied Pecans
This recipe is always a fave. Brown sugar and butter candy the pecans while creamy goat cheese gives a tart bite to springy strawberries and spinach.
Get the recipe | I Wash You Dry
Lentil Salad with Roasted Fennel and Carrots
Maple syrup (yes!), lemon juice and orange zest dress this earthy carrot salad that knows no calendar and is always in season.
Get the recipe | Mountain Mama Cooks
Roasted Beet and Orange Salad with Pistachios and Feta
Citrus and beets are always in my season, especially with a pistachio-ed crunch.
Get the recipe | Girl Versus Dough
Hey, thanks for stopping by and visiting FoodieCrush. Have something to say? I'd love to hear from you. Let me know in the comments below.
Make it a great day, friends and cook something seasonal and good.
As always, thank you for reading and for supporting companies I partner with, which allows me to create more unique content and recipes for you. All opinions are always my own.  Are you following me on Instagram,  Twitter,  Facebook  and  Pinterest? 
Thanks for reading and subscribe to FoodieCrush to have each post delivered straight to your e-mail box. 
Subscribe and have every FoodieCrush post delivered straight to your e-mail inbox