From potato salads to mac salads to pasta salads and more, this list of my top 45 easy potluck side dishes are the make-and-take favorites everyone at your summer cookout will love.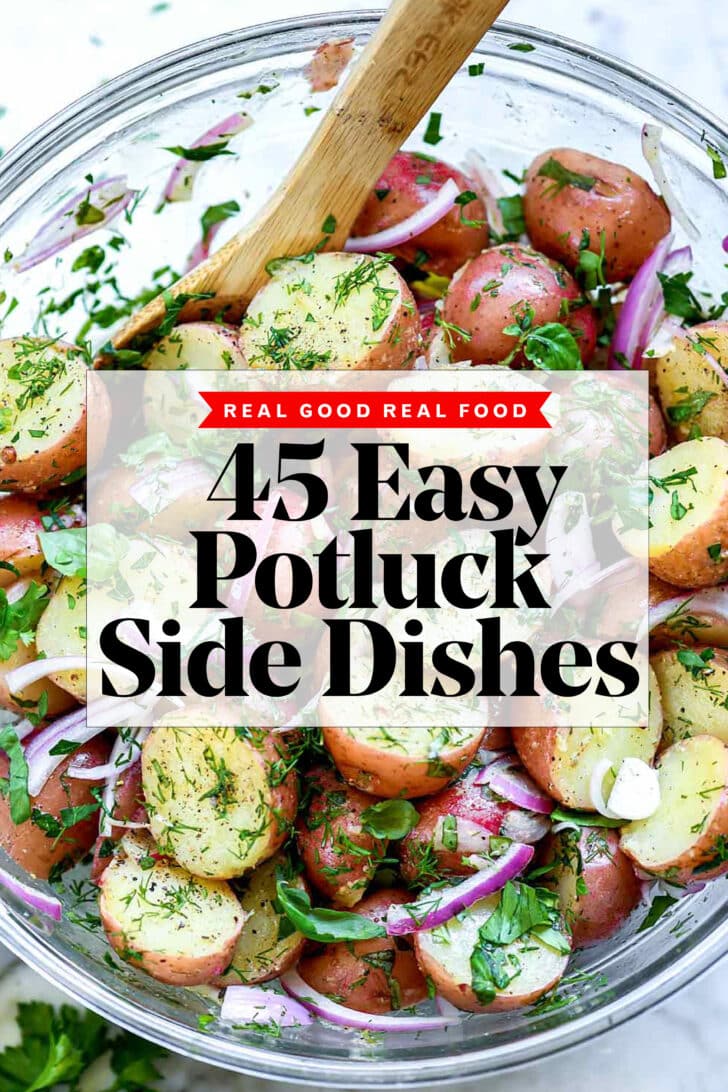 It's summer, when you're very likely to be invited to a backyard bbq, or hopefully even host one yourself. Summer's main dish offerings for a crowd can be pretty standard fare with baby back pork ribs, burgers, and hot dogs likely taking center stage. But if you ask me, the sides are where it's at.
This list of 45 easy potluck side dish recipes is made up of tried and true favorites, plus some fun new dishes to shake things up a bit. These easy sides will be on my summer picnic table, and I promise you'll want them on yours too.
Potato Salads
Potato salads might be the queen of the summer cookout, as far as sides are concerned (and full disclosure: they're probably my very favorite). From the classic version everyone knows and love to some fun variations, each of these potato salads are winners in my book.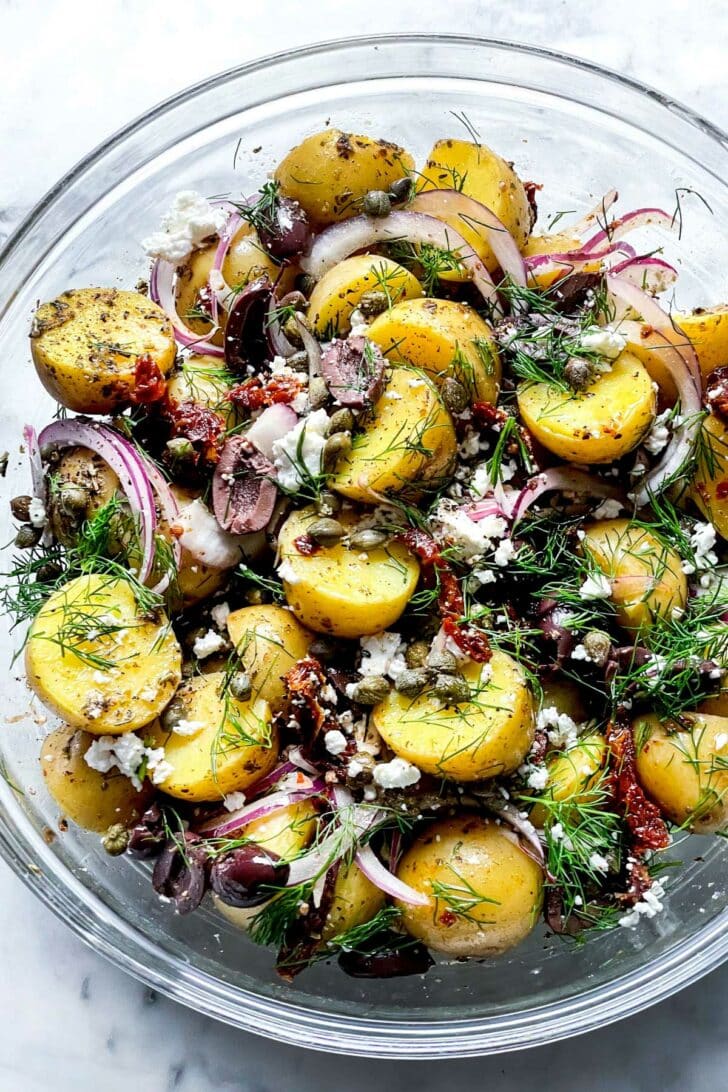 This Greek potato salad is a tangy spin on the traditional potato salad, with sun-dried tomatoes, olives, feta cheese, and a zesty Greek dressing that brings big, bold flavor.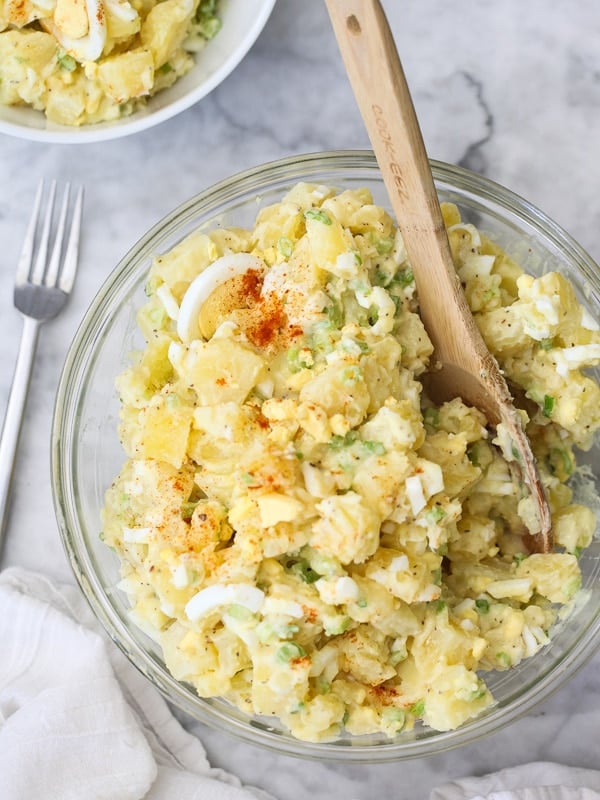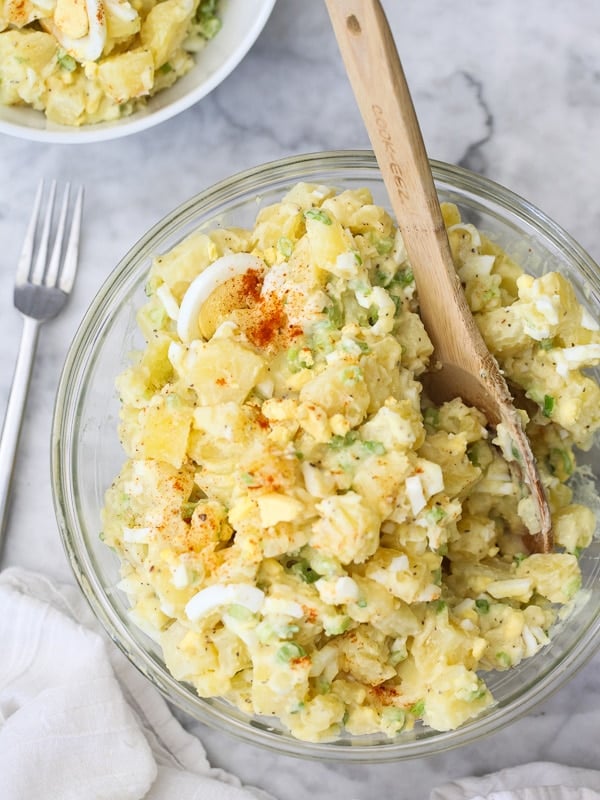 What would a potluck bbq be without a classic potato salad??? Not a party at all! This recipe is where I share the secret ingredient to my grandma's BEST potato salad, making it the number one recipe here on the blog. Bonus tip from a reader: To avoid a runny potato salad, don't salt the potatoes before cooking. Good to know.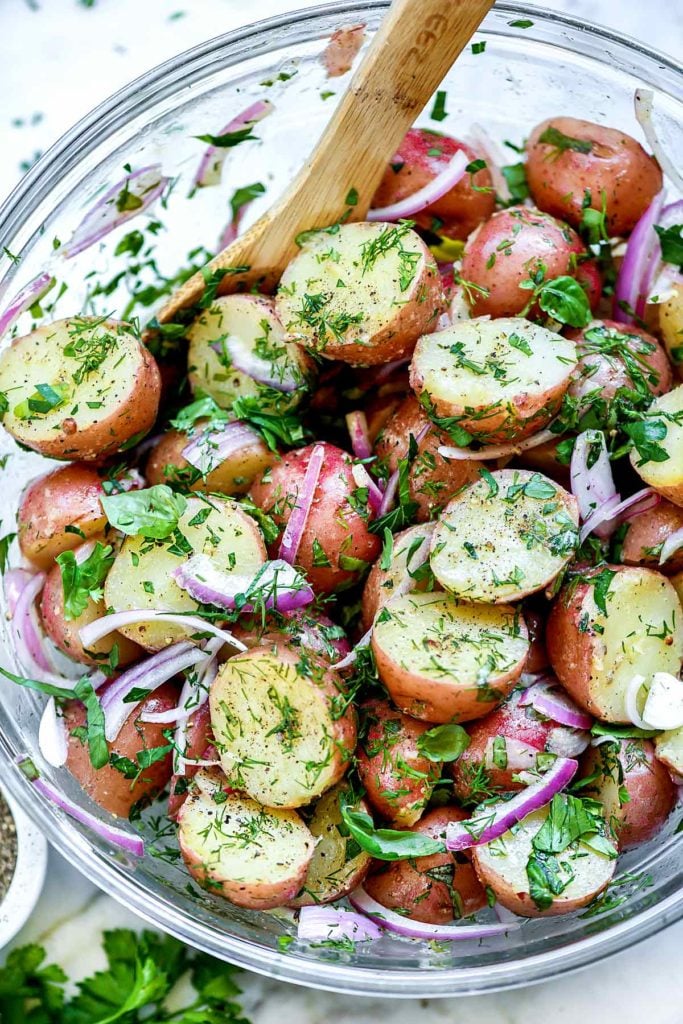 Bookending this list of my favorite classic salads that started with a creamy potato salad with egg is my no-mayo potato salad with herbs. A little lighter, and loaded with flavor, because who doesn't love options?!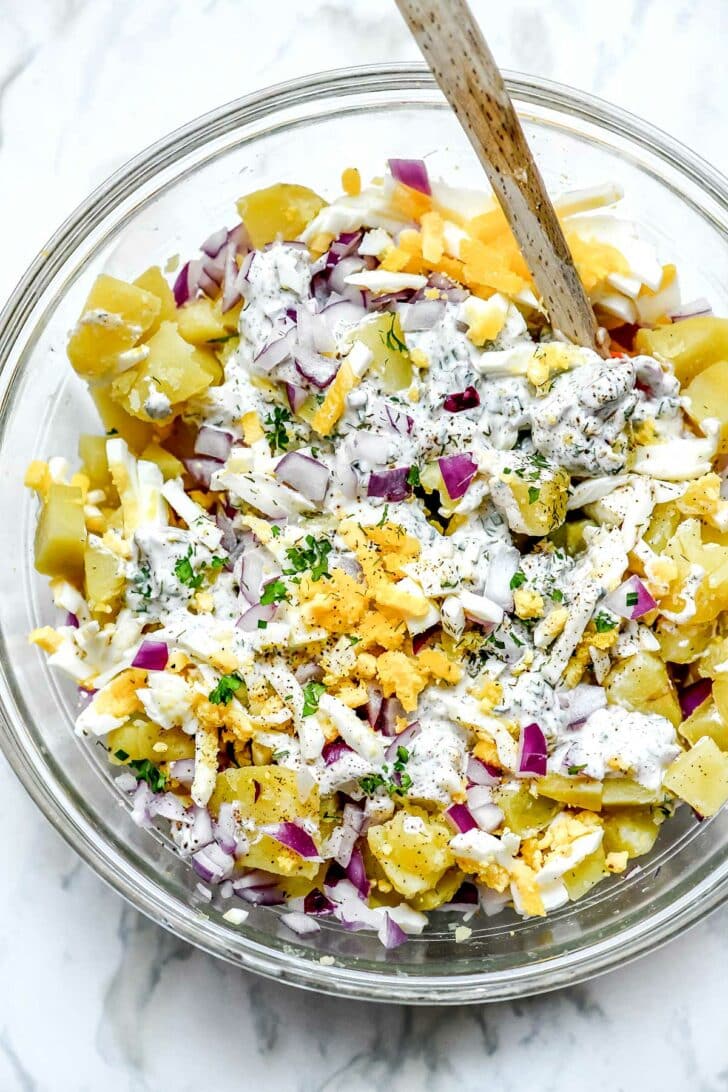 This easy Ranch potato salad gets its tangy flavor from a homemade buttermilk, mayonnaise, and sour cream dressing that's like eating a steakhouse baked potato, but made for a crowd.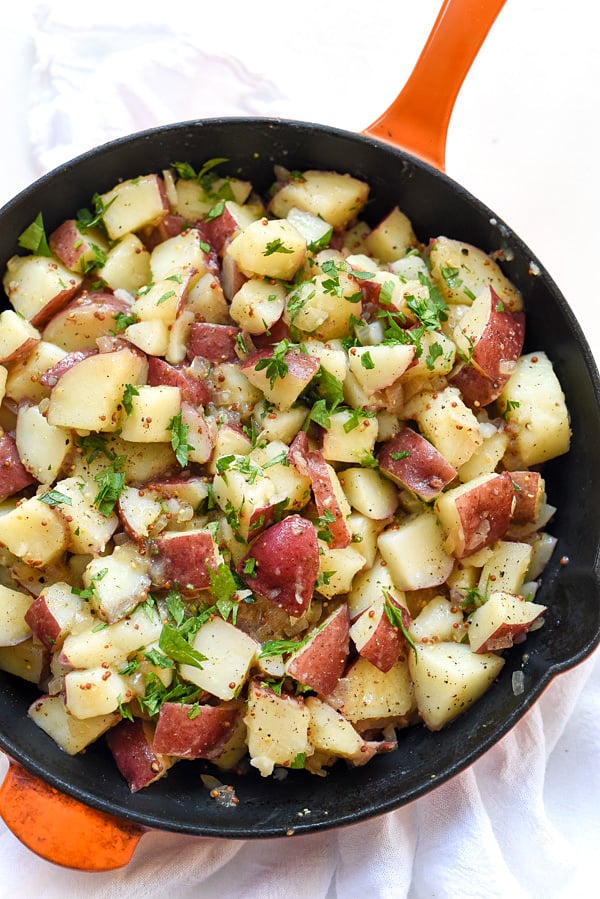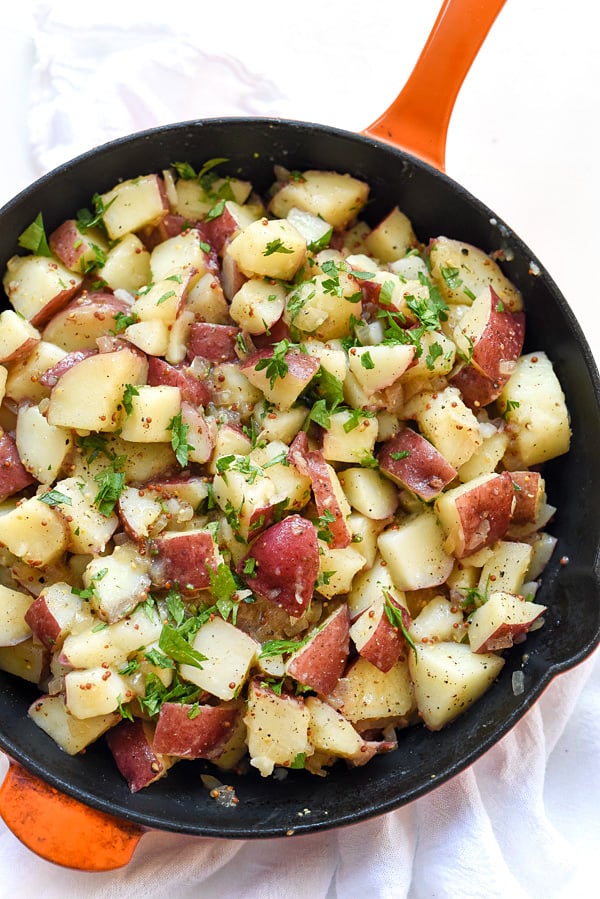 Hearkening back to my roots with this German potato salad because who in their right mind doesn't love bacon with potatoes?!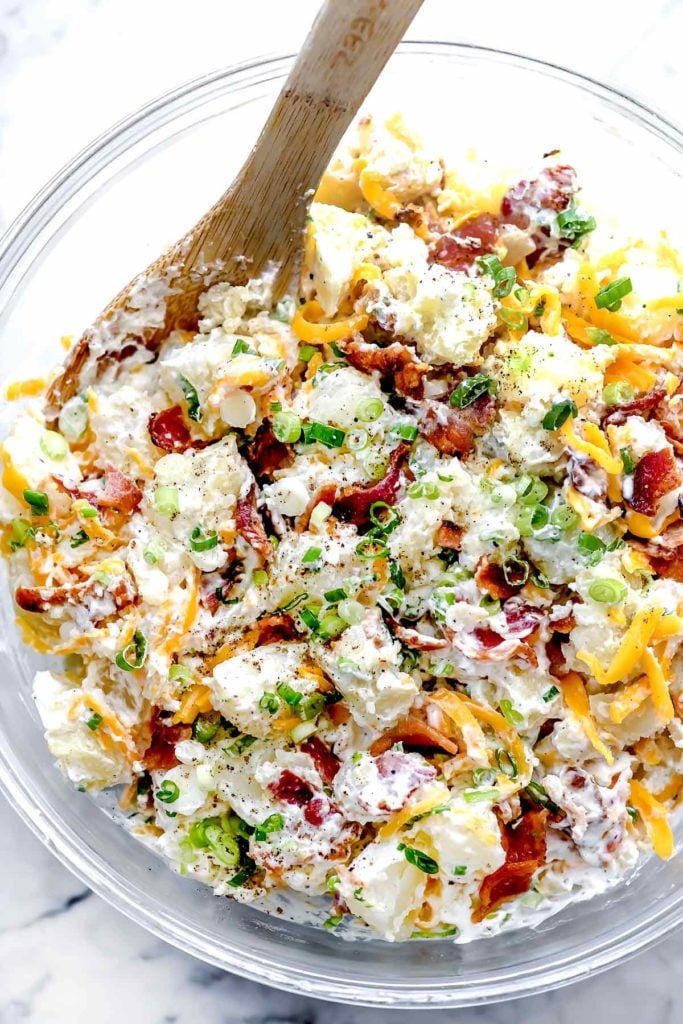 The steakhouse favorite gets a potluck makeover to become this easy baked potato salad recipe loaded with bacon, cheese, and scallions in a sour cream and mayo dressing.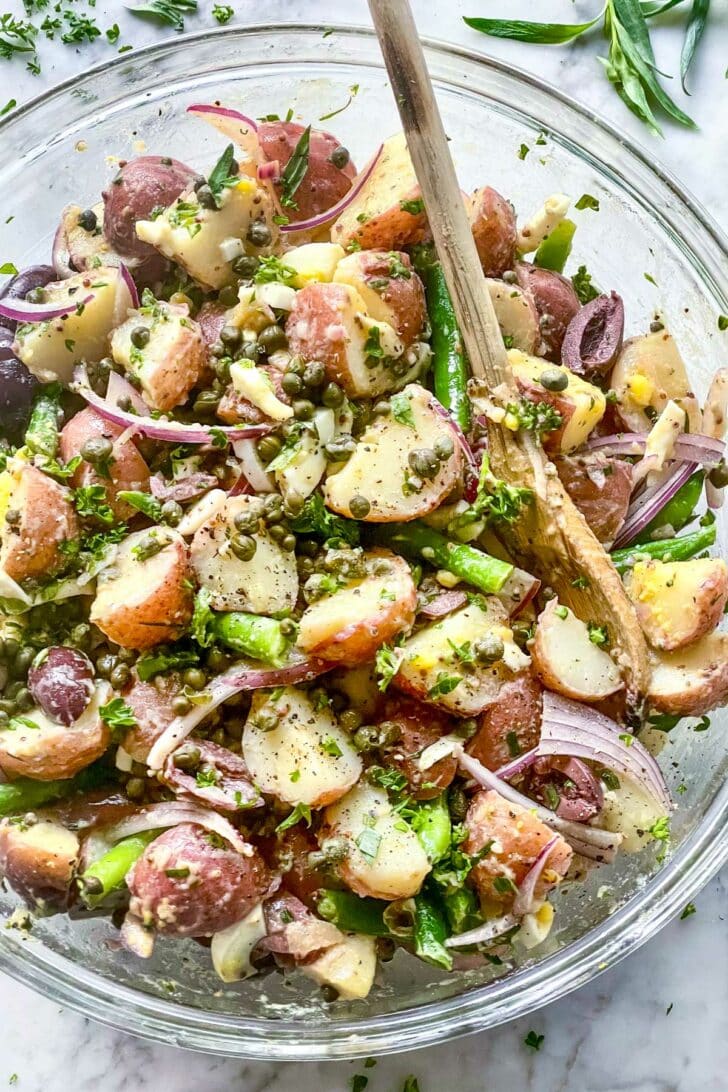 Potatoes are the star of this light and colorful, easy-to-make Nicoise potato salad—a fun spin on a classic Nicoise salad that's perfect for warm weather lunches, picnics, and more.
Pasta Salads
When in doubt, remember everyone loves pasta, so you really can't go wrong with any of these versatile and super delicious pasta salads.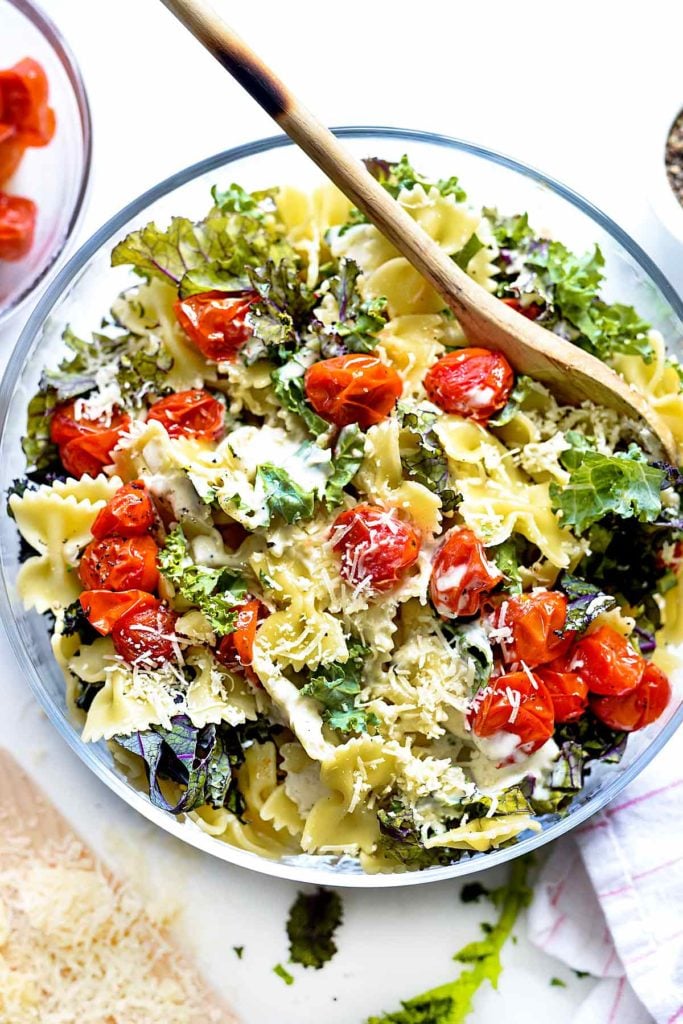 This 5-ingredient pasta salad recipe has all of the flavors of traditional Caesar salad with the addition of kale and sweet roasted cherry tomatoes for an easy and healthy potluck pasta salad.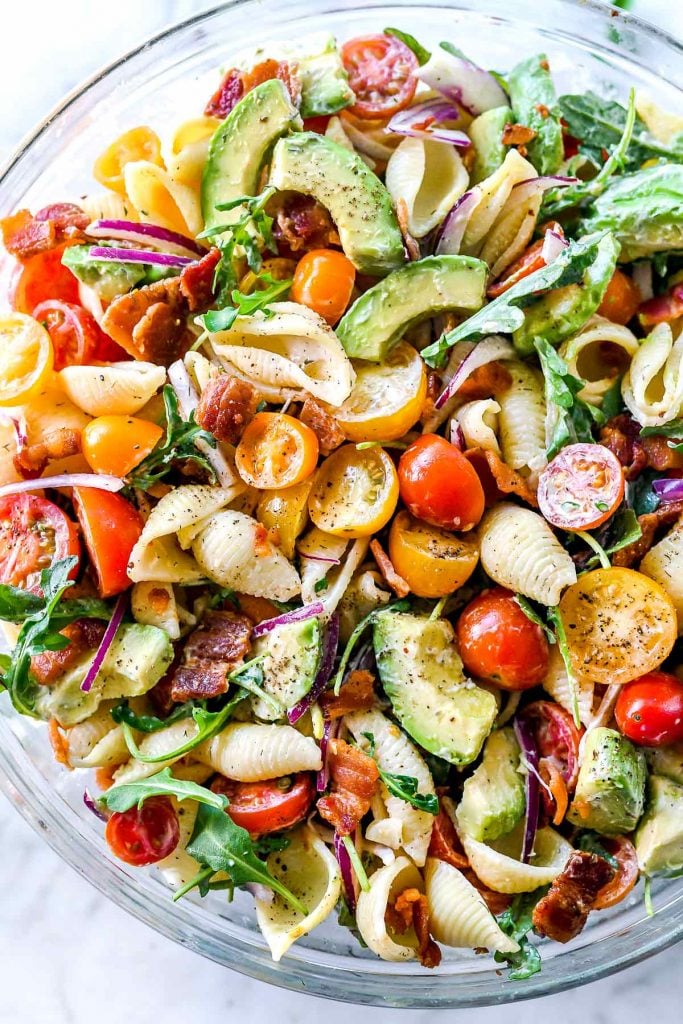 This creamy, easy BLT pasta salad recipe is loaded with tomatoes, arugula, and avocado, plus crispy bacon that's all topped with a super simple Ranch-style dressing made healthier with a combo of Greek yogurt and mayo.
This cold shrimp pasta recipe has a dressing that everyone raves about—thank you pickle juice! The recipe comes from a childhood neighbor who gave it to my mom, and is probably the macaroni salad I make most often, making it my husband's very favorite macaroni salad of all time.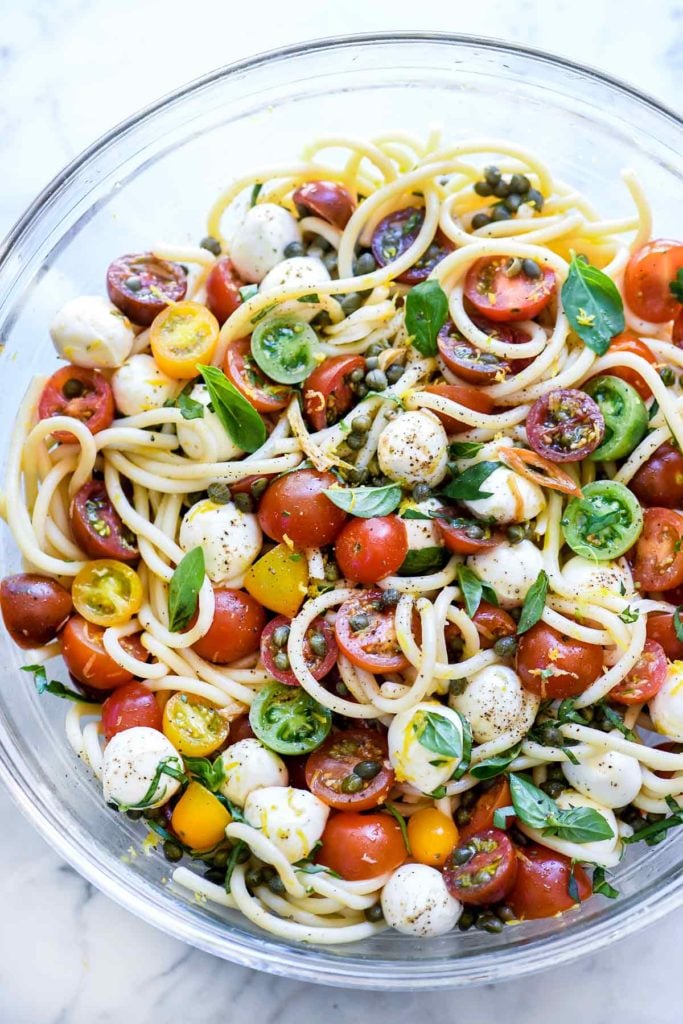 This easy caprese pasta salad recipe steeps cherry tomatoes in a garlic-infused oil that becomes the dressing over any type of pasta with sliced mozzarella, capers, lemon, and basil making it a healthy potluck recipe everyone will love.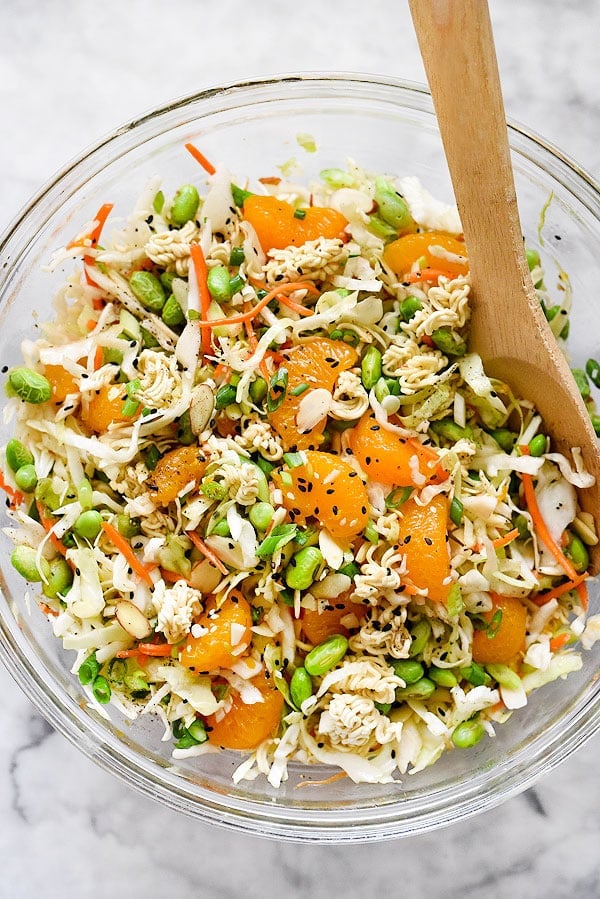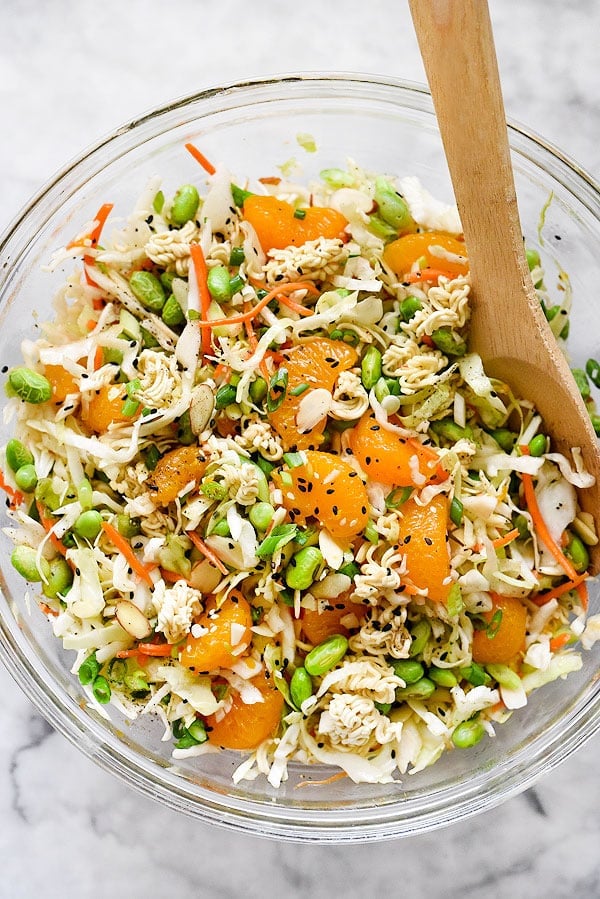 This classic is always the salad that runs out fast. If you've never made it before, remember, don't cook the noodles!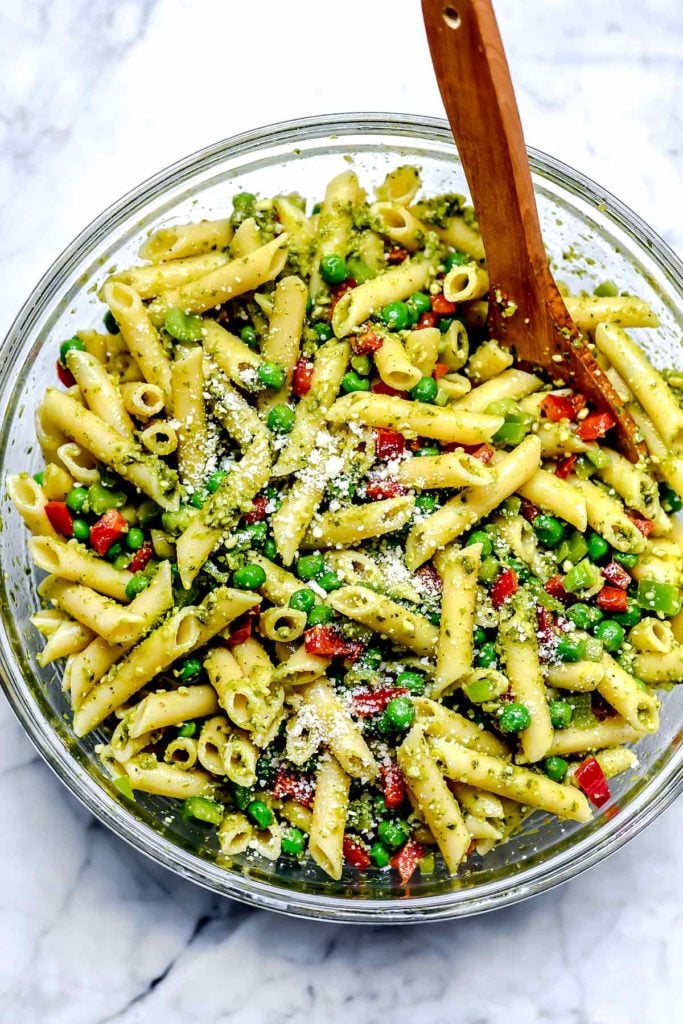 This cold pesto pasta salad adds crunchy bites of bell pepper and sweet peas to make a healthy, quick, and easy potluck salad.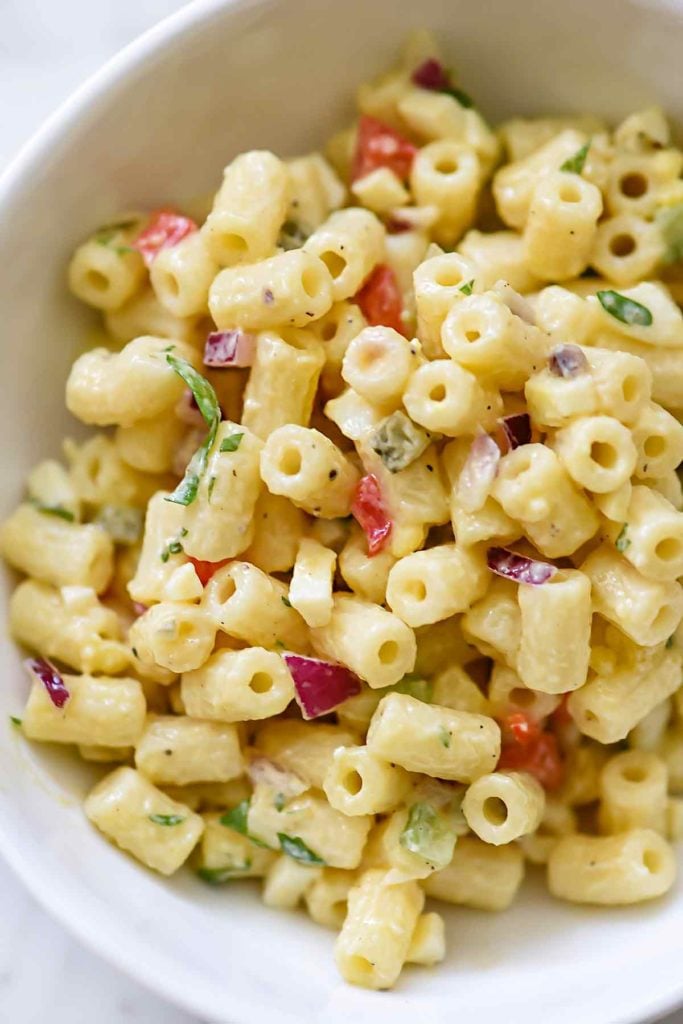 Talk about a classic! This old-fashioned, creamy macaroni salad with eggs and crisp vegetables is dressed in a simple and creamy but still light mayonnaise dressing that goes perfectly with everything from ribs to chicken and sandwiches.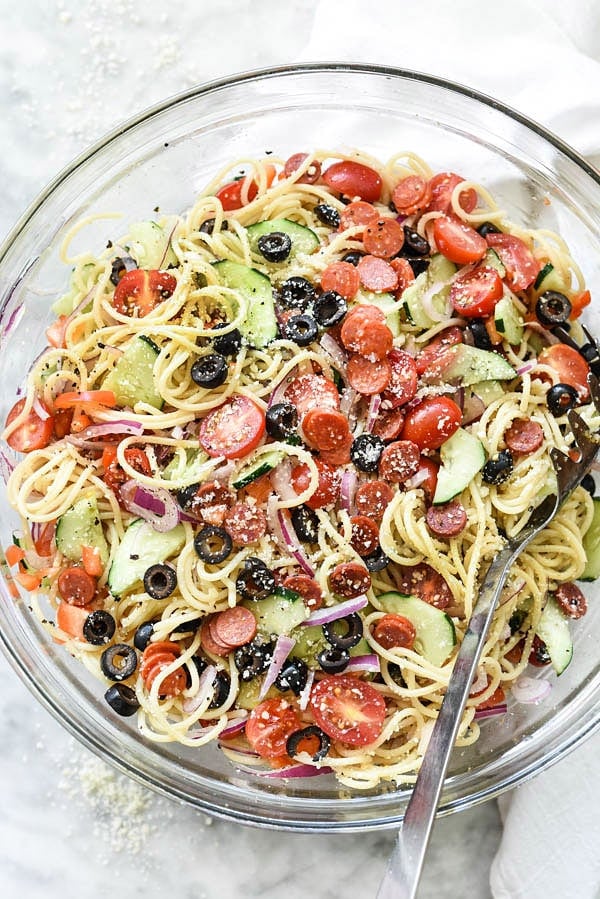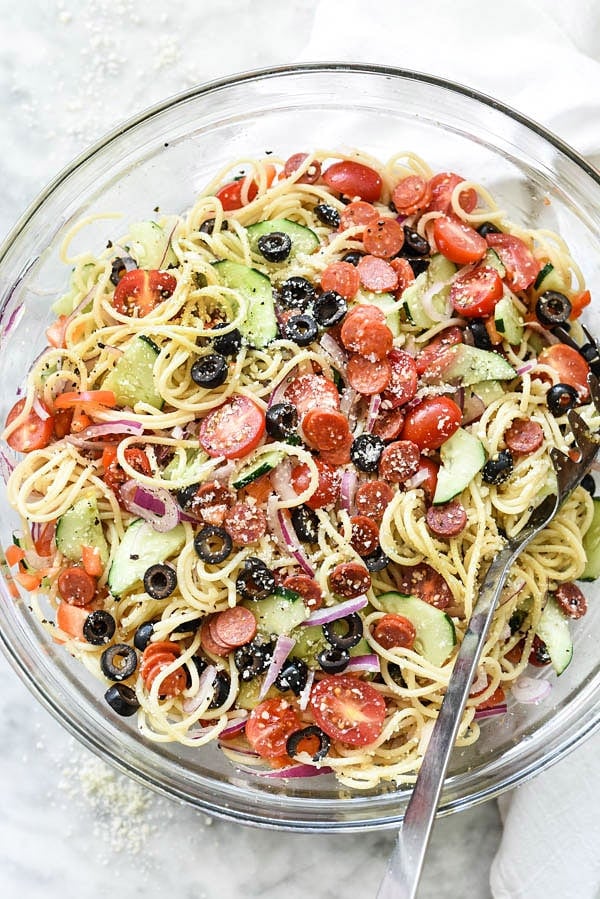 I make this easy pasta salad with spaghetti noodles but you can absolutely sub in any pasta you have on hand. So good and so easy.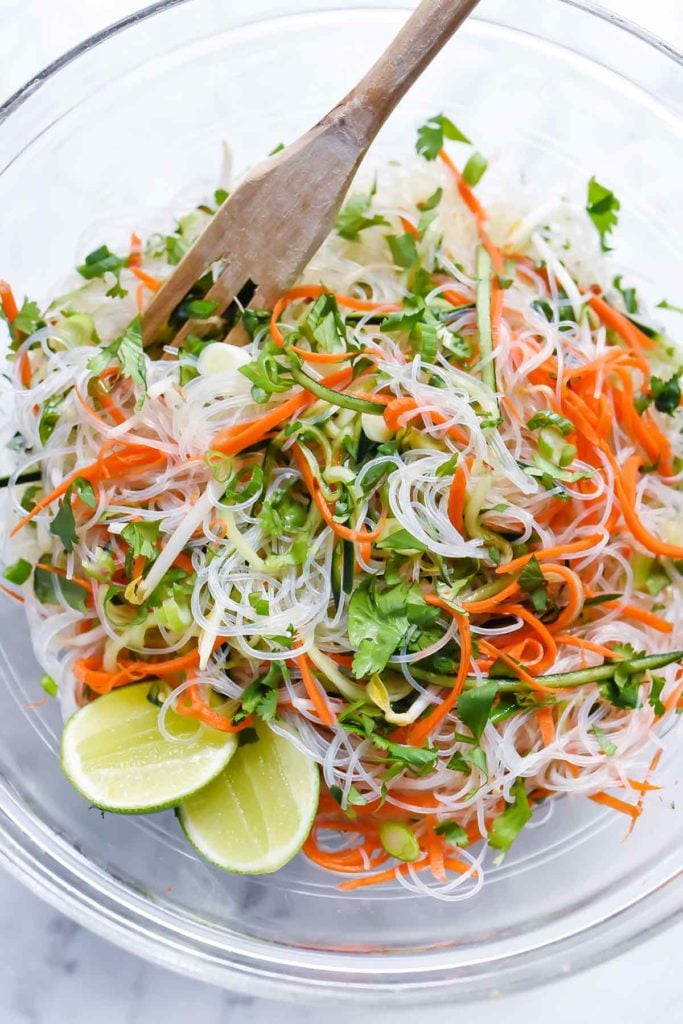 Fresh with carrots and cucumbers and a simple rice wine dressing and a shower of fresh herbs, this super simple salad puts the crunch in any potluck.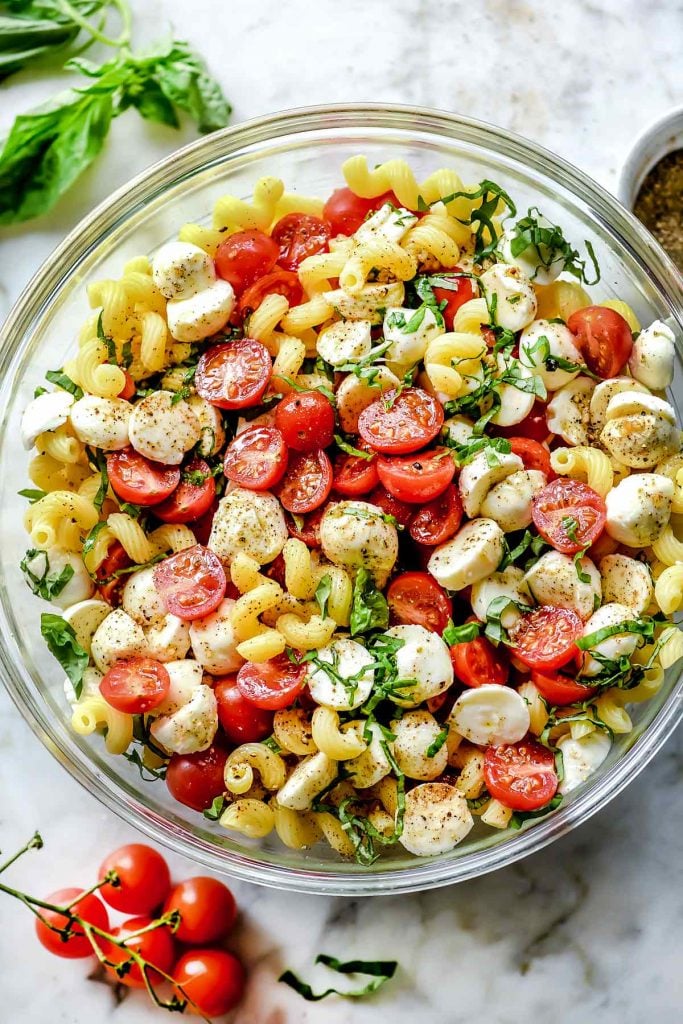 If there's one pasta salad you'll be making on repeat all summer long, it's this caprese pasta salad with cherry tomatoes, fresh mozzarella, and basil. It's fast, it's simple, and it's cravingly good.
This easy, tangy pasta salad mixes traditional macaroni salad with Mediterranean flavors to create a new family favorite potluck salad.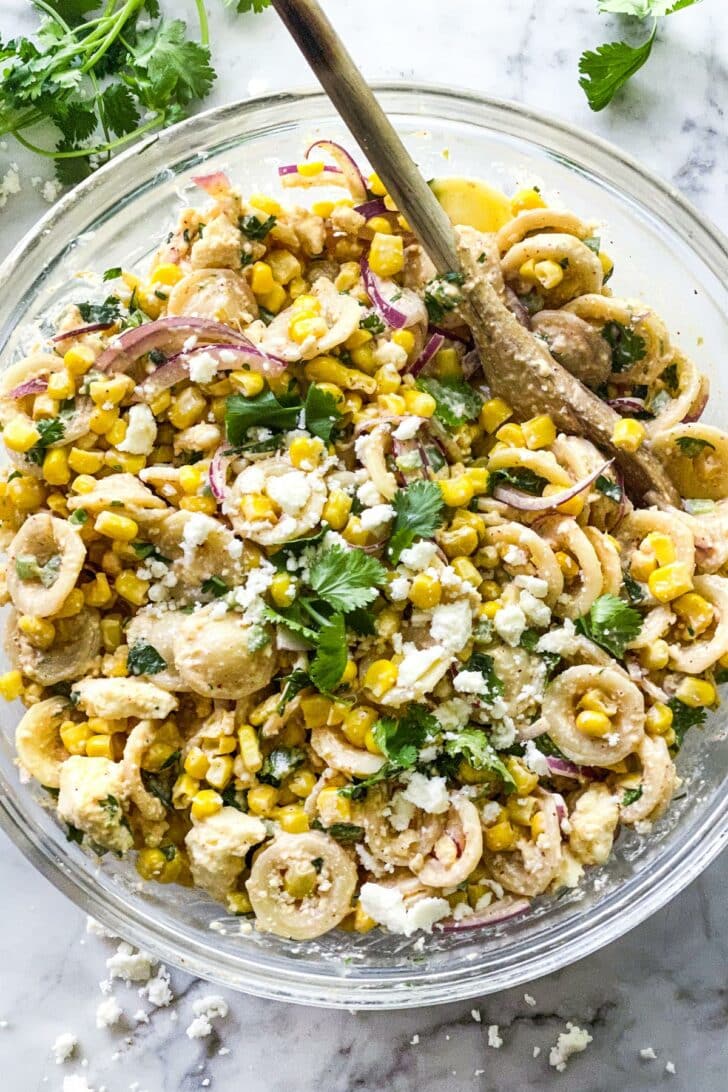 This creamy Mexican corn pasta salad is inspired by the popular Mexican grilled corn street food and one of my favorite dips. It's the perfect side dish to enjoy for a cookout or outdoor lunch and can be enjoyed warm, at room temperature, or chilled.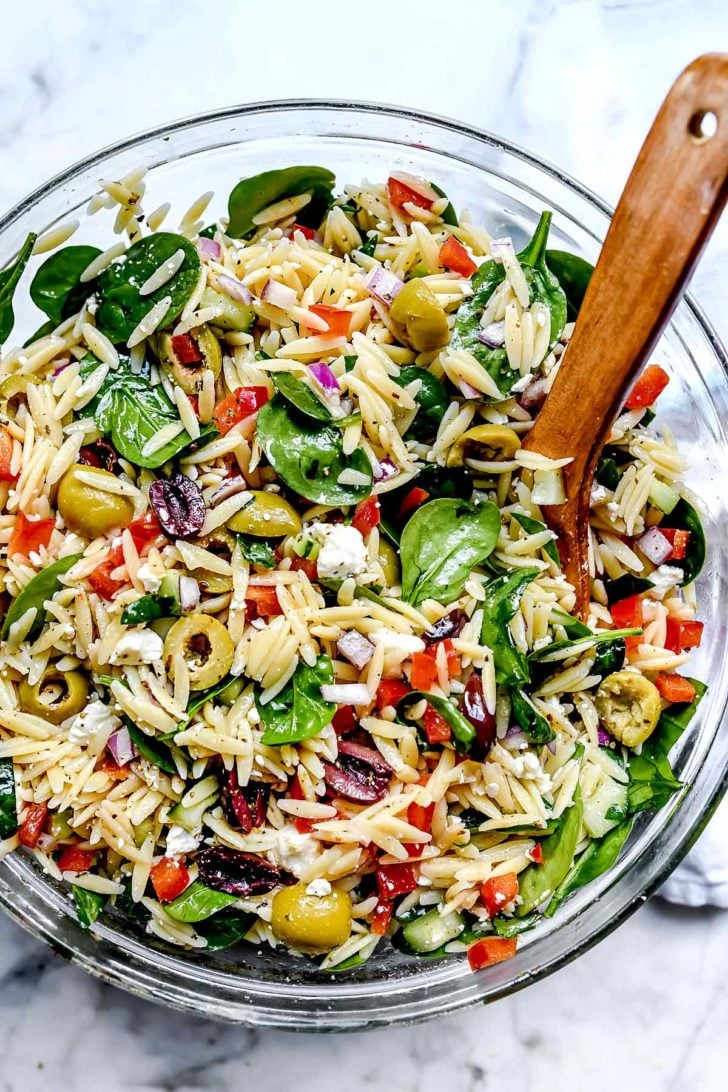 This vegetarian Mediterranean orzo pasta salad with crunchy vegetables and spinach, briny olives, and feta cheese makes a healthy, easy-to-make, flavorful pasta salad side.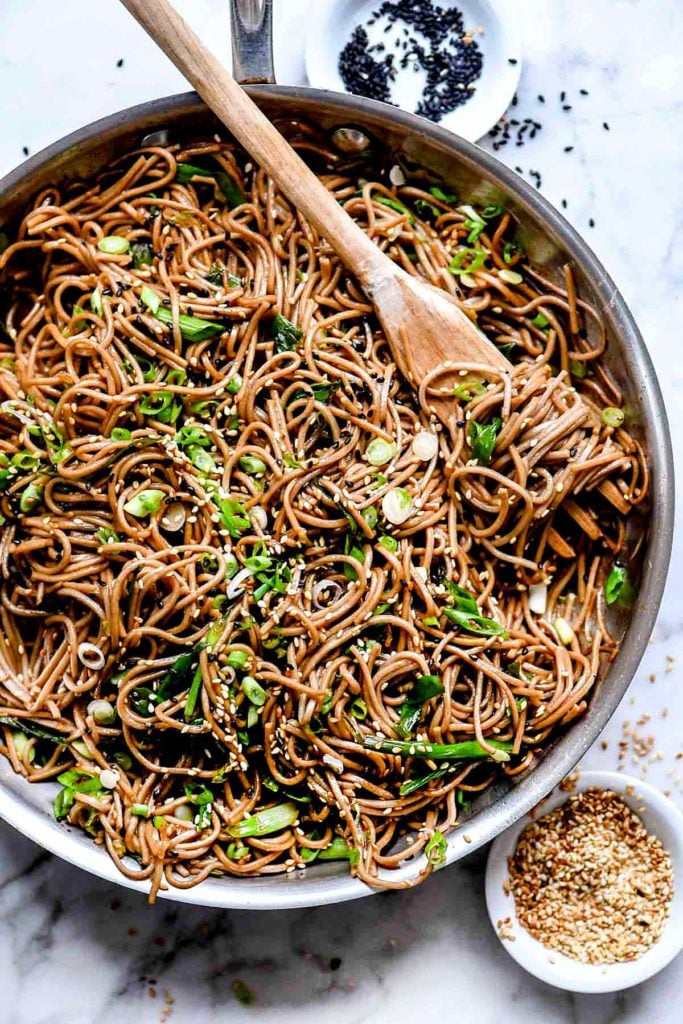 This Japanese sesame soba noodles recipe makes a simple Asian side dish served hot or cold (but truth be told cold is my fave), and ready in 20 minutes or less.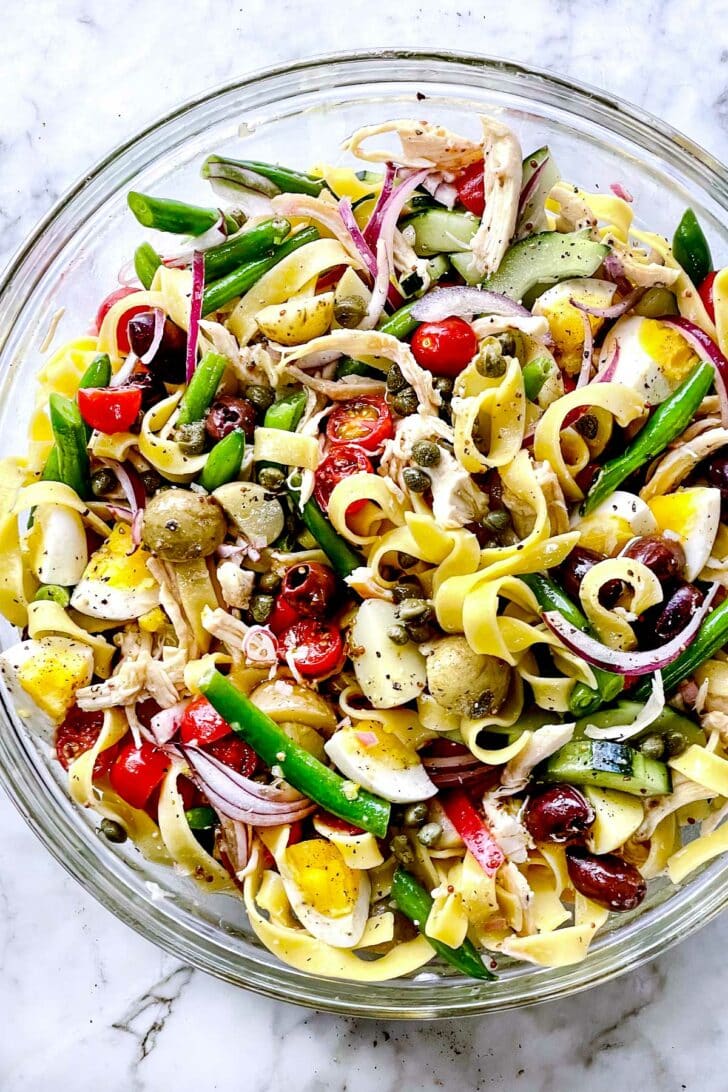 Made with chicken instead of tuna, this Nicoise pasta salad is a fun spin on a classic Nicoise salad. It's light, fresh, colorful, and the perfect dish to make easy spring or summer lunches or brunch.
Veggie Salads
Every cookout or picnic needs a veggie side of some sort. From healthy grain salads to classic coleslaw, these fresh, colorful, and cruciferous sides bring the party without weighing you down.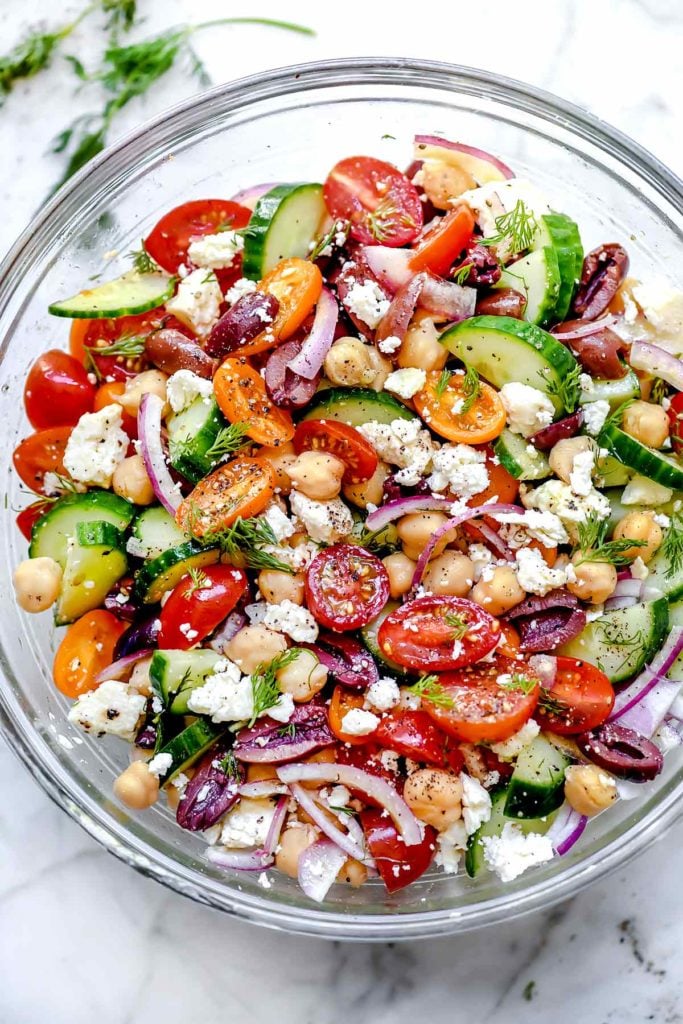 Classic Mediterranean flavors are what make up this easy Greek chickpea salad with fresh veg, heart-healthy fats, and bright herbs keeping it light, lean and tangy.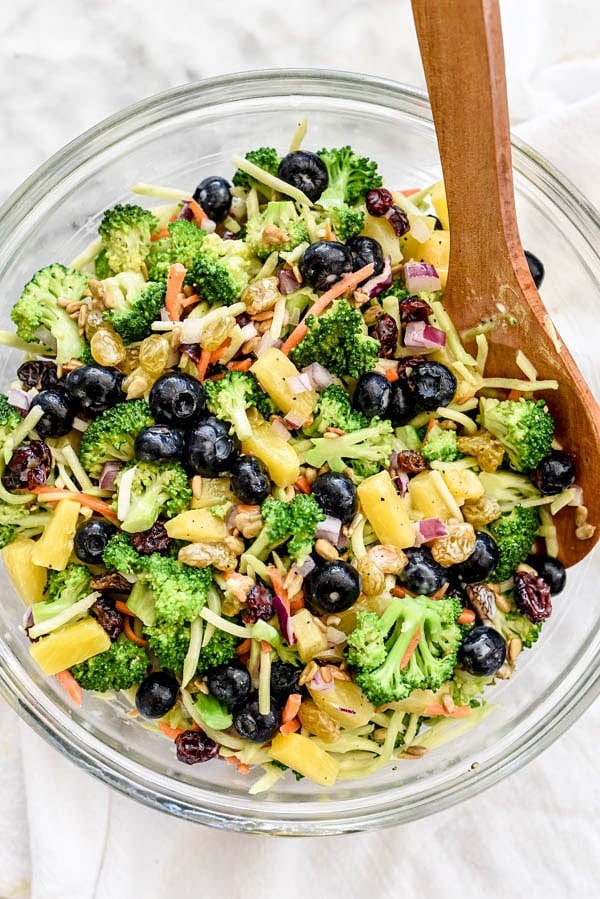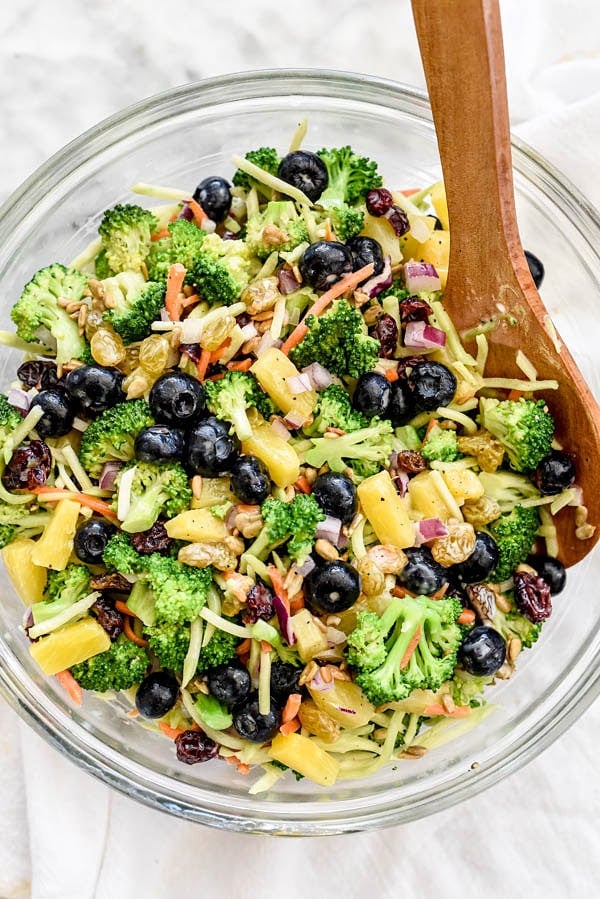 This healthier take on classic broccoli salad features fresh, crunchy broccoli florets topped with a light dressing with a little sweetness from golden raisins, cranberries and pineapple for a super summer salad.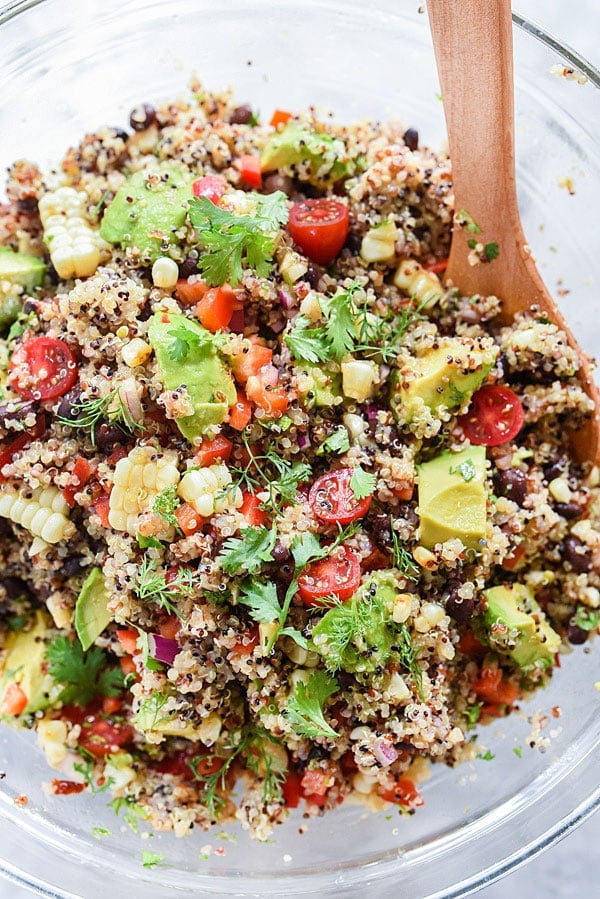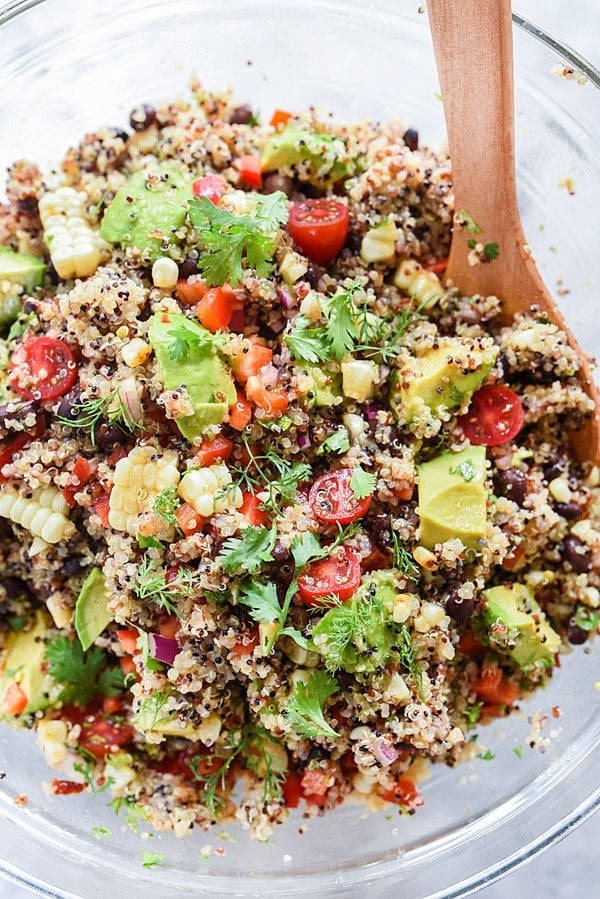 This simple Mexican-style quinoa salad gets tons of flavor from a dressing of chipotle peppers in adobo sauce sweetened over crunchy veggies, black beans and huge chunks of avocado.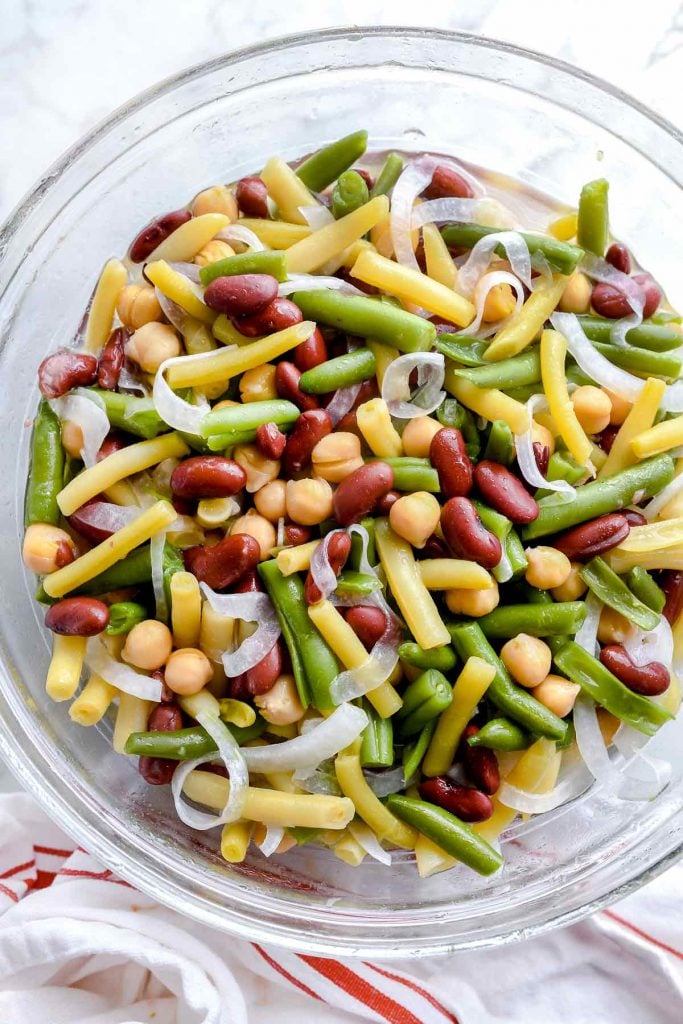 I used to get this salad out of the jar, but no more! Now I dump a few cans of beans, add a quick dressing and wa-la! I'm ready to bean out!
For those of us who like the spunkier side of coleslaw (hello slow cooker pulled pork sandwiches) this no-mayo coleslaw is my absolute fave.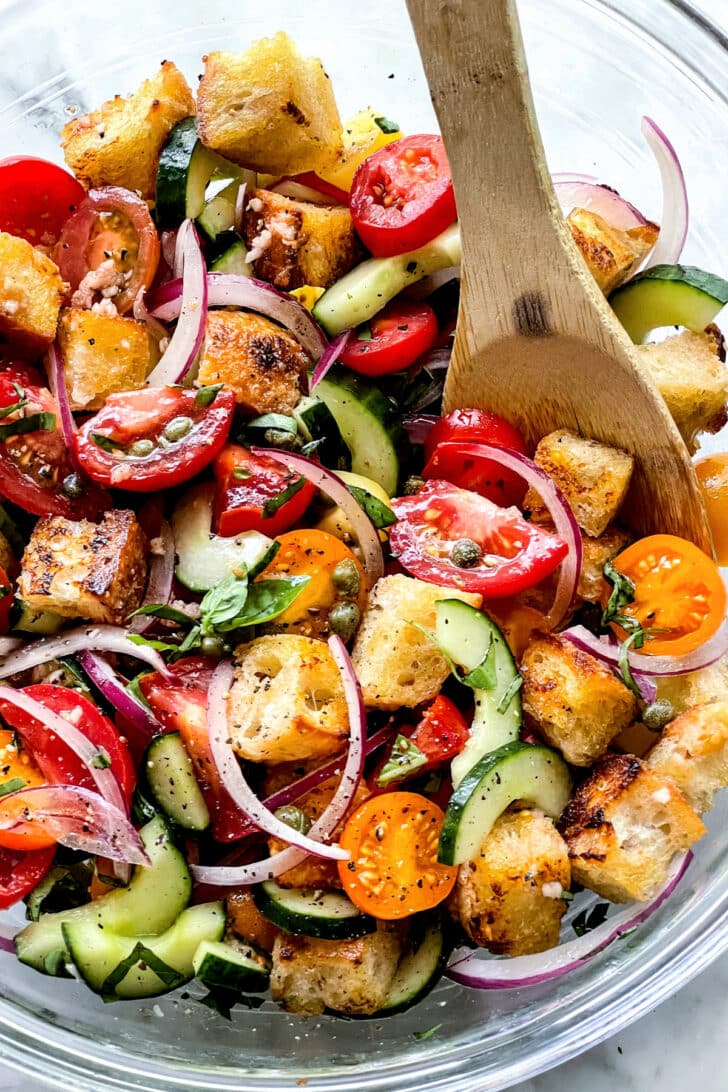 Panzanella is a healthy Tuscan bread salad recipe made with the sweetest ripe tomatoes, chunks of cucumber, slivered onion, and capers with a simple vinaigrette and fresh basil, perfect for summertime eats.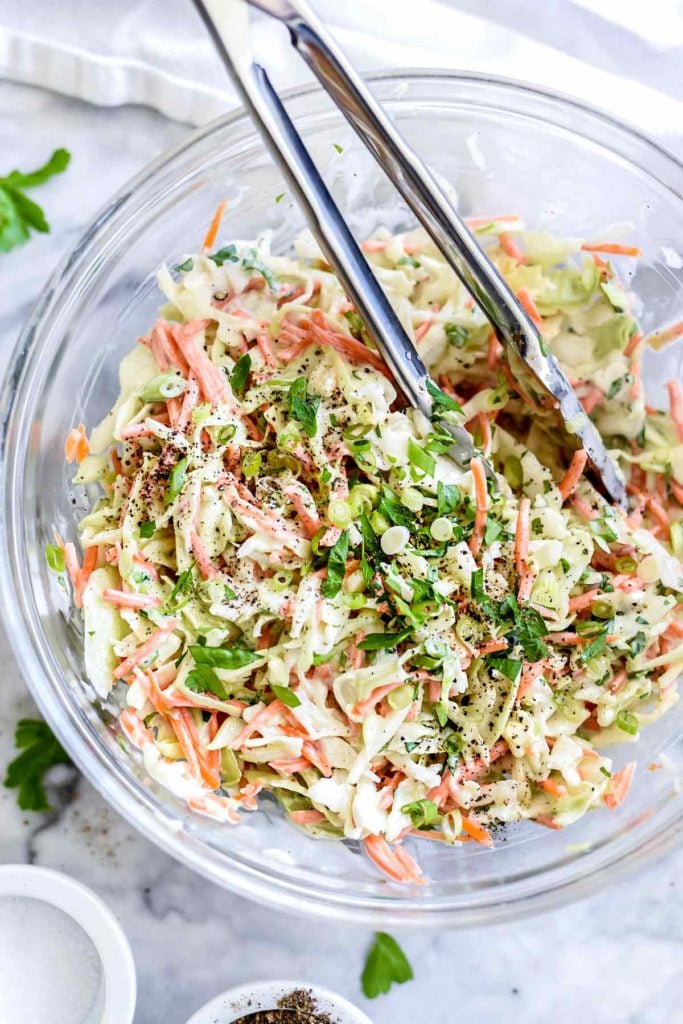 This creamy coleslaw is a must at every potluck get together. It stays crunchy, not soupy, and gets a bit of bite in this slightly sweetened, vinegar-spiked coleslaw dressing.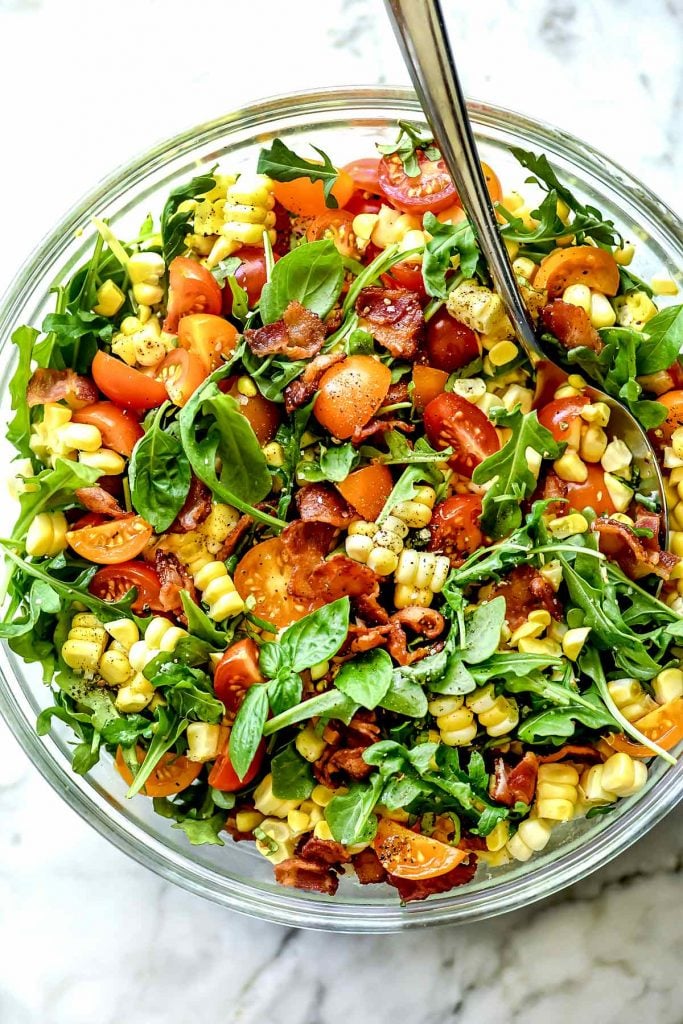 This simple corn salad gets a BLT flavor upgrade with sweet cherry tomatoes, peppery arugula, salty bacon, and tender basil for a great summer salad side dish.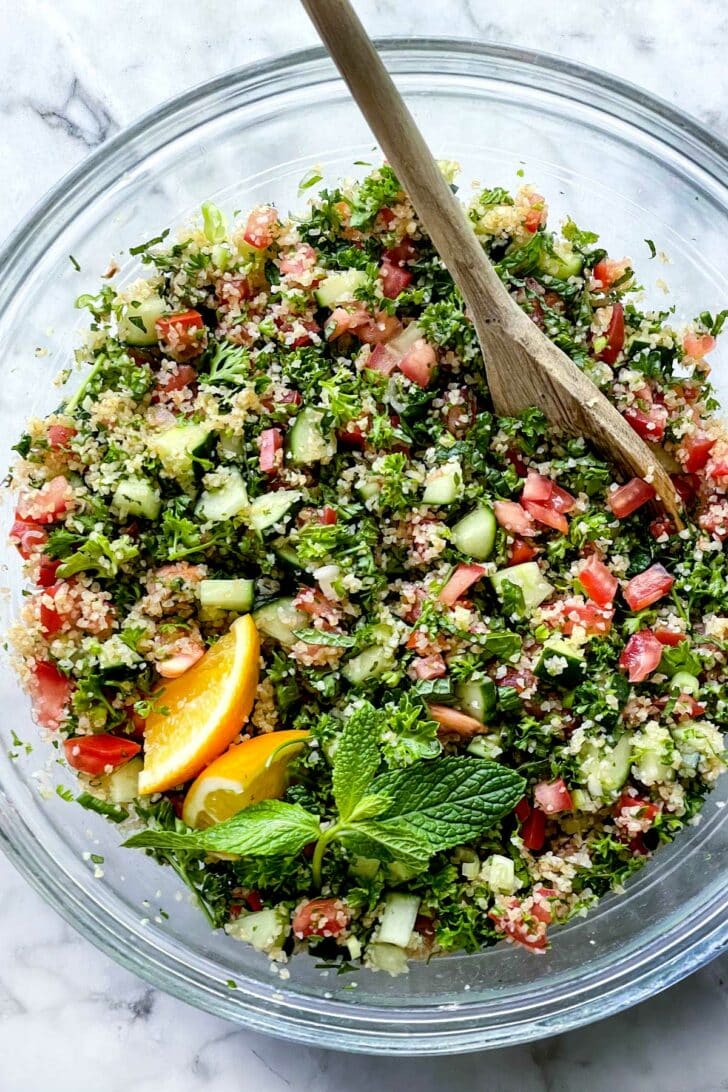 Made with cucumber, tomato, onion, and lots of fresh curly parsley and mint, this authentic tabbouleh recipe is an amazingly refreshing no-cook side salad for easy potlucks, picnics, and easy dinners.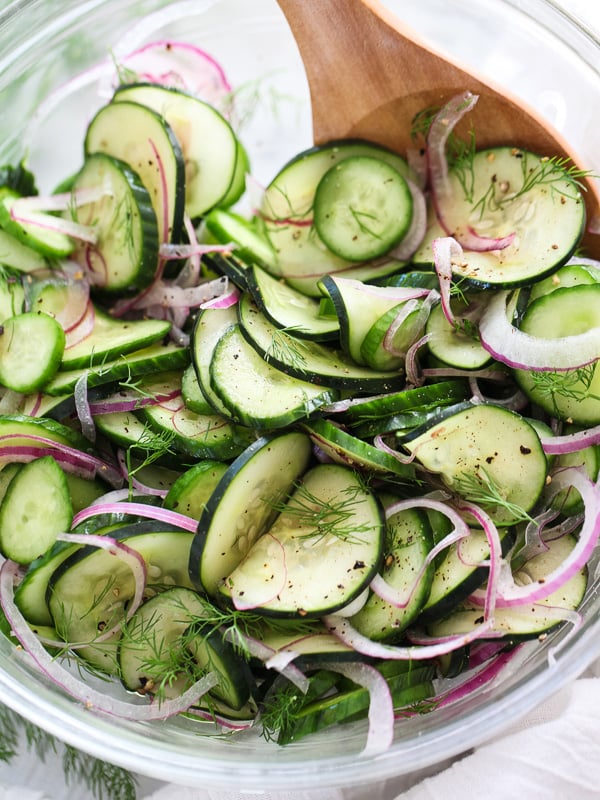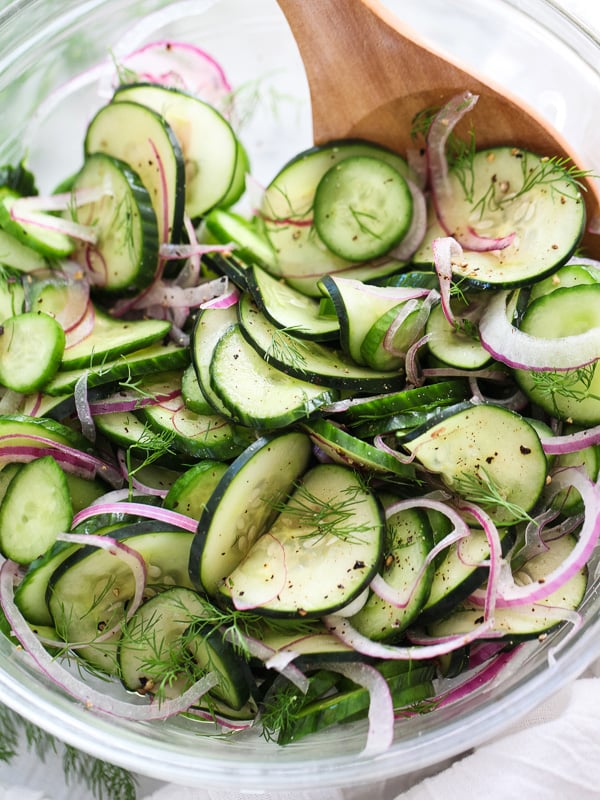 If my husband's said it once, he's said it 1000 times. He could eat this dilly cucumber salad every day. The original cucumber head he certainly is.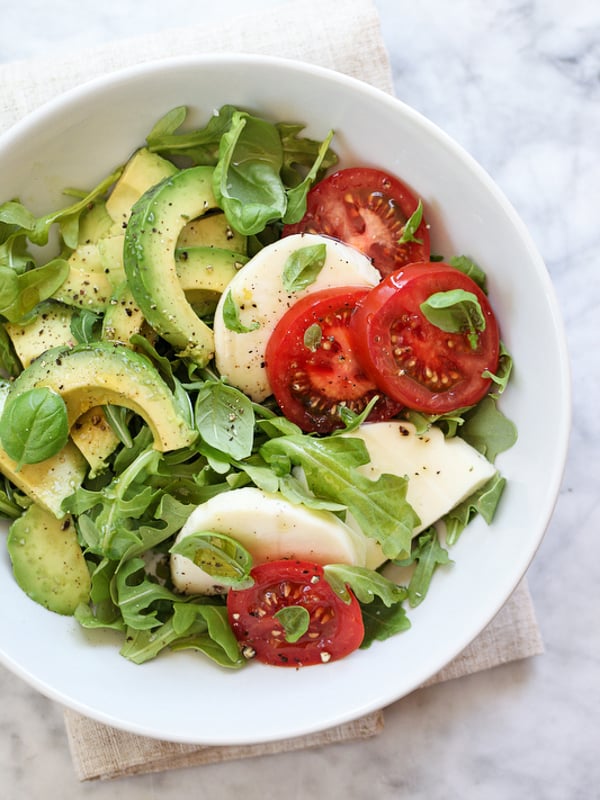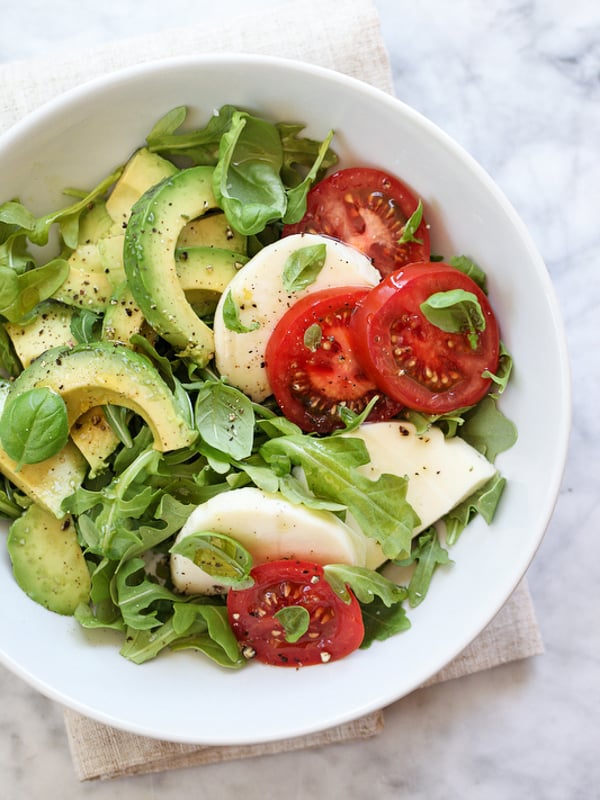 As usual, I just can't leave well enough alone, and that's why the classic caprese got an avocado uplift. Not to worry. It's all good.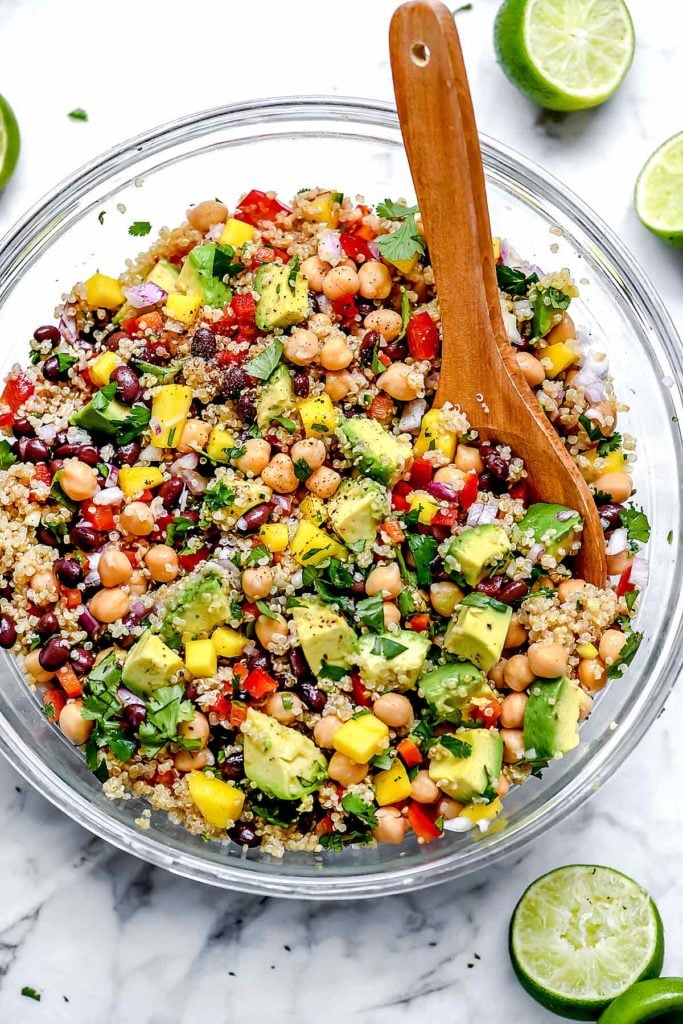 Bright flavor and bold bites are what make this healthy quinoa salad with chickpeas, black beans, mango and avocado in a limey dressing an easy vegetarian side dish.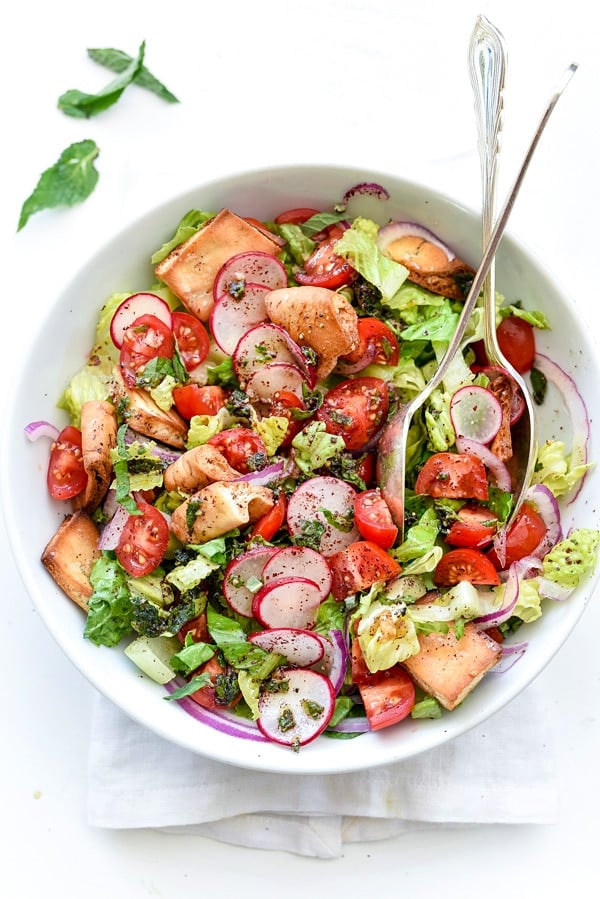 I.Love.This.Salad. If you haven't tried pomegranate molasses before, this is the reason you should. Plus, sliced radishes and crisp pita chips are delish with each crunchy bite.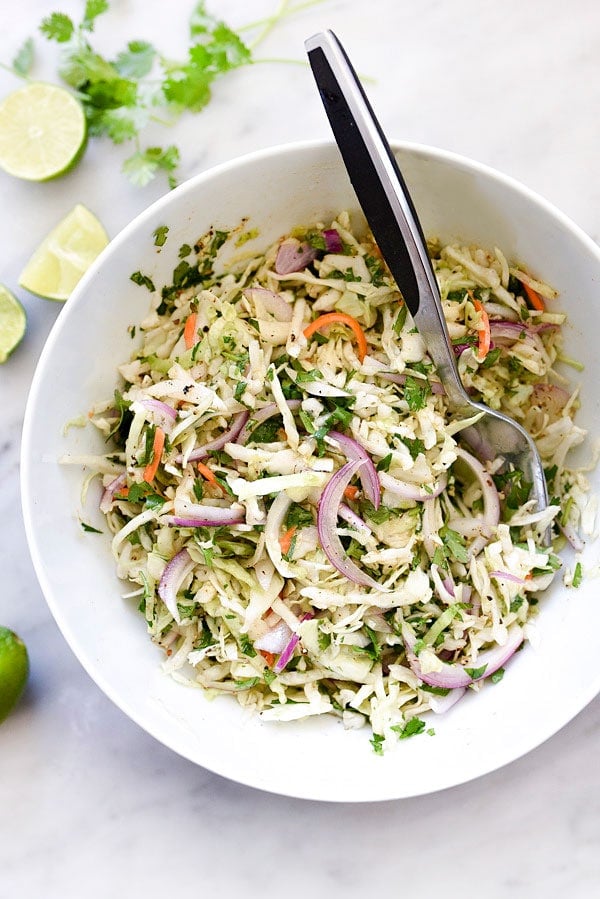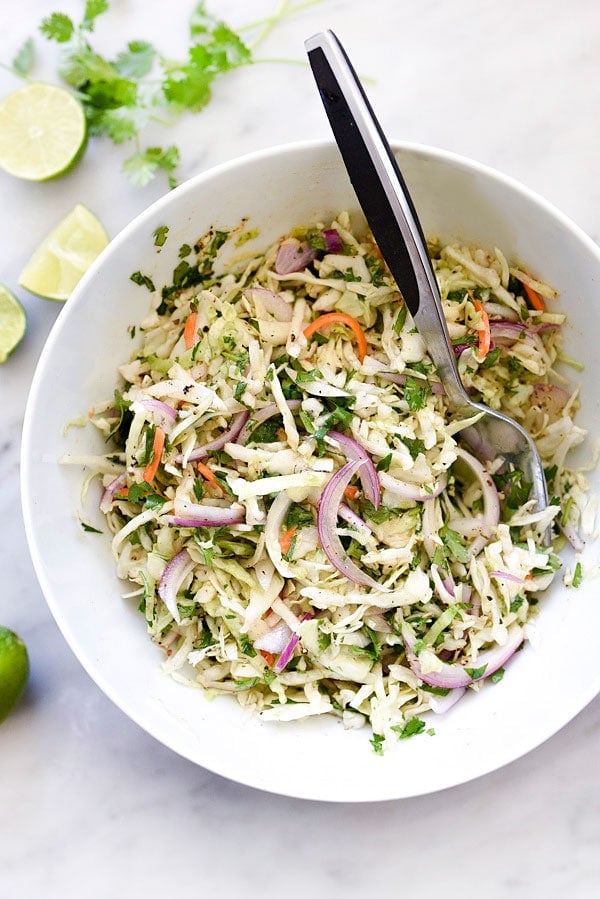 This super simple Mexican-flavored coleslaw is perfect for picnics, BBQs and potlucks because it's mayo-free and takes just a few minutes to toss together.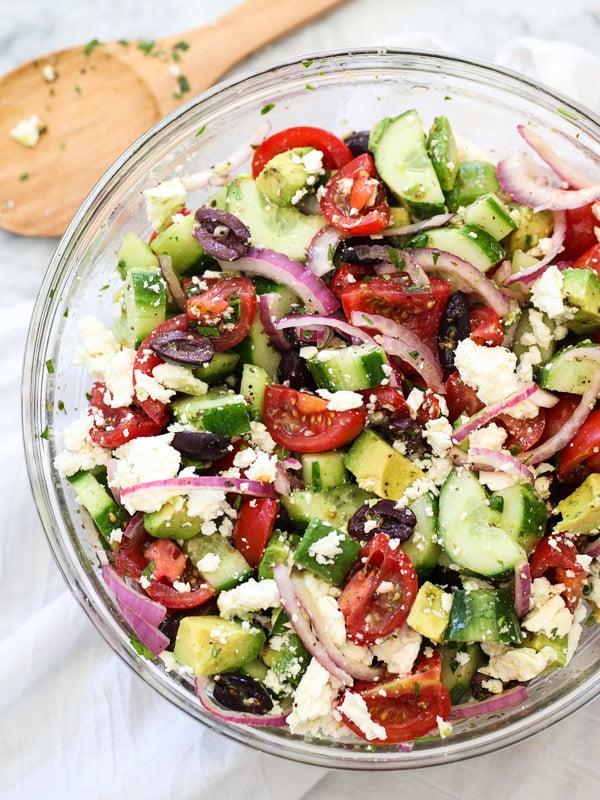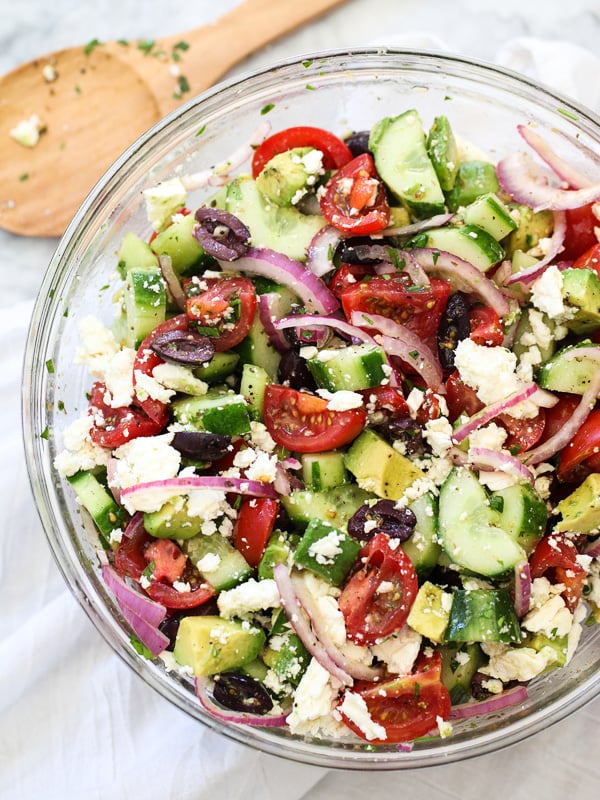 Another classic salad I had to amp up with avocado because the cucumbers, tomato, red onion, kalamata olives, and sheaths of feta cheese were just begging for a playdate. Who can blame me?
Fruit-Forward
Peak-season summer fruit shines in each of these sweet, juicy, totally refreshing fruit salads.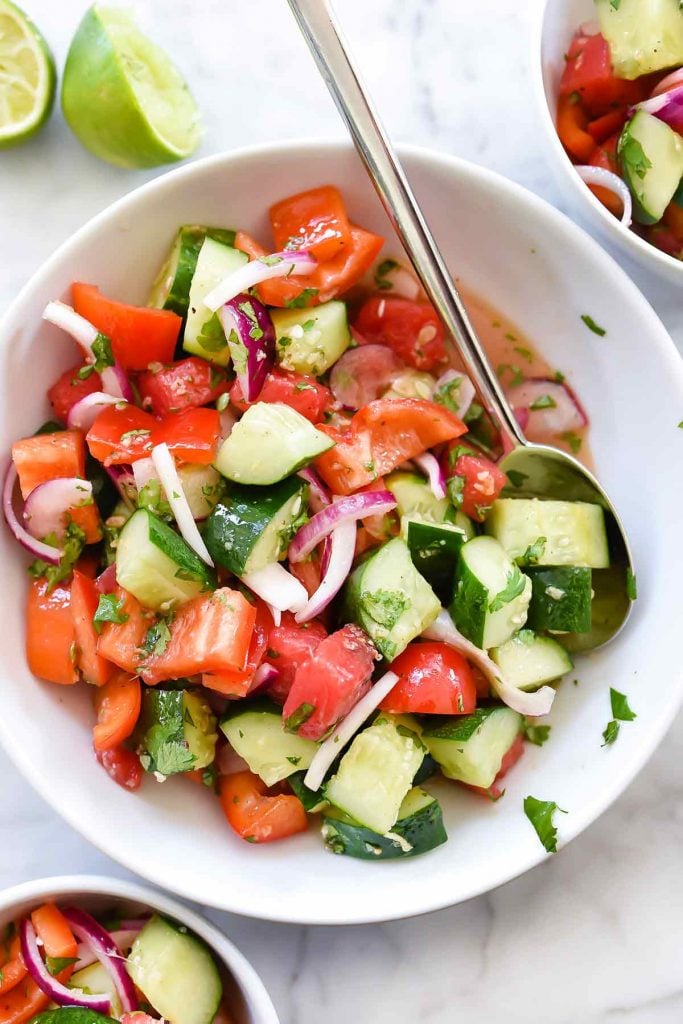 All it takes to make this super simple, totally fresh, cucumber, watermelon, and red bell pepper salad is a few minutes of chopping and an easy sesame and lime-flavored Asian dressing for a totally crunchy bite.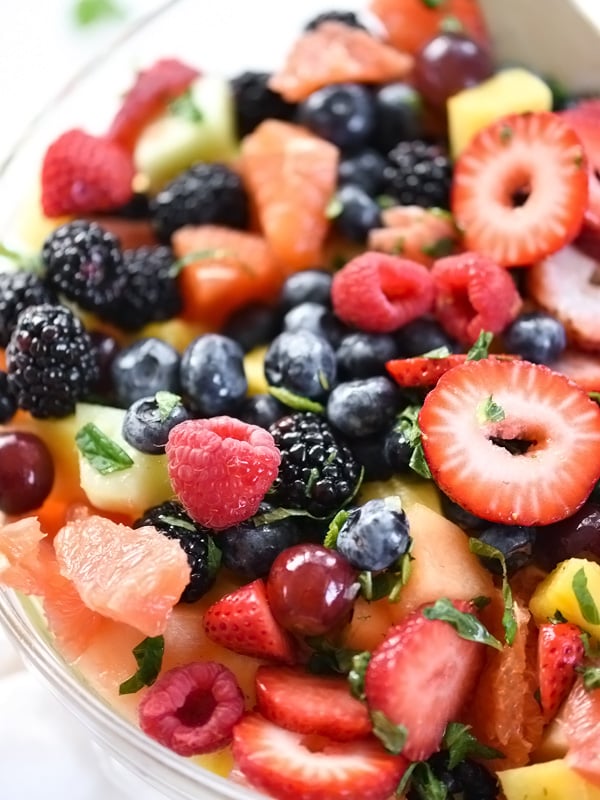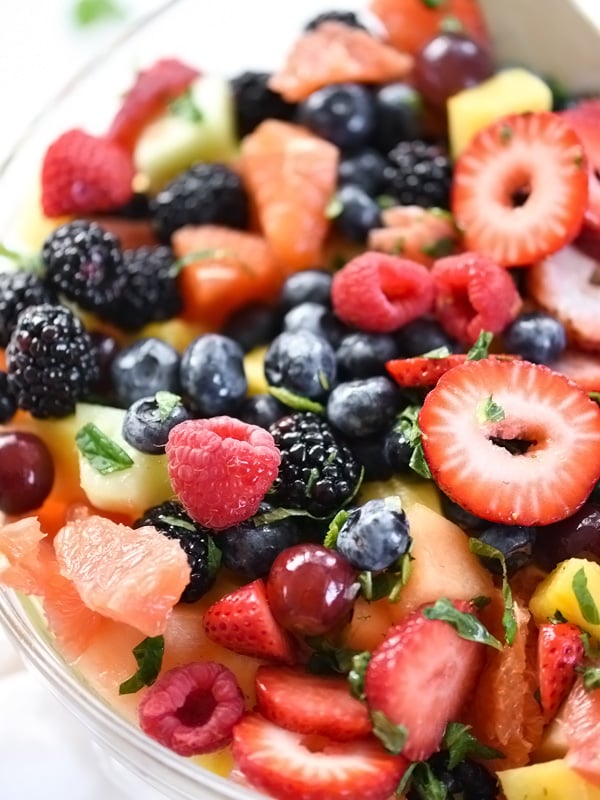 A simple fruit salad is just the foil for those mayo and vinegar spiked side dishes you're sure to encounter on the buffet table. This one has a simple lime and honey sweetened dressing with plenty of fresh mint to really freshen things up.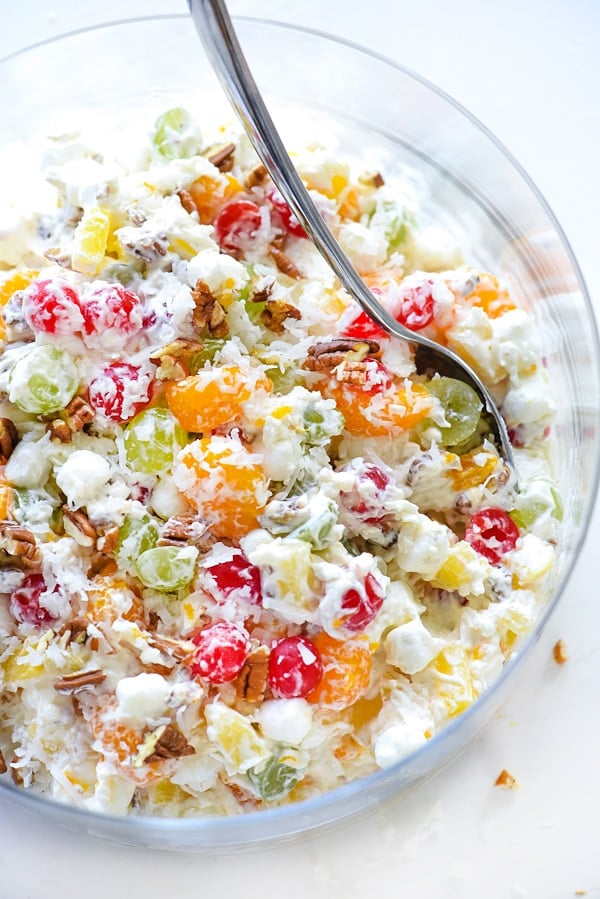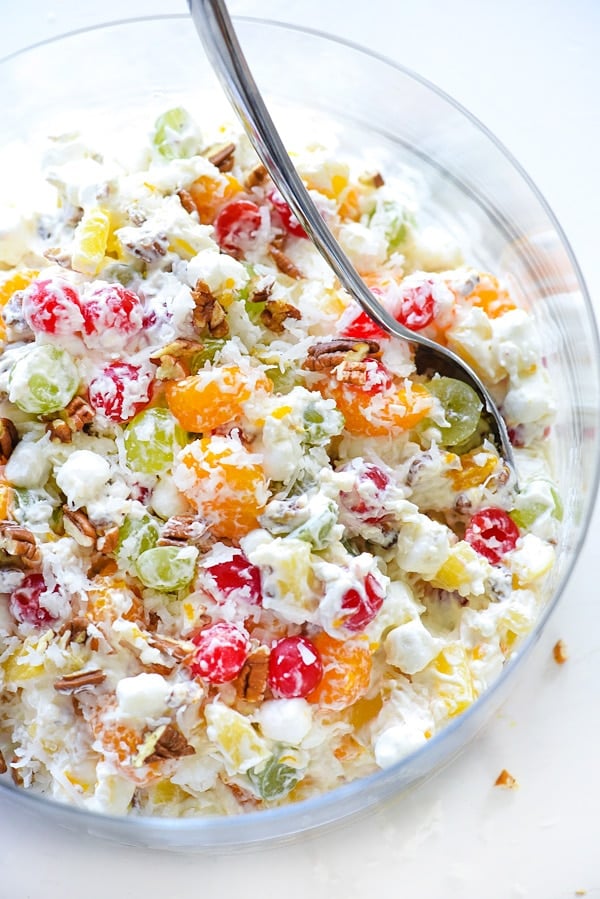 This is one recipe I love all year round and is straight from the recipe card my grandma had in her own handwriting. Marshmallows, fruit, and coconut. It doesn't get better or fruitier than this.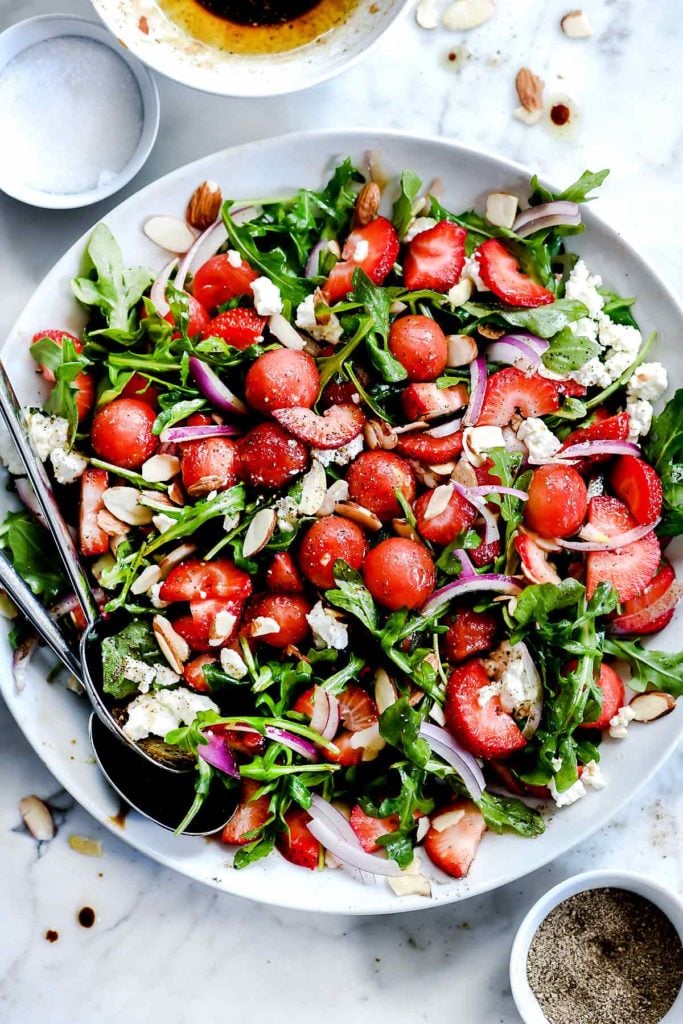 I have yet to meet someone who doesn't rave about this fresh salad with a simple balsamic vinaigrette. Add more feta cheese and nuts to your heart's desire.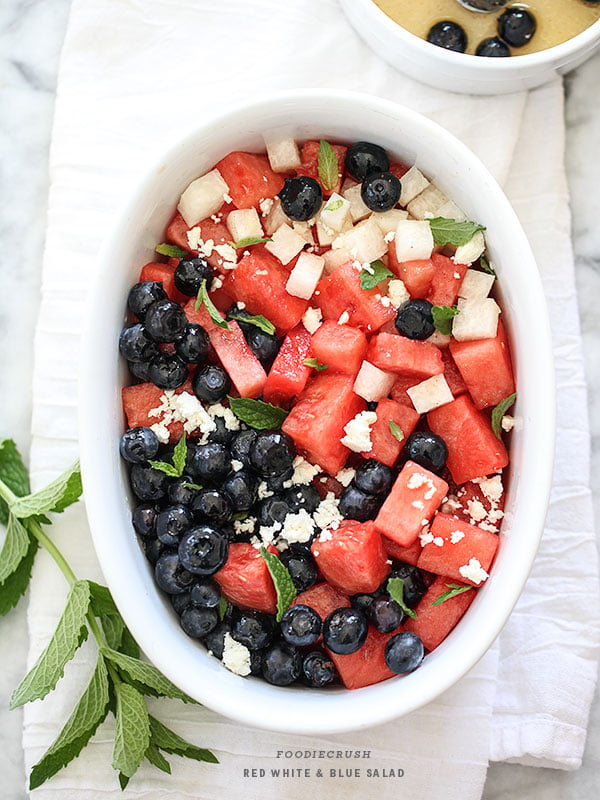 Juicy watermelon, sweet bursts of blueberries and crunchy jicama dressed with a simple honey and lime dressing make this red, white, and blue salad a favorite worthy of all the fireworks all summer long.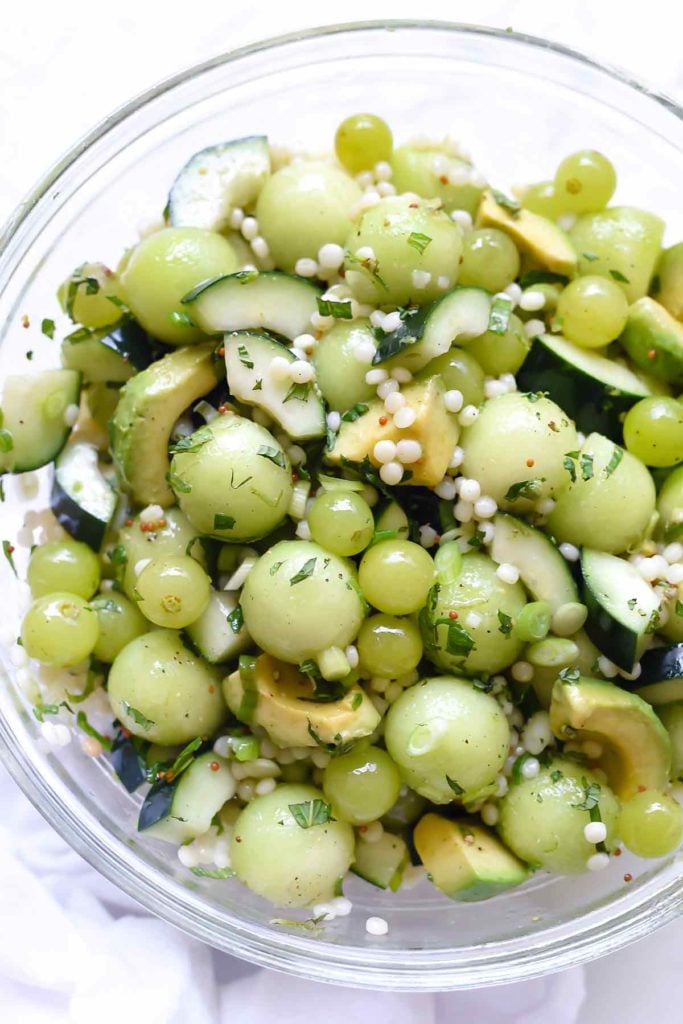 Hail all things green! Pillowy pearl couscous provides the bulk of this fresh honeydew, grape, cucumber, and avocado salad tossed with fresh herbs laced in a zingy ginger lime dressing.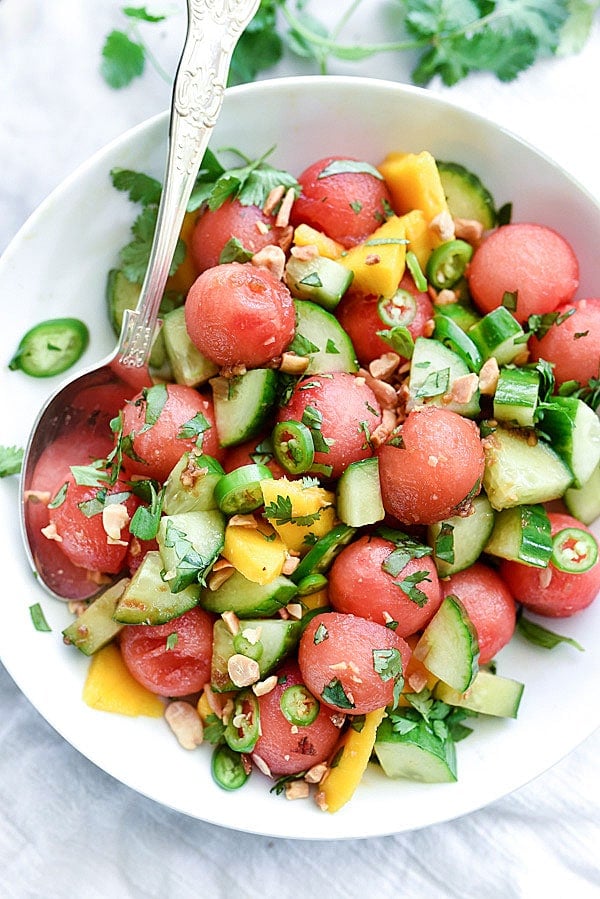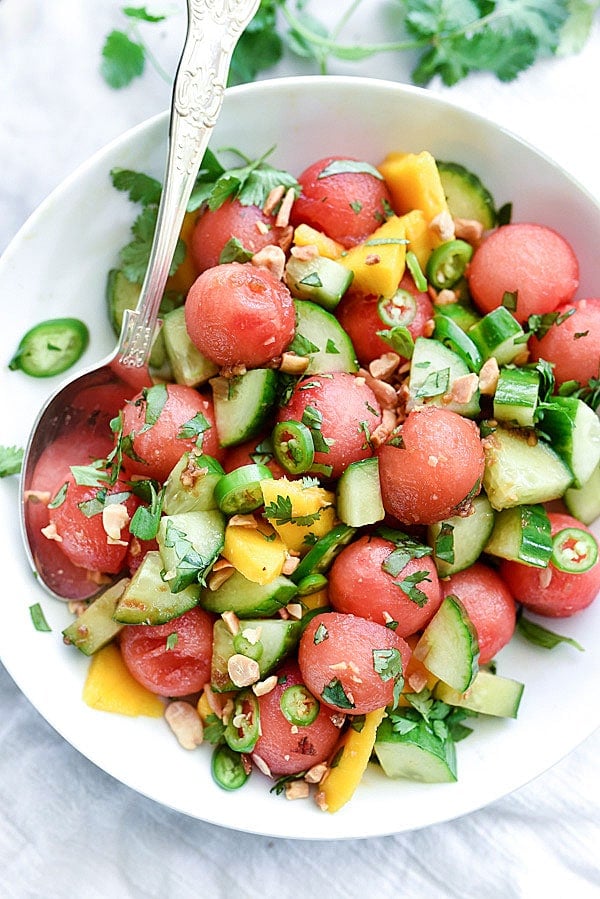 Fresh fruits of cucumber, mango and watermelon are dressed with a zingy Asian dressing of soy sauce, rice wine vinegar and ginger, with a kick of spice from jalapeño.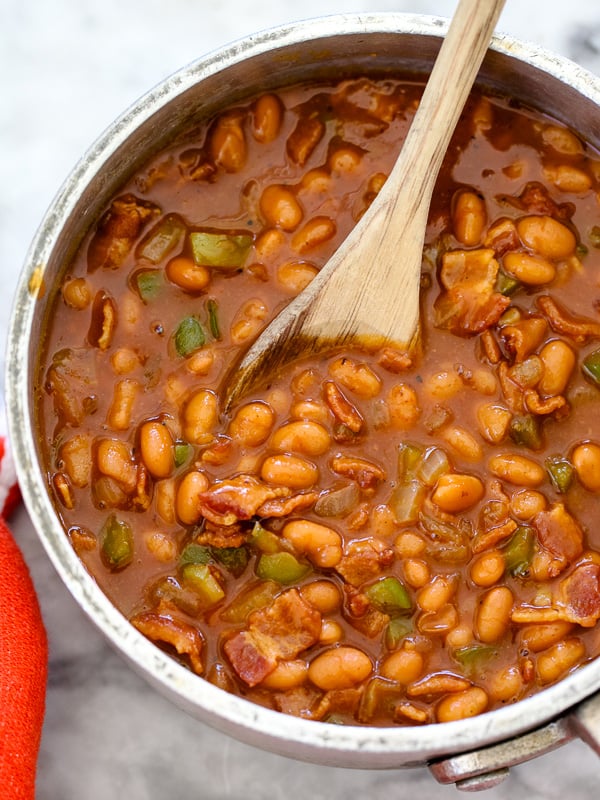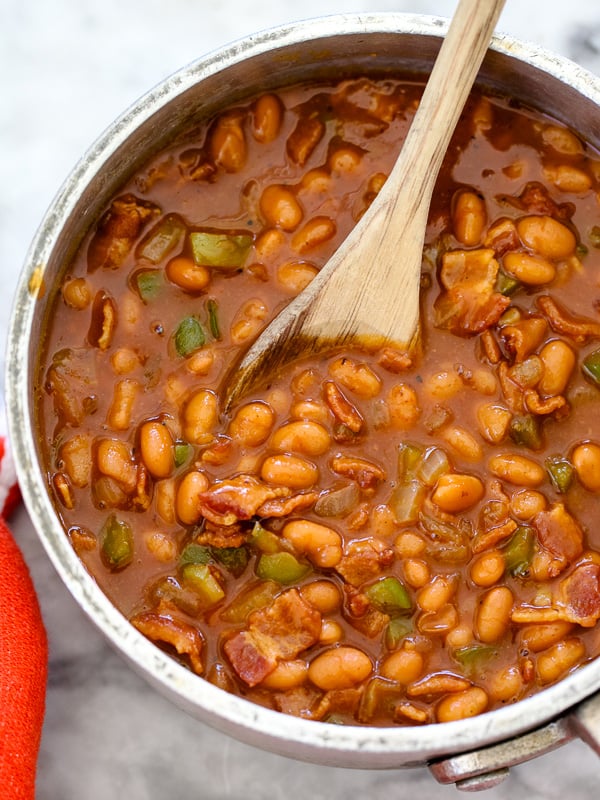 Okay, this baked beans recipe is the only one on this list that isn't served cold (and yes, I know beans aren't a veg and are really in their own category), but trust, you should make them. The recipe comes from my Aunt Marilyn and I have been eating these every summer for the past 40+ years, which should absolutely be validation enough that they are the very, very best indeed.
What to Serve with These Potluck Side Dishes
If you make this recipe, please let me know! Leave a ⭐️⭐️⭐️⭐️⭐️ rating on this recipe below and leave a comment, take a photo and tag me on Instagram with #foodiecrusheats.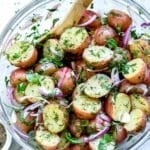 Print
45 Potluck Side Dishes | No-Mayo Potato Salad
From potato salads to mac salads to pasta salads and more, this list of my top 45 easy potluck side dishes are the make-and-take favorites everyone at your summer cookout will love. In this No-mayo potato salad, fresh herbs and olive oil flavor this easy and healthier potato salad without the mayonnaise. This no-mayo potato salad is perfect for a crowd at potlucks and barbecues and is vegan and egg free.
Ingredients
3

pounds

red potatoes

5

tablespoons

white wine vinegar

, divided

½

cup

extra virgin olive oil

2

teaspoons

Dijon mustard

1

teaspoon

kosher salt

½

teaspoon

freshly ground black pepper

½

small red onion

, sliced (about 1 cup)

2

tablespoons

minced fresh dill

2

tablespoons

minced fresh basil

2

tablespoons

minced Italian flat leaf parsley
Instructions
Put the potatoes in a medium saucepan and cover with cold water by about 2 inches. Bring to a boil over high heat, add 1 tablespoon of kosher salt, and cook the potatoes until tender, about 15-20 minutes or until fork tender. Drain well.

As soon as the potatoes are cool enough to handle, cut them in half and place them in a large mixing bowl. While the potatoes are still hot, sprinkle them with 3 tablespoons of the vinegar and let cool to absorb the vinegar.

In a small bowl, whisk the olive oil, remaining 2 tablespoons of vinegar, Dijon mustard, kosher salt and pepper.

Drizzle the dressing over the potato mixture and gently toss. Add the sliced onion and minced herbs and toss again. Season with more salt and pepper to taste. Serve warm, at room temperature, or chilled. Keeps in the refrigerator for 3-4 days.
Notes
This potato salad gets even better the second or third day after it's been made. To freshen it up as the days go by, add more fresh herbs if you desire. 
Nutrition
Serving:
1
cup
|
Calories:
244
kcal
|
Carbohydrates:
28
g
|
Protein:
3
g
|
Fat:
14
g
|
Saturated Fat:
2
g
|
Sodium:
337
mg
|
Potassium:
784
mg
|
Fiber:
3
g
|
Sugar:
2
g
|
Vitamin A:
20
IU
|
Vitamin C:
15.1
mg
|
Calcium:
19
mg
|
Iron:
1.4
mg
More Summer Sides You'll Love
We send good emails. Subscribe to FoodieCrush and have each post plus exclusive content only for our subscribers delivered straight to your e-mail box.
Follow me on Instagram, Facebook, Pinterest and Twitter for more FoodieCrush inspiration.
As always, thank you for reading and supporting companies I partner with, which allows me to create more unique content and recipes for you. There are affiliate links in this post of which I receive a small commission. All opinions are always my own.