Crunchy ramen noodles and cabbage make this easy Asian ramen noodle salad with an addictive dressing an instant picnic and pot luck favorite.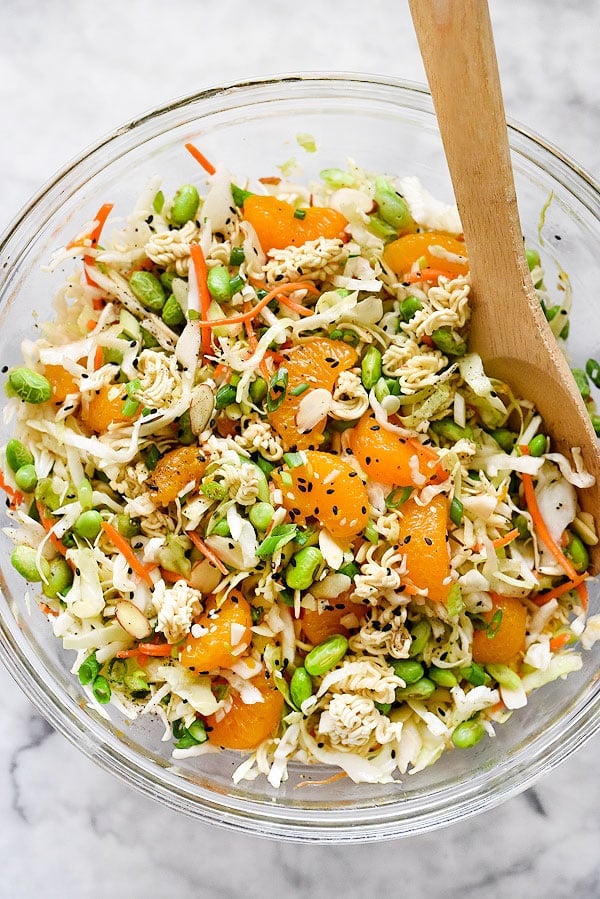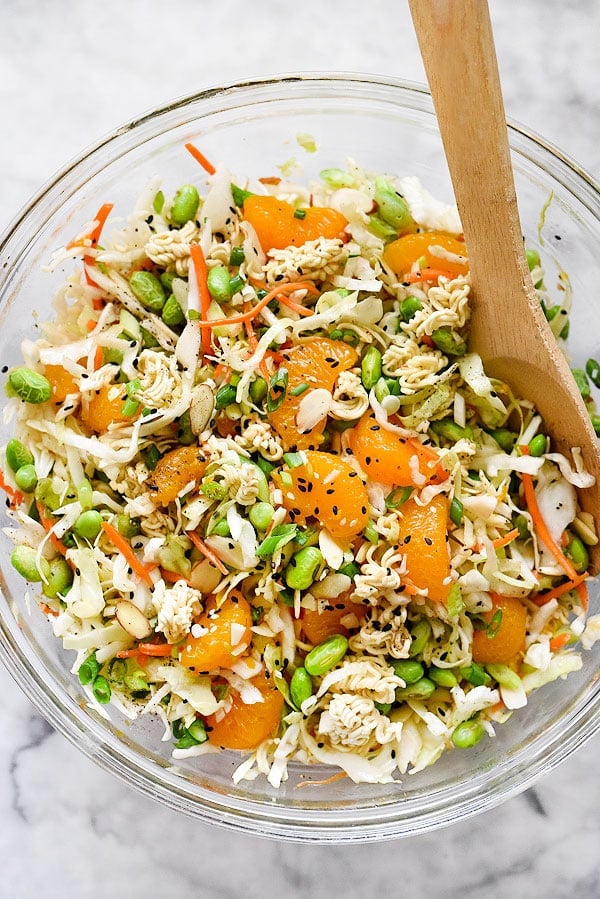 This salad is pretty enough to take a picture of. And pretty enough to share that pic. That's why today I've partnered with Adobe to share a new app they've developed for your smart phone that makes it incredibly easy to resize and add text to your smart phone photos, even for the tech challenged.
Because isn't good food meant to be shared? I'd say so.
That's why I love sharing recipes that have stood the test of time. The recipes that when you're stumped as to what to make, you just go to the proven standards that you've made over and over and over again..
That is this Asian Ramen Noodle Salad. It's probably on the all-time top 10 list of the most-favorite, often-requested, go-to-because-it's-incredibly-easy pot luck and picnic salads. Ever.
Funnily, it's not a salad I normally make for an average Wednesday night dinner. And I have no idea why not. It's always just seemed to have that retro, convivial sharing quality. It's a salad meant to be eaten with a crowded table of friends and family gathered round a bunch of burgers and beers at the BBQ.
But then, what isn't?
Probably one reason this Asian ramen salad has stood the test of entertaining time is that it is incredibly easy to make and lasts for a beyond average length of time on the card table draped with a tablecloth disguised as an elegant banquet buffet.
Or is that just at my house?
Or maybe it's so popular because it bears the ying and yang of sweet and savory. It's the teriyaki chicken of Asian salads. It's non-threatening, there's nothing too weird in it, and it's a salad that nearly every picky eater will try. Even the onions!
For today's recipe post I wanted to create an image with the ingredients on the photo to share on Instagram and Facebook—and for you to download if you'd like. I made it with Adobe Post and I'm sharing how I did it at the end of this post.
But first, the recipe…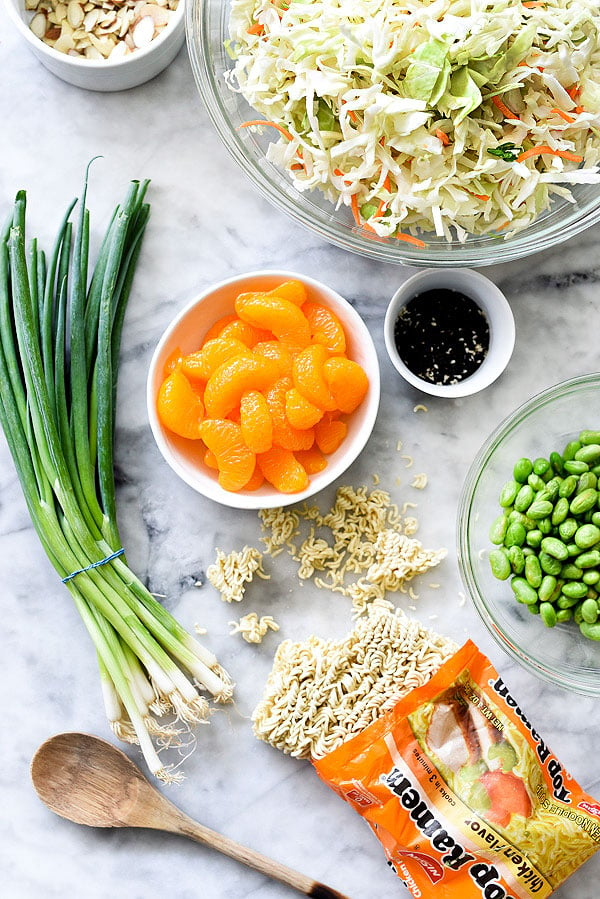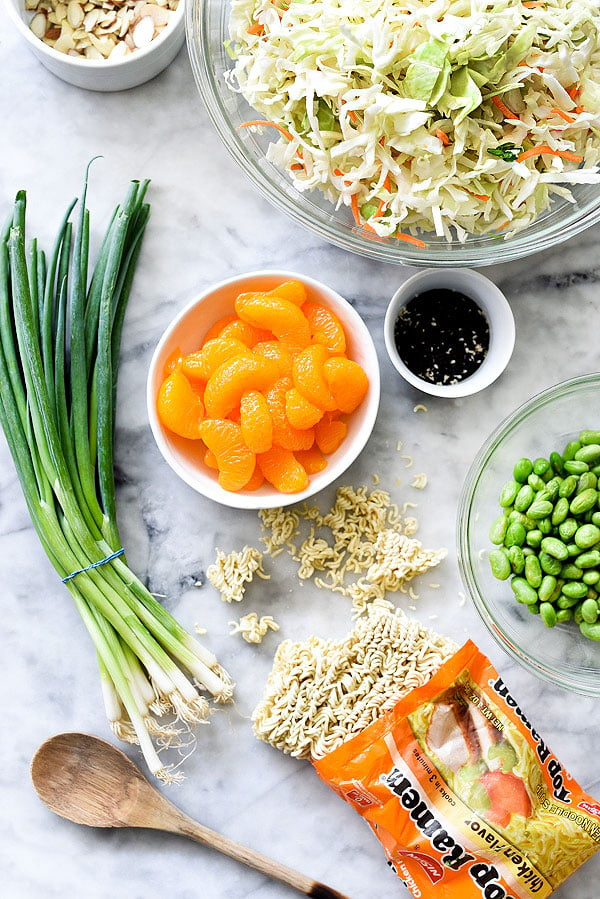 What's in Ramen Noodle Salad?
Some ramen salad recipes are straight up cabbage or coleslaw mix, drowned in a too-sweet dressing and maybe if you're lucky a little green onion and almonds. As usual, I had to up the flavor ante in my version.
Let's start with the dressing.
When it comes to sesame dressing, some recipes call for a whole lot of sugar. Now in my opinion, whether it's agave, honey, cane sugar, brown sugar or whatever label you want to give it, it's still sugar. I use regular white granulated sugar in this recipe, but not a lot. If you prefer a sweeter dressing, add 1 teaspoon more sugar at a time to your taste.
While my dressing isn't overly sweet, it is the sweet and savory balance of this recipe that I crave so I add a fruit candy bite of mandarin oranges. While I prefer fresh oranges for a snack, mandarins are my Smudge's favorite and she eats them straight from the can. Thus, I always buy the mandarin oranges in light syrup. The heavy stuff puts me over the motherly edge.
To add a little more of a healthy bite, I add shelled edamame beans to the salad. Edamame is a good source of protein and fiber for vegetarians and meat eaters alike. I've yet to find a nutrient that discriminates sharing its healthy properties.
But if you'd like to add an even bigger bang of protein to this ramen noodle coleslaw, you could always add a chopped chicken breast or two to create a main meal. Whenever I have leftovers of this salad that's what you'll most often see in my lunchtime bowl.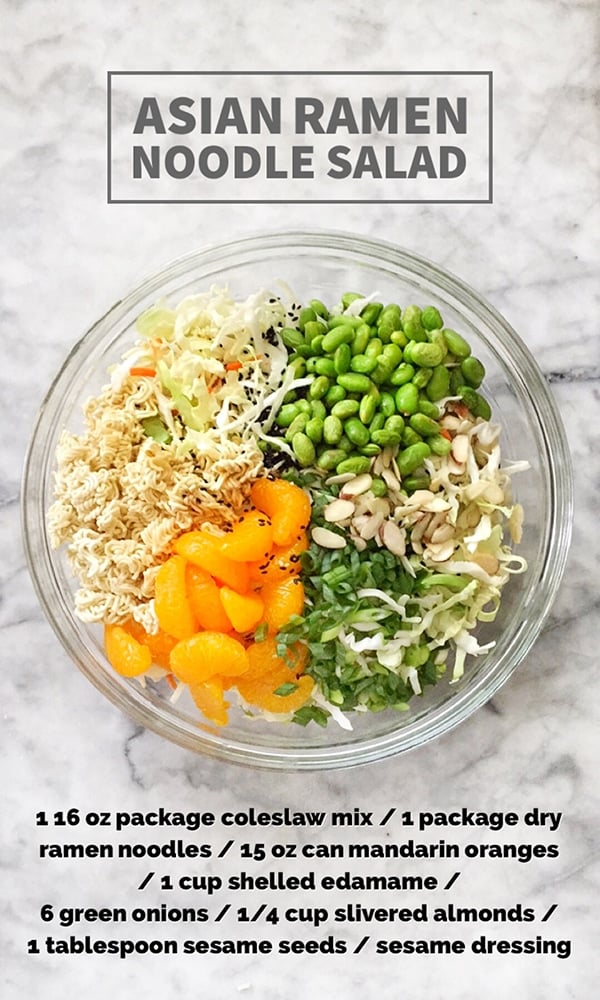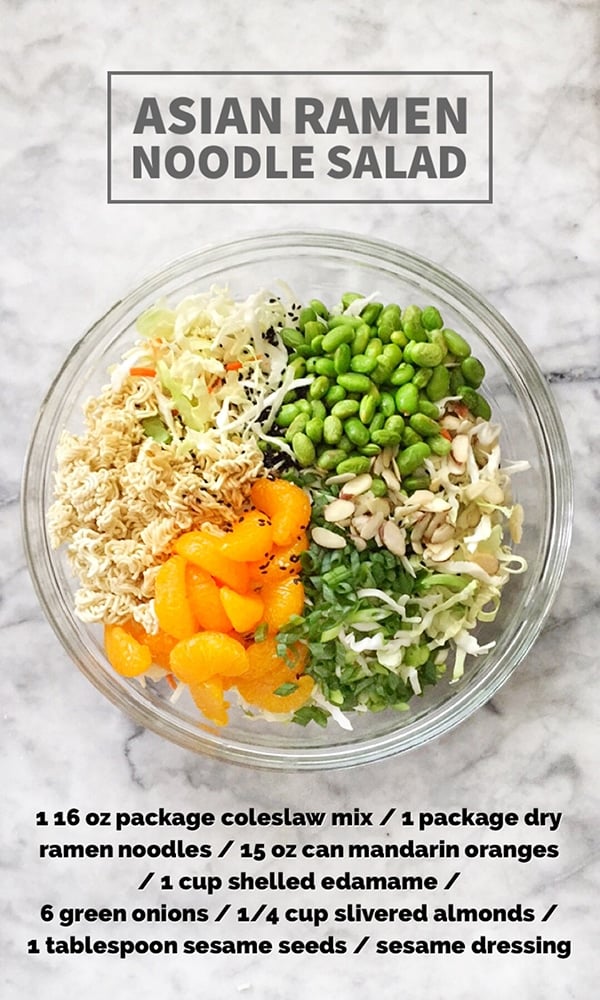 How to Make Ramen Noodle Salad
To make this easy ramen salad, simply add a bag of pre-made coleslaw mix to a large bowl and crumble ramen noodles over top. Add in the mandarin oranges and edamame, followed by some chopped green onions, slivered almonds, and black sesame seeds.
In a separate bowl, whisk together the Asian dressing then pour over the ramen noodle coleslaw mixture. Give the salad a good toss to distribute the dressing, and then pop it into the fridge to chill for an hour.
Can I Make This Salad in Advance?
Absolutely! This Asian ramen noodle salad doesn't get soggy quickly, so you can definitely make this before a family BBQ or potluck. Once you set out the ramen salad, it should stay fresh for a couple hours. The noodles will lose their crispness over time, but they shouldn't become soggy.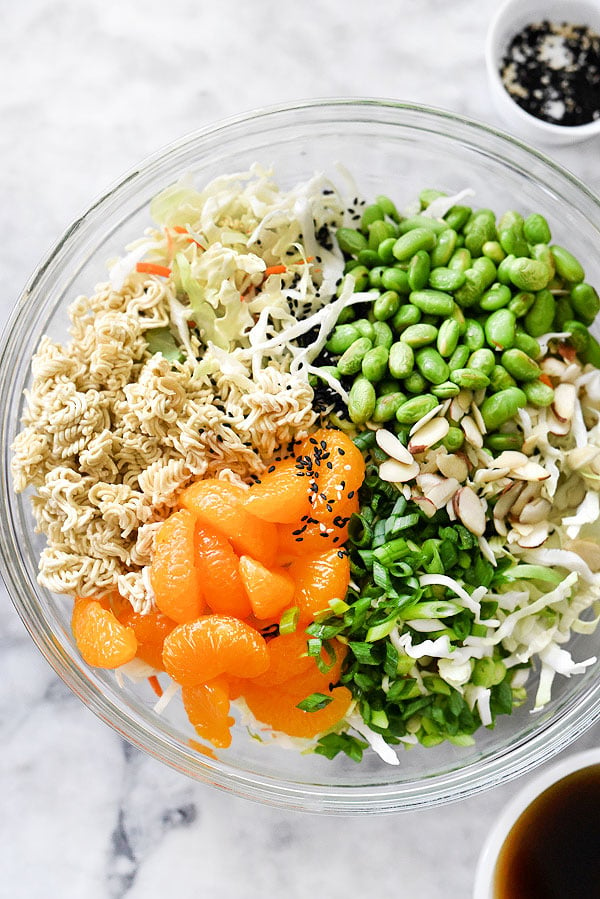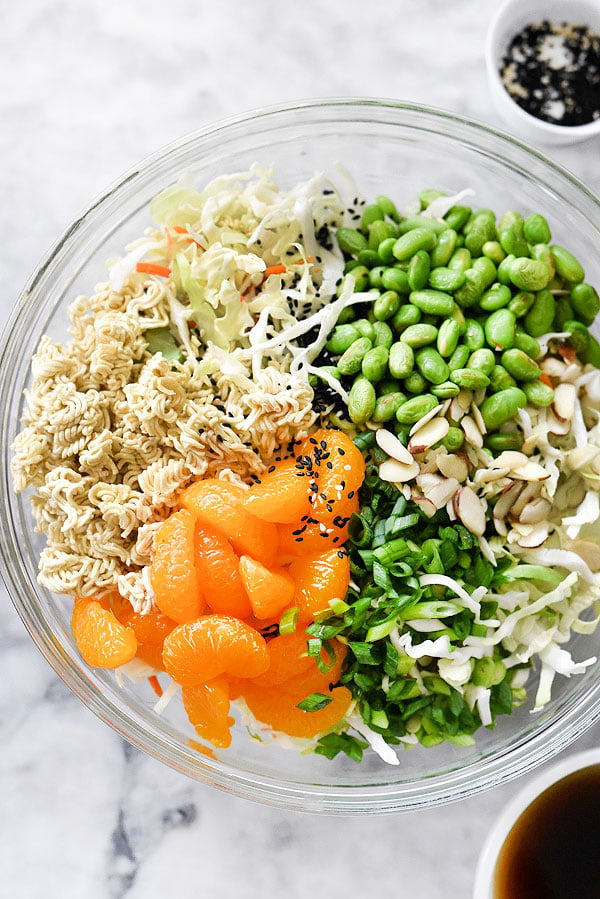 Should I Add the Ramen Flavoring Packet to This Salad?
You do NOT want to add the flavoring packet that comes with the ramen noodles into this salad. The flavoring packets are sodium bombs and will alter the flavor of this fresh salad.
Can I Add More Veggies to This Ramen Salad?
It's your kitchen, so you can do whatever you like! If you've never made Asian ramen noodle salad before, I recommend making this recipe as written the first time, that way you know what (if anything) you'd like to change. Fresh herbs could be a good addition to this salad, or chopped bell peppers. I like it best as is, though!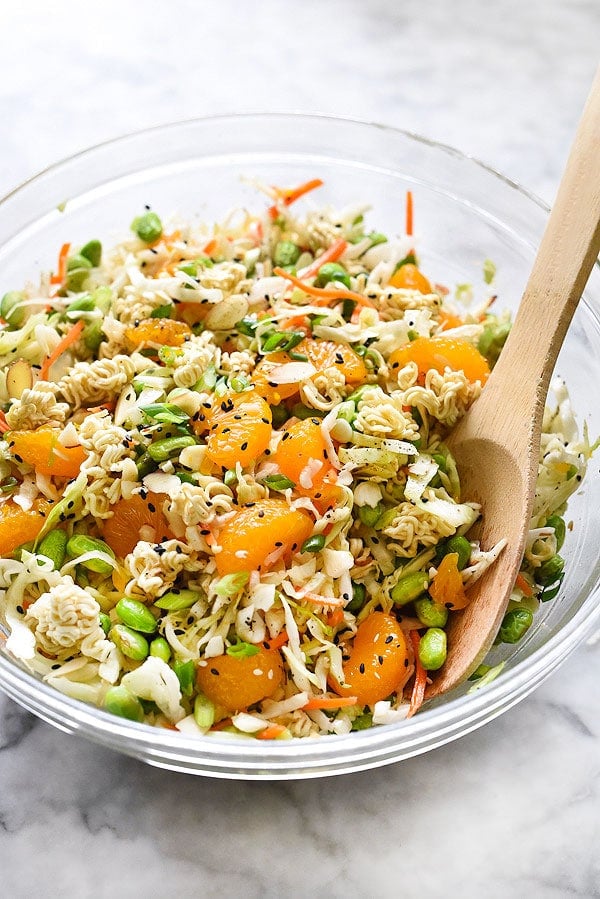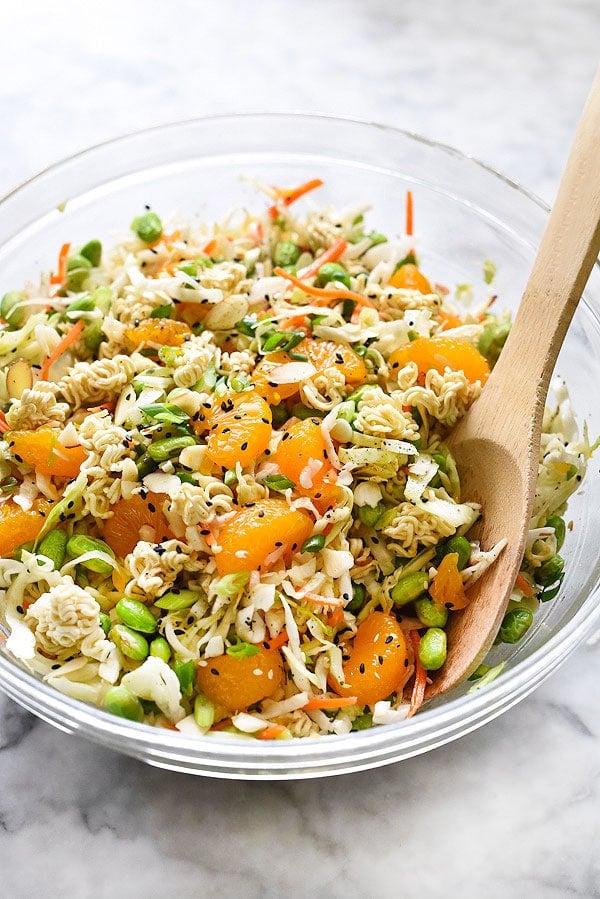 Tips for Making Asian Ramen Salad
You can find edamame in the frozen section of most grocery stores. You're looking for shelled, unsalted edamame, and you'll need to thaw it before tossing it with the salad mixture.
If you don't have slivered almonds or can't eat almonds, try using chopped walnuts or pecans in this ramen salad instead. Just make sure to finely chop whatever nuts you use if they're not already sliced.
I highly recommend using light soy sauce for this Asian salad recipe, as regular soy sauce may overpower the other flavors in the dressing. Regular soy sauce is also much saltier, so opt for light if possible.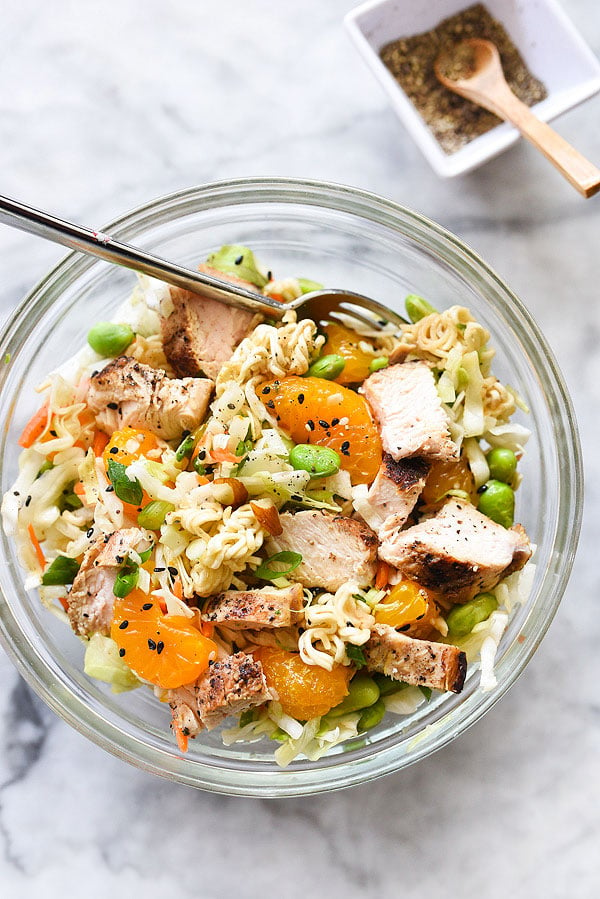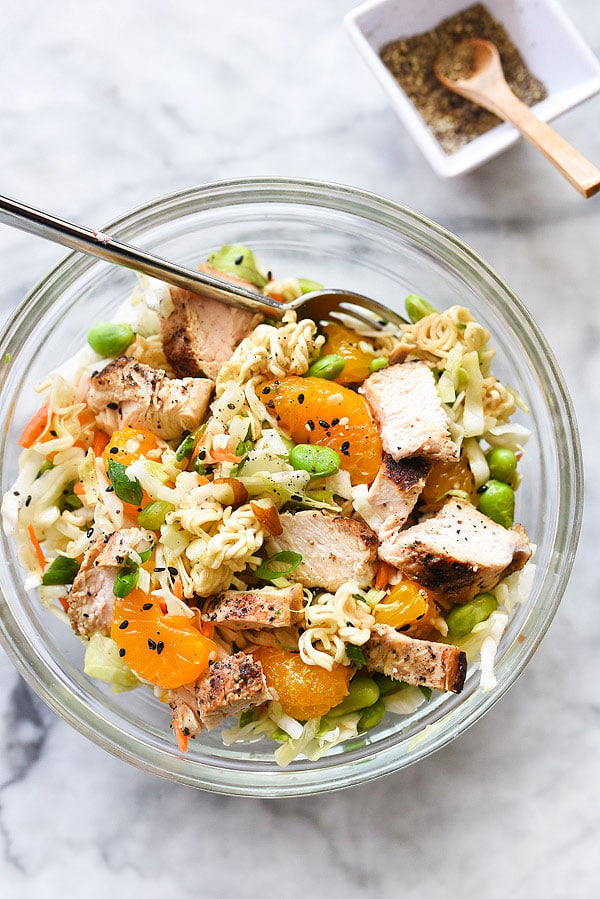 More Easy Potluck Sides to Make
If you make this recipe, please let me know! Leave a comment below or take a photo and tag me on Instagram with #foodiecrusheats.
Print
Asian Ramen Noodle Salad Recipe
The crunch of ramen noodles and cabbage make this easy salad a picnic and pot luck favorite.
Ingredients
1 16-

ounce

package coleslaw mix

1

package dry ramen noodles

1 15-

ounce

can mandarin oranges

drained

1

cup

frozen shelled edamame beans

thawed

6

green onions

whites and greens chopped

¼

cup

slivered almonds*

1

tablespoon

black sesame seeds

7

tablespoons

seasoned rice vinegar

2

tablespoons

vegetable or grapeseed oil

3

teaspoons

light soy sauce

3

teaspoons

sugar

4

teaspoons

sesame oil

add more to taste if you prefer a strong sesame taste

Freshly ground black pepper
Instructions
Add the coleslaw mix to a large bowl. Crumble the dry ramen noodles into the coleslaw and then add the mandarin oranges and edamame. Add the green onions, slivered almonds and black sesame seeds and toss.

In a small bowl, whisk the rice vinegar, vegetable oil, soy sauce, sugar and sesame oil and freshly ground black pepper in a small bowl. Drizzle over the slaw mix and toss to combine. Refrigerate for 1 hour for flavors to meld.
Notes
*If you don't have slivered almonds or can't eat almonds, try using chopped walnuts or pecans in this ramen salad.
Note: Add 2 cups chopped chicken breast to make a one dish meal.
Nutrition
Calories:
146.33
kcal
|
Carbohydrates:
14.09
g
|
Protein:
4.61
g
|
Fat:
8.79
g
|
Saturated Fat:
3.49
g
|
Sodium:
144.95
mg
|
Potassium:
322.08
mg
|
Fiber:
3.96
g
|
Sugar:
8.92
g
|
Vitamin A:
892.66
IU
|
Vitamin C:
44.14
mg
|
Calcium:
68.25
mg
|
Iron:
1.33
mg
Take a Pic and Share a While
Unlike a lot of my readers, I know Adobe products like Photoshop, Indesign and Lightroom extremely well. They're the programs I use to color correct and size photos, add text to pictures and design magazines and ebooks.
I've been using them for so long that they're pretty much an extension of my right arm.
So when Adobe asked me to try out their new Adobe Post app for my iPhone, I said absolutely.
I share my recipes in lots of places besides here on the blog. Pinterest. Facebook. Instagram. And now with Adobe Post, it's easy to create text on photos for each of those formats with just one file. Adobe Post does all the resizing, including the image and text, to automatically fit each format.
It's like magic.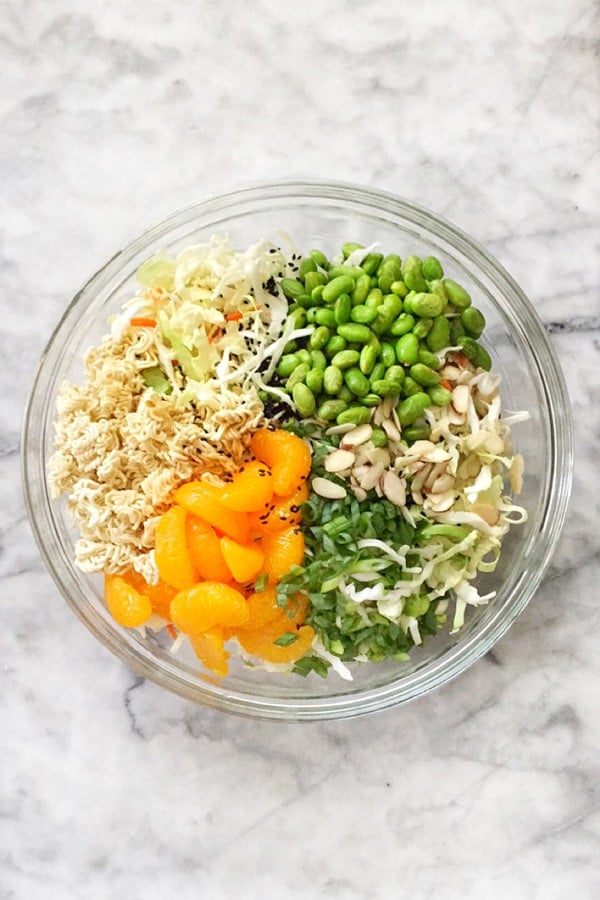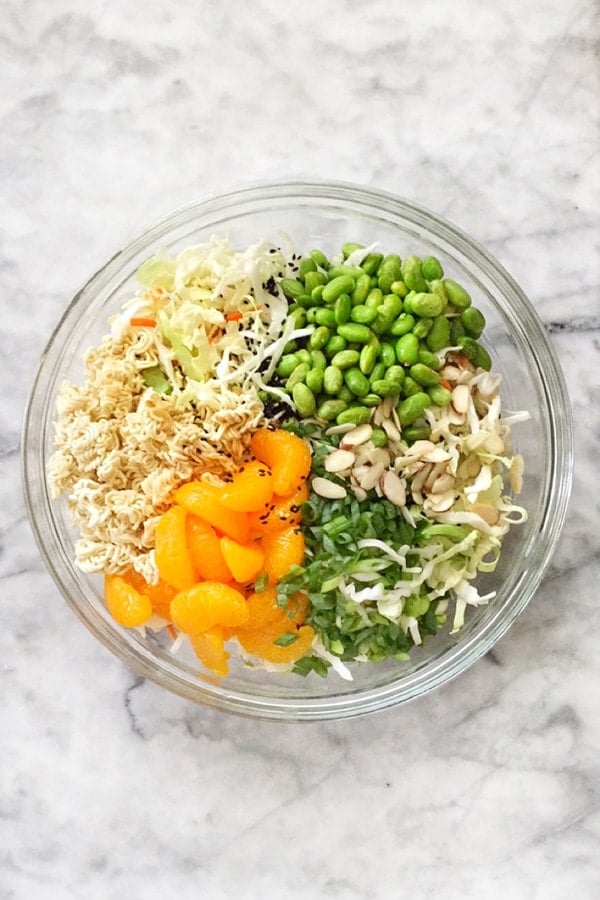 All I had to do was import a photo from my phone into Adobe Post, type in the name of my recipe and start typing in the ingredients.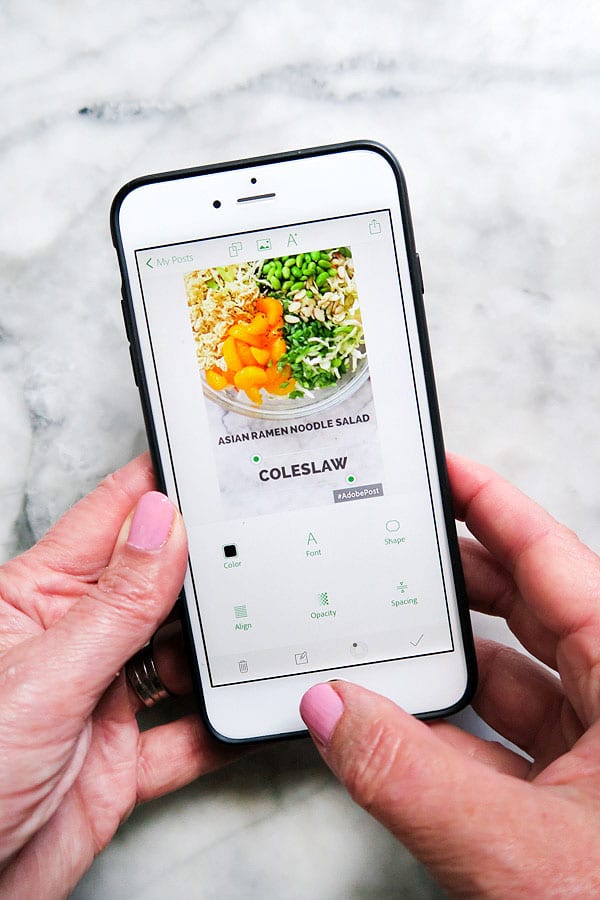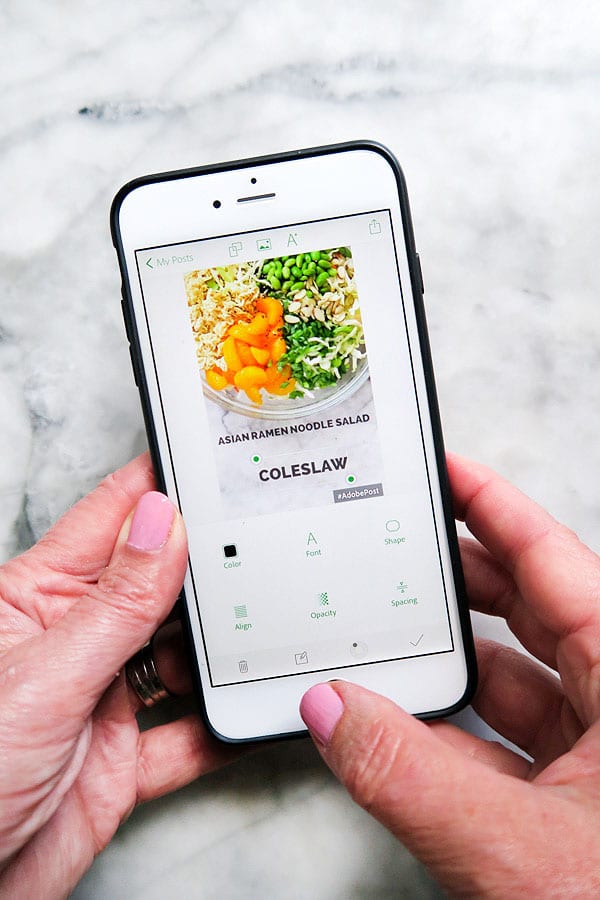 From there, you get to choose what fonts you want to use, the size, alignment and even the shapes you want to try.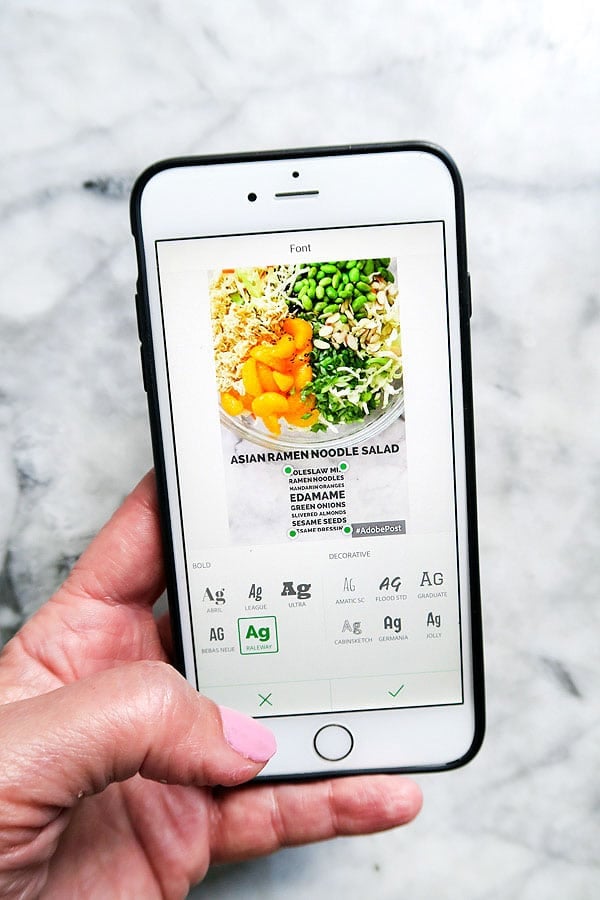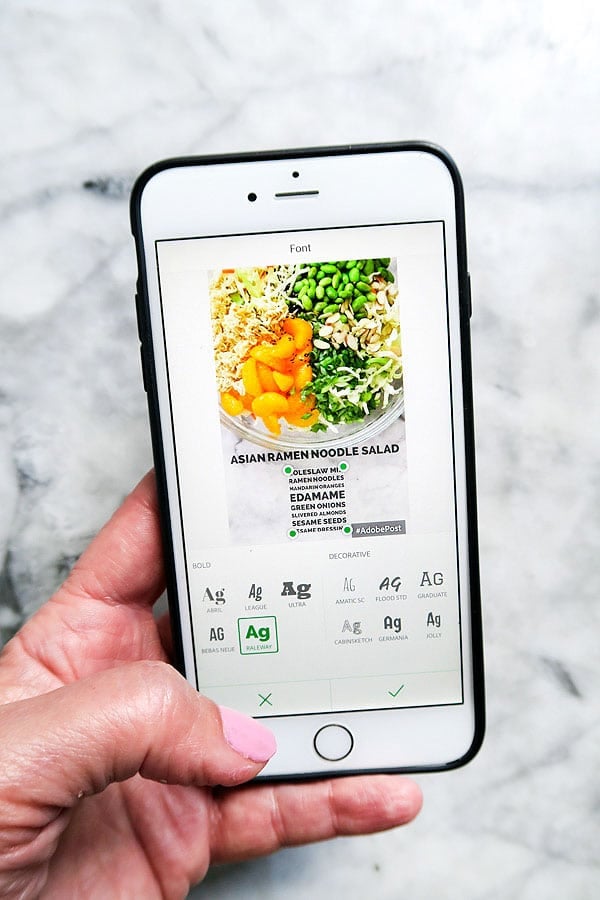 There's no fiddling with point sizes or numbers, it's all dynamic so you just grab a hold of a corner of your text box and manipulate it with your fingers. Adobe Post does all of the design work for you.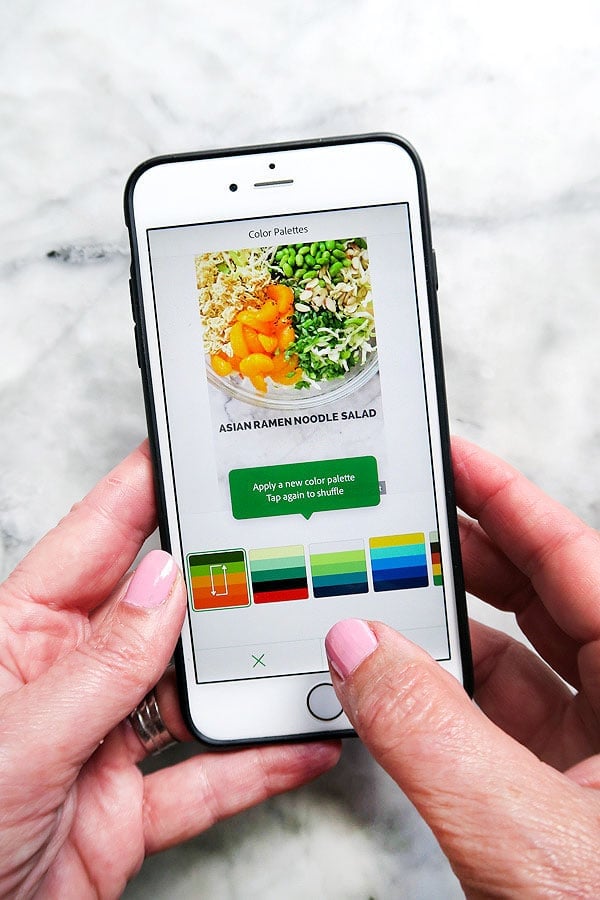 Adobe Post provides suggests color palettes for your image, or you can choose the colors yourself.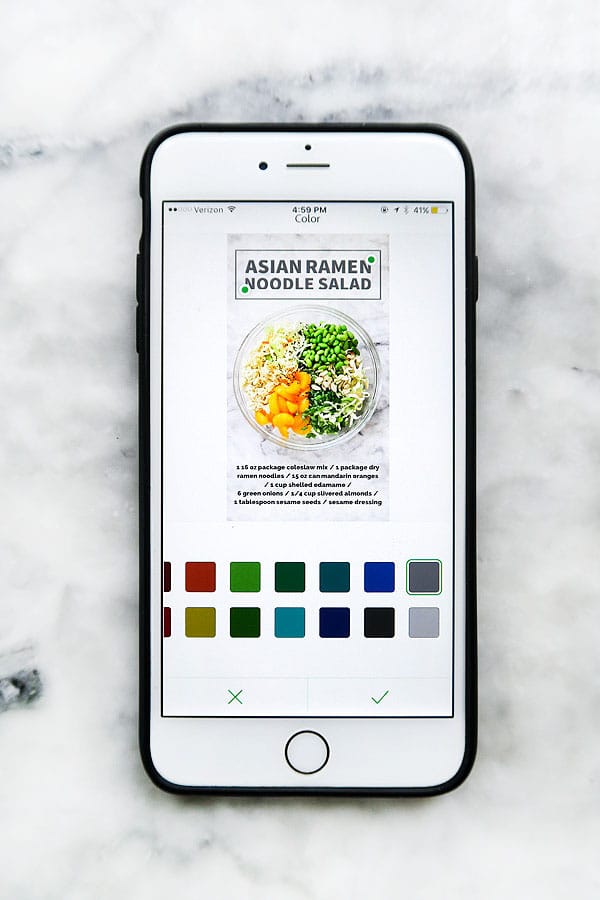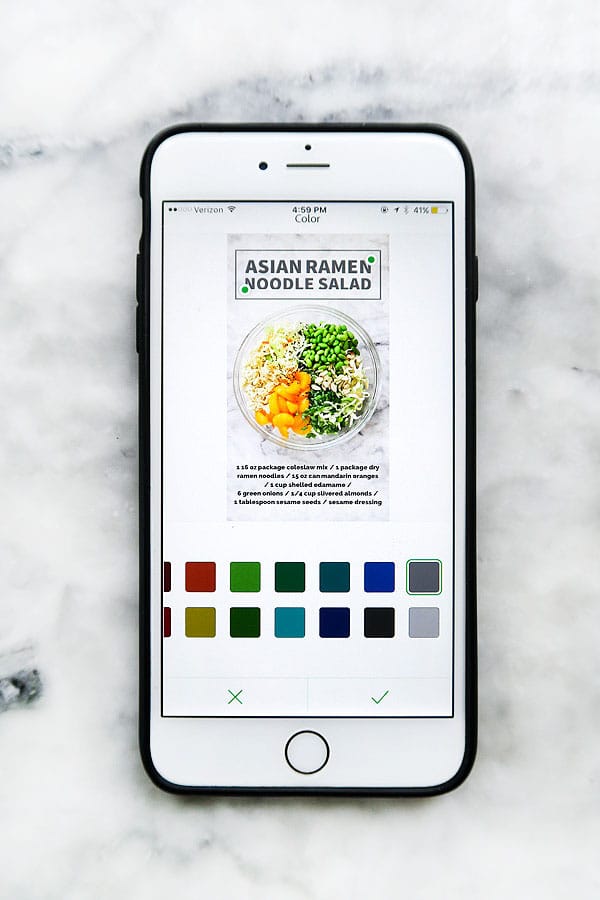 There are also pre-designed templates and design filters that you can apply to your text and Adobe Post will automatically generate and mimic that look to your text.
I chose a relatively simple theme for my headline and Adobe Post automatically put the white box around the text. When the text is resized, the box reflows with it.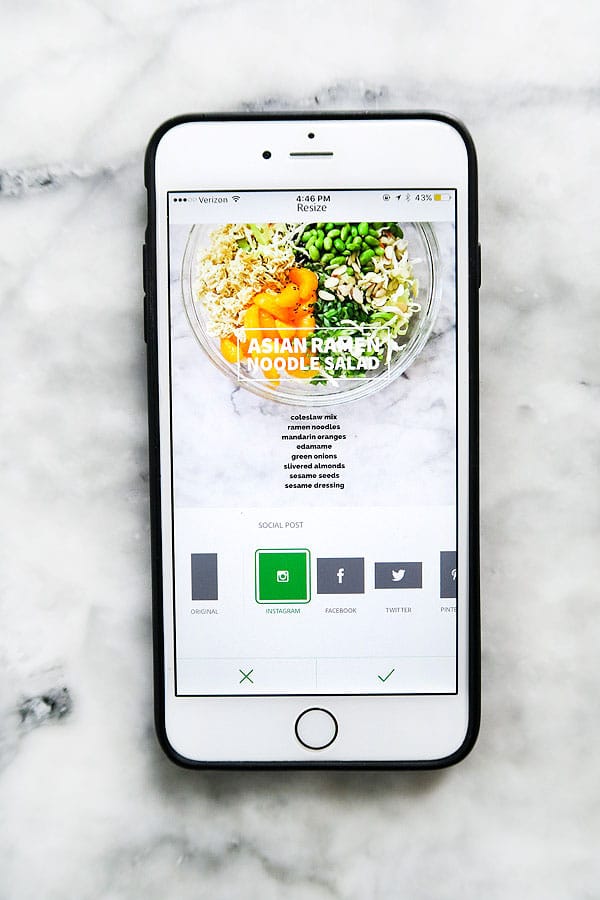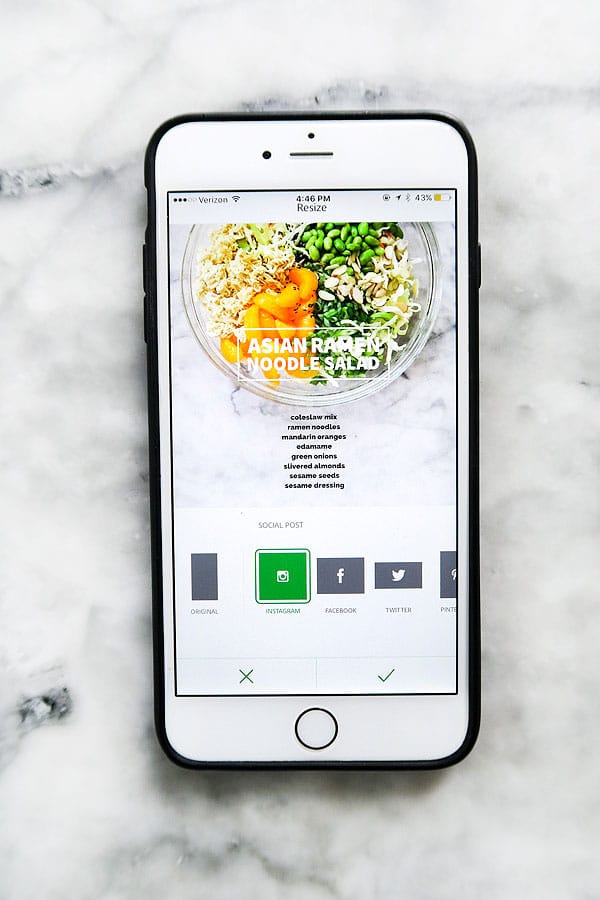 To create a version for Instagram or Facebook, simply choose which format you'd like to have the text resized for, and snap! It's done.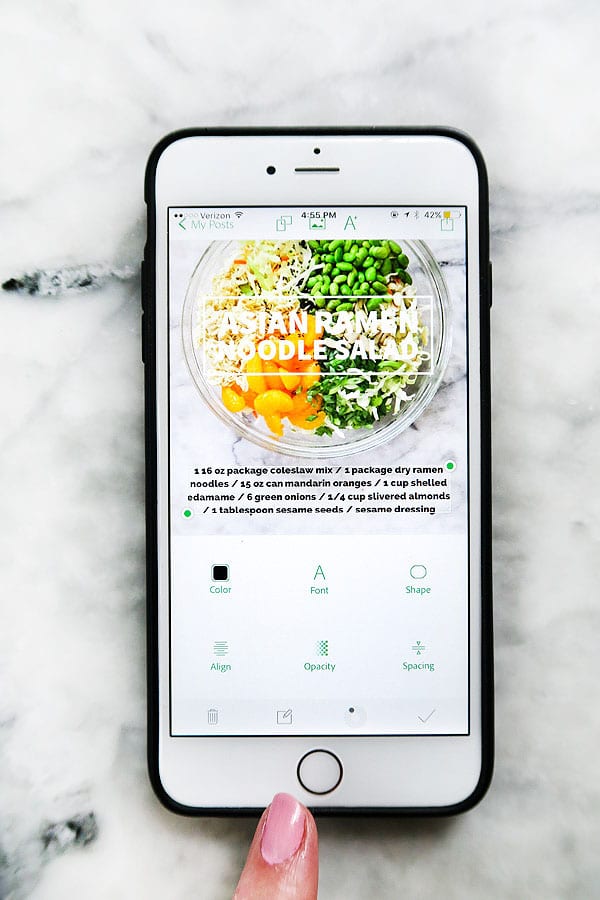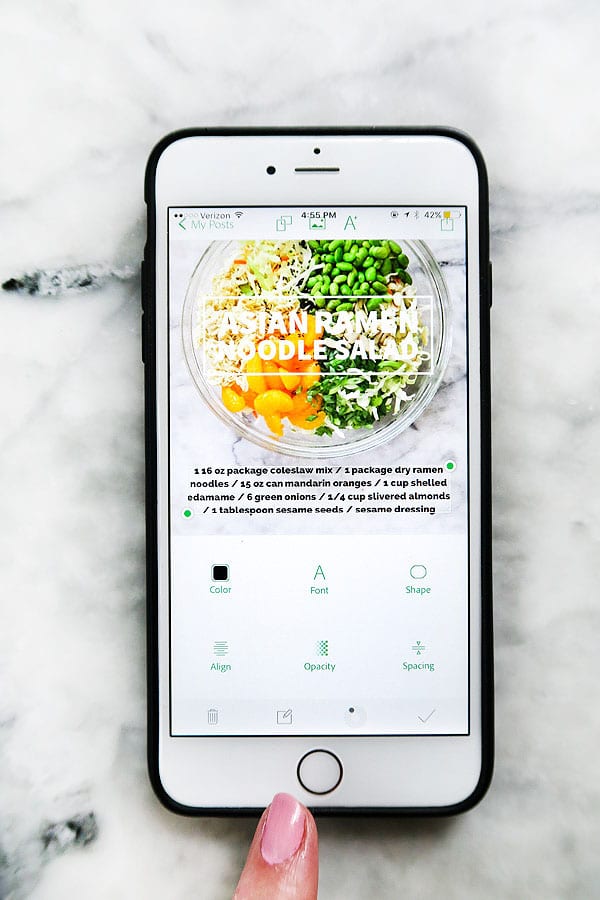 From there, simply edit your text if you'd like to resize or change the format.
And then, share your greatness with the world. Because you are pretty great.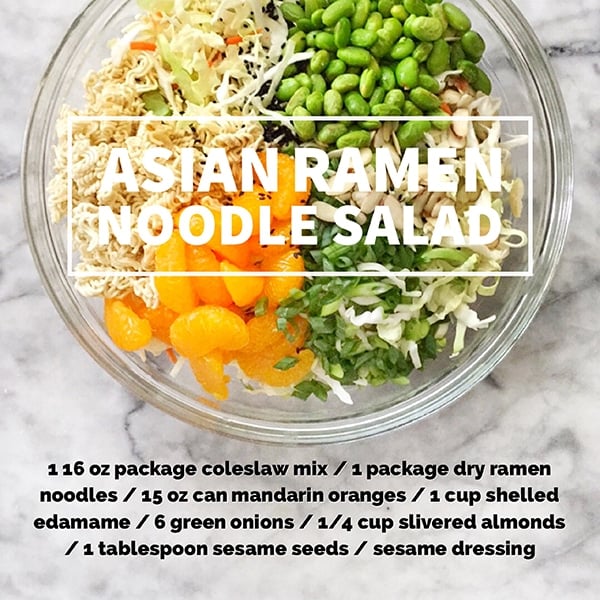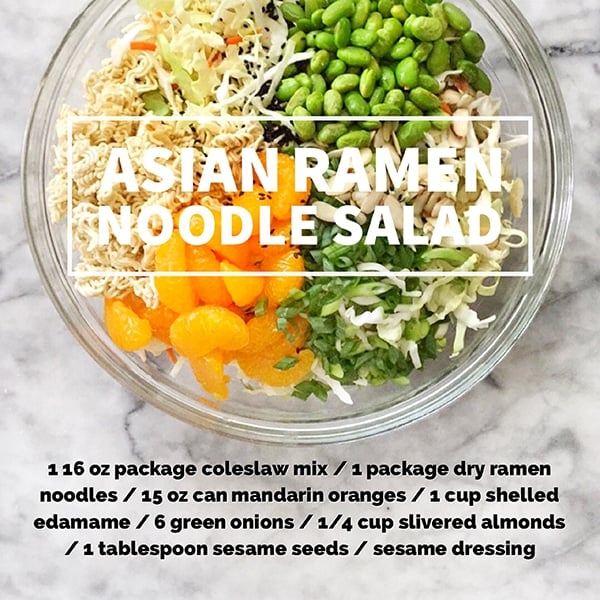 More Salad Recipes You Might Like
This post is sponsored by Adobe. As always, thank you for reading and for supporting companies I partner with, which allows me to create more unique content and recipes for you. All opinions are always my own.  
Craving more life balance, less stress, and better health? Check out my Nourished Planner, the daily planner to help create simplicity and under-schedule your life.
We send good emails. Subscribe to FoodieCrush and have each post plus exclusive content only for our subscribers delivered straight to your e-mail box.
Follow me on Instagram, Facebook, Pinterest and Twitter for more FoodieCrush inspiration.