This classic Lebanese salad is a combination of tangy and sweet with a minty dressing and simple salad fixings mixed with pita chips for added crunch.
There are many food bloggers who become writers because of their blogs. Where just the right photo and recipes featuring the most buzz worthy food trend trump the words and the message. Maureen Abood's blog isn't that blog.
"In learning to make candy, I found the perfect metaphor for what was happening in my life, learning to temper, respect, listen…to myself. And what I heard when I listened closely was a call to the kitchen, and not just for a weekend or a week, but to head in full-on and full-time." This is an example of just one of the passages that made me feel like I was reading a novel rather than a cookbook and accompany just one of the inspired recipes in Rose Water & Orange Blossoms.
As a blogger and freelance writer, Marie's food blog and cookbook of the same name celebrate not only her well-developed recipes, but the stories of her Lebanese culture and family in a totally lyrical style that only a true writer could. I could read this cookbook like a novel. And I have. Take that 50 Shades of Chicken.
This full-time writer and blogger who hails from Michigan grew up embracing her Lebanese roots and lives there still, married to the man she's known all her life but who only married last year.
Maureen's cooking inspiration started at home with her grandmother, "Sitto," who influenced Maureen's belief to share food with others and pay it forward. "She loved to pass on our Lebanese traditions by teaching her grandchildren the recipes—especially her breads," remembers Maureen. "This legacy is golden! I am grateful to keep that legacy alive by having the passion and opportunity to share our cuisine and culture broadly."
Maureen's cookbook Rose Water & Orange Blossoms centers around the fresh, vibrant flavors of Lebanese cooking, and that may be her favorite part of writing the book.
"I discovered that even though I'd been blogging about Lebanese cuisine for a few years, and I grew up Lebanese-American, there was still a whole wealth of dishes and traditions to learn about."
Homemade Falafel is completely transformed into fresh bites of fava beans, chickpeas and handfuls of fresh herbs and warming spices and traditional dishes like Yogurt Marinated Chicken Skewers are given a fresh perspective when dipped into Toum Garlic Sauce—an emulsified sauce made with pure garlic and brightened with lemon.
"I had so much fun developing what I call "fresh" Lebanese recipes—using traditional ingredients in new ways," says Maureen. "I felt like I was really letting my mind wander, and whenever I do that, good things come from it!"
I couldn't agree with Maureen more.
Let's Shop With Maureen Abood Market
Most great ideas come out of necessity, and Maureen's new adventure is just that. Ingredients to cook Lebanese cuisine aren't always easy to find so Maureen took things into her own hands and recently launched her own online market, the Maureen Abood Market.
With her online market, Maureen shares favorite ingredients like exceptional Extra-Virgin Olive Oil and all-natural flower waters, imported from Lebanon. Exotic spice blends like za'atar and kibbeh spice can be ordered with ease. But the secret ingredient everyone wants is Maureen's pouches of peeled chickpeas. "These little darlings are the key to the smoothest, most delectable hummus you can make or eat," she confides. Now that's a flavor keeper.
And now, my list of 10 Q's for Maureen
1. Describe your blog in 3 words:
Whoa, you're asking the impossible!
Okay, here: Stories! Photos! Recipes! (I have to use exclamation points since I only get three words…)
2. If you could be one food blogger other than yourself, who would you be?
It would be fun to be Kelsey or Shaun of Happy Yolks. I've always wondered what it would be like to have a partner in blogging!
3. Which 3 blogs do you follow/are obsessed with/can't live a day without?
I'm a huge fan of Cheryl Sternman Rule's 5-Second Rule. That girl can WRITE! And she just launched a website called TeamYogurt.com that rocks my yogurt-loving soul. *ed. Maureen is a contributor to TeamYogurt.
Also: Heidi Swanson's 101 Cookbooks, because she's simply the best on so many levels. Her style is sophisticated yet simple and beautiful.
The first food blog I followed remains so stellar, and that's the great Orangette by Molly Wizenberg. Her blog and books have inspired me every step of the way on my own path. The writing is unfailingly excellent, and her recipes make me want to run to the kitchen to try them because of how she writes about them.
4. What is the one kitchen tool you could never give up?
My microplane grater. Without it I would never zest citrus, and that would be a pity because zest is such a great flavor maker, and adds the tartness the Lebanese want in just about every dish! I love lime zest showered over almond stuffed dates that have been sautéed lightly in olive oil. Sprinkle of sea salt. No words for how caramel-good this is.
5. What dish are you obsessed with mastering that you just can't get quite right?
My grandmother, my Sitto, was a true artisan when it came to baking Lebanese flatbread. This is a dying art because of the finesse and practice it takes to get the bread so thin, and the time it takes to make. On my trip to Lebanon in 2012, I brought home a saj oven, which is a metal dome with a gas heating source underneath it. You stretch the dough very thin, throwing it like pizza and laying it out over a round, flat pillow to continue to stretch the delicate edges—then flip the dough over onto the hot dome, or as I used to do, over a very hot overturned sheet pan in the oven. The bread bubbles up and bakes in seconds flat. Slather it hot from the oven with butter and salt and roll it up to eat it, or scoop up some labneh and a kalamata olive with it. Heaven, I tell you! This bread is my holy grail. I vow to master it, no matter how long it takes or how many I drop on the floor trying.
6. What did you have for dinner last night?
Last night I grilled for one of the first times this season here in Michigan: Lebanese shish kebab. The red onion gets perfectly charred along with the succulent lamb, delicious over cinnamon-scented rice. I made a quick fresh mint sauce to go with it. For dessert I grilled halved apricots, drizzled them with honey and served them with a dollop of thick labneh and toasted sliced almonds (which I toast and keep frozen so I can pull them out any time).
7. What's one secret talent outside of the kitchen nobody knows about you:
I've been known to sing a mean Ave Maria!
8. You're happiest when cooking/eating:
Something sweet and sharing it with the people I love.
9. How do you see yourself inspiring others to try ethnic food like Lebanese cuisine? What would you like them to learn?
I want others to know how approachable Lebanese cuisine is, and how very healthy and flavorful. Because we season so well with spices (like cinnamon as a savory spice, and tons of fresh herbs), and use lots of extra- virgin olive oil with a focus on fresh vegetables, grains, nuts, and lean meats, Lebanese food is ultra-delicious without needing too much fat or salt to get it there.
10. The one secret ingredient to your success is:
Loving what I do. I was never so thrilled as to discover how much fun work can be when there is nothing else I'd rather be doing, and when it's in service of achieving the goals I've set for myself.
Thank your Maureen for being our foodie crush! Now, let's dig into that amazing looking Fattoush salad!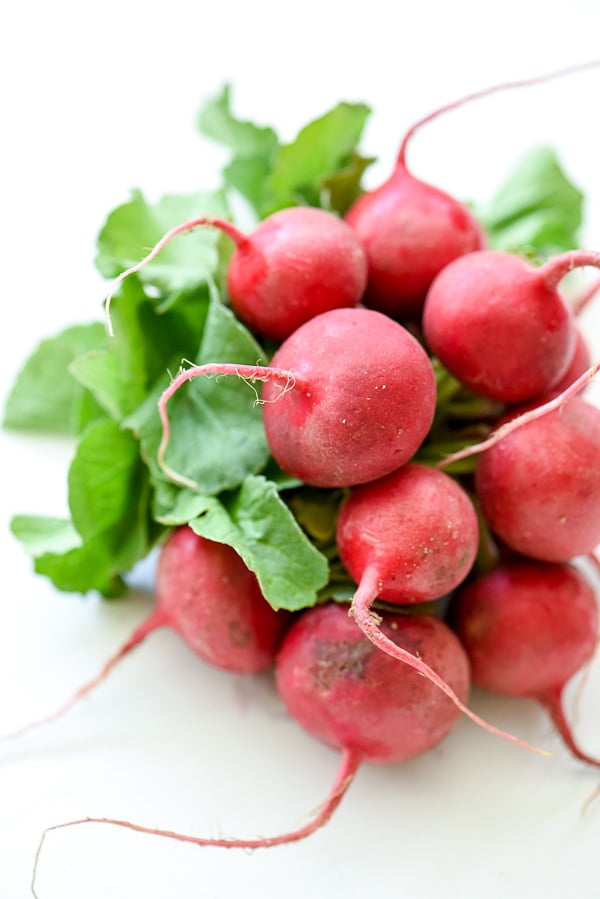 About the Recipe
Fattoush salad sounds exotic. I'm here to say it is, and it isn't. The ingredient list for the salad is really quite basic with lettuce, red onion, radishes and tomato. Where the serious flavor lies is in the dressing. The combination of sumac and pomegranate molasses is what gives this salad it's Lebanese edge. These ingredients may be unfamiliar to some (they were to me!), but let me say, this is my new favorite summer salad and one I've made a part of our regular salad line-up.
In the dressing, the pomegranate molasses is sweet, and tastes somewhat similar to a balsamic glaze but not as acidic. It's a great addition to the pantry and since buying it for this salad I've used it in an Asian marinade I'm working on perfecting to share soon. A sprinkling of sumac delivers a bit of tart to balance out the sweet syrup of molasses and gives this salad it's signature Lebanese taste.
A handful of fresh mint along with dried mint adds freshness to the salad and the dressing that only mint can. And don't forget the pita chips. They add a texture and crunch you'll find totally addicting after they soak in some of that dressing. Gah, my mouth is watering as we speak. Literally, it is.
If you make this recipe, please let me know! Leave a comment below or take a photo and tag me on Instagram or Twitter with #foodiecrusheats 
The Best Fattoush Salad
This salad is a combination of tangy and sweet with a minty dressing and simple salad fixings with pita chips to add crunch.
Ingredients
Juice of 1 lemon

1

teaspoon

pomegranate molasses

1

small garlic clove

minced or pressed

1

teaspoon

kosher salt

2

teaspoons

crushed dried mint

divided

2

teaspoons

sumac

divided

3

tablespoons

extra-virgin olive oil

2

hearts of romaine

chopped into 2-inch pieces

1

cup

cherry tomatoes

quartered

1/2

red onion

thinly sliced

2

radishes

thinly sliced

Pita chips

10

fresh mint leaves

in chiffonade

Freshly ground black pepper
Instructions
For the vinaigrette, in a small bowl whisk the lemon, pomegranate molasses, garlic, salt, 1 teaspoon of the dried mint, 1 teaspoon of the sumac and olive oil until it is emulsified.

For the salad, toss the romaine, tomatoes, onion, radishes, and pita chips in a salad bowl.Dress the salad with the vinaigrette and toss. Dust with the remaining sumac, dried mint, fresh mint and freshly ground black pepper. Serve immediately.
Purchase Rose Water & Orange Blossoms here.
Visit Maureen here:
Rose Water & Orange Blossoms blog
As always, thank you for reading and for supporting companies I partner with, which allows me to create more unique content and recipes for you. All opinions are always my own.  
Are you following me on Instagram, Twitter, Facebook and Pinterest? 
Thanks for reading and subscribe to FoodieCrush to have each post delivered straight to your e-mail box.