This simple Mexican-style quinoa salad gets tons of flavor from a dressing of chipotle peppers in adobo sauce sweetened over crunchy veggies, black beans and huge chunks of avocado.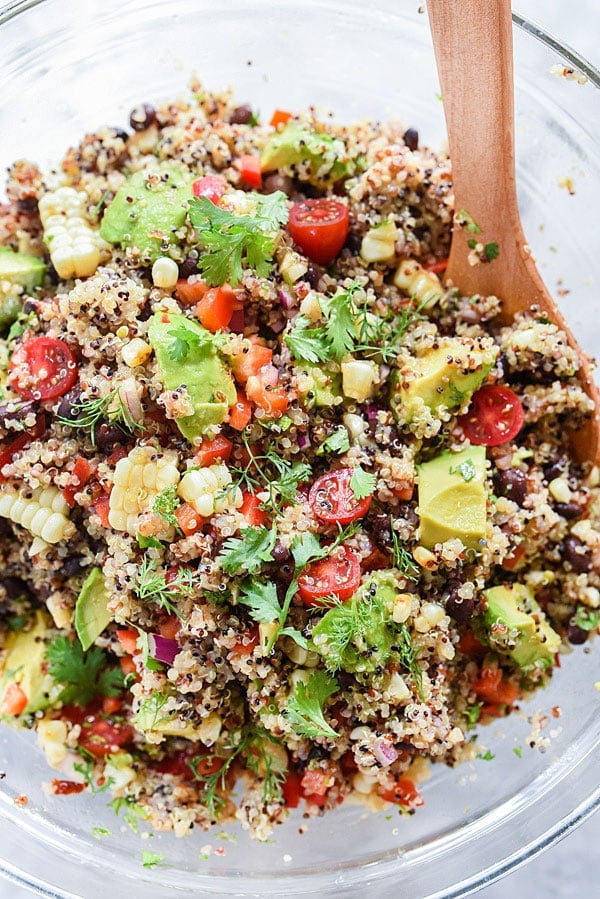 Be forewarned, this might be one of those recipes you make once, then the next time you make it you'll want to  adapt it to suit your taste.
Than you chipotle peppers.
I think that challenge might be why they're one of my favorite flavors, because they always keep me guessing.
I had this salad after picking it up at the grocery store when visiting my sister in Houston. I knew immediately I had to figure it out and share it here. I hope I've done it justice.
Word is, I did.
I took this salad to a 4th of July bbq and one of my friends who is gluten-free was SO happy someone had brought something besides pasta salad. Grateful even. I'm just here to make people happy to eat food. It's my job.
About the Recipe
The girth aka body of this salad is protein-packed, gluten-free quinoa. Quinoa is one of those grains that adopts the flavors it's cooked with as it doesn't have much if any of its own. I used tri-color quinoa only for presentation sake. You can use whatever color/style you have on hand. You can cook your quinoa in water as suggested on the package, but for a bit more flavor I cook it in chicken or vegetable broth with a pinch of salt. I find it's just what it needs for a bit more flavor-flave.
This salad's veggie component has a distinctively flavorful flair, in large part to grilling the corn. Now, you could go ahead and use frozen corn if you'd like, but you'll be missing out on the smoky flavor that comes from grilling the corn, and is one of my favorite, crunchy parts.
The dressing is really where you're going to have to dictate to your individual taste. Chipotle peppers can be hot, hot, hot. The adobo sauce they're packed in adds the smokey flavor. I tend to go a bit heavy on the spicy and smokey because once the dressing is added to the quinoa (remember how quinoa adopts whatever flavor it's paired with?) the dressing really mellows out.
That's why this might be a salad you make once, then adapt the next time to suit your tastebuds.
If you make this recipe, please let me know! Leave a comment below or take a photo and tag me on Instagram or Twitter with #foodiecrusheats. 
Print
Latin Chipotle Quinoa Salad with Avocado
This simple quinoa salad gets tons of flavor from a dressing of chipotle peppers in adobo sauce sweetened with honey over crunchy veggies and huge chunks of avocado.
Ingredients
3

cups

chicken broth or water

2

cup

tri-color quinoa

2

teaspoons

kosher salt

divided

2

ears of grilled corn

husks removed

1

red bell pepper

cored, seeded and diced

1

cup

cherry tomatoes

halved

1 15-

ounce

can black beans

drained

1/2

cup

chopped red onion

1/3

cup

chopped fresh cilantro

4

avocados

seeds removed and cut into 1-inch chunks

1/2

cup

vegetable or canola oil

1/3

cup

fresh lime juice

from about 4 limes

2-3

canned chipotle peppers in adobo sauce

minced, plus 1-2 tablespoons adobo sauce (to taste)

2

tablespoons

seasoned rice wine vinegar

2

tablespoons

honey

2

teaspoons

cumin
Instructions
Bring chicken broth to a boil in a medium saucepan. Add the quinoa and season with the 1 teaspoon of kosher salt, bring back to a boil then reduce to a simmer and cook for 20 minutes or until the broth has absorbed and the quinoa is tender with the "tails" of the quinoa appearing. Add more broth or water as needed. Spread the cooked quinoa on a baking sheet to cool. When cool, add to a large serving bowl.

Meanwhile, heat the grill to high and grill the corn, turning occasionally, until the corn is tender and charred in spots, about 5-10 minutes. Cut the corn from the cob and add to a large bowl with the red bell pepper, cherry tomatoes, drained black beans, chopped red onion and avocado chunks and sprinkle with the chopped cilantro.

In a small bowl, mix the vegetable oil, lime juice, chipotle peppers and adobo sauce, rice wine vinegar, honey cumin and remaining 1 teaspoon kosher salt. Whisk together and taste for seasonings and spiciness of the chipotle peppers. It should taste pretty spicy as it will dilute once added to the quinoa.

Drizzle over the quinoa and vegetables and gently fold to combine, taking care with the avocados so they don't break apart.

Taste for seasonings and add more salt to taste. If you like it more spicy, mix more adobo with 1 -2 tablespoons of vegetable oil and fold in.

Sprinkle with more cilantro if desired. Can be refrigerated overnight if desired.
#EatSeasonal July
As we have for the past few seasons, Becky of The Vintage Mixer has posted her list of what's in season to eat now and from that list, has amassed a group of us who are posting #eatseasonal recipes today. Some are some are sweet, some are savory and they're all in season now. They're all good and they're all seasonal and are listed below.
Please hop over to their sites, say hi and enjoy their seasonal inspiration.
We'd love to see what you're eating seasonal now, too. Share your eats and follow the #eatseasonal hashtag on Instagram and Twitter to discover more seasonal eats.
Chicken Gyro Bowls with Summer Veggies with Fresh Summer Veggies by Vintage Mixer
Chinese Napa Cabbage Salad by Food for My Family
Grilled Pork Tenderloin with Spicy Corn-Cherry Salsa by Floating Kitchen
Grilled Green Onion & Sweet Potato Salad with Warm Chèvre by Simple Bites
Broccoli Kale Salad with Greek Yogurt Poppyseed Dressing by Flavor the Moments
Peasy Easy Sweet Pea Mint Soup by Letty's Kitchen
Grilled Summer Squash with Feta, Lemon & Fresh Herbs by Mountain Mama Cooks
Artichoke and Avocado Dip by Kitchen Confidante
Thank you for checking out what's seasonal now. Here's to getting into the kitchen and cook something fresh and seasonal now.
As always, thank you for reading and for supporting companies I partner with, which allows me to create more unique content and recipes for you. All opinions are always my own.  
Are you following me on Instagram, Twitter, Facebook and Pinterest? 
Thanks for reading and subscribe to FoodieCrush to have each post delivered straight to your e-mail box.