Fresh fruits of cucumber, mango and watermelon are dressed with a zingy Asian dressing of soy sauce, rice wine vinegar and ginger, with a kick of spice from jalapeño.
Since 2011, we've been head over heels for the blog Love & Lemons. Run by Austin-based husband and wife duo Jeanine Donofrio and Jack Matthews, Love & Lemons is brimming with fresh, seasonal, healthy recipes, and bright, colorful photography.
Their little nook of the food blogosphere is one of our favorite spots to spend some time. It's where we turn for inspiration when we've been in an unhealthy eating rut, or feel the need to meet our mostly vegetarian ways.
Jeanine and Jack just published their first cookbook, The Love & Lemons Cookbook: An Apple-to-Zucchini Celebration of Impromptu Cooking, and it's a new favorite addition to our kitchens.
The book features 100 vegetarian recipes (never before seen on the blog), including vegan and gluten-free options.
The cookbook is categorized by vegetable rather than the traditional appetizer, side dish or dessert categories and is reflective of Jeanine's approach to cooking.
Her method? Finding "star" ingredients at the farmers market and using them with ingredients she already has on-hand.
"Since this is really the way I learned how to get inspired by cooking, I thought it would be helpful to write a book organized by vegetable rather than by meal type," she explains. "I want to inspire people to check out their local farmers markets and not to be intimidated to cook with gorgeous fresh vegetables."
Besides the amazing recipes, the most unique aspect of Jeanine and Jack's book is its aesthetic.
Flipping through its stylish pages is enough to make a graphic designer or typography nerd swoon. Jeanine is a graphic designer herself,  so she was able to be a part of the design process and help set the initial look, theme and style.
She collaborated with her former business partner Trina Bentley, who designed the book's final layout and gorgeous cover. "Trina and I have worked together for years and we share the same visual language, so it was amazing to be able to work together on this project," says Jeanine. We spent countless hours fine tuning every last detail, so I was pretty involved from soup to nuts!"
One of our favorite things about the book is there's a picture for every recipe, and there are over 300 photos throughout.
And while Jeanine has a knack for the recipe creation, design and aesthetic of the blog and book, it's her husband Jack who's the man behind the camera, capturing the vivid hue of the fruits, veggies, and herbs she uses, and making them pop right off the page and into our mouths.
Healthy eating never looked so good, in recipes like Jeanine's Crispy Baked Eggplant (her healthier take on eggplant parm) where the breading is made with hemp and ground sunflower seeds, as well as panko breadcrumbs, and the dish isn't smothered in an afghan of cheese. Or Crispy Shiitake BLT and Roasted Cauliflower Tacos with Chipotle Cream.
They're all proof positive that vegetarian cooking is not only good for you, but totally sexy too.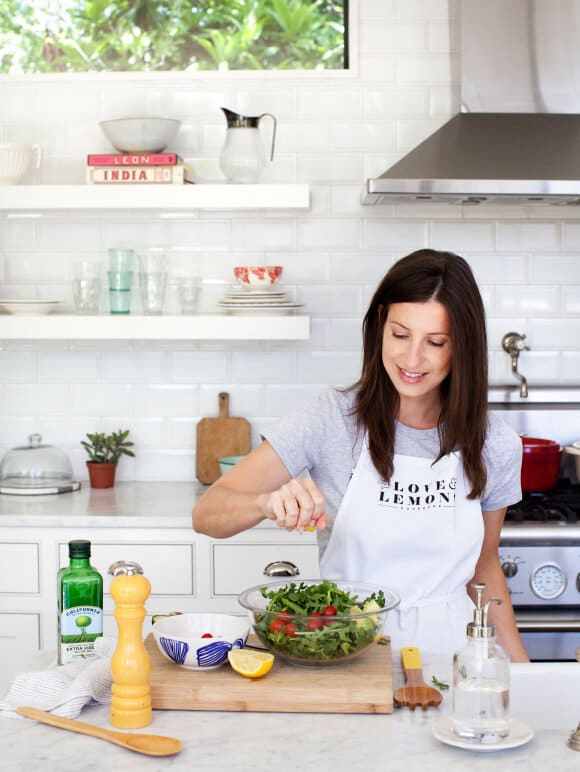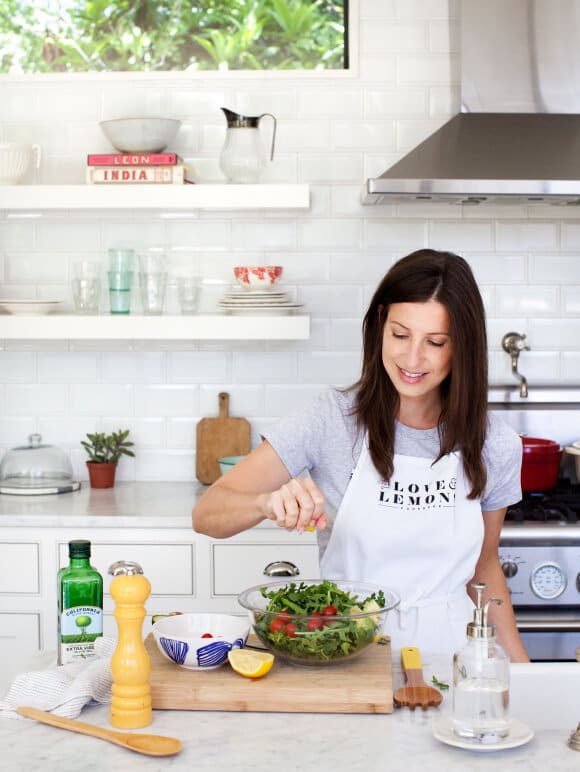 And now, my list of 10 Q's for Jeanine's A's
1. Describe your blog in 3 words:
Fresh, clean, bright.
2. If you could be one blogger other than yourself, who would you be?
Heidi Swanson – I think everything she creates is perfection.
3. Which 3 blogs do you follow/are obsessed with/can't live a day without?
Right now, I'm also really loving Faring Well and Will Frolic for Food. But I love so many that this is really an unfair question.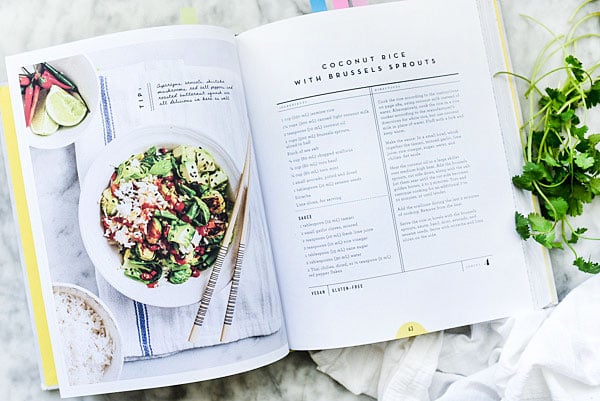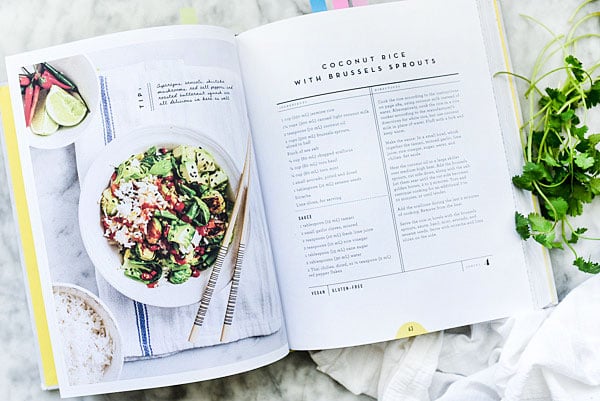 4. What is the one kitchen tool you could never give up?
Aside from a great knife – my Vitamix blender.
5. What dish are you obsessed with mastering that you just can't get quite right?
I don't have a current obsession, but the one that eluded me for the longest time (literally years) was vegan brownies. Replacing eggs usually results in cakey brownies, but I like my brownies to have that crispy edge and a fudgy middle. I think I've finally figured it out (with the help of my mom), but I'm going to save that one for the blog after I work it out a bit more. ;)
6. What did you have for dinner last night?
This Cauliflower Rice Burrito Bowl.
7. What's one secret talent outside of the kitchen nobody knows about you?
I can juggle. Literally and figuratively :)
8. You're happiest when cooking/eating?
Soup. It doesn't matter what kind, I find the process makes me feel both calm and creative at the same time.
9. The one ingredient to your success is?
Obsessing over details that probably no one but me will notice.
10. You and your husband worked on this book together. What were some of the good aspects about working together, and what were some of the challenging ones?
The good – we're still together (ha!). We work on our blog photography together so we have a system that works.
The challenge with the book is that we just had so many MORE photos to shoot, all while keeping up with the blog. Jack took about 6 months off from his day job to help out with the book, to which I will be forever grateful.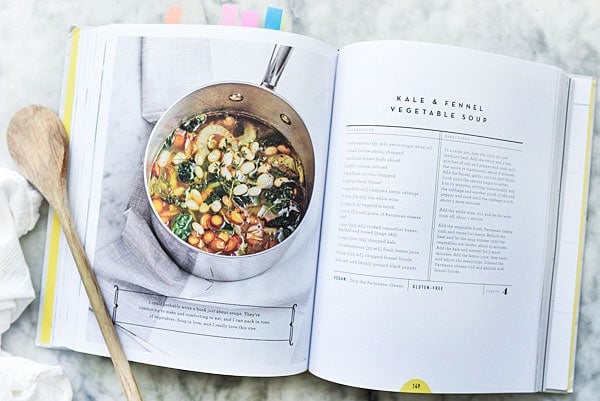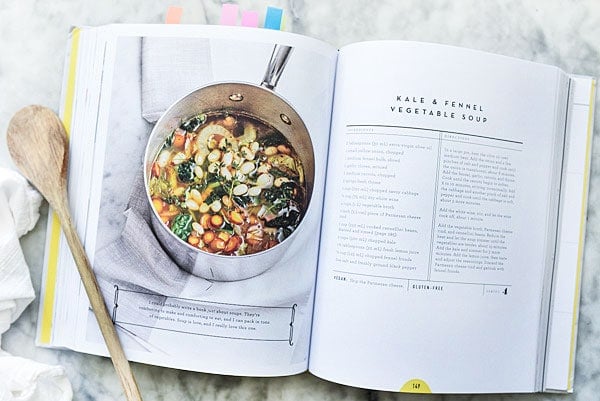 And we are grateful for the two of you! Thank you Jeanine and Jack for being one of our favorite foodie crushes.
And now, let's dig into a recipe from their cookbook.
Cucumber Basil and Watermelon Salad
This recipe jumped out of the gorgeous pages of The Love and Lemons Cookbook because it features two of my husband's very favorite foods: Watermelon and cucumbers.
And then to boot, it has one of our other favorite international flavors, an Asian dressing. You may think these might be an odd flavor combo but I'm here to tell you it totally works.
It was a no brainer that this is the recipe I had to share.
The salad's base is all about the fresh fruit. Watermelon, cucumbers and mango.
When choosing how you cut your fruit, I prefer to make them all look the same or all look different. I cut my watermelon with my baller, the cucumber in piece of pie shapes and the mango in thinner, smaller triangle shapes.
I like varying the shapes because it suits my eyeballs. But of course it all tastes the same.
Just about the only change I made to the recipe was using soy sauce instead of tamari since I had no need for this recipe to be gluten-free.
The lime and rice vinegar is punched up with garlic and ginger. It's just so good and a shining example that vegetables and fruits are far from limiting or boring when it comes to creative ways to showcase them.
If you make this recipe, please let me know! Leave a comment below or take a photo and tag me on Instagram with #foodiecrusheats and #loveandlemonscookbook.
Print
Cucumber Basil and Watermelon Salad with Love and Lemons
Fresh fruits of cucumber, mango and watermelon are dressed with a zingy Asian dressing of soy sauce, rice wine vinegar and ginger with a sprinkle of heat from sliced serrano chiles and topped with chopped peanuts for a Thai flavored gluten-free meal.
Ingredients
1

tablespoon

soy sauce

or tamari to make this salad gluten-free

1

small garlic clove

minced

½

teaspoon

minced ginger

2

teaspoons

fresh lime juice

2

teaspoons

rice vinegar

3

cups

watermelon

deseeded and cut into cubes or melon balls

1

English cucumber

chopped into ¼-inch pieces (about 2 cups)

1

ripe mango

skin removed and chopped into ½-inch pieces

½

serrano pepper

thinly sliced

¼

cup

chopped cilantro

¼

cup

sliced basil

¼

cup

salted peanuts

crushed and toasted
Instructions
In a large bowl, whisk together the soy sauce or tamari, garlic, ginger, lime juice, and rice vinegar.

Add the watermelon, cucumber, mango, serrano pepper, cilantro, and basil. Chill for 30 minutes. Drain the excess liquid before serving.

Serve with the crushed peanuts on top of the salad.
Visit Jeanine and her blog at Love & Lemons.
Purchase her book The Love & Lemons Cookbook: An Apple-to-Zucchini Celebration of Impromptu Cooking here.
This post was compiled by Heidi and FoodieCrush contributor Hayley Putnam. Follow Hayley and her foodie tastes and other flights of fancy on Pinterest and Instagram.
As always, thank you for reading and for supporting companies I partner with, which allows me to create more unique content and recipes for you. All opinions are always my own.  
Are you following me on Instagram, Twitter, Facebook and Pinterest? 
Thanks for reading and subscribe to FoodieCrush to have each post delivered straight to your e-mail box.