Juicy watermelon, sweet bursts of blueberries and crunchy jicama dressed with a simple honey and lime dressing make this red, white, and blue salad a favorite worthy of all the fireworks all summer long.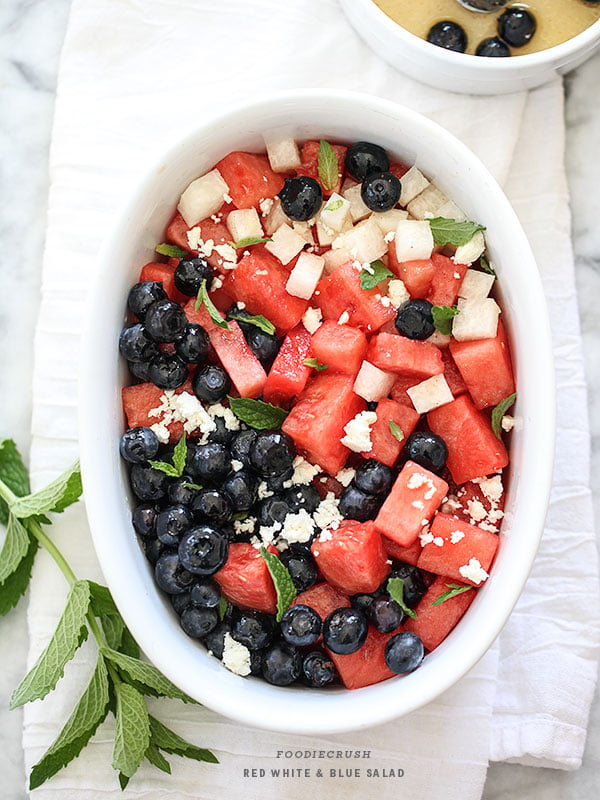 This is a guest post from my mom. We wrote together while on a family vacation in the iconic epicenter of the USA, Yellowstone National Park in 2013 and I'm giving it a little update today. Back then I was pondering what to write about this tasty Red White and Blue Salad, and so my mom helped me brainstorm what to write. She's good that way.
I think she pretty much summed it all up, so I'm writing it verbatim, from mom's mouth to daughter blogger's post. She's my biggest cheerleader, and in every way she can, makes my job as a blogger that much easier.
Take it away mom.
"We need to brainstorm this.
The 4th of July. Fireworks. Patriots. Red white and blue. But don't talk about the wars. John Adams. George Washington. Flags, Betsy Ross who sewed the flag. She was quite the seamstress. Life, liberty and justice for all. That's what it's all about, the forming of the Constitution and the love of the United States of America!!!
This Red White and Blue Salad will lead you to the pursuit of happiness. That's your title. There you go, I think your readers will like that. That's the 4th of July in a nutshell. Or maybe that isn't any good. I'm just brainstorming, we just need to throw it all out there.
So, what should we have for dinner? Hot dogs or burgers? You girls decide, I'm on vacation."
~contributed freeform, just brainstorming, from Miss P, my mom
Thanks for the guest post mom, I can now see where I get my so called writing skills.
What Fruits to Use in Fruit Salad
To make this salad red, white and blue, I used my husband's favorite watermelon as the red base, but strawberries, raspberries or even chopped apple would work well too.
To keep the crunch factor going, I used jicama. Plus, it's a neutral flavor so it works well with the minty honey and lime dressing. Banana is another white fruit to consider too.
Once we get to the blues, blueberries are the obvious choice, but you could also consider purple grapes (close enough!) or blackberries.
To keep the fruit salad fresh and avoid discoloring, a bit of acid always helps. Here I've used lime in the dressing to flavor and protect.
Mint and a sprinkling of feta cheese give this red white and blue salad an even bigger firecracker flavor burst.
More Fruit Salad Recipes You Will Love Too
If you make this recipe, please let me know! Bookmark this recipe and leave a comment below and take a photo and tag me on Instagram with #foodiecrusheats.
Print
Red White and Blue Watermelon and Blueberry Fruit Salad
Ingredients
2

cups

watermelon

, cubed

1

cup

jicama

, peeled and cubed

1

cup

blueberries

2

tablespoons

lime juice

2

tablespoons

honey

pinch

of chili powder

½

teaspoon

salt

¼

cup

fresh mint

, chopped

¼

cup

feta cheese

, crumbled
Instructions
Mix watermelon, jicama and blueberries in a large bowl. Mix the lim juice, honey, chili powder and salt in a small bowl and pour over the watermelon mixture. Add mint and more salt to taste and top with feta cheese crumbles. Chill for 30-60 minutes before serving.
Recipes to Add to this Salad and Make a Meal
As always, thank you for reading and supporting companies I partner with, which allows me to create more unique content and recipes for you. All opinions are always my own.
Thanks for reading and subscribe to FoodieCrush to have each post delivered straight to your e-mail box.
Learn more about my printed day-planner Nourished Planner here, and sign up for free, emailed weekly meal plans.
Follow me on Instagram, Facebook, Pinterest and Twitter for more FoodieCrush inspiration.