This Japanese sesame soba noodles recipe makes a simple Asian side dish or easy main meal served hot or cold and on the table in 20 minutes or less.
This recipe is brought to you by Kroger
When we talk about where to go if we're eating out, our favorite spots will almost always be Asian cuisine. Thai, Vietnamese, Korean, and of course Japanese meals are the ultimate tickler to our taste buds.
When we go out to eat, we don't even think about how complicated a dish might be. But when we cook at home, you can bet your chopstick that simplicity is a big part of our dinner-making decisions.
This Sesame Soba Noodle recipe ticks all of our favorite recipe-making boxes. It's fast. It's easy. It's healthy. It's totally flavorful. And it goes with so many of our favorite mains, and it even makes a main meal all in itself.
What Are Soba Noodles?
Soba noodles are made from buckwheat flour and wheat flour and have a slightly nutty, earthy taste.
Soba is the Japanese name for buckwheat, with buckwheat noodles being higher in protein and fiber than many other noodles. Like many Japanese ingredients, they have medicinal qualities too, and have been shown to help regulate blood sugar, improve heart health, help with inflammation, and possibly aid in cancer prevention.
They're a great reason to use your noodle.
These days, soba noodles are easier to find, so you don't have to go to a specialty or Asian grocery store to get them. I find mine at my local Smith's Marketplace where Kroger sells soba noodles under their HemisFares brand, featuring imported products from around the globe.
We love eating Asian food, but sometimes rice as a side can become a bit boring. That's where soba noodles come in.
How to Cook Soba Noodles
Soba noodles are best served simply. They don't need creamy sauces or complicated ingredients to dress them up. Adding to their ease in serving, soba is just as good served cold as it is hot.
Soba noodles don't take long to cook and are best made al dente to keep their slightly earthy chew. A few minutes boiling time is all you really need.
Unlike traditional pasta noodles, soba noodles do need a rinse or two in cold water to remove the gluten and starches released while cooking so they don't turn into mush.
How to Make Sesame Soba Noodles
Like any noodle recipe, it comes down to the aromatics and the sauce to give a plain noodle it's flavor. And again, with soba, you want to keep things simple. And that means a simple sauce is in order.
The ingredients for this sauce are:
Soy sauce (I used Kroger's HemisFares Double Fermented Soy Sauce for it's premium quality)
Sesame oil
Rice vinegar
Sugar
Freshly ground black pepper
Toasted sesame seeds (I used a combination of white and black seeds)
The sauce comes together quick, just like the cooking of the soba noodles. If you like a spicier bite, add a pinch of red pepper flakes or ¼ teaspoon of chili garlic sauce to the mix.
When it comes to sesame oil, be sure yours is fresh. Sesame oil has a short shelf life and will deteriorate in quality once it's been opened if not stored correctly. I keep mine in the refrigerator, but also always have a fresh bottle as a back up in my pantry.
To toast your sesame seeds, use a dry pan over medium high heat. Move the seeds around often in the pan to avoid burning. Don't skip this step, it toasting totally makes the difference.
The Aromatics and Serving Suggestions
Continuing with our simple theme, the only other flavor enhancer in this dish is green onion, and lots of it added in two different steps.
First, the green onion is chopped in two different ways: in ½-inch lengths, and diced.
The larger pieces of green onion are quickly cooked before the sauce is added to the pan. Then, when the noodles go in, toss in a bunch of the diced green onion to cook in the warm noodles and sauce, reserving some to toss on just before serving for a fresh crunch and bite.
These Sesame Soba Noodles are amazing on their own or as a simple side dish, but they also make a super easy base for noodle bowls.
The sesame noodle bowls can also be a fun idea for serving as a DIY-doctor-it-up meal by adding different proteins to go along with them, like:
Sure, you can go with baked chicken breast or thighs glazed with hoisin or teriyaki sauce, then sliced.
Or even better…
New & Unique Ingredients: Treasure EmporiYUM
I just recently discovered some awesome, new-to-me products at Smith's aka Kroger thanks to their Treasure EmporiYUM, a curated section of some of their most unique, hand-crafted items from their Simple Truth, Private Selection and Hemisfares brands. I am always scoping out the grocery aisles for the latest and the greatest, and I LOVE how now it's all in one spot!
It's where I discovered these unique toppers for my sesame noodles:
Pan-sear a few Private Selection Argentinian Red Shrimp seasoned with olive oil, minced garlic, kosher salt and black pepper. These shrimp are my new favorites because they taste cleaner and are a bit sweeter, too.
Keeping with the Asian flavors and cooking pot stickers straight from the freezer. I like the Private Selection Sesame Ginger Shrimp Potstickers. (If you ever make them on their own, this sesame soy sauce for these soba noodles does a great job as a potsticker dipping sauce too.)
Now THIS is dinner!
Recipe Ideas to Serve With Sesame Soba Noodles
If you make this recipe, please let me know! Leave a 
 rating on this recipe below and leave a comment, take a photo and tag me on Instagram with #foodiecrusheats.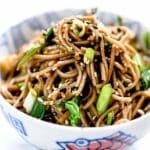 Print
THE BEST Sesame Soba Noodles
This noodle side dish is delicious alongside meats and seafood, but it makes a great noodle bowl or light lunch with shredded cabbage, carrots, bean sprouts and more.And even better, you can serve it hot or cold.
Ingredients
2

tablespoons

rice vinegar

3

tablespoons

toasted sesame oil

¼

teaspoon

freshly ground black pepper

1

tablespoon

sugar

1

tablespoon

canola oil

2

cups

green onions

, chopped in ¼-inch pieces

½

cup

green onions

, minced

3

tablespoons

toasted sesame seeds
Instructions
Bring a large pot of water to a boil and cook the soba noodles for 4-5 minutes or just until tender, stirring occasionally so the noodles don't clump. Drain in a colander and rinse well under cold water, tossing to remove the starch.

While the noodles are cooking, in a medium bowl, whisk together the soy sauce, sesame oil, rice vinegar, sugar, and black pepper. Set aside.

Heat a large skillet over medium-high heat. Add the canola oil and heat until shimmering then add the chopped green onions. Cook, stirring, for 15 to 30 seconds or until fragrant.

Add the soy and sesame mixture and cook for 30 seconds, Add the noodles and toss until the noodles are heated through. Add the remaining minced green onion and half of the sesame seeds. Garnish with the remaining seeds and serve warm or at room temperature.
Nutrition
Serving:
1
cup
|
Calories:
294
kcal
|
Carbohydrates:
42
g
|
Protein:
9
g
|
Fat:
11
g
|
Saturated Fat:
1
g
|
Sodium:
1101
mg
|
Potassium:
280
mg
|
Fiber:
1
g
|
Sugar:
3
g
|
Vitamin A:
415
IU
|
Vitamin C:
7.8
mg
|
Calcium:
88
mg
|
Iron:
2.8
mg
More Asian Noodle Recipe Ideas
We send good emails. Subscribe to FoodieCrush and have each post plus exclusive content only for our subscribers delivered straight to your e-mail box.
Follow me on Instagram, Facebook, Pinterest and Twitter for more FoodieCrush inspiration.
This post is sponsored by Kroger. As always, thank you for reading and supporting companies I partner with, which allows me to create more unique content and recipes for you. There are affiliate links in this post of which I receive a small commission. All opinions are always my own.