Bright flavor and bold bites are what make this healthy quinoa salad with chickpeas, black beans, mango, and avocado in a limey dressing an easy side dish or simple vegetarian meal.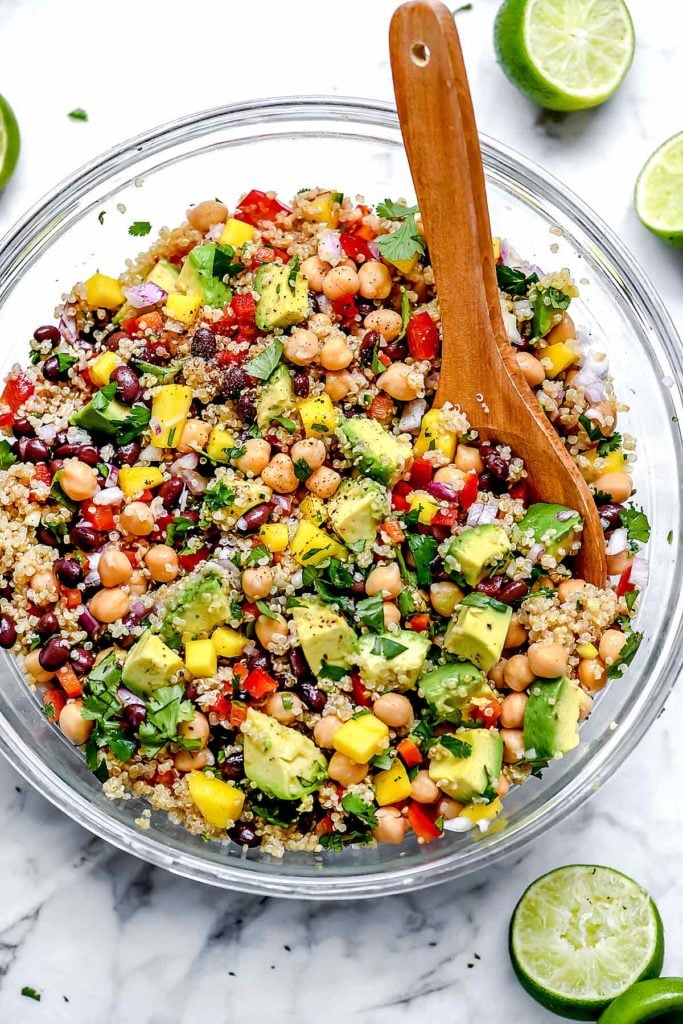 This recipe is brought to you by Kroger
I'm a firm believer that you can't have too many good salad recipes. I love big, healthy, hearty salads that make a meal, like my Italian chopped salad with marinated chickpeas, or my Nicoise salad. This healthy quinoa salad is no different. Protein-packed quinoa is loaded with healthy, fresh ingredients like avocado, mango, red bell peppers, and fresh herbs from the produce aisle then stacked with organic beans for added protein.
Quinoa salads like this one are a favorite healthy side dish that can easily slide into the all-in-one plant-based meal category too. They're fast to make but last all week in the refrigerator, making them a meal-prepper's dream for lunch, dinner, or as a quick, satisfying snack.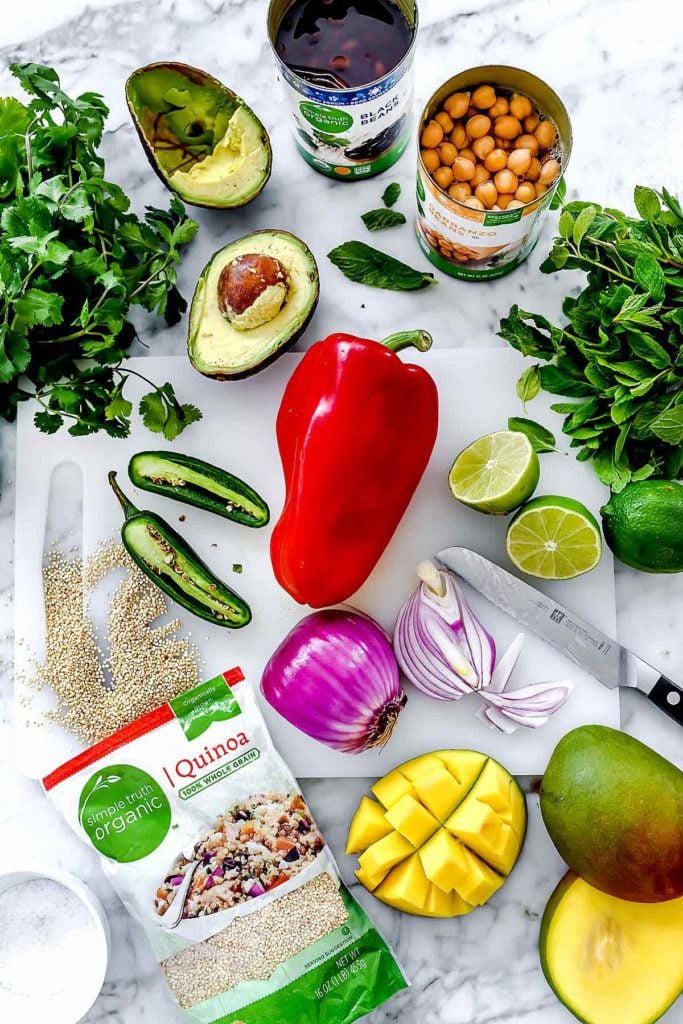 What This Healthy Quinoa Salad is Made of
Adding fresh veggies and fruit to the diet are essential to healthy living. Luckily, Kroger's abundance of organic and sustainably produced fruits and vegetables in their produce aisles make it easy and economical to add to every meal or grab as a snack on their own.
This salad combines some favorite fresh produce with a few of my go-to Simple Truth Organic pantry items to make a side dish salad that works all year long, no matter what the season.
Red bell pepper
Red onion
Cilantro
Mint
Mango
Avocado
Lime
Jalapeno
Canola oil
Champagne vinegar
Chili powder
Beans, Beans, The Magical Fruit
Black beans and garbanzo beans (aka chickpeas) not only add flavor and bite to this salad, but are a good source of vegetarian protein too. Using Simple Truth organic canned beans saves time and convenience (no soaking required) and are sustainably grown and harvested for better piece of mind.
White cannellini beans, pinto beans, and Great Northern beans are good choices too.
Is Quinoa Salad Healthy?
Known as one of nature's superfoods, quinoa (KEEN-wah) is a carbohydrate that's extra rich in protein, dietary fiber, B vitamins, and dietary minerals. In fact, 1 cup of quinoa provides twice the protein plus about 5 grams more fiber than the same amount of cooked white rice, making it a favorite plant-based protein for vegetarians and vegans. As a combo carb/protein, it fills you up faster and sticks with you longer.
Quinoa is easy to cook and flavor neutral so it melds in nicely with just about anything you add it to, making it a perfect base for this easy to make salad. Use Simple Truth Organic white or red quinoa, or a combination of both.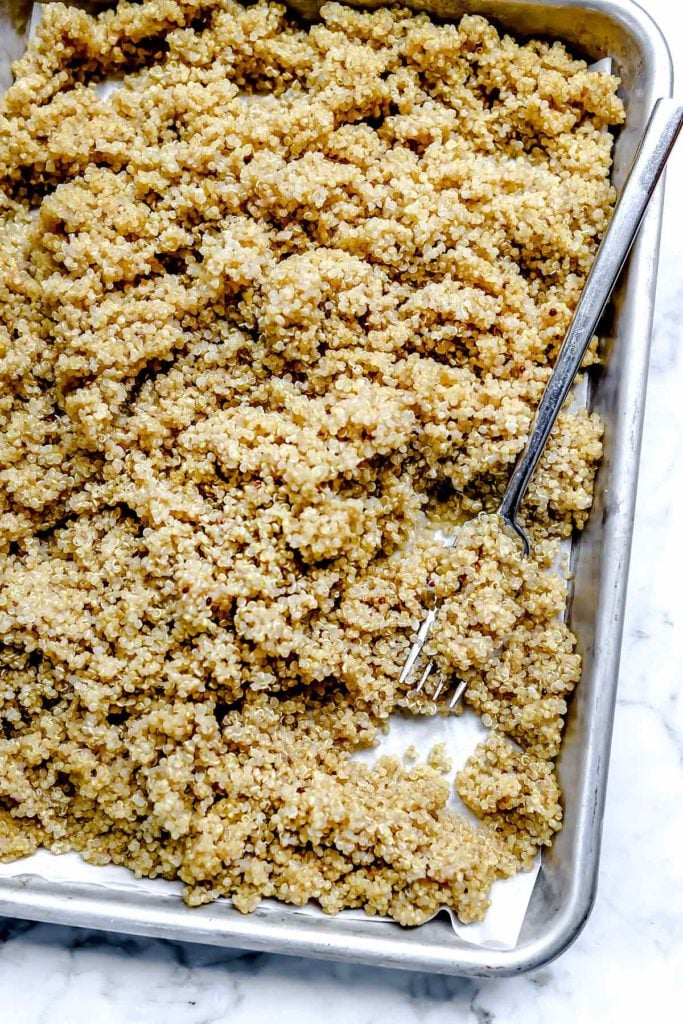 How to Cook Quinoa
Conventional teachings instruct the home cook to prepare quinoa the same as rice, in portions set to a formulaic ratio that's brought to a boil, then covered and simmered until done. Personally, I rarely find success cooking it that way and end up adding more water as it cooks, and more water, sometimes ending in a gummy mess.
Instead, I follow the idea of cooking quinoa just like pasta, in a pot of water at a rolling boil, checking for doneness and those little quinoa finally emerge and the quinoa is a tender bite. Then, I use a fine mesh strainer to drain. If serving warm, fluff with a fork and cover the pot with a dish towel and top with a lid to absorb some of the excess moisture as it keeps warm. If eating the quinoa at room temperature, spread the quinoa on a plate or a baking sheet to cool and dry so it doesn't get clumpy and gummy.
Quinoa is often sold pre-washed but if you're not sure, it's safest to rinse and drain it in a colander before cooking to remove it's natural coating as it can taste bitter.
1 cup of dried quinoa typically yields about 3 cups of cooked quinoa.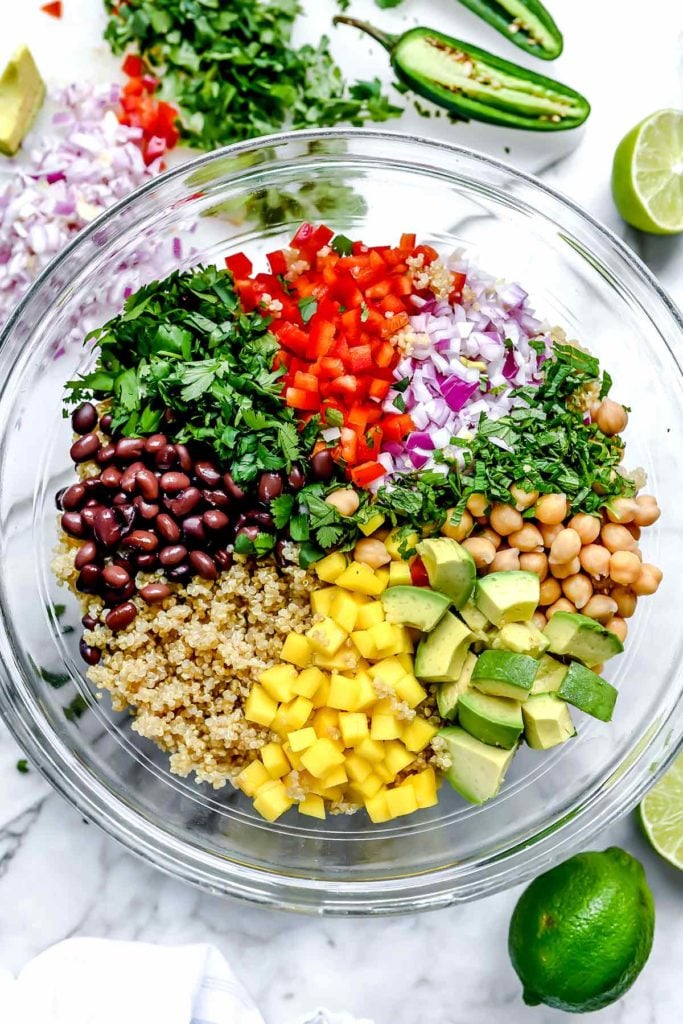 Tips for Making This Healthy Quinoa Salad
All this salad requires is a smidgen of cooking, a bit of chopping, and a little stirring.
Cut the vegetables and fruits into similar bite-size pieces, making it easy to get more flavors in each forkful.
Be sure to use cool quinoa before adding your raw vegetables. If you favor a nuttier flavor, toast the quinoa before boiling it. To toast the quinoa, add it to a non-stick skillet over medium-high heat and cook for 5 minutes, stirring often. Then, cook the quinoa as directed.
Give your mango and avocado time to ripen by purchasing them 1-2 days before making this salad.
Rinse and drain the beans before adding them to the salad.
Gently toss the salad after dressing it so the avocado doesn't turn into mush.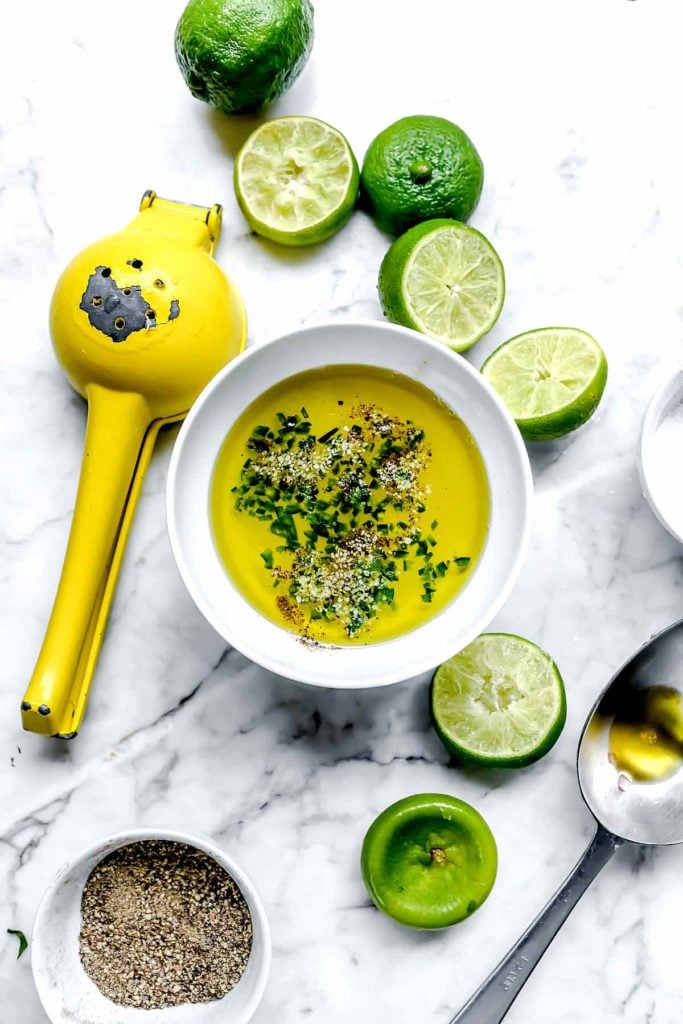 Quinoa Salad Dressing
Don't be alarmed by the amount of dressing called for in this salad. Quinoa is absorbent, and the dressing is where each of the grains gets its flavor.
This salad dressing calls for two types of acid: fresh squeezed lime juice and champagne vinegar. Using two different acids mellows the other out, avoiding that puckery bite. Feel free to use a similar mellow vinegar such as rice wine or red wine vinegar instead.
Use a neutral oil. Because it's flavorless, I prefer canola oil in salad like this but feel free to use olive oil if its what you have.
Choose your sweetener. Because it dissolved easily, I use regular old sugar in my dressing but honey works well too. Be sure to taste for sweetness and add more of one or the other as needed.
For a balanced flavor flair, I used chili powder to add an earthy note to the dressing. You could also try cumin or allspice if you prefer.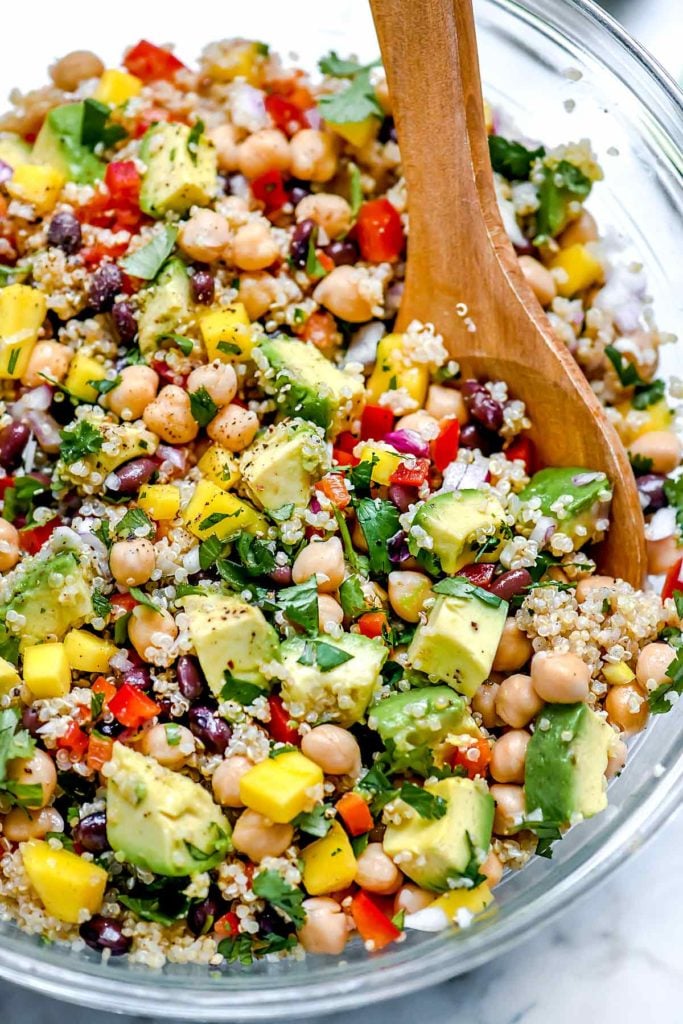 What to Serve With Quinoa Salad
If you're craving another layer of clean protein to make this an even more robust meal, feel free to add any of the following:
If you make this recipe, please let me know! Leave a 
 rating on this recipe below and leave a comment, take a photo and tag me on Instagram with #foodiecrusheats.
Print
Healthy Quinoa Salad
Make this healthy quinoa salad for easy meal prepped lunches or as a side dish for dinner. Be sure to buy your avocado and mango a few days before making the salad so they're perfectly ripe.
Ingredients
For the Dressing
½

cup

vegetable or canola oil

⅓

cup

fresh lime juice from about 4 limes

2

tablespoons

champagne vinegar

1

tablespoon

sugar

1 ½

teaspoons

chili powder

½

teaspoon

kosher salt

1

jalapeño

, seeded and minced
For the Quinoa Salad
1 ½

cups

white or red quinoa

3

cups

water

1

15 ounce can

black beans

1

15 ounce can

garbanzo beans

1

red bell pepper

, stemmed, seeded, and chopped into ¼-inch pieces

1

mango

, peeled, pitted, and cut into ¼-inch pieces

½

small

red onion

, peeled, and cut into ¼" pieces

1

avocado

, peeled, pitted, and cut into ½-inch pieces

¼

cup

chopped cilantro

¼

cup

chopped mint
Instructions
Rinse the quinoa in a fine mesh strainer under cold water first. Rinse the quinoa in a fine mesh strainer under cold water. Add the water to the pan with the quinoa and kosher salt. Boil the quinoa like pasta, until al dente and the centers become transparent, stirring occasionally, about 8 to 12 minutes. Drain, fluff with a fork, and return the quinoa to the pot, cover with a kitchen towel and a lid and let sit for 5-10 minutes. Spread the quinoa on a rimmed baking sheet and let cool. Transfer to a large bowl.

Pour the can of black beans into a strainer and rinse well with water. Drain and add to the quinoa bowl. Repeat with the garbanzo beans. Add the bell pepper, mango, red onion, avocado, and herbs.

To make the dressing, whisk the oil, lime juice, vinegar, sugar, chili powder and kosher salt in a small bowl. Taste for seasoning and adjust if needed to taste. The dressing should taste pretty bold, but balanced.

Pour the dressing over the salad and toss gently to mix. Allow the flavors to meld for about 20 minutes up to overnight. Best within the first day, but can be refrigerated for up to 4 days.
Notes
The quinoa can be cooked and refrigerated up to 3 days before assembling the salad. The dressing can also be made ahead of time. 
Substitute the chili powder for cumin or allspice. 
Use cannellini beans or Great Northern beans instead of chickpeas/garbanzo beans if desired. 
Allow at least 20 minutes up to overnight to serve after tossing the salad for the flavors to meld. 
Nutrition
Calories:
316
kcal
|
Carbohydrates:
31
g
|
Protein:
6
g
|
Fat:
20
g
|
Saturated Fat:
2
g
|
Sodium:
162
mg
|
Potassium:
413
mg
|
Fiber:
5
g
|
Sugar:
6
g
|
Vitamin A:
1006
IU
|
Vitamin C:
37
mg
|
Calcium:
30
mg
|
Iron:
2
mg
More Quinoa Recipes to Try
We send good emails. Subscribe to FoodieCrush and have each post plus exclusive content only for our subscribers delivered straight to your e-mail box.
Follow me on Instagram, Facebook, Pinterest and Twitter for more FoodieCrush inspiration.
This recipe is sponsored by Kroger. As always, thank you for reading and supporting companies I partner with, which allows me to create more unique content and recipes for you. There may be affiliate links in this post of which I receive a small commission. All opinions are always my own.