Hail all things green! Pillowy pearl couscous provides the bulk of this fresh honeydew, grape, cucumber, and avocado salad tossed with fresh herbs laced in a a ginger lime dressing that goes from breakfast or brunch to lunch and dinner with loads of summer's seasonal flavors.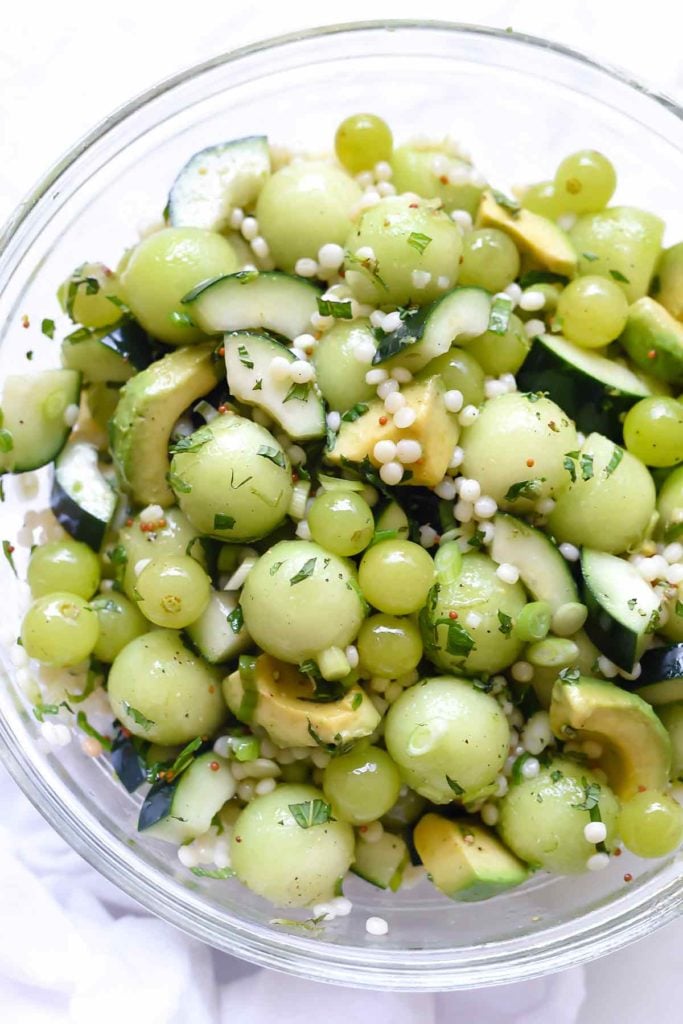 While I'm not one to watch much daytime TV, the other day I sat down to lunch and flipped the old telly on while I ate my ad hoc salad made from random tidbits of dinner from the night before. I swear, if anyone bore witness to some of the combinations of odds and ends I toss together for my daily lunches I would surely lose all of my food blogging cred.
If you haven't watched daytime television in a while, you aren't missing a dang thing. After trolling up and down all 687 channels trying to avoid marathon episodes of Hoarders!, I flipped over to The Cooking Channel where an episode of The Kitchen was airing. There I saw always poised and perky Katie Lee sharing a recipe with GZ for an exceptionally green quinoa salad, but not green with lettuce as one would expect in the traditional way.0505
Her recipe left the lettuce out entirely and instead focused on the green hues of grapes, cucumbers, avocado, and green onion with lots of fresh green herbs. I watched her pull it together and while initially the flavors sounded a bit odd together, I was intrigued by the monochromatic seasonal hue of the salad. GZ gave it his thumbs up (but of cooooourrrrse he did…it IS still TV after all) and so I took the bones of the recipe and made it my own.
So Pretty You Can Taste It
My basic tenant when creating a recipe is to think about how the flavors will pair together. But as a totally visual person, that isn't my only goal. They say you taste with your eyes first, and I want my eaters to echo my 70+ year old Uncle Tom when they see this salad and say, "Well now Heid, that looks pretty enough to eat." That's why I also think about the shapes of the ingredients and how they'll work together.
Different shapes and cuts will determine if the eater will be able to get a bite of each flavor with every forkful, or if the salad as a whole will look uniform in consistency, or if it will instead have a bit of play and bounce.
For my version of Katie Lee's recipe, I wanted to have a bit more playfulness in my presentation and the roundness of the green grapes are where my inspiration got its start. I had it in my head this salad would be like the Russian dolls where each carved doll is revealed to be the same shape but smaller, and so my ingredients are different sizes to replicate my green grapes.
About the Recipe
Some of my favorite salads have been those where I've added balls of melon instead of going for the typical chopped to add some visual variety. My Cantaloupe and Mozzarella Caprese Salad and Cucumber Basil and Watermelon Salad are some of my faves and so to keep the ball-theme going and that's why I've added honeydew melon balls to this salad. Next time I may cut the honeydew balls in half for smaller bites.
Next, I substituted pearl (Israeli) couscous for the quinoa because the couscous is a larger grain (or pasta to be more exact) and I love the texture it provides and it would keep my round beach ball theme rolling. When cooking couscous, follow the same guidelines as cooking pasta and salt your water so it flavors the grain as it cooks.
The cucumber crunch and creamy avocado were added in chunks instead of diced so they would play with the half moon shapes of our circular pattern and add even more green to the party.
The original dressing was simply lime, olive oil, and salt and pepper, but I felt it lacked flavor and was one note of lime. I switched things up by adding honey for a bit of sweetness, stony ground mustard for a little more bite, and some fresh ginger for heat with plenty of salt and pepper to taste for even more infused flavor.
What makes this salad really special is the infusion of herbs in every bite. Choose your favorite herbs for this salad, some suggestions are:
Globe, Thai, or Lemon Basil
Tarragon
Flat Leaf Parsley
Mint
Cilantro
While the amount sounds like a lot, don't skimp on how much you add. My favorite combination together is mint and basil but use what you have on hand or what your tastebuds desire.
If you make this recipe, please let me know! Bookmark this recipe and leave a comment below, or take a photo and tag me on Instagram with #foodiecrusheats.
Print
Summer Melon Cous Cous Salad with Avocado, Grapes and Mint
The ginger lime dressing lightly dresses this fruit and herb salad for a salad that's fresh, light, and totally in season now.
Ingredients
1/3

cup

extra virgin olive oil

Zest and juice of 1 lime

1

tablespoon

grated or minced fresh ginger

1

tablespoon

coarse ground mustard

1

tablespoon

honey

Kosher salt and freshly ground black pepper

4

cups

cooked pearl couscous

cooled (from an 8 ounce package)

1/2

honeydew melon

chopped or scooped into balls

2

cups

green grapes

1

cucumber

halved, seeded, and cut into chunks

4

green onions

chopped

1

avocado

pitted and chopped

1

cup

fresh herbs such as mint

basil, tarragon, flat leaf parsley, or a combination of herbs, chopped
Instructions
In a small bowl, whisk the olive oil with the lime juice and zest, fresh ginger, ground mustard and honey until well combined. Season with kosher salt and freshly ground black pepper.

Add the couscous to a large bowl with the remaining ingredients. Pour the dressing over the couscous and toss to coat. Season with more salt and pepper and more chopped herbs as desired.
#eatseasonal July
As we have for the past few seasons, Becky of The Vintage Mixer has posted her list of what's in season to eat now and from that list, has amassed a group of us who are posting #eatseasonal recipes today. Some are some are sweet, some are savory and they're all in season now. Hop over to the other bloggers pages to discover some great eats to eat now.
Berry Frangipane Brioche Toast by Vintage Mixer
Paleo Double Chocolate Zucchini Banana Bread by JoyFoodSunshine
Kale Salad with Blueberries Cherries and Goat Cheese by Flavor the Moments
Pesto Butter Corn on the Cob by Cookin' Canuck
Gluten-Free Strawberry Shortcakes by Food for My Family
Triple Berry No-Bake Cheesecake with Amaretti Crust by Floating Kitchen
Pickled Beets by Healthy Seasonal Recipes
Sour Cream Panna Cotta with Strawberry Compote by Simple Bites
Blueberry Acai Frozen Yogurt by Kitchen Confidante
Lower Carb Zucchini Noodle Pasta Bake by She Likes Food
Golden Beets with Black Beans and Dried Cherries by Letty's Kitchen
As always, thank you for reading and for supporting companies I partner with, which allows me to create more unique content and recipes for you. All opinions are always my own.  
Are you following me on Instagram, Twitter, Facebook and Pinterest? 
Thanks for reading and subscribe to FoodieCrush to have each post delivered straight to your e-mail box.