In our house, when it comes to cucumbers the mantra is "the more, the better."
I hear the chanting of "CUKES! CUKES! CUKES" almost as loudly as "USA! USA! USA!" combined with a bunch of screaming at the TV during the final game of the World Cup. What an amazing ride that was!
From cucumber martinis to homemade bread and butter pickles and my crunch-a-licious Greek salad with avocado—and cucumbers, of course—these elongated melons are always around.
When it heats up outdoors, we keep it cool inside thanks to the constant opening of the refrigerator door to dip into our favorite—and insanely easy—cucumber salad. Please don't report our non-eco-friendly behavior to the energy police. It's simply a casualty of summer snacking and sometimes that short blast of cold air is exactly what the day calls for.
My husband is a fiend for cucumbers and while he's known to eat a cucumbers sprinkled with salt in the same fashion others eat bananas, this Dill Cucumber Salad has made its way into his heart. And his cuke-obsessed belly.
We've tried to grow cucumbers ourselves, but for one reason or another they are never a success. So I leave the cucumber growing to the professionals and put my cucumber talents where they do best: eating them.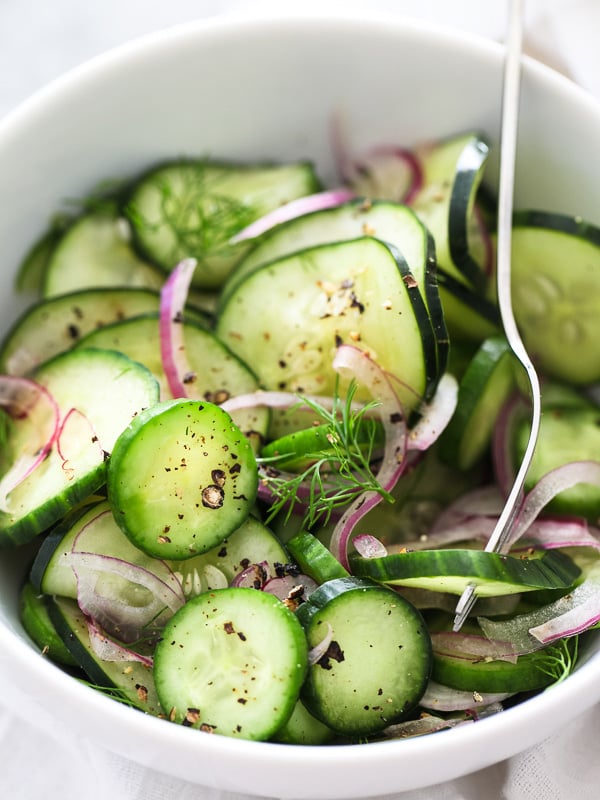 About the recipe:
The farmer's market is a grand place to start this salad thanks to the plethora of varietals you're sure to encounter. Persian, Kirby and lemon are just some of the kinds you can play with for color and texture. Or if you're more daring than me, plant and harvest your own.
Some prefer to skin their cucumbers. For this recipe, I left the skin intact since the cucumbers become a bit thin and I feel like the skin gives a nice color to the dish. Plus, I can quickly discern which seeded orb to pick up next!
Salting and sugaring the cucumbers is key to this recipe. This serves as a quick brine, pulling the moisture from the cucumber slices giving each one a little snap and crispness in each bite. I place a plastic colander in the bowl (I love these bowls for this) and the water drains straight away as they sit in the refrigerator.
I like my red onions sliced thinly so I can have a bit of onion with each cucumber bite and don't taste just onion. If you prefer a thicker bite, consider slicing the onions into batons to give a different shape to all of the circles in the bowl.
This salad is always on our BBQ menu, but they're also dynamite on tuna fish or cottage cheese sandwiches. With potato chips. Because that's how we lunch.
Dill Cucumber Salad
Ingredients
1

pound

mixed cucumbers like English cucumbers

cocktail cucumbers and garden cucumbers, sliced into ¼ inch rounds

½

red onion

peeled and thinly sliced

2

teaspoons

kosher salt

2

teaspoons

granulated sugar

2

teaspoons

red wine vinegar

2

teaspoons

white balsamic vinegar

2

teaspoons

cider vinegar

½

cup

water

¼

cup

fresh dill leaves

chopped
Instructions
Combine the sliced cucumbers in a colander set inside a medium size bowl and sprinkle with the salt and sugar. Place in the refridgerator for about an hour. Drain the cucumbers. Add the onion, vinegars, water and dill. Serve or refrigerate. The cucumbers will become more pickled as they sit.
With such a fondess for cucumbers there's always room to get out and give your menu a Wheel of Fortune spin. The key to these food bloggers' recipes are the super simple factor where cucumbers are the star.

Cucumber Ribbon Salad with Garlic Tahini Dressing
Red onions, fresh mint and kalamata olives add a perk to this crunchy salad, but I hear it's the homemade tahini dressing that puts it over the top.
Recipe here. 
Cucumber Caprese Salad
I love a gal who puts a spin on a caprese salad. I've added avocado before, but hadn't thought to put cucumber into the mix. That's all changed now.
Recipe here.
Cilantro Lime Cucumber Salad
If you've ever been on Pinterest, chances are you've seen this incredible looking salad. With a flick of the wrist it puts a whole new spin on Southwestern flavor.
Recipe here. 
Cuke Salad with Sour Cream Dill Dressing
A family classic that stands the test of time to be eaten and eaten and eaten again and again and again.
Recipe here. 
Cucumber Salad with Grapes and Poppyseed Dressing
Just another shining example that poppyseed dressing can harmoniously marry just about every flavor.
Recipe here. 
As always, thank you for reading and supporting companies I partner with, which allows me to create more unique content and recipes for you. This post contains affiliate links. As always, all opinions are my own.  
Are you following me on Instagram, Twitter, Facebook and Pinterest? Thanks for reading and  subscribe to FoodieCrush to have each post delivered straight to your e-mail box.
SIGN UP FOR FREE!
THANK YOU FOR VISITING FOODIECRUSH.COM

Subscribe to the FoodieCrush email newsletter and have every new post plus exclusive content delivered straight to your email box,
FOR FREE!