This classic ambrosia salad is one of my favorite family holiday recipes because nobody can pass up its mixture of tropical fruit and marshmallows bathed in tangy whipped sour cream.
The Best Ambrosia Fruit Salad Recipe
"You're REALLY going to put that on the blog?" my man questioned. "Really?"
Yes, REALLY.
We each have our holiday favorite dishes. He has his creamed corn. I have my ambrosia salad.
These are the recipes that if missed on the holiday table cause pain and agony. Even if just for ourselves, because it simply wouldn't be the same without them.
My grandma made this marshmallow fruit salad recipe every Thanksgiving. I think my Aunt Jill and I—and maybe my little sister Holly because she'd eat pretty much anything that was sweet—were pretty much the only ones who actually ever ate it. Although I do distinctly remember my mom adding a dollop to her plate nestled next to the cranberry sauce, even though she may deny it now.
But as the years went on, and the realization that the ambrosia likers were in a deep decline, it disappeared from the serving table.
Well guess what peeps? It's baaaaaaaaaack.
I've planned on adding this ambrosia salad recipe to the blog ever since I started the blog. But I'd always second guess myself.
It's not healthy enough.
It's not Pinterest-worthy enough.
Who's gonna want to look at a salad with canned fruit and marshmallows bathed in a creamy slather of deliciousness?
Me. That's who.
Ambrosia Salad Ingredients
If you've never had the pleasure of sampling a marshmallow fruit salad, you may be looking at the pictures in this post and thinking "what the heck did Heidi make?" I'll admit, ambrosia salad isn't the prettiest dish, but it's darn tasty and that's what matters.
Here's what you'll need to make this ambrosia salad recipe:
Canned pineapple tidbits
Canned mandarin oranges
Maraschino cherries
Heavy whipping cream
Granulated sugar
Vanilla extract
Light sour cream
Sweetened shredded coconut
Chopped pecans
Mini marshmallows
Green grapes
How to Make Ambrosia Salad
Thoroughly drain the cherries, pineapple, and oranges. Whip the cream, sugar, and vanilla until fluffy and stiff peaks form.
Gently fold the sour cream into the whipped cream in batches. Then stir in the coconut, pecans, and marshmallows, followed by the fruit. Top with additional shredded coconut and pecans, then chill at least an hour before serving.
Can I Make Ambrosia Salad in Advance?
Yes, you can make this classic ambrosia salad recipe the night before and leave it in the fridge until you're ready to serve. You won't want to make this marshmallow salad more than a day in advance since the whipped cream tends to deflate over time.
Can I Add Other Fruits to the Salad?
You probably can, these are just the fruits I grew up eating in my ambrosia salad.
Tips for Making Ambrosia Salad
This ambrosia fruit salad recipe is partly based on my sweet salad memories, and the recipe my mom had written down on the recipe card I copied and have been hauling around for 20 years. For some reason my grandma's called only for sour cream. But over the years, the salads I've sampled other than our holiday favorite seem to have a fluffier component. That's why I folded in a sweetened whipped cream.
And that's why there are only two other essential parts to this recipe.
One is to be sure to drain the canned fruit, really, really well so it doesn't create a puddle of watery cream. You'll also want to be sure to rinse your cherries well or you'll have red streaks through your salad. Not that there's anything wrong with that…
The second part is to fold your whip cream and sour cream together in stages so the heavier sour cream doesn't flatten the fluffy whip of the cream. I usually do this step 1/3 at a time.
And just like all of the crock-pot recipes, and all of the casserole recipes, and all of the other recipes I've second guessed myself on whether to share from my handwritten, dog-eared recipe book full of old-school family classics, the return to this recipe and a whole lot more family favorites has begun.
And I welcome them all with open arms. And guess what? You're about to, too.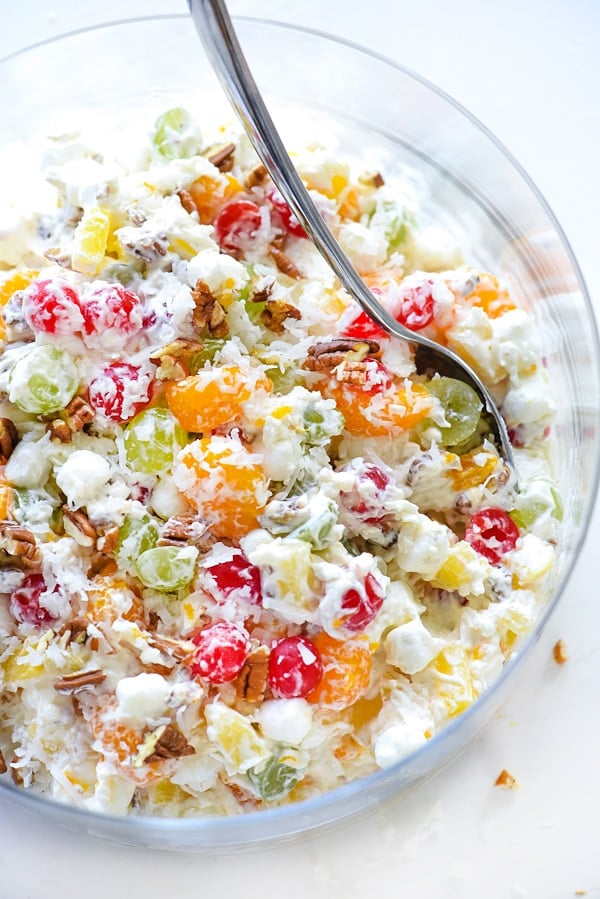 More Classic Thanksgiving Sides to Make This Year
If you try this recipe, please let me know! Leave a comment below, or take a photo and tag it on Instagram or Twitter with #foodiecrush!
Print
My Favorite Ambrosia Salad Recipe
This classic ambrosia salad is one of my favorite holiday recipes because nobody can pass up its tropical fruit and marshmallows bathed in tangy cream.
Ingredients
1 20-

ounce

can pineapple tidbits

1 15-

ounce

can Mandarin oranges

1

cup

maraschino cherries

drained

1

cup

heavy whipping cream

1

tablespoon

granulated sugar

1/2

teaspoon

vanilla extract

1/2

cup

light sour cream

1

cup

shredded

sweetened coconut

3/4

cup

pecans

chopped

3

cups

mini marshmallows

1

cup

green grapes

halved
Instructions
Place the pineapple and mandarin oranges in a strainer and set aside to drain for 30 minutes to 1 hour. Drain the cherries and rinse with cold water and set aside to drain.

Whip the cream with the sugar and vanilla until light and fluffy. Gently fold in 1/3 of the sour cream, then fold in the next 1/3 and then the final 1/3.

Gently stir in the coconut, pecans and marshmallows. Add the grapes, pineapple, Mandarin oranges and maraschino cherries, and gently fold in. Top with a few more sprinkles of coconut and chopped pecans if desired.

Chill for 1 hour up to overnight, then serve.
Nutrition
Calories:
375
kcal
|
Carbohydrates:
41
g
|
Protein:
6
g
|
Fat:
23
g
|
Saturated Fat:
10
g
|
Cholesterol:
57
mg
|
Sodium:
128
mg
|
Potassium:
307
mg
|
Fiber:
3
g
|
Sugar:
31
g
|
Vitamin A:
1373
IU
|
Vitamin C:
27
mg
|
Calcium:
137
mg
|
Iron:
1
mg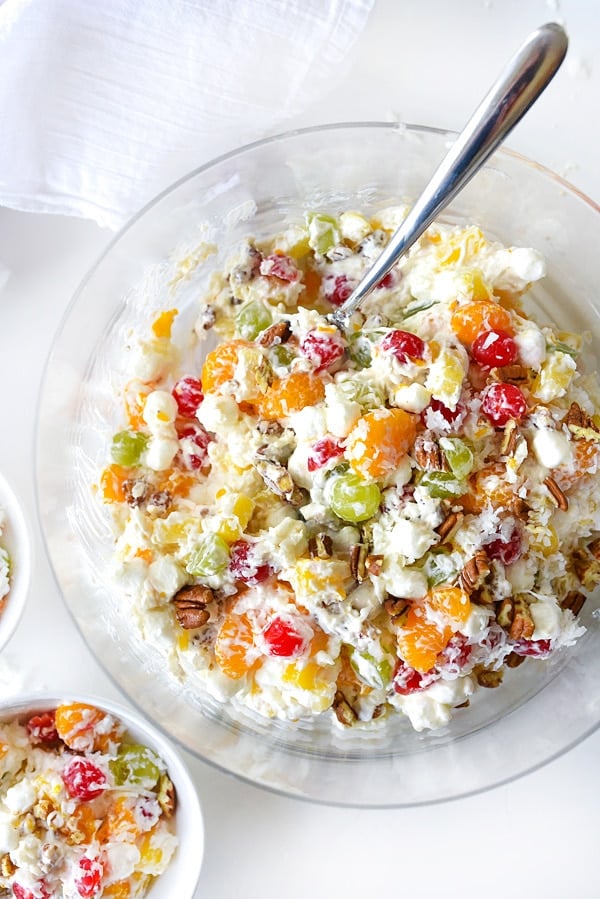 More Fall Salad Recipes You'll Love
We send good emails. Subscribe to FoodieCrush and have each post plus exclusive content only for our subscribers delivered straight to your e-mail box.
Follow me on Instagram, Facebook, Pinterest and Twitter for more FoodieCrush inspiration.
As always, thank you for reading and supporting companies I partner with, which allows me to create more unique content and recipes for you. There may be affiliate links in this post of which I receive a small commission. All opinions are always my own.