This classic wedge salad recipe features iceberg lettuce, tomato, crumbled bacon, chives, and the creamiest homemade blue cheese dressing you've ever tasted.
The Making of This Wedge Salad Recipe
I must say, this blog has given me the chance to do things I never in my life could have imagined. I mean, how many of you have walked through acres of furrowed rows of big-headed, leafy green orbs to watch as they're cut from their stalk and stems by the swiftest of hands that instinctively know just the right angle and pressure to keep the lettuces at their tender, leafiest best?
Or stayed at amazing resorts, sampling amazing food with amazing foodie friends? Or almost been trampled on the 18th hole of Pebble Beach by a deer (as docmuented here and here.)
Well, I can strike them all off of my bucket list, check this and roger that. 
I can't believe I ate green iceberg lettuce, straight from the field. From the Dole field. From a field that is the birthplace to millions of salads all across the United States. And there I was in the middle of it, wishing I had a little of my favorite dressing to slurp alongside it.
Iceberg screams summer to me thanks to it's watery, juicy crunch. Which led me to finally posting my favorite Classic Blue Cheese Wedge Salad. My other natural option was a BLT Sandwich, which this actually sort of is, minus the bread. Let's call it low-carb, shall we?
My salad inspiration stemmed from my trip a few weeks ago to Monterey, CA when a group of food bloggers were invited to the Dole Taste of Spain Salad Summit. It was an opportunity to meet and tour local growers, see the inside operations of one of the Dole Salad factories, eat fantastic food, drink local wine (in a vineyard), savor the coastal temps in relaxing accommodations (please take me back), and learn all sorts of foodie insider information from the editors of Eating Well (did you know that America's favorite vegetable is asparagus and that 78% of U.S. adults say they are now buying organic?).
Before I went to the salad summit, I had the impression that Dole was like other corporations who dominated the industry, leaving not much room for the little guy to succeed simply because the giants had proven successful in their field. This trip made me realize I had formed an idea based largely on assumptions when it came to Dole.
Our trip started by setting in at the gorgeous, Carmel Valley Ranch, a stunning retreat set in the hills of the Carmel Valley featuring an upscale yet comfortably rustic design with the perfect intermingling of raw woods, sculpted concrete and vineyards, tree-lined trails beckoning deer and wild turkeys, and lavender plants everywhere you looked not to mention a resident bulldog named Roxy—I was won me over right then and there.
Each cottage is its own suite with a full living room (mine had a fireplace), a huge bedroom (with yet another fireplace) and a wrap around deck perfect for enjoying my morning cup of joe.
The bathroom is always my favorite destination and my soaking tub got plenty of use. But the bath amenities were what put it over the top for me, better than any other fancy schmancy hotel I've visited. The Lavender Sea Pine Shampoo and Conditioner was for once a hotel conditioner that didn't strip my hair of all moisture. And the Violet Leaf Wild Mint Body Wash and Lotion gave everyone a lavender scent the next morning at breakfast.
I've already put in my order for more and just wish I'd made time for a spa day. Note to self for the next visit.
Knowing there were a bunch of food-fixated guests in their midst, the kitchen staff outdid themselves incorporating the Taste of Spain flavors with Dole berries, pineapples, asparagus, lettuces and more, all complimenting meals of tender Colorado lamb filets, jumbo prawns and of course there was no skimping on the desserts.
On day one of the tour, we were met at a lettuce field by local farmer Mark Pisoni. His family has been farming for over 100 years, and as a graduate of UC Davis and Cornell University, he now oversees the family business which is one of 38 local farms in the Salinas Valley that annually contracts with Dole.
Thanks to its Mediterranean-like climate and fertile soil, the Salinas Valley has become the number one vegetable-producing region in the U.S., supplying 80% of the nations lettuce and grows more wine grapes than any other county in California, including Napa. Now that's my kind of land. 
"The numbers can be difficult to get your mind around: Annual harvest of 12,500 tons of tomatoes, 15,000 tons of strawberries, 82,000 tons of lettuce—a $2 billion annual salad bowl brought in from the fields by hardworking local and migrant workers." (-Dole Salads)
And hard working they are. Our tour took us straight through the harvested plants to where production was in full swing and with quality control at the top of Dole's list, there was plenty of camera mugging thanks to the hairnet photo opps.
Here's a little video I made showing you how the harvest happens.
While Dole has come up with a machine that uses water knife technology to cut a heartier romaine from the field, the iceberg lettuces are still harvested by hand, by workers who are fairly paid, treated well and take a lot of care in what they do. The fields generally yield 4 harvests per year, contributing to the local economy and stimulating it in far reaching ways. Good job Dole. 
In the field, the crops are lightly washed, packed and trucked to the processing plant where they go through another round of lightly chlorinated washing (with less chlorine than potable water) and are made ready to eat in fresh pack salads which are trucked to our grocery stores within two days from coming out of the field. Ah freshness. 
After the tour we found ourselves hairnet-free and seated at the lovely Paraiso Vineyard for a lunch of more Spanish inspired dishes like empanadas and Saffron Risotto and of course wine-pairings from the lush vineyard.
More food greeted us back at Carmel Valley Ranch with a tapas creation competition among the attendees and then later that evening dinner at the local Spanish restaurant, Mundaka, where we feasted upon so much including Paella Valencia, mussels in saffron cream and flash fried chickpeas with truffle salt that were insanely delicious.
Did I mention partaking in the Spanish parron? Thank goodness I escaped the camera documenting that one.
Pre-dinner meet-up with Brenda of A Farm Girl's Dabbles, Heather of Farmgirl Gourmet, myself, Ali of Gimme Some Oven and Sandy of Reluctant Entertainer
The trip's capper came the last day with a tour of the famous 17-Mile Drive at Pebble Beach, winding us along the Carmel coastline where plenty of photo opps were had (10 bloggers, all with their own cameras and two photo takers who were at our mercy—I felt like I was back in the sorority during formal).
I always come away from these trips with a renewed appreciation for where my food, and yours, comes from and the people behind the scenes who make it happen. From the migrant workers, to the truck drivers, to the ag scientists, to the marketers and finally the local grocery store clerk, it takes all of them to make one salad.
What's in This Blue Cheese Wedge Salad?
If you want to enjoy a truly spectacular wedge salad, you need to make your own blue cheese dressing. Specifically, you need to make the BEST blue cheese dressing. Lucky for you, I'm sharing my go-to homemade blue cheese dressing with you today.
The homemade blue cheese dressing is far above and beyond anything you can find on the store shelves, even the refrigerator section, and has just the right bite thanks to a dash of red wine vinegar and a bit of buttermilk.
To make the wedge salad itself, you'll need:
Iceberg lettuce
Crumbled bacon
Tomatoes
And to make the homemade blue cheese dressing, you'll need:
Light sour cream
Mayonnaise
Buttermilk
Red wine vinegar
Worcestershire sauce
Garlic salt
Black pepper
Blue cheese
Chives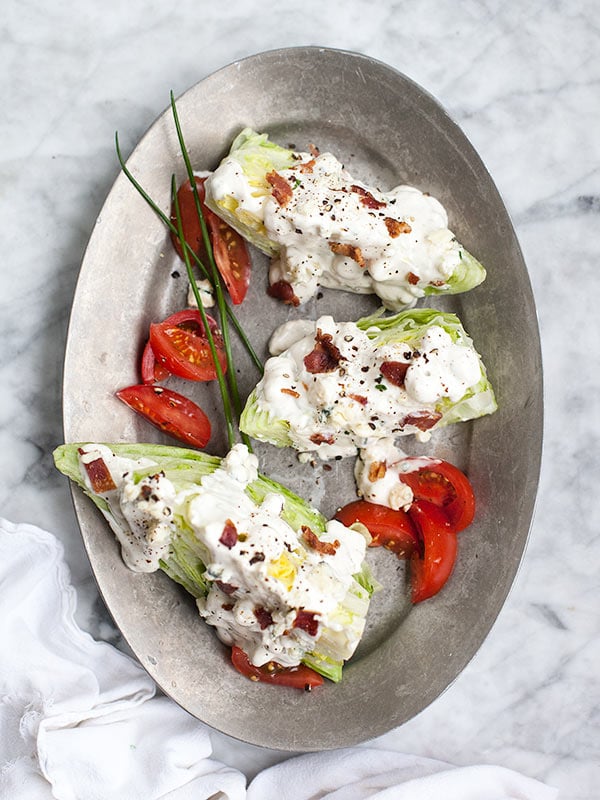 How to Make a Wedge Salad
First, make the blue cheese dressing. Learning how to make blue cheese dressing is as simple as mixing together all the ingredients, placing the mixture in the fridge for 30 minutes, then drizzling over your wedge salad. Seriously, that's it!
To assemble the wedge salad, remove any limp outer leaves of the lettuce head and then cut in half, then cut each half into quartered wedges.
Place each wedge on a plate, drizzle with the homemade blue cheese dressing, top with bacon crumbles, sprinkle with chives and blue cheese chunks, then add a few wedges of tomato on the side.
How Long Does Blue Cheese Dressing Last?
If desired, you can make a batch of the homemade blue cheese dressing in advance and keep it on hand for salads throughout the week. The blue cheese dressing should last 5 to 7 days in the fridge.
Can I Add Other Salad Toppings?
Of course! But then you won't be making a classic wedge salad recipe. (It'd be a tasty salad, but not a classic wedge salad!).
Tips for Making the Best Wedge Salad
I'm a fan of lots of chunky blue cheese but if you prefer yours on the un-chunked side, just mash up those cheesy bits a bit more and you're good to go.
You could always make this classic wedge salad recipe a main by adding 3 ounces of shredded rotisserie chicken breast or simple grilled salmon to it.
Lastly,  I usually reserve a few especially blue-veined pieces of the blue cheese to sprinkle on top of the salad and reserve a few strands of chives to snip at an angle and sprinkle on top. Bigger chunks of freshly ground black pepper are a must here in my opinion.
More Salad Recipes to Make
If you make this recipe, please let me know! Bookmark this recipe and leave a comment below, or take a photo and tag me on Instagram with #foodiecrusheats.
Classic Blue Cheese Wedge Salad
This classic wedge salad recipe features iceberg lettuce, tomato, crumbled bacon, chives, and the creamiest homemade blue cheese dressing you've ever tasted.
Ingredients
For the Blue Cheese Dressing
1

cup

light sour cream

½

cup

mayonnaise

3

tablespoons

buttermilk

3

teaspoons

red wine vinegar

½

teaspoon

Worcestershire sauce

¼

teaspoon

garlic salt

1 ½

teaspoons

freshly ground black pepper

4

ounces

blue cheese

(reserve a few chunks for garnish)

3

chives

, diced (reserve a few for garnish)
For the salad
1

head

iceberg lettuce

, cored

4

strips

bacon

, cooked, cooled and crumbled

4

medium

tomatoes

, cut into wedges
Instructions
Add all of the dressing ingredients to a medium bowl and stir well to combine. Refrigerate for at least 30 minutes.

Remove any limp outer leaves of the lettuce head and then cut in half, then cut each half into quartered wedges.

Place each wedge on a plate, drizzle with the blue cheese dressing, top with a few crumbles of bacon, a sprinkling of chives and reserved blue cheese chunks and add a few wedges of tomato on the side.

Give one more sprinkle of freshly ground black pepper and serve.
Nutrition Facts
Classic Blue Cheese Wedge Salad
Amount Per Serving
Calories 256
Calories from Fat 198
% Daily Value*
Fat 22g34%
Cholesterol 34mg11%
Sodium 472mg21%
Potassium 372mg11%
Carbohydrates 8g3%
Protein 7g14%
Vitamin A 1088IU22%
Vitamin C 11mg13%
Calcium 142mg14%
Iron 1mg6%
* Percent Daily Values are based on a 2000 calorie diet.
Even More Easy Salad Recipes
I was thrilled to spend time with another group of fab food bloggers, some of them for the first time, and really encourage all of you to visit each of their blogs for delicious inspiration and tasty vittles. Here's just a taste of some of their summer salad creations you'll find when you visit.
Adding a touch of California dreamin' via avocado-land, Ali puts a glorious creamy spin on a classic loaded with vitamin-powered baby spinach leaves in Gimme Some Oven's Avocado and Strawberry Spinach Salad with Poppyseed Dressing .(Check out Ali's Dole Salad Summit Recap)
Reminding her of precious memories of travels to the Amalfi coast, Kristin plays with Black Mission figs layered in both the dressing and as a featured player alongside chopped spinach leaves in Iowa Girl Eats Fig and Frico Prosciutto Salad. (Check out Kristin's Dole Salad Summit Recap) 
Prepping ahead and making plans for a healthy week is the secret to Sandy's healthy success in creating the base for plenty o' bountiful salads with Reluctant Entertainer's homemade Superfood Salad Mix.
Brenda shares a dressing so good she could drink it—her words, not mine—thanks to a kick of Mexican spice and fruit sweetened up from a date with the grill in A Farm Girls Dabbles Grilled Peach Salad with Peach Cumin Dressing.
Following her Rabbit Food Pyramid Breakdown, Catherine adapts her favorite restaurant salad from Andrew Weil's True Food Kitchen into a dinner or lunchtime healthy treat with Rabbit Food for My Bunny Teeth's Tuscan Kale Salad. (Check out Catherine's Dole Salad Summit Recap)
Eating and savoring a hearty meal calls for a balancing act with a bit of a healthy alternative and Chung-ah has discovered the ultimate healthy alternative with Damn Delicious' Kale Salad with Meyer Lemon Vinaigrette.
Even though she moved from a historic farmstead where her family actually farmed their own food, Heather still finds the thrill of eating straight from the source in Farmgirl Gourmet's Roasted Beet Salad with Goat Cheese Croutons 
Of the many food bloggers I've met these past two years, Jane tends to be one that always keeps it real, both in life and all of its realities and in her weekly food menus, including This Week for Dinner's Oriental Chicken Salad #2
Lisa showcases three different lettuces that are tenderly dressed in a simple dressing spiked with a Spanish touch in Authentic Suburban Gourmet's Farmer's Market Salad with Sweet Paprika Dressing (Check out Lisa's Dole Salad Summit Recap)
Liz leaves the bottled dressing in the grocery store aisles and smartly opts to dress her fresh greens with a fresh vinaigrette, why buy when you can make The Lemon Bowl's Garlic Dijon Vinaigrette
Nikki takes a page from her mom's recipe book and remakes a long-time favorite in Chef in Training's Candied Pecan and Craisin and Feta Cheese Salad with Creamy Balsamic Vinaigrette.
Tessa brings California to the her home in the desert with the fresh tastes of Handle the Heat's Grilled California Chopped Salad with Shrimp (Check out Tessa's Dole Salad Summit Recap)
We send good emails. Subscribe to FoodieCrush and have each post plus exclusive content only for our subscribers delivered straight to your e-mail box.
Craving more life balance, less stress, and better health? Check out my Nourished Planner, the daily planner to help create simplicity and under-schedule your life.
Follow me on Instagram, Facebook, Pinterest and Twitter for more FoodieCrush inspiration.
Thanks to Dole Salads for inviting me on this all expenses paid Taste of Spain Salad Summit. As always, thank you for reading and supporting companies I partner with, which allows me to create more unique content and recipes for you. There may be affiliate links in this post of which I receive a small commission. All opinions are always my own.
SIGN UP FOR FREE!
THANK YOU FOR VISITING FOODIECRUSH.COM

Subscribe to the FoodieCrush email newsletter and have every new post plus exclusive content delivered straight to your email box,
FOR FREE!