With just a few simple ingredients including store-bought pesto and balsamic, you can make this healthy, stand out, one-pan chicken breast dinner in under 30 minutes.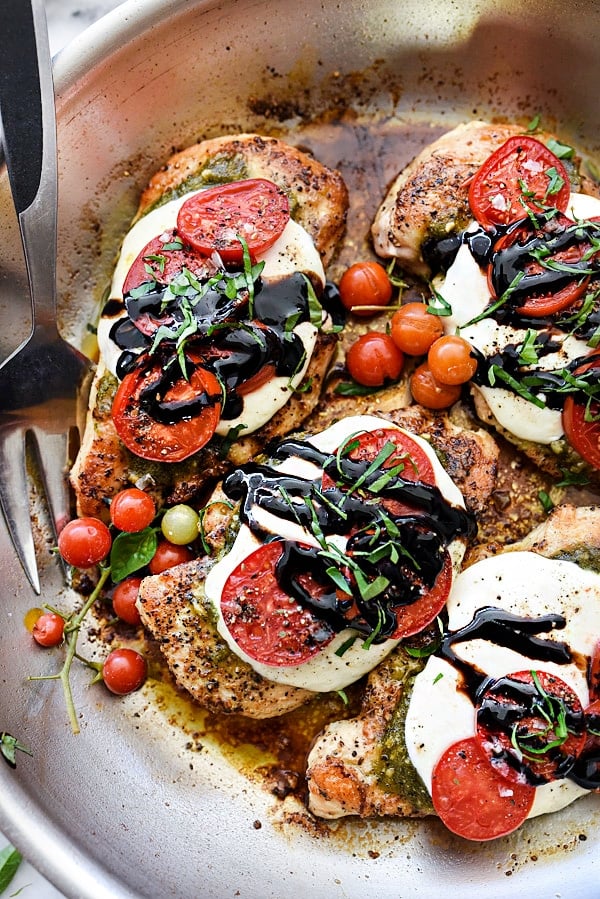 This recipe is brought to you by DeLallo Foods
There are many things that fall brings, but at our house, extra time in the day is not one of them.
Because there's work. Why, oh WHY didn't I win the lottery? And there's school. "Oh mama," she earnestly vents, "why did it have to start again??" There's soccer practice, homework, mama-daughter volunteer work, dog walks, another new project for 2017 I'm busily finishing up, and those summer vacations that have turned into fall trips we are trying our darndest to squeeze in before old man winter wraps us in blankets and bribes us to join him to cocoon on the couch.
But we're doing our best and adapting to the new normal, just like we do every year. And I'm taking one guess that you are too.
Instead of going out, eating at home at the end of days like these is actually a true time-saver. And when we plan ahead with the grocery shopping to avoid the dreaded question of "what's for dinner?" one-pan recipes like this 30-minute chicken wonder actually make cooking at home, dare I say, enjoyable.
It truly doesn't get much easier than this.
About the Recipe
This recipe is another one in my partnership with DeLallo Foods and features a few of the products I always have stocked in my pantry for easy cooking dinner recipes I can whip up in a flash. I'm a big fan of their products because of their quality and fresh flavor, which is not something I cannot say about a lot of brands I've tried before.
I cut my boneless chicken breasts in half lengthwise so they're thinner, cook faster and go further. Or is that farther? Either which way, it makes more chicken for your buck and I simply like a thinner chicken breast.
The flavor in this recipe comes from a nice sear of the chicken to add depth to the dish, with an Italian-inspired basil and garlic tangy schmear thanks to DeLallo's Traditional Basil Simply Pesto. There's no need for any other herbs or spices—besides salt and pepper—because it's all there in one easy to open jar. Wha-la!
You couldn't put a caprese label on anything without fresh sliced tomatoes and a thick cut of fresh mozzarella cheese. It won't be long now before I have to wave adios to my garden tomatoes so I'm using them, and savoring them, in just about every recipe I can.
Once my garden tomatoes have hit the skids, I'll be using the smaller and sweeter store-bought campari (or cocktail) tomatoes, the kind I'll be very satisfied with for this recipe all winter long.
After the chicken comes out of the oven, allow it to rest for a few minutes and save any of the juices left in the pan. They make a tasty little drizzle. Then, it's time for DeLallo's Modenacrem balsamic glaze. Drizzle a little or a lot, just make sure you drizzle. A sprinkling of fresh basil finishes this dish off with every cheesy, chicken bite.
Earlier this year I visited DeLallo HQ in Pittsburgh, PA where we filmed videos to go along with each of the recipes I'm partnering with them on this year. Check out the video for this recipe in living color below. ROLL 'EM!
If you make this recipe, please let me know! Leave a comment below or take a photo and tag me on Instagram with #foodiecrusheats.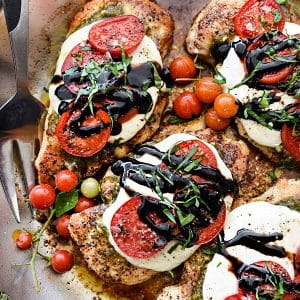 30-Minute Caprese Chicken Recipe
One of our favorite easy dinner ideas made with simple ingredients, you can make this stand out, one-pan chicken tasty dinner recipes in under 30 minutes.
Ingredients
2

skinless

boneless chicken breasts

Kosher salt and freshly ground black pepper

1

tablespoon

extra virgin olive oil

1

tablespoon

butter

1

6 oz.

jar DeLallo Traditional Basil Simply Pesto

4-6

slices

fresh mozzarella or 6 ounces grated mozzarella cheese

8

cocktail or small tomatoes

sliced

DeLallo balsamic glaze

Fresh basil

slivered
Instructions
Preheat the oven to 400° F.

Use a sharp, thin knife to slice the chicken breasts in half lengthwise. Season both sides with kosher salt and freshly ground black pepper. Heat a large oven-proof skillet over medium high heat and add the olive oil and butter. Once the butter has melted into the olive oil, add the chicken breasts to the pan, being careful not to crowd. Cook on each side until lightly browned, about 3-4 minutes each.

Slather the tops of each chicken breast with the basil pesto, about 1-2 tablespoons per chicken breast. Top each chicken breast with a slice of mozzarella and a few slices of tomato. Put the skillet in the oven and cook for 10-12 minutes or until the chicken reaches an internal temperature of 165 degrees. F. Remove from the oven and garnish with fresh basil and a drizzle of balsamic glaze.
Nutrition Facts
30-Minute Caprese Chicken Recipe
Amount Per Serving
Calories 232
Calories from Fat 135
% Daily Value*
Fat 15g23%
Cholesterol 84mg28%
Sodium 262mg11%
Potassium 454mg13%
Carbohydrates 5g2%
Protein 18g36%
Vitamin A 1325IU27%
Vitamin C 17mg21%
Calcium 161mg16%
Iron 1mg6%
* Percent Daily Values are based on a 2000 calorie diet.
3 More Easy Weeknight Meals
I've created several easy weeknight eats that feature DeLallo's ingredients for a combo of store-bought and homemade to make for fast, healthy dinners. Here's a few of them to add to your weeknight menu.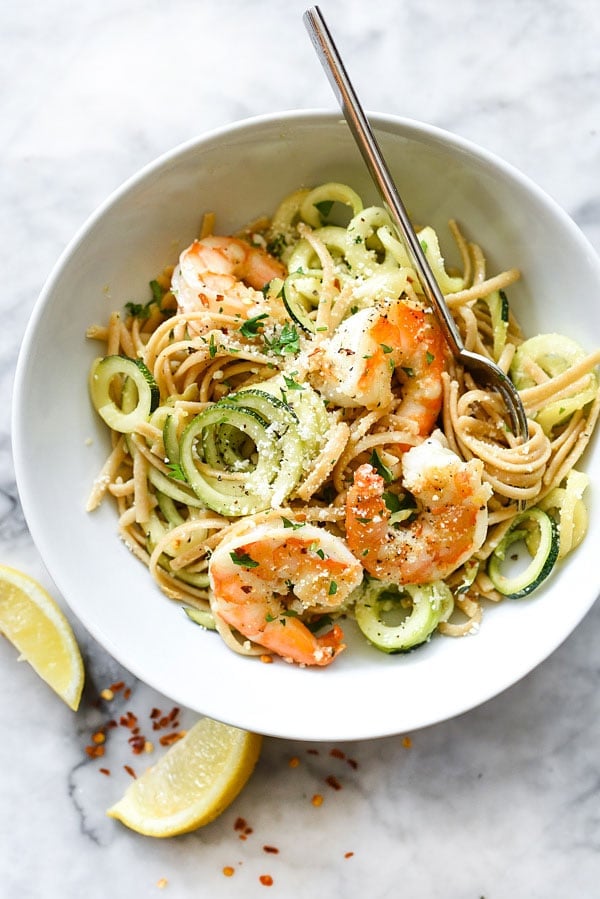 Linguine and Zucchini Noodles With Shrimp
Spiralized zucchini, whole wheat linguini and garlicky shrimp make a perfect weeknight dinner to twirl your fork to. A healthy dinner made in a snap.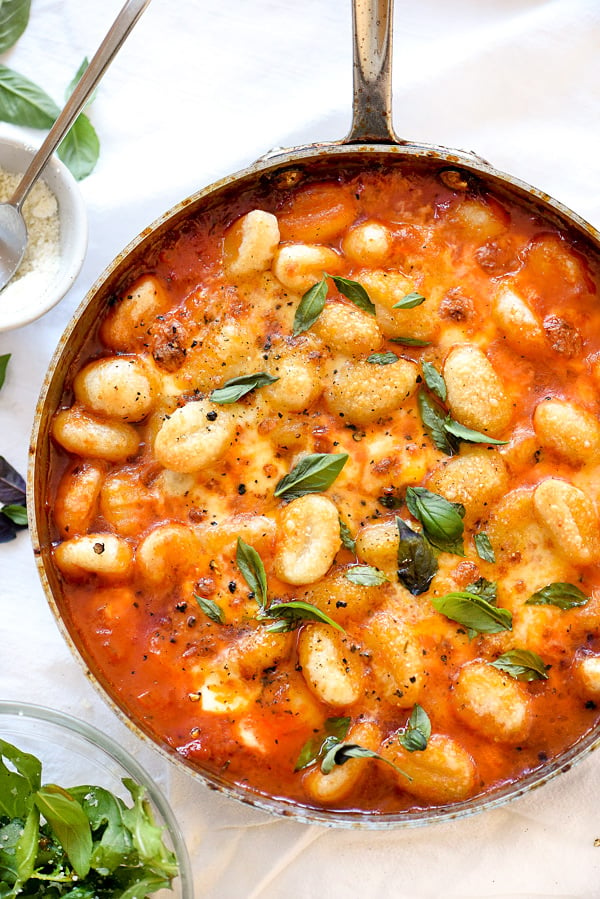 Gnocchi with Pomodoro Sauce
This is the ultimate have-on-hand-and-cook weeknight recipe for a melty, cheesy, sauced gnocchi that makes a perfect dinner no matter what night of the week. Here, I've gone classic with a sweet, rich sauce of tomato'd Pomodoro over DeLallo's packaged gnocchi. Mama mia!
Baked Turkey Meatballs with Creamy Polenta and Marinara
This recipe features my herb filled, from-scratch meatballs finished off with DeLallo Foods' jarred Pomodoro Fresco Marinara and their Instant Polenta. A healthy dinner FAST is indeed at hand.
This post is part of my partnership with DeLallo Foods. As always, thank you for reading and for supporting companies I partner with, which allows me to create more unique content and recipes for you. All opinions are always my own.  
Are you following me on Instagram, Twitter, Facebook and Pinterest? 
Thanks for reading and  subscribe to FoodieCrush to have each post delivered straight to your e-mail box.