This healthier take on classic broccoli salad features fresh, crunchy broccoli florets topped with a light dressing with a little sweetness from golden raisins, dried cranberries, blueberries, and pineapple for a super summer salad.
Easy Broccoli Salad Recipe
Where some visitors to a new city or town search out the best restaurants, bars, or bakeries, you'll find me scouting out grocery stores and specialty food shops. I may not even need groceries, have a kitchen on hand, or be planning to cook at all, but a visit lets me know what 'might' be available should I happen to be in need.
What is wrong with me??
One of my beeline destinations is the grocery store deli case. That's where you'll see me peering over toddlers muddying the glass with their chubby little hands as I look for ideas of what people are really eating. Because if a grocery store is going to give space for a salad, side, or main in the ready-made case, it's likely that it's a dish people are gonna want.
Broccoli salad is one of those recipes I see time and time again in deli cases across the land. But let us not think these salads are all created equal. Hardly.
Broccoli Salad Ingredients
This cold broccoli salad is a much healthier version than many I've seen. I took inspiration from several broccoli salads I've spied and taste-tested to come up with a version of what I am claiming as one of the best.
I've left out the bacon and shredded cheese and totally left that goopy mayo sauce behind. Instead I've added more broccoli crunch and a whole lot of fruit to deliver a fresh take on this classic.
This recipe combines a whole lot of healthy crunch thanks to the combination of small broccoli florets and store-bought broccoli slaw. When buying the broccoli I look for the smallest buds I can find, then slice them into smaller pieces so they don't dominate each bite.
Salty sunflower seeds and little bursts of sweet fruity bites in the form of fresh blueberries, cranberries and golden raisins add to the crunch and sweetness of this salad.
One of the surprise ingredients to this salad is pineapple. I use the juice in the dressing and add the fruit to the salad. It's a double delicious whammy.
How to Make Broccoli Salad
To take out the 'raw' bite of the broccoli, I bring a teapot of water to a boil then pour the water over the broccoli and stir it for about 15 to 30 seconds or until the broccoli turns a bright green. Then I quickly drain it and plunge into ice water to stop the broccoli from cooking for about 10 minutes or so. A quick spin in the salad spinner or some time in the refrigerator dries the florets so that the broccoli salad dressing will coat the florets.
Once the broccoli is dry, it's a simple matter of whisking together the healthy broccoli salad dressing and stirring everything together in a big bowl.
I prefer serving this easy broccoli salad cold, so I always let it sit in the fridge for at least 30 minutes before serving it. Its time in the fridge also helps the flavors in this healthy broccoli salad come together.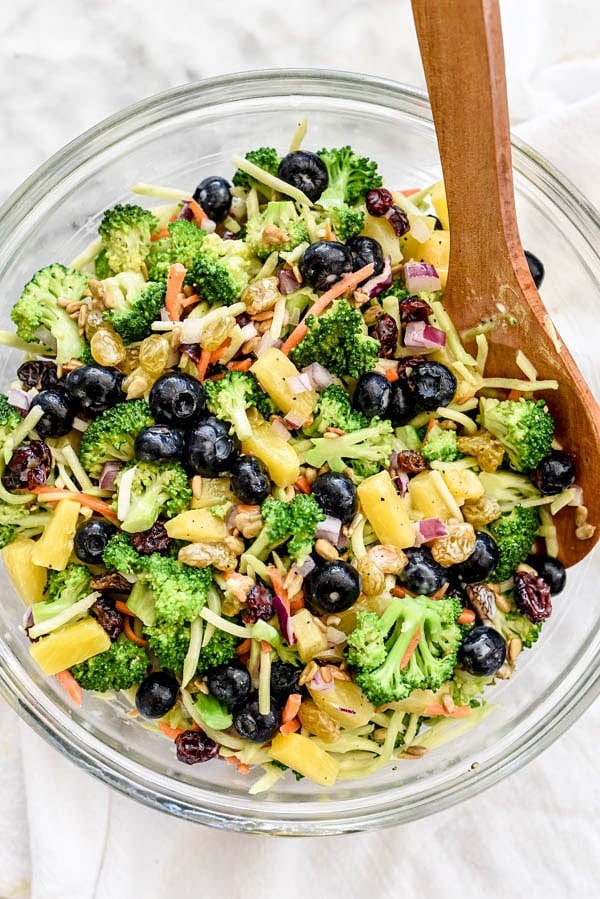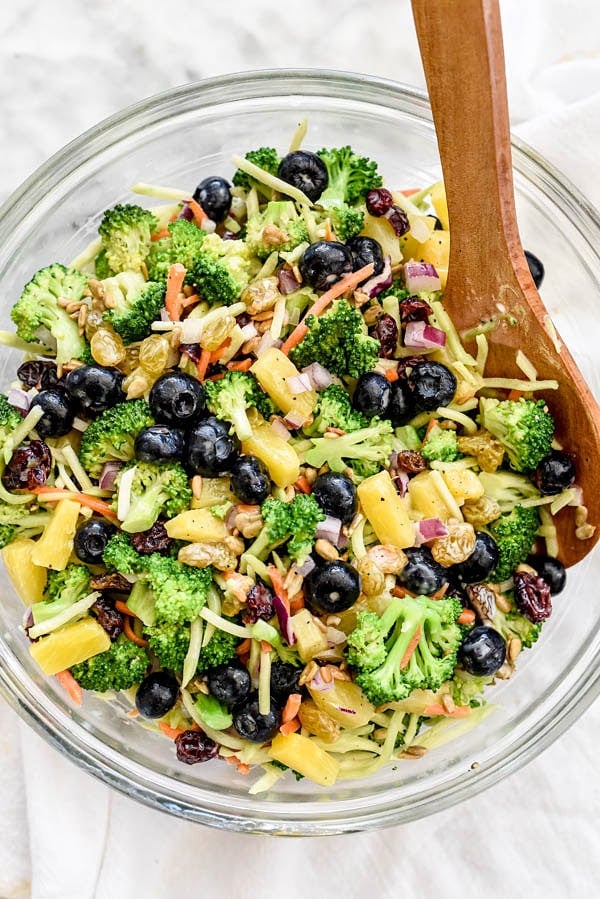 Can I Prep Broccoli Salad in Advance?
Yes, this easy broccoli salad can be made up to a day in advance. Since broccoli is a heartier veggie, it can withstand sitting in the dressing for that long.
Can I Use Frozen Broccoli?
No, fresh broccoli is a must in this healthier broccoli salad recipe.
Tips for Making the Best Broccoli Salad
Be sure to buy pineapple tidbits packed in juice and not the kind packed in heavy syrup. Read the ingredients to make sure you've picked up the right can.
If you're not a huge fan of red onion, rinse it under cold water after you've chopped it to remove its harsh bite. Pat the onion dry before mixing into the broccoli salad and prepare to be amazed at your new love for red onion.
I've only made this cold broccoli salad recipe as written, but I bet it'd still taste delish with vegan mayonnaise. I prefer the real stuff, but if you're bringing this to a potluck it might be a good idea to bring something everyone can eat.
More Classic Side Dishes to Master
If you make this recipe, please let me know! Leave a comment below or take a photo and tag me on Instagram with #foodiecrusheats. 
Print
How to Make the Best Broccoli Salad
This healthier take on classic broccoli salad features fresh, crunchy broccoli florets topped with a light dressing with a little sweetness from golden raisins, cranberries and pineapple for a super summer salad.
Ingredients
1

pound

broccoli florets

, (about 5-6 cups)

12

ounces

store-bought broccoli slaw

, (about 4 cups)

½

red onion

, chopped

½

cup

shelled sunflower seeds

8-

ounce

can pineapple tidbits

, juice reserved (about ¼ cup)

½

cup

blueberries

¼

cup

golden raisins

¼

cup

dried cranberries

½

cup

mayonnaise

¼

cup

rice wine vinegar

1

tablespoon

sugar

kosher salt an freshly ground black pepper
Instructions
Bring a teapot of water to a boil. Cut the broccoli florets into small crowns. Place the broccoli florets in a large bowl and pour the hot water over the broccoli and steep for 30 seconds or until the broccoli turns bright green. Drain the broccoli of the hot water plunge into cold water and top with ice cubes to stop the broccoli from cooking. Let the broccoli sit in the cold water until cool then drain. Refrigerate for about 20 minutes or spin in a salad spinner to dry the broccoli florets.

Add the broccoli with the broccoli slaw to a large bowl. Add the red onion, sunflower seeds, pineapple tidbits, blueberries, raisins and cranberries.

In a small bowl mix the reserved pineapple juice, mayonnaise, rice wine vinegar and sugar. Season with kosher salt and freshly ground black pepper to taste.

Pour the dressing over the broccoli mix and gently stir to coat. Refrigerate for 30 minutes, then serve.
Nutrition
Calories:
233
kcal
|
Carbohydrates:
22
g
|
Protein:
5
g
|
Fat:
15
g
|
Saturated Fat:
2
g
|
Cholesterol:
6
mg
|
Sodium:
121
mg
|
Potassium:
458
mg
|
Fiber:
3
g
|
Sugar:
13
g
|
Vitamin A:
547
IU
|
Vitamin C:
95
mg
|
Calcium:
62
mg
|
Iron:
1
mg
What to Serve with Broccoli Salad to Make it a Meal
We send good emails. Subscribe to FoodieCrush and have each post plus exclusive content only for our subscribers delivered straight to your e-mail box.
Follow me on Instagram, Facebook, Pinterest and Twitter for more FoodieCrush inspiration.
As always, thank you for reading and supporting companies I partner with, which allows me to create more unique content and recipes for you. There may be affiliate links in this post of which I receive a small commission. All opinions are always my own.