Nothing says summertime eating like a serving of the best, classic, old-fashioned, creamy macaroni salad with eggs and crisp vegetables dressed in a simple and creamy but still light mayonnaise dressing for any picnic, potluck, or barbecue.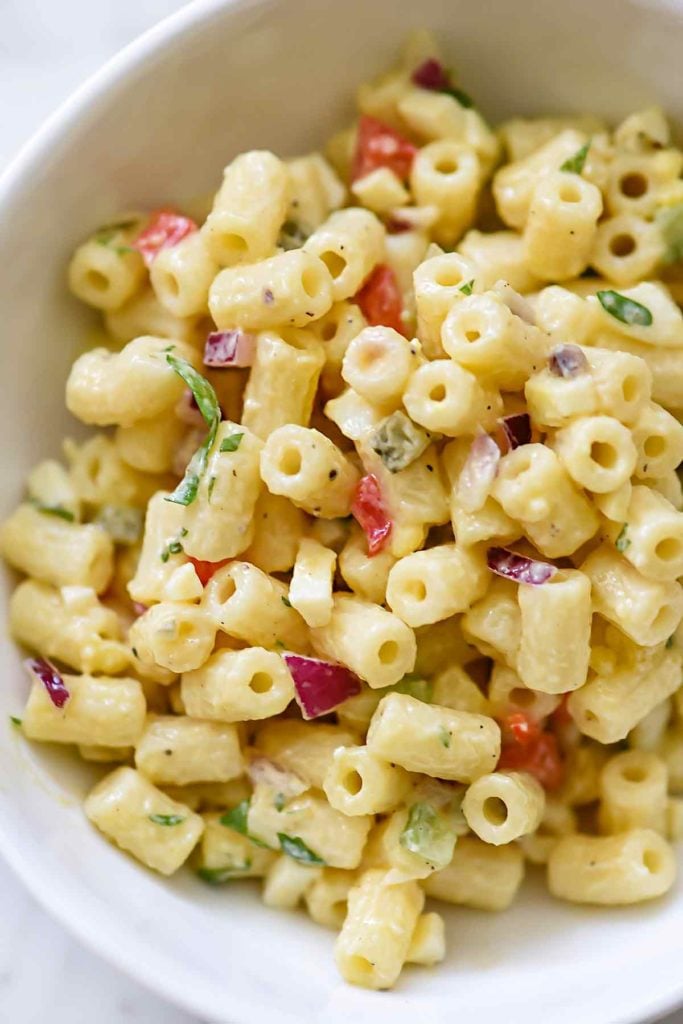 Sometimes you just don't mess around with the classics. While some might look at this macaroni salad recipe and think it's too simple (where's the twist? what makes it special? shouldn't it be harder than this?) that's exactly why it's a time-proven favorite.
While I've always been a fan of potato salad (my mom's potato salad recipe is THE BEST!) it's taken me years to come around to macaroni salad. The reason is that every time I tried one, it was never a good one. They were either too dry, too plain, or too heavily loaded with a goopy, flavorless mayo dressing that coated the macaroni like oil on a dipstick and likely came from a pre-packaged box from the deli counter—yes! That stuff usually comes from a box!
There's nothing worse than that acrid taste of fake mayo macaroni salad. You know. You've been there.
But, this old-fashioned macaroni salad from scratch is everything those others were not. First off, it's homemade—toss the box! It's simple but well-seasoned. It's dressed just right with a tangy but light mayo dressing. And the pasta is neither clumpy nor starchy, but smooth and satisfying with every bite.
I really do love this salad but I'm going to defer to my husband on this one, who as a self-proclaimed macaroni salad connoisseur did attest, "Honey, this is still the best macaroni salad I've had. Ever."
Macaroni Salad Ingredients
Like many of my favorite classics, I found the base of this recipe in a recipe collection of one of my grandmother's. This recipe is list is short but fresh and full of flavor.
Short macaroni of your choice. I use ditalini (these extra short tubes) but classic shells or elbow macaroni works great too.
hard-boiled eggs
celery
red bell pepper
red onion
mayonnaise
sweet pickles plus their juice
Dijon mustard
sugar
kosher salt and freshly ground black pepper
How to Make the Best Creamy Macaroni Salad Recipe
Cooking the macaroni correctly is essential to a good mac salad. Overcook it and you'll end up with mushy bites that won't stand up to the mixing with the vegetables. Cook the macaroni al denté as you would your favorite Italian pasta. Watching your cooking time and cooking to the package directions should ensure the perfect bite. And to be sure, taste test every minute or so when coming to the end of your cooking time.
After cooking, rinse the macaroni so it doesn't stick. The macaroni salad trick I learned from my mom is to rinse the pasta after cooking and drain it really well so there's no residual water lurking in the pasta nook and crannies. Rinsing the pasta under cold water stops the cooking time and removes some of the starches created from cooking. As the pasta cools, toss it a bit with your hands or a spoon so it stays loose and doesn't clump together.
Pickles, eggs, celery, and more! Grandma's recipe had the same basics as this one, but I added more sweet pickles—because I could eat pickles on dirt if I had to—and hard-boiled egg—because in my humble opinion, mayo-based salads always taste better with a touch of a hard-boiled egg.
How to Make this Macaroni Salad Dressing
Pickle juice is the secret! The dressing for this salad is a mayonnaise base that's been thinned out with pickle juice reserved from the sweet pickles added to the salad. I always use sweet pickles, so if you use another style, taste test it to your liking. If you're not a fan of pickles, you could substitute vinegar or lemon juice. Taste as you go to get the right balance. But for me, it's sweet pickle juice all the way.
Refrigerate for the flavors to meld. This salad tastes best when it's had some time in the refrigerator for the flavors to meld and the mayo sauce to permeate the noodles. Allow for at least an hour of chill time before serving, or make it the night before for the best, flavorful taste. And always remember to taste again before serving to decide if more salt and pepper seasoning needs to be added.
And really it's as simple as that and way better than mac salad served from a box.
Recipes to Serve with Classic Macaroni Salad
Think barbecues, picnics, and of course, fried chicken! Here are a few mains to serve along with this classic side.
If you make this recipe, please let me know! Leave a 
 star rating on this recipe below and leave a comment, take a photo and tag me on Instagram with #foodiecrusheats.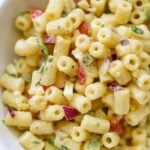 Print
How to Make Classic Macaroni Salad
I use the classic short macaroni noodles in this macaroni salad, but a shell or elbow noodle will work equally as well. Be sure to rinse the noodles under cold water and drain well to remove any excess water so your salad doesn't become soupy.
Ingredients
1

pound

ditalini pasta

, or other short pasta or shell

3

hard-boiled eggs

, diced

2

celery ribs

, minced

1

red bell pepper

, seeded and minced

¼

red onion

, minced

¼

cup

sweet pickles

, chopped

1

cup

mayonnaise

¼

cup

plus 1 tablespoon pickle juice

2

teaspoons

granulated sugar

1 ½

tablespoons

Dijon mustard

Kosher salt and freshly ground black pepper

Chopped parsley if desired.
Instructions
Cook the pasta in salted water according to the package directions, Drain in a colander and rinse under cold water until cooled. Shake the colander to toss the pasta, and drain for about 5 minutes, tossing occasionally.

Transfer the drained pasta to a large bowl. Add the eggs, celery, red bell pepper, red onion and sweet pickles. In a small bowl, mix the mayonnaise, pickle juice, sugar, and Dijon mustard; season with kosher salt and freshly ground black pepper. Add to the macaroni and toss until evenly coated. Season with more salt and pepper to taste then refrigerate for 1 hour before serving. Sprinkle with chopped parsley to add a little color if desired.
Nutrition
Calories:
357
kcal
|
Carbohydrates:
37
g
|
Protein:
8
g
|
Fat:
19
g
|
Saturated Fat:
3
g
|
Cholesterol:
65
mg
|
Sodium:
208
mg
|
Potassium:
157
mg
|
Fiber:
2
g
|
Sugar:
4
g
|
Vitamin A:
494
IU
|
Vitamin C:
15
mg
|
Calcium:
22
mg
|
Iron:
1
mg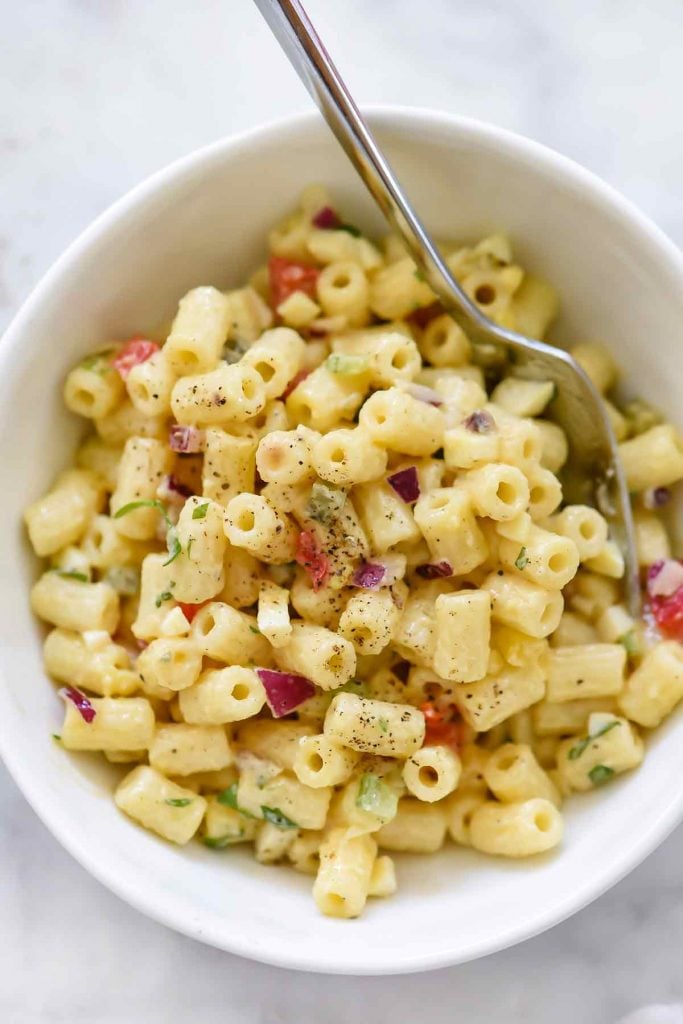 More Potluck Recipe Ideas
We send good emails. Subscribe to FoodieCrush and have each post plus exclusive content only for our subscribers delivered straight to your e-mail box.
Follow me on Instagram, Facebook, Pinterest and Twitter for more FoodieCrush inspiration.
As always, thank you for reading and supporting companies I partner with, which allows me to create more unique content and recipes for you. There may be affiliate links in this post of which I receive a small commission. All opinions are always my own.