After years of practice on the grill, these are my tips for the best easy grilled vegetables, enhancing the natural sweetness of summer's favorite vegetables with each smoky bite.
How to Cook The BEST Grilled Vegetables
Adding more plants to meals is always at the top of my menu planning, and summer's bounty makes it even easier to do. With a hot grill already fired up for grilled chicken, fish, or kebabs, I love slicing up fresh vegetables and tossing them on the grill for a simple mezze-ish platter side. Even more, grilled vegetables are a healthy vegetarian main. Grill then chop them up for this favorite healthy pasta salad (with avocado!), or add them to healthy Mediterranean grain bowls, or turn them into this easy grilled veggie sandwiches slathered with ricotta cheese.
Grilling coaxes out every bit of deep, roasted, sweetness from any plain old veg. The concentrated heat brings out a lush, smoky char to each deliciously addicting bite.
This grilled vegetable recipe is another that isn't so much of a recipe but a method to master, and easy to master it is. These grilled vegetables skip the marinade and the skewers, and there's no need for a grilled vegetable grilling basket either.
Summer eats are meant to be simple, and these grilled vegetables are falling right in line.

Are Grilled Vegetables Healthy?
Antioxidant-rich veggies are good for you, but what about when they're grilled? The question sometimes arises: Can grilling be bad for you?
After digging around the internets, the answer is clear: Grilled vegetables are the best, healthiest way to grill.
According to WebMD, grilled vegetables are safe to grill because risk-potential PAHs and HCAs don't form on grilled fruits and vegetables. Vegetables don't have fat to render and drip onto the grilling element to cause the flare-ups to flap back these compounds back onto the food.
So put your mind at ease, and get grilling your veg.
Should You Soak Veggies Before Grilling
There's no need to soak your veggies before firing up the grill (you don't want them to be soggy or waterlogged), however, some vegetables will perform better on the grill if you briefly boil them first. More on that below!
What Vegetables Are Good for on the Grill
Because vegetables take relatively little time to cook, they're the perfect candidate for cooking on the grill. Veggie options that cook well on the grill are pretty much endless. If you have veggies languishing in the fridge, or don't look so appealing to eat raw, don't throw them out! Grill 'em up instead.
Like roasted vegetables, grilling vegetables highlights their natural sugars to become sweetly smoky and caramelized. If you have a non-veggie liker, try serving them grilled veggies. They're bound to become converted.
The best vegetables for grilling are:
Zucchini — green or yellow work perfectly, cut into ⅓″ to ½″ slices before grilling—cut too thin and they'll fall apart.
Bell peppers, poblano peppers, jalapeño peppers sweet baby peppers, shishito peppers — slice bell peppers and remove seeds of the bell peppers before grilling for easiest eating.
Portabello mushrooms or large brown mushrooms — no need to slice the mushrooms, grill them whole. Start the mushrooms gill side down then finish cap side down to hold in moisture.
Eggplant — grilled is my favorite way to eat eggplant, where it becomes tender, creamy, and smoky
Carrots — grilling quickly softens carrots and makes a pretty tiger-striped presentation
Onions — any variety including green onions become oh so sweet when grilled
Asparagus — fatter asparagus cooks more evenly than skinny and won't fall through the grates
Corn — cooking corn doesn't get easier than this…see my complete grilled corn tutorial here.
Artichokes — these grilled artichokes are my fave
Cauliflower — slice as steaks so they hold together
Broccoli — slice as steaks or grill in florets
Romaine lettuce — this recipe is totally unique but oh so good
Tomatoes — best grilled only if halved or grilled whole, watch them as they tend to explode and leak
5 Tips for the Best Grilled Vegetables
In my effort to keep things simple and my eating clean, I skip the marinade and the skewers and simply slice and season.
Slice the vegetables the same thickness so they cook at the same rate. I use a handheld mandoline to make my zucchini, eggplant, and onion slices perfectly coordinate. I aim for slices that fall somewhere between ⅓″ and ½″ — I can't do math so I eyeball it. Slicing the veggies too thin will  make them too tender as and disintegrate on the grill.
Put oil on the vegetables before grilling. Follow the golden rule of grilling: oil what you grill, not the grill itself. Drizzle the vegetables with olive oil then spread it evenly with your fingers. The mushrooms will absorb the oil quickly so work fast but don't fret too much about them, they'll produce plenty of their own juice.
Season simply. Sprinkle the vegetables somewhat generously with kosher salt and freshly ground black pepper. They will absorb the salt as they cook, enhancing their inherent sweetness. Feel free to add dried herbs such as oregano, mint, tarragon, or basil if you'd like.
Grill 'em up hot. Start your veggies over medium heat, about 350°F to 450°F. Lay long slices and asparagus or carrots crosswise over the grates so they don't fall through. Close the grill lid and cook the vegetables undisturbed, flipping after 3-5 minutes.
Close the lid. Closing the lid of your grill creates the same environment as an oven, baking the vegetables as they lightly char. Check their progress every few minutes and cook until softened and the vegetables have your preferred amount of char.
How Long do You Keep Vegetables on the Grill
Cooking times for grilled vegetables will vary depending on the thickness of your slices. Grill with the lid down to create an oven environment and check the progress of your cooking half-way through cook times.
Artichokes: Boil first for 10-12 minutes then quarter and grill 4-6 minutes
Asparagus: 6-8 minutes
Bell pepper: Whole for 10-12 minutes; halved for 8-10 minutes
Carrot: Boil first for 4-6 minutes, then grill 3-5 minutes
Corn: 15-20 minutes in husk
Eggplant: 5-7 minutes (thicker slices will take longer)
Portabello mushroom: 8-10 minutes
Onion: sliced 8-10 minutes; halved 35-40 minutes
Green onion: 3-4 minutes
Tomato: 6-8 minutes halved
Zucchini: 5-7 minutes
The veggies may look a little dry as they come off the heat, but will begin to sweat and deflate as they rest.
What Goes Well With Grilled Veggies
Because they are just as delicious served warm or at room temperature, grilled veggies are an entertainer's dream dish. Serve the grilled vegetables along any side just as they are, or consider adding a simple topping or sauce, like:
If you make this recipe, please let me know! Leave a 
 rating on this recipe below and leave a comment, take a photo and tag me on Instagram with #foodiecrusheats.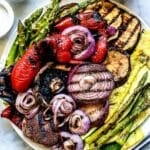 Print
The BEST Easy Grilled Vegetables
Zucchini, bell pepper, onions, asparagus, and mushrooms become sweet and savory when cooked on the grill. With just a brushing of olive oil and sprinkling of salt and pepper, this cooking method is simple and lets the vegetables natural goodness shine through.
Ingredients
2

portabello mushrooms

1

eggplant

1

zucchini

1

yellow squash

1

onion

1

bunch

thick asparagus

1

red bell pepper

2

tablespoons

extra virgin olive oil

1

tablespoon

kosher salt

1

tablespoon

freshly ground black pepper
Instructions
Prepare the grill with clean grates and preheat to medium heat, 350°F to 450°F.

Trim the ends of the eggplant, zucchini, yellow squash and onion and cut into ⅓" to ½" slices. Seed the red bell pepper and cut into quarters. Trim the ends of the asparagus.

Drizzle the vegetables with olive oil and sprinkle evenly with salt and pepper. Grill the vegetables with the lid closed until tender and lightly charred all over, about 8 to 10 minutes for the bell peppers, onion, and mushroom; 5-7 minutes for the yellow squash, zucchini, and eggplant and asparagus.

Serve warm or at room temperature.
Nutrition
Calories:
162
kcal
|
Carbohydrates:
21
g
|
Protein:
6
g
|
Fat:
8
g
|
Saturated Fat:
1
g
|
Sodium:
1760
mg
|
Potassium:
1021
mg
|
Fiber:
9
g
|
Sugar:
12
g
|
Vitamin A:
2005
IU
|
Vitamin C:
65.9
mg
|
Calcium:
65
mg
|
Iron:
3.5
mg
More Grilled Vegetables Recipes
Do you have a favorite grilled veg recipe or tip to share? We'd all love to know! Leave a comment below or email me so I can share.
We send good emails. Subscribe to FoodieCrush and have each post plus exclusive content only for our subscribers delivered straight to your e-mail box.
Follow me on Instagram, Facebook, Pinterest and Twitter for more FoodieCrush inspiration.
As always, thank you for reading and supporting companies I partner with, which allows me to create more unique content and recipes for you. There are affiliate links in this post of which I receive a small commission. All opinions are always my own.