There's nothing more classic to come from the grill than a thick-cut, perfectly cooked bone-in ribeye steak with a secret slather of flavor.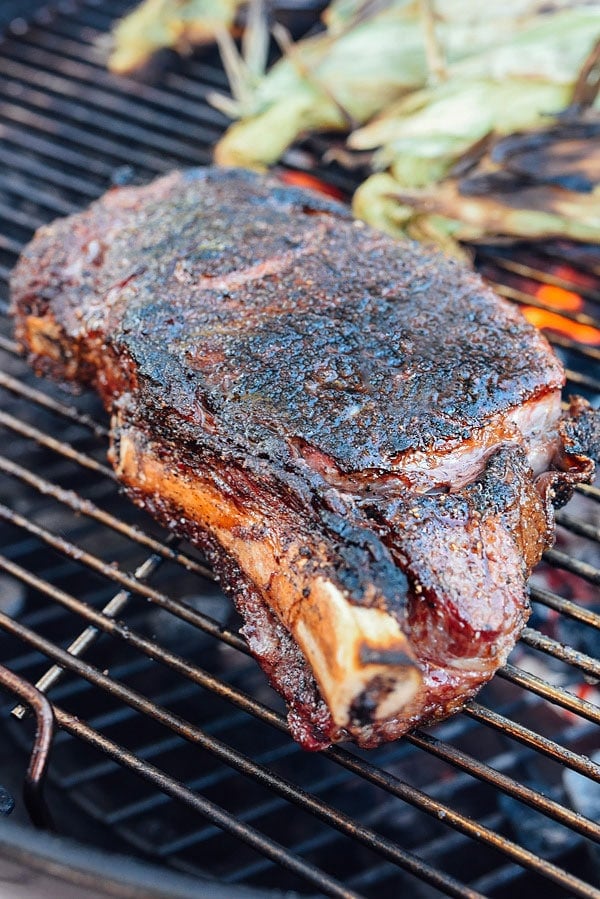 "Which one do you like best? This one. Or this one?"
I put my family through this photo editing process at least once a week. But given that this is 100% my husband's recipe/passion/craving-every-single-week, consulting him on which photo to lead this post was part of the process.
"Definitely the one on the grill," he replied. Really? But it's not on a plate. It's not all styled out. It's not my usual style of pic.
"Exactly. It's a big, beautiful ribeye grilled to perfection on a grill. Isn't that what you want to show?"
Yes. Yes it is. Why do I always overthink it?
This grilled steak is the epitome of summer. Big. Juicy. And it serves a crowd. Or if you're my husband, serves enough for dinner and leaves some for a breakfast burrito in the morning.
He's smart that way.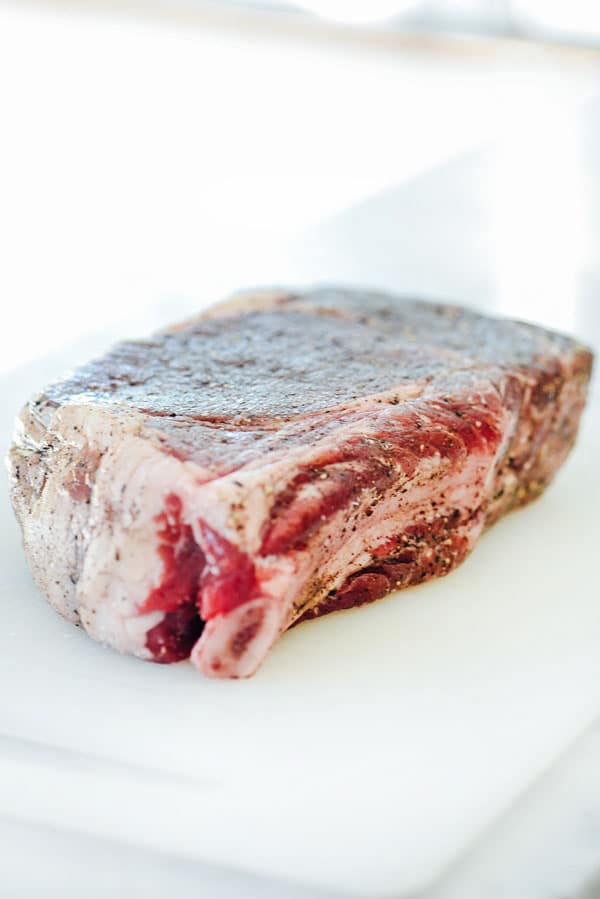 Ribeyes are my man's go-to steak. They're rich. They're buttery. And it's all thanks to serious ribbons of marbeling through the beef to create the ultimate decadence of any steak you can slice a knife through.
My husband moved his killer indoor steak-making-technique outdoors with this ribeye. And there are several factors that come into play.
About the recipe
While not inexpensive, a rib eye steak's flavor is worth the price. Always choose a bone-in steak. The bone adds flavor to the meat, and a thicker steak will always produce a meatier, more tender and flavorful steak. Sometimes he'll choose an aged steak, sometimes a prime. Either way, it's more about HOW he cooks than WHAT he cooks.
Let the ribeye come to room temperature before grilling. It allows the steak to come to an even temperature all at once for a perfectly cooked steak.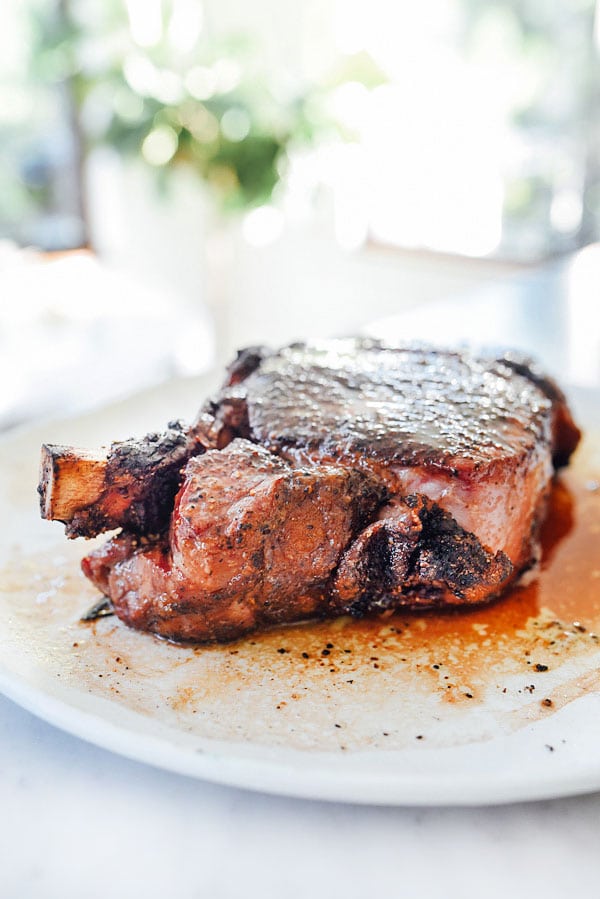 Contrary to what some may think, steaks need only a healthy dose of kosher salt and freshly ground pepper. The simplest seasonings hold the key and underseasoning is one of the most common mistakes a home cook can make.
Cook your steak on a hot grill, flipping occasionally to create an exterior sear until a thermometer (this one is our favorite) registers 130–135º for medium rare and 135–140º for medium. Be sure to allow the steak to rest for about 10 minutes after grilling, and before slicing, to seal in the juices.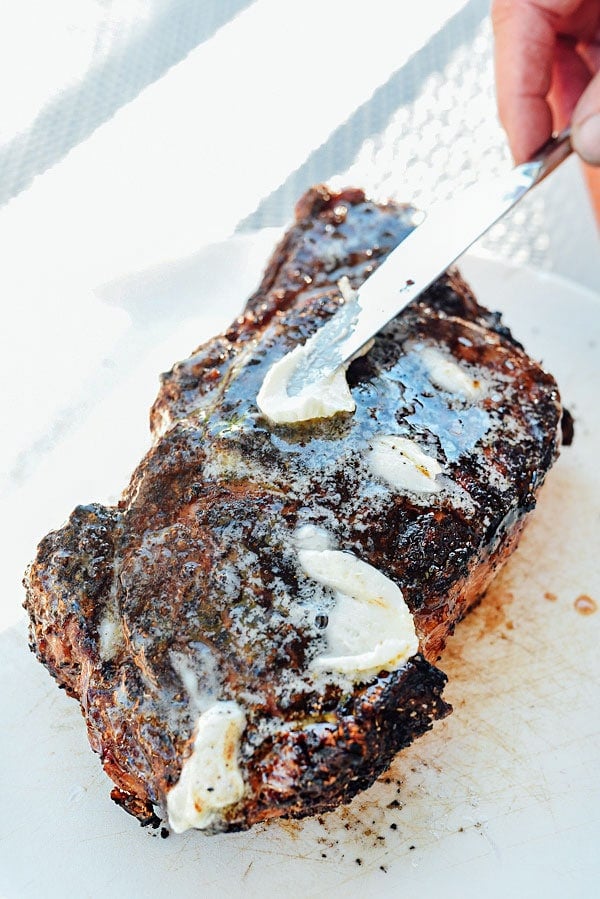 And here comes the juicy secret…
After cooking, my husband slathers a tablespoon or two of butter to the steak to add another layer of juicy flavor and fat for the ultimate bite. The melted butter seeps into the meat and sends the point home that this is one lip-smacking steak.
A thick steak like this one will provide more than a one-person portion. Slice the steak thinly and serve at the table with sautéed mushrooms and the steak's own juices if desired.
If you make this recipe, please let me know! Leave a comment below or take a photo and tag me on Instagram with #foodiecrusheats.
How to Grill the Best Ribeye Steak
There's nothing more classic to come from the grill than a thick-cut, perfectly cooked ribeye steak.
Ingredients
24

ounce

bone-in ribeye steak

kosher salt

freshly ground black pepper

2

tablespoons

unsalted butter
Instructions
Sprinkle the steak liberally kosher salt and freshly ground black pepper, making sure all sides of the steak are covered. Wrap in plastic wrap and place in the refrigerator for 12 hours or overnight.

Remove the steak from the fridge and allow to come to room temperature before grilling.

Bring a grill or charcoals to high heat and add the steak to the grates. Grill for about 10 minutes per side, rotating every few minutes to achieve grill marks. Move the steak to a cooler part of the grill (or if using gas turn off one side) and cook for 20-25 minutes or until the steak registers 135 degrees F for medium rare, turning occasionally as it cooks.

Remove from the grill to a platter and slather with butter. Tent the steak with aluminum foil and let rest for 10 minutes. Slice and serve with sautéed mushrooms if desired.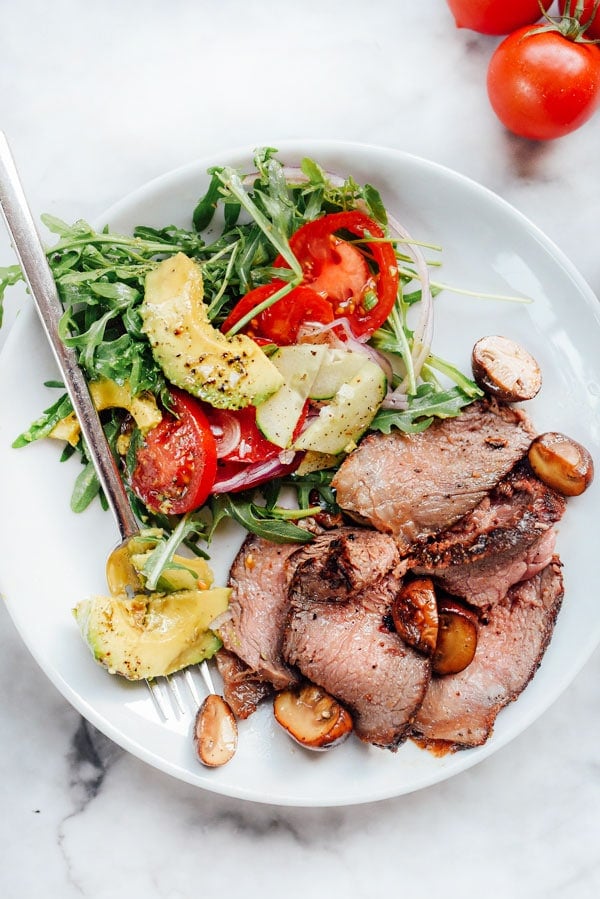 Because There Might Be Leftovers
This is one meaty portion, and makes plenty to cook once and enjoy twice. Here are a few ideas on how to extend your steak love through the rest of the week.
Steak and Blue Cheese Pasta
Blue cheese is whisked into a light sauce to velvety coat every carb lovers favorite pasta.
Get the recipe | Port and Fin
French Dip Sandwiches by Ree
Ree shows how to make her own ribeye juicy and delish, but you can certainly use leftovers in these sandwiches too.
Get the recipe | The Pioneer Woman Cooks
Grilled Steak Lettuce Tacos
Carb free lettuce subs in for tortillas and shells for a simple take on these easy to make Mexican classic.
Get the recipe | Skinnytaste
As always, thank you for reading and for supporting companies I partner with, which allows me to create more unique content and recipes for you. All opinions are always my own.  
Are you following me on Instagram, Twitter, Facebook and Pinterest? 
Thanks for reading and subscribe to FoodieCrush to have each post delivered straight to your e-mail box.
SIGN UP FOR FREE!
THANK YOU FOR VISITING FOODIECRUSH.COM

Subscribe to the FoodieCrush email newsletter and have every new post plus exclusive content delivered straight to your email box,
FOR FREE!