This easy, tangy pasta salad mixes traditional macaroni salad with Mediterranean flavors to create a new family favorite potluck salad.
Common etiquette rules that if you're invited to a friendly BBQ, you offer to bring something to add to the pot.
So when I ask the big question, I often hear, "Sure that would be great. How about a side dish?"
Many hosts think they're doing you a favor by offering the wide berth of side dish options. But this simple phrase can throw some self-respecting cooks into a triple gainer upside down axel with a spin.
Bringing a "little something" to a barbecue or potluck shouldn't be that hard, but the vast spectrum of "side dish" gets some of us sideways.
But it doesn't have to be like that at all…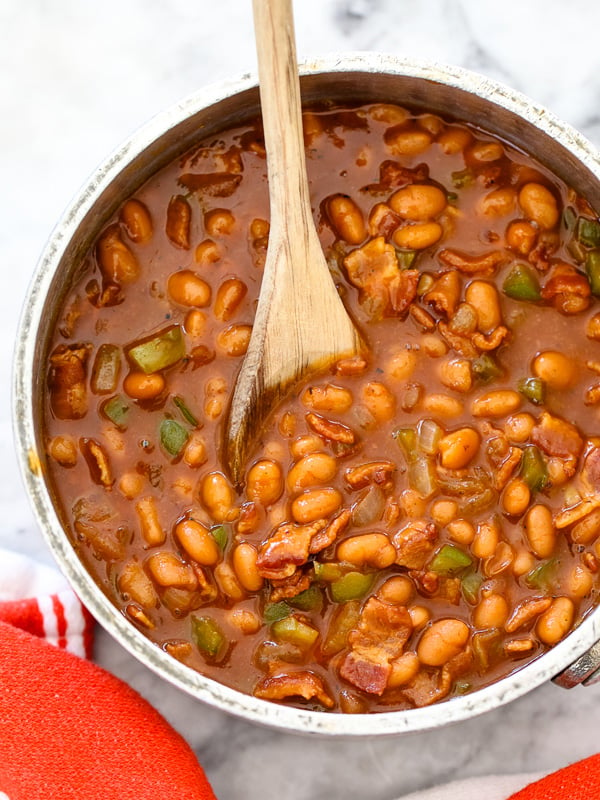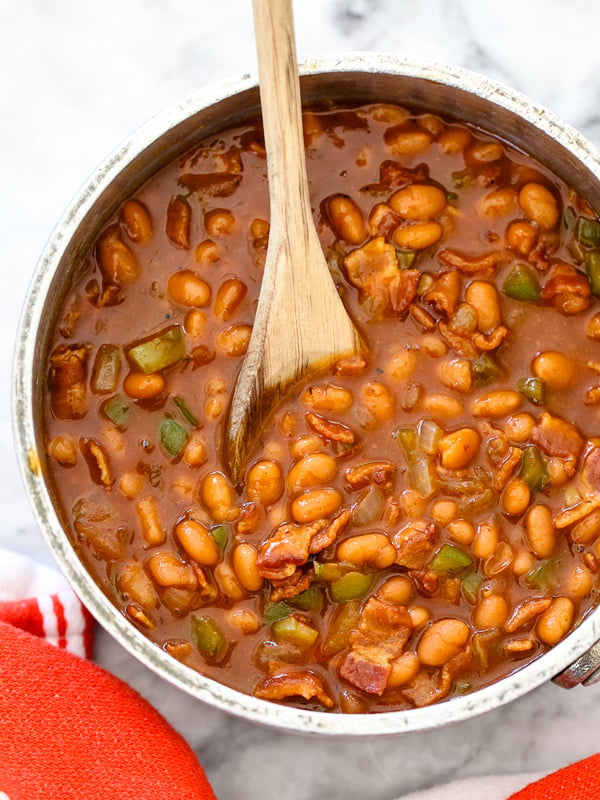 Quinoa? Hot? Cold? Vegan? Gluten-free? Spicy? Not too spicy and no nuts for the 3 year old with allergies? Options, options, options!!
Let's keep it easy and go with…
My mom's potato salad that EVERYONE loves.
To that I say go basic. Take your little monopoly man and just move on back to start.
Although I was never a fan of macaroni salad as a child—it too often had an odd metallic taste, most likely due to being of the mass-produced, store-bought variety. I've now come to respect it as an adult. I even like crave it.
And this recipe that I came up with, I love. My neighbors who we BBQ with ask for it every time. My man said it's the best macaroni salad he's ever had—and the boy's had himself some slammin' mac salad over the years.
So my well-mannered advice? Go easy, go basic and go macaroni.
About the Recipe
This mac salad ups the traditional ante by adding Italian flavors of smoked mozzarella, pepperoncini, capers and prosciutto. Smoked mozzarella can be found in the specialty deli case of most grocery stores. It adds a unique bite to this salad but if you can't find it, go ahead and use mozzarella bocconcini balls instead.
The mayo is cut with a spunky dose of buttermilk, pepperoncini juice and red wine vinegar to give a coating of deliciously tart, creamy dressing.
If you make this recipe, please let me know! Leave a comment below or take a photo and tag me on Instagram with #foodiecrusheats.
Print
Macaroni Salad with Smoked Mozzarella and Proscuitto
This tangy pasta salad mixes traditional macaroni salad with Mediterranean flavors to create a new family favorite potluck salad.
Ingredients
1 16-

ounce

package medium shell macaroni

½

cup

red onion

, chopped

1 ½

cups

celery

, chopped (about 3 ribs)

½

red bell pepper

, seeded and chopped

1

cup

pepperoncini

, thinly sliced

1

cup

prosciutto

, sliced

½

pound

smoked mozzarella

, sliced in ¼-inch chunks

3

tablespoon

capers

, drained

½

cup

Italian flat leaf parsley

, chopped

1 ½

cup

mayonnaise

½

cup

buttermilk

, low-fat if preferred

¼

cup

pepperoncini juice

, or more to taste

1

tablespoon

red wine vinegar

1

teaspoon

sugar

1

teaspoon

salt

1 ½

teaspoon

pepper
Instructions
Bring a large pot of water to boil. Add macaroni and boil according to package directions until al dente. Drain and rinse with cold water. In a large bowl, gently combine pasta and next 8 ingredients. In a separate bowl, mix mayonnaise, buttermilk, peperoncini juice, wine vinegar, sugar and salt and pepper. Taste for sweetness and saltiness and add more to your liking. Add mayo mixture to pasta mixture and gently combine. Add more salt and pepper to taste. Refrigerate until ready to serve.
Creamy Pasta Salads to Add to the Potluck List
And now for few more options to add to your BBQ repertoire.
House smoked salmon is the star thanks to Cecilia's smoking' skillz in One Vanilla Bean's Smoked Salmon Pasta Salad. Based on her favorite recipe from Whole Foods, this homemade version showcases just 10 ingredients to create a saucy but simple side salad.
One of my favorite summer dinners is thick cut bacon, crisp iceberg lettuce and tomato still warm from the garden on toasted and mayo'ed old school white bread. A classic BLT sandwich. So when I came across Buns In My Oven's BLT Macaroni Salad recipe it looked like a must try. And I 100% agree with Karly when she says, "Macaroni salad just screams summer!" And so does BLT.
The basic mac salad. Perfect. The Luna Cafe's Old-Fashioned Creamy Macaroni Salad combines crunchy celery and red bell pepper and chunky hard boiled eggs, sweetly soured dill pickles and sprinkles it all with sweet peas. This tangy salad makes enough for a crowd, but you may want to stash a take-away to stash for midnight munchies.
As always, thank you for reading and for supporting companies I partner with, which allows me to create more unique content and recipes for you. All opinions are always my own.  
Are you following me on Instagram, Twitter, Facebook and Pinterest? 
Thanks for reading and subscribe to FoodieCrush to have each post delivered straight to your e-mail box.