Throw a winner of a chicken dinner together on the fly with these 25 healthy recipes!
Most likely, say…7 times out of ten, when someone in the family asks, "What's for dinner?" the phrase, "Winner, winner, chicken dinner," is the saucy reply.
The first time I heard "winner, winner, chicken dinner" was from my sister-in-law at one of our various family functions. I can't say it was even about dinner, chicken or anything to shout out loud about.
But where'd the phrase come from? I've heard it in a myriad of situations but Urban Dictionary says this:
"Years ago every Las Vegas casino had a 3 piece chicken dinner with potato and veggie for $1.79. A standard bet back then was $2.00, hence when you won a bet you had enough for a chicken dinner. So now you know the rest of the story."
That high stakes Vegas chicken dinner was most likely deep fried and served with an extremely boring medley of frozen veggies consisting of diced carrots, peas and beans that always needed more butter, more salt and please, can someone pass the flavor?? Not much to shake the dice for there.
Man, have we come a long way.
25 Chicken Meals That Are a Sure Bet
Below find a bevy of healthified, lighter chicken main meals that you can bet will beat the odds of the wonderment of what should be on the dinner table, every single time.
Chicken. It's what's for dinner, and makes everyone a winner.
Skinny Herbed Pasta Alfredo with Chicken and Broccoli | Yes to Yolks
 Paprika Chicken and Spinach with White Wine Butter Thyme Sauce | The Kitchen Paper
Skinny Chicken and Vegetable Pot Pie with Phyllo Crust | Cooking for Keeps
One Skillet Chicken Tortellini | Lovely Little Kitchen

Red Curry Rubbed Thai Chicken | Feasting at Home
Greek Chicken Meatballs | Foxes Love Lemons
Chicken with Honey-Beer Sauce | So How's It Taste?
Cashew Chicken Satay with Carrot and Coriander Salad | From the Larder
Baked Chicken Parmesan | Skinnytaste
Healthy Cheesy Chicken Broccoli Rice Casserole | Well Plated by Erin
 Tex-Mex Chicken and Quinoa Casserole with Lime Crema and Pico de Gallo | Bites of Bri
Greek Chicken Souvlaki | Lemon and Olives
Skinny Grilled Buffalo Chicken Salad and Avocado Ranch | The Skinny Fork
20 Minute Light Orange Chicken | Closet Cooking
Healthy Chicken Tortilla Soup | Aggie's Kitchen
Oven Roasted Chicken Fajitas | Rachel Schultz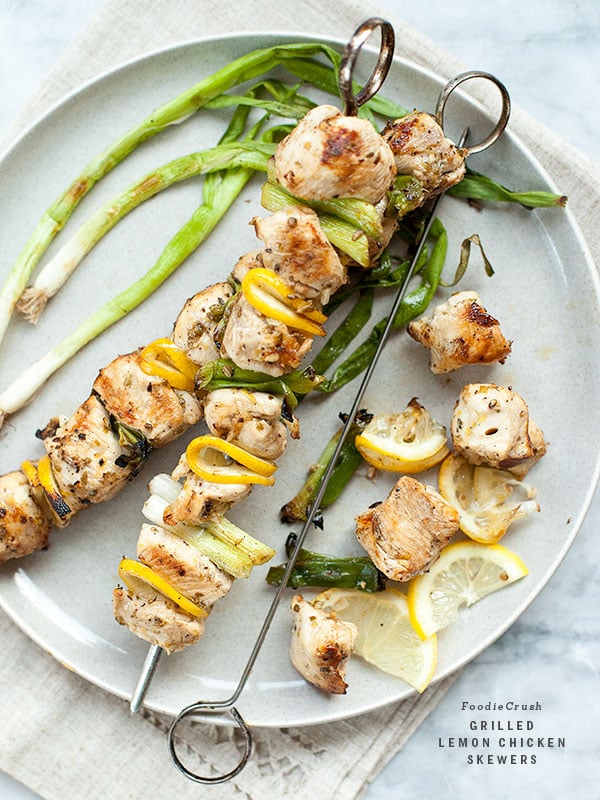 Grilled Lemon Chicken Skewers | FoodieCrush
Jamaican Jerk Chicken Tacos | Creme de la Crumb
Sriracha Lime Chicken Chopped Salad | Lexi's Clean Kitchen
Meyer Lemon and Garlic Roast Chicken |  The View from Grand Island
Lighter Sesame Chicken | Iowa Girl Eats
Crispy Baked Rosemary Lemon Chicken Thighs | Peachy Palate
Garlic-Yogurt Baked Chicken | Diethood
Healthy Chicken Piccata | Healthy Seasonal Recipes
One-Pot Chicken Casserole | Maya-Kitchenette
Hey, thanks for stopping by and visiting FoodieCrush. Have something to say? I'd love to hear from you. Let me know in the comments below.
Make it a great day and cook something good.
As always, thank you for reading and for supporting companies I partner with, which allows me to create more unique content and recipes for you. All opinions are always my own.  
Are you following me on Instagram, Twitter, Facebook and Pinterest? 
Thanks for reading and  subscribe to FoodieCrush to have each post delivered straight to your e-mail box. 
SaveSave