Chances are you almost always have a pound of ground beef socked away in the freezer for a rainy day. It's a good standby for making tacos, soups, spaghetti, burrito bowls, and more. To get more Sunday meal prep inspiration, check out this list of favorite dinners made with basic hamburger meat, because these are where beef is definitely what's for dinner.
You know how it goes. Weekends are over in the blink of an eye and suddenly you find yourself on a Monday evening with no idea what's for lunch or dinner in the week ahead. You check your pantry and survey your fridge for inventory, but figuring out what to cook can sometimes be just as time consuming or stressful as the cooking itself.
Fret not. You can still have Sunday Funday while doing some simple planning and cooking for the coming week so that come Monday, your future self will thank you when you already have the answer to that nagging question of, "What's for dinner?" That's why it's helpful to have an arsenal of easy, organized recipes at your fingertips—recipes you can make on a Sunday to prep for the coming week.
Enter our new Sunday Meal Prep Series where we'll be sharing 20 recipes you can plan and prep ahead of time for a head start on your week—and show Monday-Friday who's boss.

FREE Meal Plans Delivered Straight to Your Inbox
If you're stumped on ideas of what to make for dinner for the week, sign up for your FREE weekly meal plan and prep list here from my other biz, the Nourished Planner where you'll receive an e-mail with FREE dinner ideas and a prep list each week in your inbox.
And, download this free printable weekly meal planner/to-do list to fill in, tape to the fridge, take to the grocery store, or use for reference next year when you can't remember what the heck were your fave recipes from this one.
You get the idea. Now get cooking!
You can never go wrong with a classic like spaghetti with meat sauce (especially not mom's spaghetti with meat sauce) from FoodieCrush.
This easy beef and quinoa enchilada bake comes together in just one skillet, in 40 minutes, with 5 easy steps. #weeknightwin from The Beach House Kitchen.
Shepherd's Pie is one of our favorite cool weather comfort meals, but it can tend to be a bit heavy. This Paleo version is full of flavor, and is made lighter with a creamy pureed cauliflower topping that's to die for thanks to Heather Christo.
Taking a bite of lasagna is like getting a big hug, and no lasagna is like Mom's from NeighborFood.
30-Minute meals are the stuff crazy weeknights are made of. These Korean beef bowls with veggies are pack a punch! Plus, they're easy, healthy, satisfying from These Carlsbad Cravings.
A piping bowl of chili always hits the spot on a chilly evening. Add a side of freshly-baked cornbread into the mix, and you've got it made, but this skillet chili is topped with cornbread (genius), and we're pretty obsessed from Sally's Baking Addiction.
 We're pretty sure we've never met a taco we didn't like, but we're in love with these beef tacos, cradled in puffy, pillowy tortillas and topped with a quick pico from How Sweet Eats.
Moussaka is the Greek answer to lasagna, and this one, layered with potatoes, eggplant, zucchini, beef, and creamy béchamel will have you saying opa for seconds from Jo Cooks.
A killer homemade sauce makes these enchiladas super authentic, and the 10-minute prep time makes them totally weeknight-friendly from RecipeTin Eats.
Crisp lettuce is the perfect carb-free vehicle for a flavorful Asian beef mixture, and these healthy wraps come together in just 25 minutes from Apple of My Eye.
There are so many different chili recipes we love, but one of our all-time faves is Cincinnati chili, with its special ingredient. If you haven't tried it before, you're in for a real treat, and this slow cooker recipe makes dinners during the week a whole lot easier (plus, it makes good leftovers) from Slow Cooker Gourmet.
You don't have to go to IKEA to get amazing Swedish meatballs. These babies are cooked in a rich and creamy gravy that just might ruin you for all future shopping trips from The Recipe Critic.
The food bowl trend is nothing new, but we're still suckers for recipes like this one, where all of your burrito or taco fixings are conveniently loaded up in one big, delicious bowl. These Mexican fiesta bowls are easy and healthy, plus, they're toped with Fritos and toasted coconut, so what's not to love? from Bev Cooks
When dinner gets whipped up in just 30 minutes and it's all in one pot, you do a happy dance, because you hardly have any dishes to watch, and you also have time to sip on some wine while you watch your favorite show! Beef, seasonings, and marinara all get tossed with penne pasta and topped with mozzarella cheese in this weeknight star from Girl Gone Gourmet.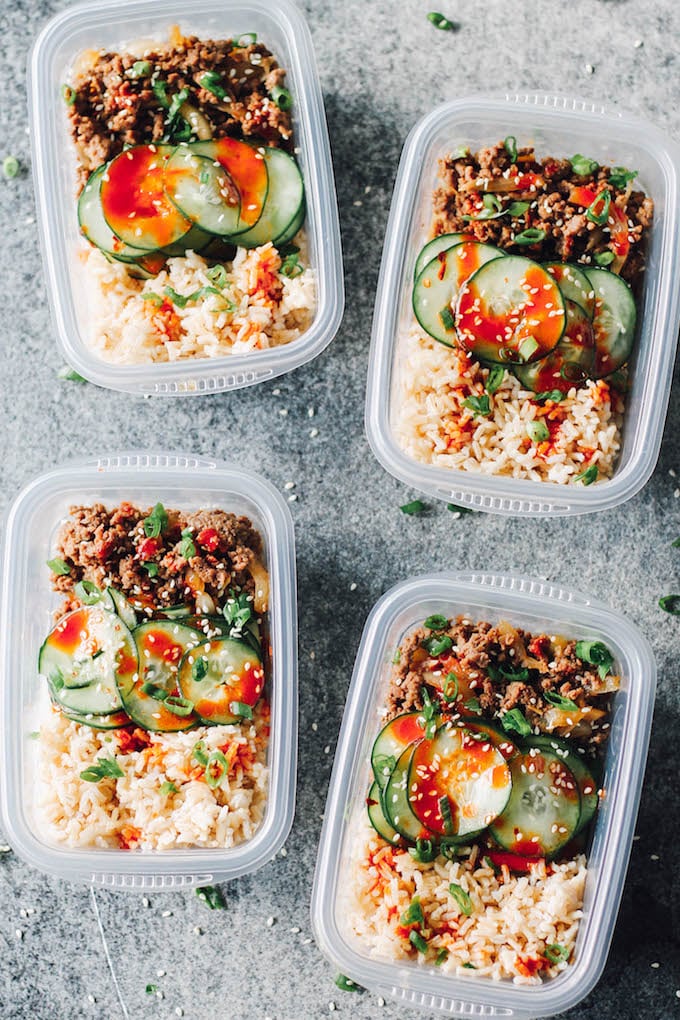 Meal prep's a cinch when all you need is 20 minutes and some good tupperware! These flavor-packed Korean beef bowls feature ground beef cooked in a sweet sesame soy sauce, with brown rice and refreshing cucumbers from Destination Delish.
This comforting soup tastes like something a sweet Italian grandma whipped up. Made with beef, tomatoes, and adorable teeny tiny pasta, it's one your whole family will love, and it's wonderfully versatile too, since it can be made in the slow cooker, Instant Pot, or stove top from Skinnytaste.
Chipotle ain't got nothin' on these burrito bowls with cilantro lime cauliflower rice (and you can have as much guac as you want). #nojudgement from Spices in my DNA
The only thing better than meatballs is meatballs stuffed with CHEESE. Yes, cheese, because anything stuffed with cheese is amazing, especially these meatballs cooked in a homemade tomato sauce from Little Spice Jar.
Raise your hand if you grew up on Hamburger Helper! This healthier, homemade take on the stuff you grew up eating channels those flavors you loved as a kid, without all of the artificial crap. That means guilt-free bites, and plenty of extra veggies thrown in. Plus, it's ready in under 30 minutes! from The Girl on Bloor
It's going to be a good night when stuffed peppers are on the menu for dinner! These colorful beauties are loaded with lean ground beef, veggies, rice, and herbs, and topped with gooey fontina cheese, for a simple recipe you and your family will want in regular rotation from FoodieCrush.
More Meal Planning Ideas for Your Kitchen
31 Days of Healthy Comfort Food Recipes
30 Dinners to Make When There's No Time to Cook
31 Days of Weeknight Chicken Dinners


This recipe round-up was curated  and written by FoodieCrush contributor Hayley Putnam of Seven Day Weekend.
Follow her foodie tastes and other flights of fancy on Pinterest and Instagram.

Thanks for stopping by and visiting FoodieCrush. Have something to say or a recipe round-up request to make your dinnertime meal making easier? I'd love to hear from you. Email me at [email protected] or let me know in the comments below.
As always, thank you for reading and supporting companies I partner with, which allows me to create more unique content and recipes for you. All opinions are always my own.  
Thanks for reading and subscribe to FoodieCrush to have each post delivered straight to your e-mail box.
Craving more life balance, less stress, and better health? Check out my Nourished Planner, the daily planner to help create simplicity and under-schedule your life.
Follow me on Instagram, Facebook, Pinterest and Twitter for more FoodieCrush inspiration.