Almond Breeze Almondmilk Coconutmilk is my secret to a lower calorie instead of canned coconut milk for dressing this flavorful, Thai-inspired noodle salad.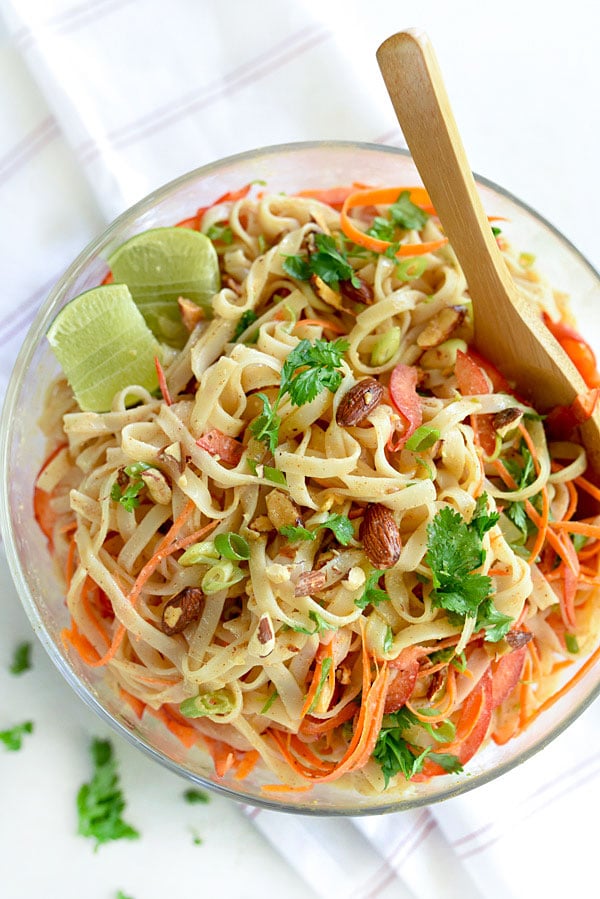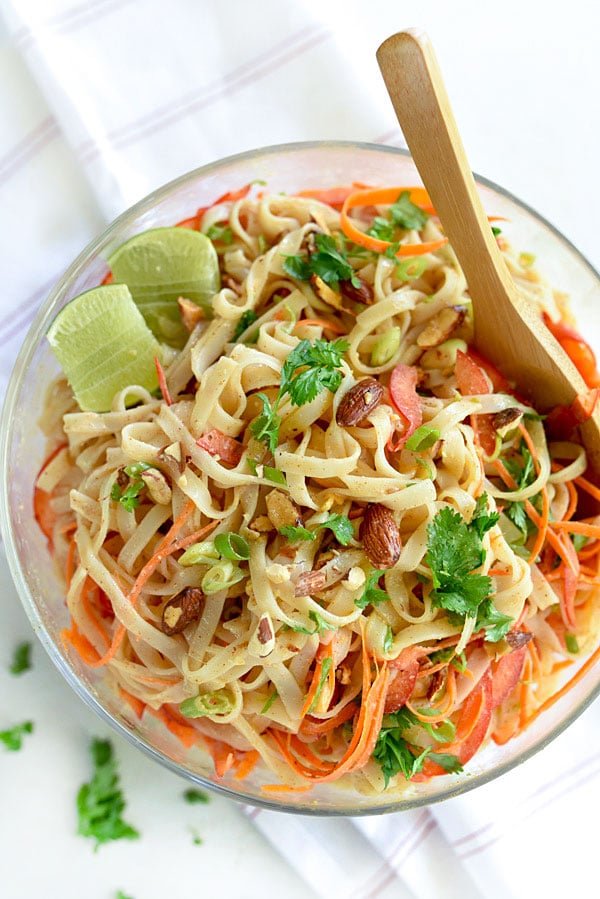 This year I'm partnering with Almond Breeze to create and share recipes using almond milk. This noodle salad recipe takes full advantage of this flavored almond milk's ability to infuse the distinctive Thai taste of coconut milk, but is a lighter alternative that cuts the calories and keeps the taste.
I'm sure I've shared here on the blog that during my sister's senior year of high school she spent the year as a foreign exchange student in Thailand. Growing up in Utah, the geography, culture and certainly the food was worlds away from what she was used to. And she loved every single minute of her year-long immersion there.
When it was time for her to come home, my parents and I traveled to her adopted land to explore her new world. We quickly became fans, too. The beaches. The kindness of the Thai people. The vibrant heart of the culture. And for a food lover  like me, the sumptuous and exotic dishes simply sealed the deal.
Ever since, when I'm craving dishes with a balance of spicy and sweet, Thai flavors are at my cooking epicenter. When you search my recipe archives it's proof in the pudding, the Thai pudding so to speak. Hey, now! There's a recipe idea I haven't tried out yet…
About the Recipe
With a mix of sweet, savory and a hit of heat, this Thai noodle salad is one of my favorites and works equally well as a vegetarian main (add in chicken or shrimp if you're a protein lover) or as a potluck side dish. The ingredient list is pretty standard to Thai cooking. Ginger. Garlic. Lime juice. Fish sauce. Ahhhh, spicy chili sauce or Sambal Oelek.
Where I shake things up is in subbing Almond Breeze Almondmilk Coconutmilk Original, clocking in at 60 calories per cup, for canned coconut milk that weighs in at 360 calories per cup. I have to admit, I was pleasantly surprised the first time I tried Almond Breeze Coconutmilk, as I was initially unsure of just how much coconut flavor could be imparted into almond milk. But it totally works.
I added another variation to the Thai nutty layer of flavor by making my own almond butter to deliver that nutty taste commonly found in Thai cooking, and to give body to the almond milk dressing. It's totally simple to make your own almond butter. I took a can of roasted, salted whole almonds (Blue Diamond, natch) and whirred them in my food processor for about 5 minutes. And, done.
Thai noodle salad recipes call for a variety of different types of noodles: glass noodles, rice noodles and bean thread noodles just to name a few. I used straight cut pad thai noodles that I found in my Kroger grocery store (sweet! I skipped the extra trip to the Asian market) but if you'd like to use a fettuccine noodle, that would work well too. Simply break the fettuccine in half before cooking.
If using pad thai or another rice noodle, be sure to cook the noodles JUST until al denté and rinse them before dressing. The pad thai noodles made from rice absorb a lot of the sauce and can create a soggy salad if you overcook the noodle. You'll want all that flavor so if you feel like you're over dressing the salad, you're not.
I like to slice my veggies really thin, so I used my OXO hand-held mandoline for the red peppers and a peeler for my carrots. That way the veggies don't have too much crunch, but just the right texture when they meld with the noodles.
If you make this recipe, please let me know! Leave a comment below or take a photo and tag me on Instagram or Twitter with #foodiecrusheats.  
Print
Thai Coconut Noodle Salad
Almond Breeze Almondmilk Coconutmilk is my secret to a lower calorie option to canned coconut milk for dressing this flavorful, Thai-inspired noodle salad.
Ingredients
1

pound

pad thai noodles

, straight-cut rice noodles

1 6-

ounce

can roasted and salted almonds

, about 1 cup, plus ⅓ cup almonds, chopped, for garnish

1

cup

Almond Breeze Almondmilk Coconutmilk Original

3

tablespoons

fish sauce

2

tablespoons

brown sugar

2

cloves

garlic

, pressed or finely minced

1

teaspoon

garlic chili sauce

½

inch

knob of ginger

, peeled and grated, about 1 tablespoon

½

lime

, juiced

4

green onions

, chopped

2

medium carrots

, peeled and thinly slice

1

red bell pepper

, thinly sliced

¼

cup

chopped cilantro

more lime for garnish
Instructions
Bring a large pot of water to a boil and cook the noodles just until al dente, about 4-5 minutes. Drain and rinse with cold water, separating the noodles with your hands. Set aside in a large bowl.

Place 1 cup of the roasted almonds in the bowl of a food processor and blend for 5 minutes, scraping down the sides and the bottom of the bowl half way through. When smooth, add the Almond Breeze Almondmilk Coconutmilk Original, fish sauce, brown sugar, garlic, chili sauce, ginger and lime juice and whiz to combine. Add half of the dressing to the noodles and stir to coat. Add the green onion, carrots and red bell pepper to the noodles, add the rest of the dressing and mix. Garnish with the reserved chopped almonds and cilantro and refrigerate until ready to serve at room temperature.
Have a great day, and make something good.

This post is part of a partnered series with Almond Breeze. As always, thank you for reading and for supporting companies I partner with, which allows me to create more unique content and recipes for you. All opinions are always my own.  
Are you following me on Instagram, Twitter, Facebook and Pinterest? 
Thanks for reading and subscribe to FoodieCrush to have each post delivered straight to your e-mail box.