These flavorful skewers of thinly sliced marinated chicken need just a few minutes on the grill to absorb that wonderful smoky, charcoaled flavor, and are ready for dipping in this lightened-up, spicy coconut almond milk with almond butter dipping sauce for a true taste of Asian flavors.
This post is brought to you by Almond Breeze
One of the sights that struck me most while traveling through the streets of Bangkok and throughout Thailand was the abundance of street food and the fact that it was being cooked, right there, on the sidewalks. Men and women crouched down at makeshift grills made of bricks and grill grates, encouraging their charcoal flames and flipping skewers of meat, or chopping fresh veggies for stir fries and dishing out noodles and soups to customers who moments before were simply passing by.
But even more, it was the smells (oh the smells!) of food cooking, and bubbling, and sizzling, around each and every corner, serving snacks (and entire meals) to every walk of life, no matter how rich, or how poor. Southeast Asia isn't necessarily unique in that respect. It seems that street food in every culture serves our most humble cravings. It just seems far more common there.
Naturally, the food memory of one of my favorite snacks during my two visits to Thailand came home with me. Chicken Satay, or Chicken Saté, because depending on the region depends on your spelling of the snack. Either way, this favorite appetizer on a stick is all good. And in this recipe, it's also lightened up with a bit of an almond-y twist. 
Chicken satay is a traditional skewered street food found in Thailand, Indonesia and Malaysia and has become one of the most popular appetizers found on Thai and Indonesian restaurant menus around the world. The love for the skewered chicken is only outdone by the love for the spicy dipping sauce that accompanies each plate of it. And there in lies the rub, because like so many dips and sauces, that's where the hidden calories and fat are found.
So I made a switch up to accommodate my soon to be swimsuit friendly ways. The traditional version of this sauce calls for peanut butter and higher fat coconut milk, and that's where I made my switch. I subbed in creamy almond butter for peanut butter, both comparable in health benefits, except that almond butter is actually 25% higher in monounsaturated fat than peanut butter, the type of fat linked to a reduction in heart disease and better blood sugar control, compared to the same amount of peanut butter. Every little bit counts.
But where the real nutritional savings came to play was substituting Almond Breeze Almondmilk Coconutmilk Original for full fat coconut milk. Almond Breeze almondmilk lends the coconut flavor with just 80 calories in 1 cup and only 7 grams of fat, a far cry from what is found in in regular coconut milk, that averages among brands at 360 calories per cup and 36 grams of fat. Not that I don't love coconut milk, because I do, but it bears repeating that every little bit counts. Plus, Almond Breeze is available in shelf-stable containers I keep in the pantry for convenience sake. 
The chicken is thinly sliced, marinated and then skewered and grilled. Because the chicken is cut thin, the smoky flavor from the grill really comes through in each and every bite. Recipes for the marinade run the gamut, but I've always based mine on a recipe I discovered many moons ago from Nina Simond's cookbook, A Spoonful of Ginger. It's a very simple marinade with just three ingredients: lemongrass, fish sauce and garlic. I switch up the recipe and add low-sodium soy sauce in place of part of the fish sauce for a little more depth of flavor. Be sure to use a fresh bottle of both fish sauce and light soy sauce so your marinade doesn't come out tasting too salty thanks to the characteristics of old ingredients.
I'll let the chicken marinade for as little as 30 minutes if I'm in a hurry, or up to 3 days in the refrigerator. You can use metal or bamboo skewers, just be sure to soak the skewers in water for at least 30 minutes before skewering and grilling so they don't burn.
Lemongrass can be found in the produce section of your grocery store, most often with the small packages of herbs. If you can't find fresh lemongrass, I've used (and mostly prefer) prepared lemongrass that's packaged in a tube in the refrigerated section of the produce aisle, most often next to the already prepared garlic and the like. If you absolutely can't find lemongrass, use grated lemon or lime rind instead.
When grilling the chicken, I always heat the grill upwards of medium high heat. These guys are pretty thin so they'll cook quickly, but you also want to get that smoky char on the outside so a sear is important. The chicken will begin to release from the grill grates once it has seared, and from there, I'll turn the chicken every minute or two so the chicken gets browned evenly all over until it's cooked through to about 155°F internal temperature, that will continue cooking after taking off the grill to 165°F.
Some cooks like basting their chicken with the peanut sauce at this point. I've cooked the satay with this method before, but I find it just makes a mess of the grill and has a tendency to flare up and burn because of the sugar in the sauce. So instead, I rely on the way I ate it in Thailand, with a generous dip into a creamy sauce, this time with my almond coconut milk-flavored almond butter sauce.
It's easy to take this snack and make it a meal. I always serve it with my Fresh and Easy Vietnamese Noodle Salad and sweet and sour Asian cucumbers. So good, and almost like being back on the sidewalk, smelling, and eating, and dipping, and loving each and every bite.
You could also serve these skewers with my Thai Coconut Noodle Salad (leave out the chicken), Asian Ramen Noodle Salad, or Thai Quinoa Salad.
If you make this recipe, please let me know! Leave a comment below or take a photo and tag me on Instagram with #foodiecrusheats.
Print
Chicken Satay with Lighter Almond Dipping Sauce
This recipe can also be made with beef, pork or even tofu or firm vegetables as a vegetarian version. Grill the meats or veggies on high heat to create sear marks on the thin slices then continue to turn and brown the meats or veggies until cooked through.
Ingredients
For the Chicken Satay

2

tablespoons

good quality fish sauce

1

tablespoon

low sodium soy sauce

3

tablespoons

minced lemongrass

2-3

cloves

pressed or minced garlic

, about 1 tablespoon

2

boneless

, skinless chicken breasts

Canola oil

Fresh minced cilantro

Wooden or metal skewers

For the Almond Dipping Sauce

1

cup

Almond Breeze Almondmilk Coconutmilk Original

¾

cup

smooth almond butter

¼

cup

fish sauce

3

tablespoons

minced or grated fresh ginger

3

tablespoons

brown sugar

2

tablespoons

soy sauce

½ to 1

teaspoon

crushed red chile flakes

, to taste
Instructions
In a large bowl, add the fish sauce, soy sauce, lemongrass and garlic and mix well.

Slice the chicken breasts at an angle into thin slices and add them to the bowl with the marinade. Cover with plastic wrap and refrigerate for at least 30 minutes up to 3 days, depending on the freshness of your chicken.

Prepare a clean grill for high heat and brush the grates with a few paper towels dampened with canola oil.

If using, soak wooden skewers in water for 30 minutes. Thread the chicken slices onto the skewers and discard any of the remaining marinade.

To make the dipping sauce, add all of the ingredients to the bowl of a food processor or blender and process until smooth, then transfer to serving bowls.

Place the chicken skewers on the hot grill and cook untouched on high heat for 3-4 minutes each side, or until grill marks appear and the chicken releases from the grates. Turn the chicken and sear for another 2-3 minutes, then turn a few more times until the chicken is cooked through and golden brown on both sides. Sprinkle with cilantro and serve with the almond dipping sauce.
Nutrition
Calories:
212
kcal
|
Carbohydrates:
11
g
|
Protein:
12
g
|
Fat:
15
g
|
Saturated Fat:
1
g
|
Polyunsaturated Fat:
4
g
|
Monounsaturated Fat:
8
g
|
Trans Fat:
1
g
|
Cholesterol:
27
mg
|
Sodium:
1310
mg
|
Potassium:
325
mg
|
Fiber:
3
g
|
Sugar:
6
g
|
Vitamin A:
9
IU
|
Vitamin C:
1
mg
|
Calcium:
134
mg
|
Iron:
1
mg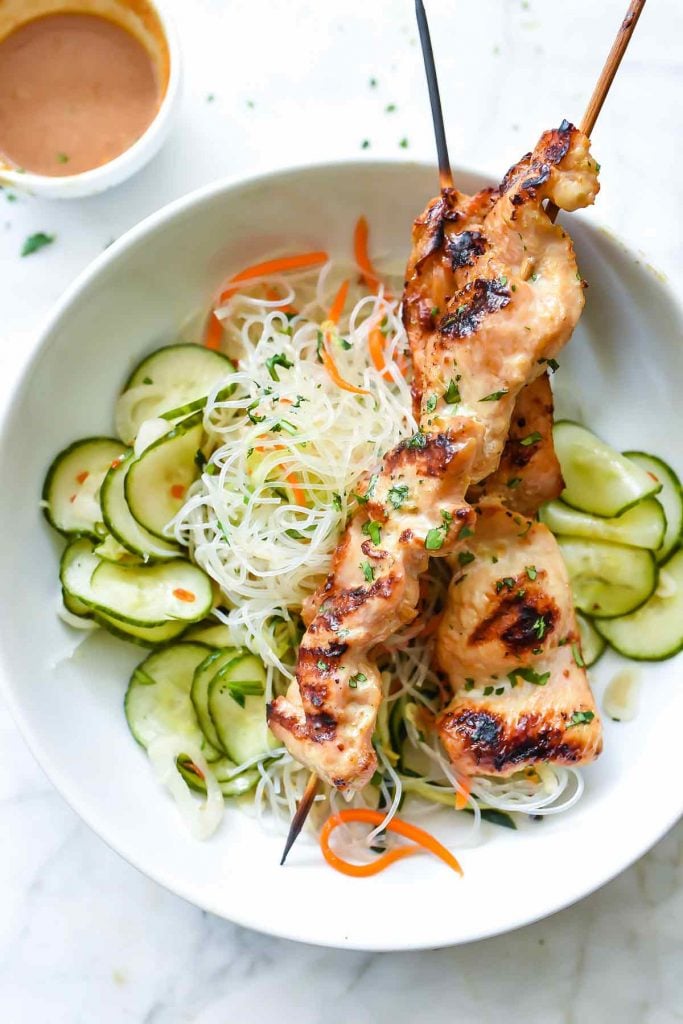 To see more of my recipes made with almond milk, check them out here, including recipes for:
Superfood Salad with Lightened Up Poppyseed Dressing
Cherry Berry and Banana Overnight Oats

This post is part of a partnered series with Blue Diamond Almond Breeze. As always, thank you for reading and supporting companies I partner with, which allows me to create more unique content and recipes for you. All opinions are always my own.  
Are you following me on Instagram,  Twitter, Facebook and Pinterest? 
Thanks for reading and subscribe to FoodieCrush to have each post delivered straight to your e-mail box.