There's no need to go fully vegan or vegetarian to take advantage of the benefits of a plant-based diet. From mains to sides, these 33 plant-based recipes and flexitarian dishes are healthy and delicious, and are a great way to incorporate more veggies into your diet.
The two main reasons we as humans eat are a) for health and b) for taste. Food is what makes life possible, and that much better, and so much more tasty and delicious. Eating for health doesn't have to mean sacrificing all of the things that make food so enjoyable. With so many popular elimination diets out there right now (that often contradict each other), balancing this issue can seem complicated. But it doesn't have to be.
Instead of focusing on what to cut out, I've been keeping it positive by simply incorporating more fresh whole foods and vegetables into my diet. Mediterranean and Asian cuisines are perfect examples of how healthy grains and veggies can be made into some of my favorite and most flavorful dishes.
It's good for the environment! Not to go all Food Inc. on you, but did you know that the meat industry puts out more carbon emissions than the entire travel sector? Yikes!
Eating seasonally also is better for the environment dues to less transport, PLUS you're supporting local sellers.
Eating fresh whole foods and vegetables bypasses preservative-filled foods.
These reasons and so many more are why we should all think about eating more plants, like the plant-forward recipe ideas I'm sharing below. These recipes serve as carb-light, nutrient-heavy lunch and dinner options that are heartier and tastier than your standard salad. Cheers to eating more veggies!
from FoodieCrush
There isn't a better springtime dish than pasta primavera- it's all in the name! This easy one-pot dish is loaded with fresh seasonal veggies and herbs.
from Olive and Mango
Fast and easy, this one-pan Mediterranean style baked cod makes for a simple, healthy dinner during the week. Tender, flaky cod is roasted with a colorful medley of olives, artichokes, and tomatoes, which (bonus, yield some very delicious pan juices).
from FoodieCrush
Spiralized zucchini and quinoa replace rice for a healthier take on one of my family's savory stuffed peppers.
from Cookie and Kate
These satisfying vegetarian enchiladas are stuffed with black beans for protein, broccoli, bell peppers, and spinach, then topped with a delicious homemade red sauce.
from FoodieCrush
Smooth butternut squash puree and shiitake mushrooms lend their flavors for a lighter lasagna.
from Ambitious Kitchen
This 30 minute vegan, veggie-studded stir fry features a homemade stir fry sauce and gets a healthy dose of plant-based protein from chickpeas.
from FoodieCrush
Grilled veggies pair with a creamy, herbed ricotta spread for a melt-in-your-mouth bite.
from Pinch of Yum
This bright green bowl of healthy goodness includes tender-crisp asparagus, peas, and pesto, quinoa, and chicken that requires minimal prep thanks to the crockpot!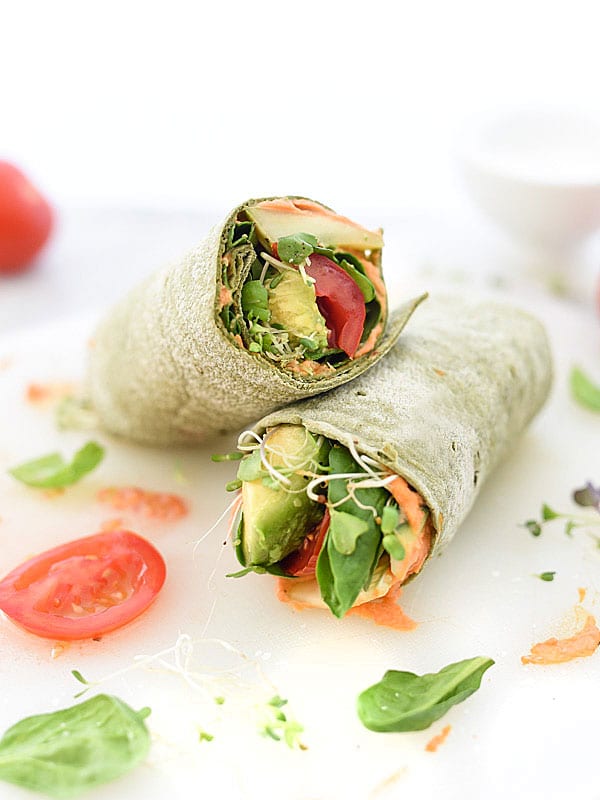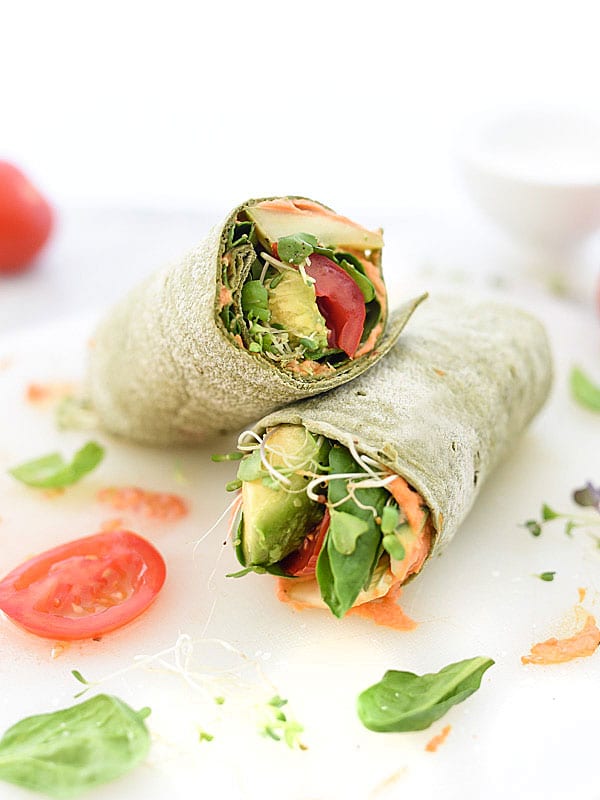 from FoodieCrush
Stuff this wrap full of your favorite crispy veggies and a generous dollop of hummus.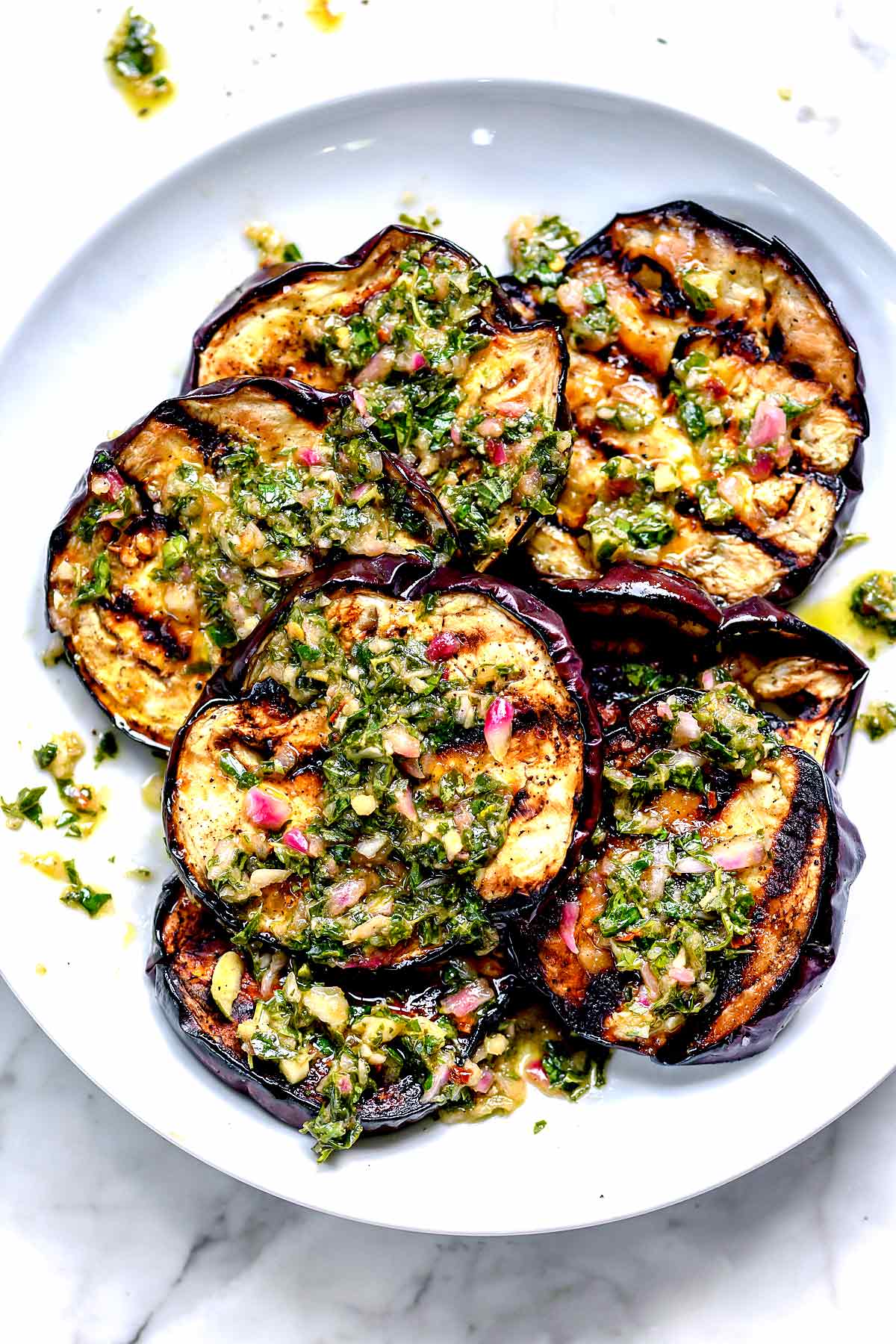 from FoodieCrush
Smoky, sweet eggplant is fired up on the grill and topped with a tangy, garlicky chimichurri for perfectly tender eggplant with just the right bite. This dish can be a side or a main, just as easily.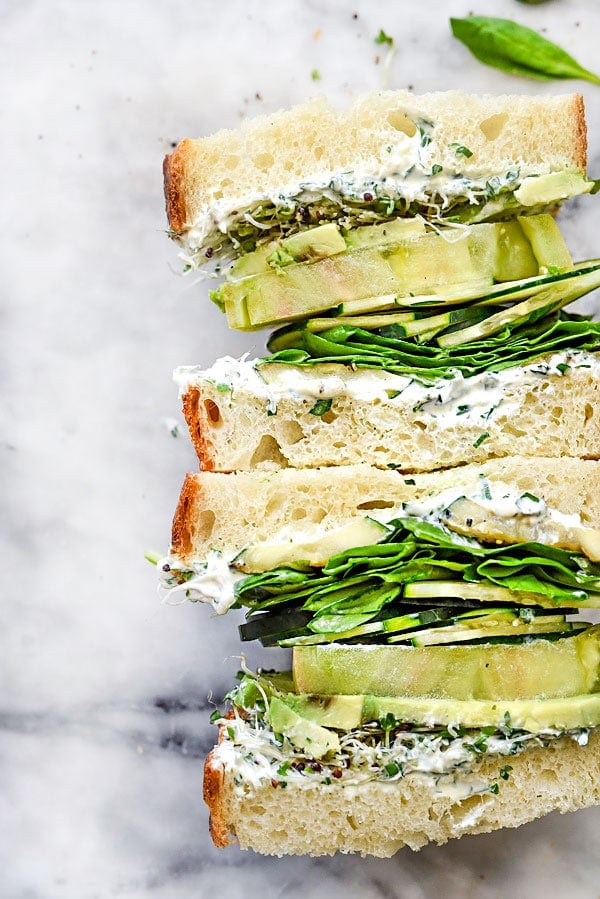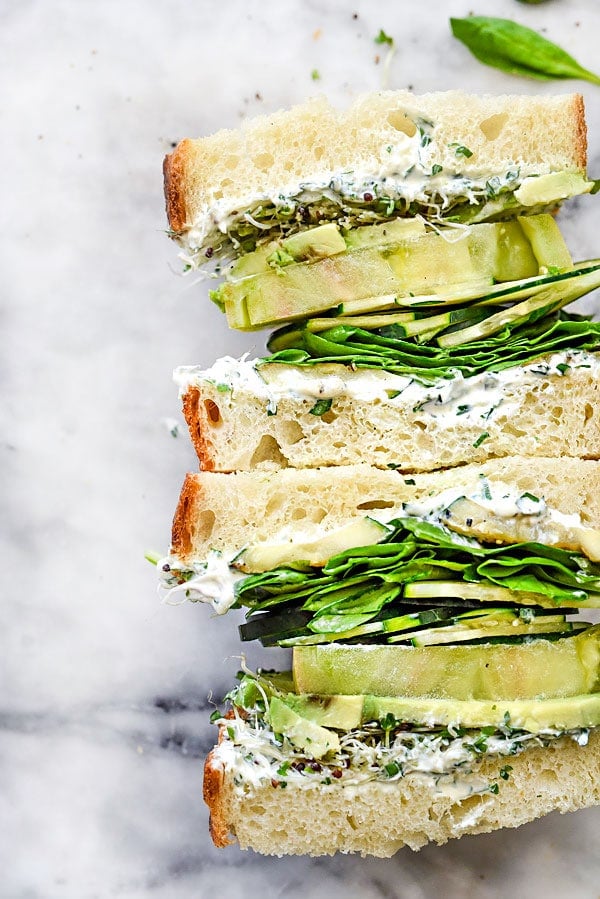 from FoodieCrush
A truly heavenly green goddess, this stacked up sandwich has all the elements of a good deli, and is loaded with greens.
from Platings + Pairings
Quinoa, chickpeas, & veggies topped with a tangy mojo sauce will power you through the day.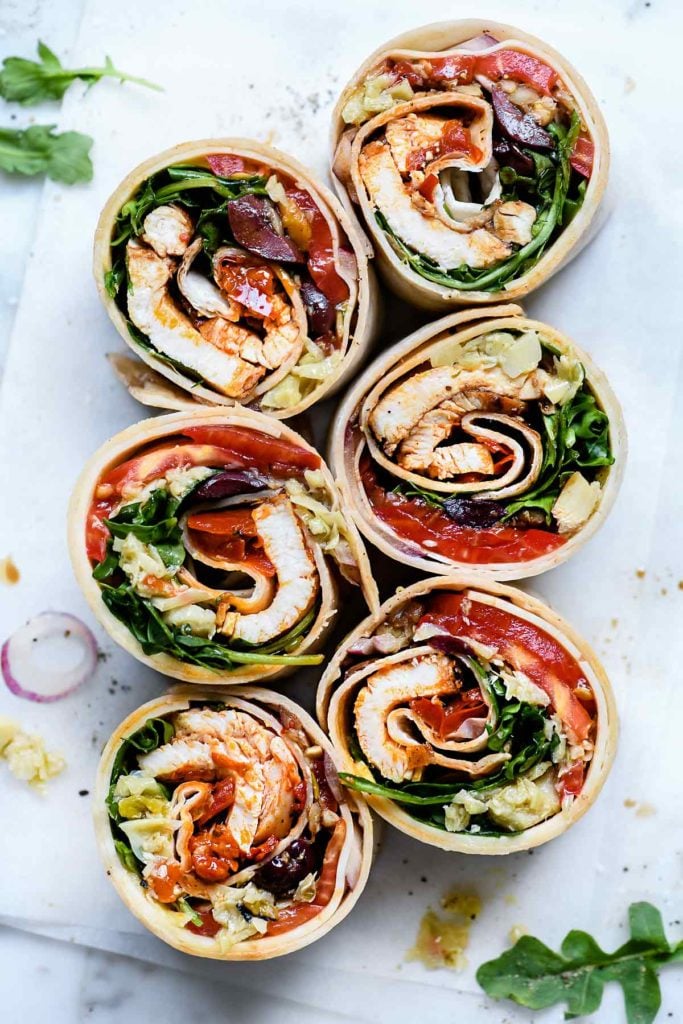 from FoodieCrush
Skip the dry, pre-made pinwheel deli sandwiches found in the grocery store for these wraps loaded with lean chicken and fresh mediterranean veggies, like red onion and kalamata olives.
from Minimalist Baker
The secret to magically crispy tofu isn't lots of oil! This tofu is baked and tossed in an easy, 5-ingredient peanut glaze and served over cauliflower rice with sautéed veggies. It's remarkably crispy, vegan, and gluten-free.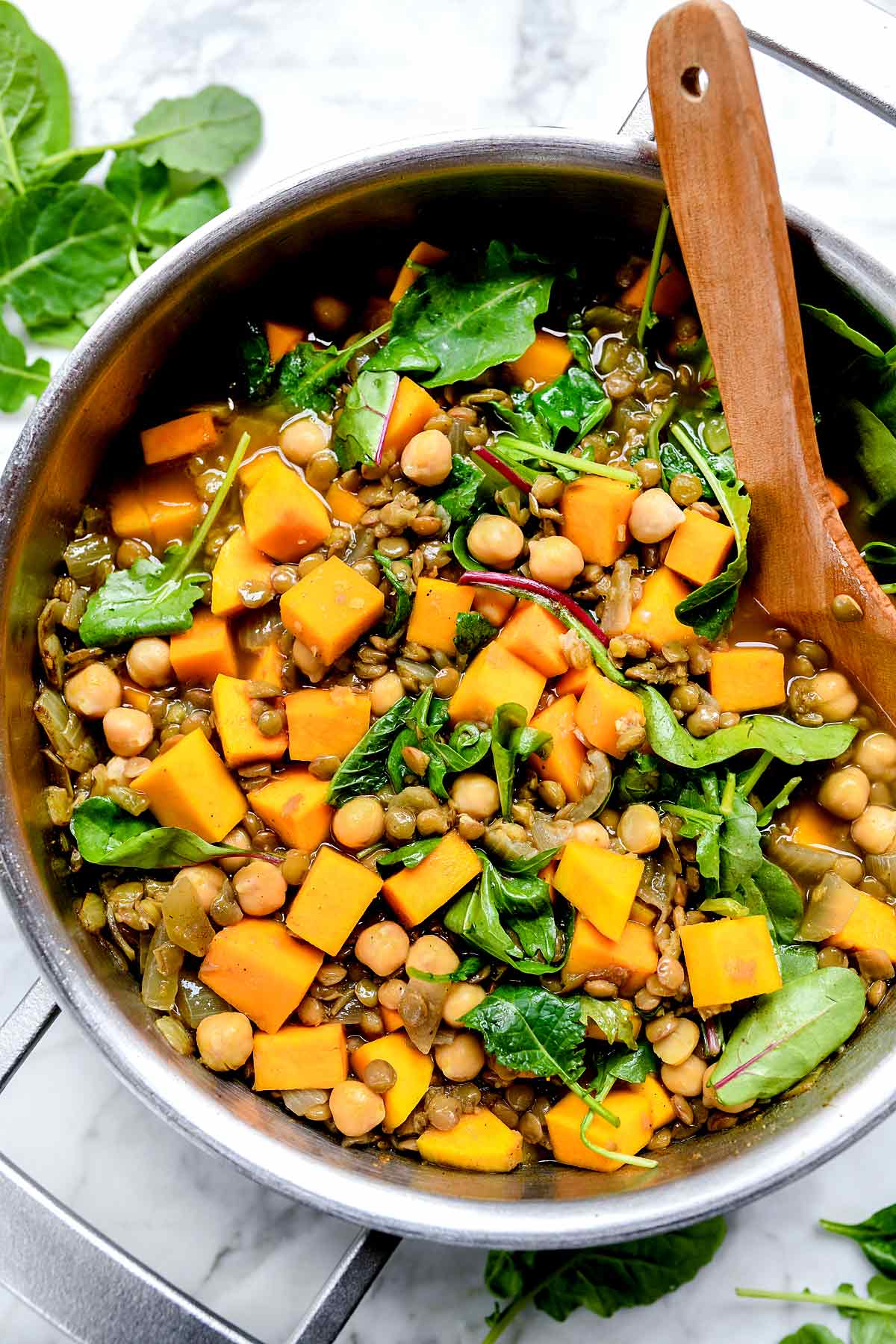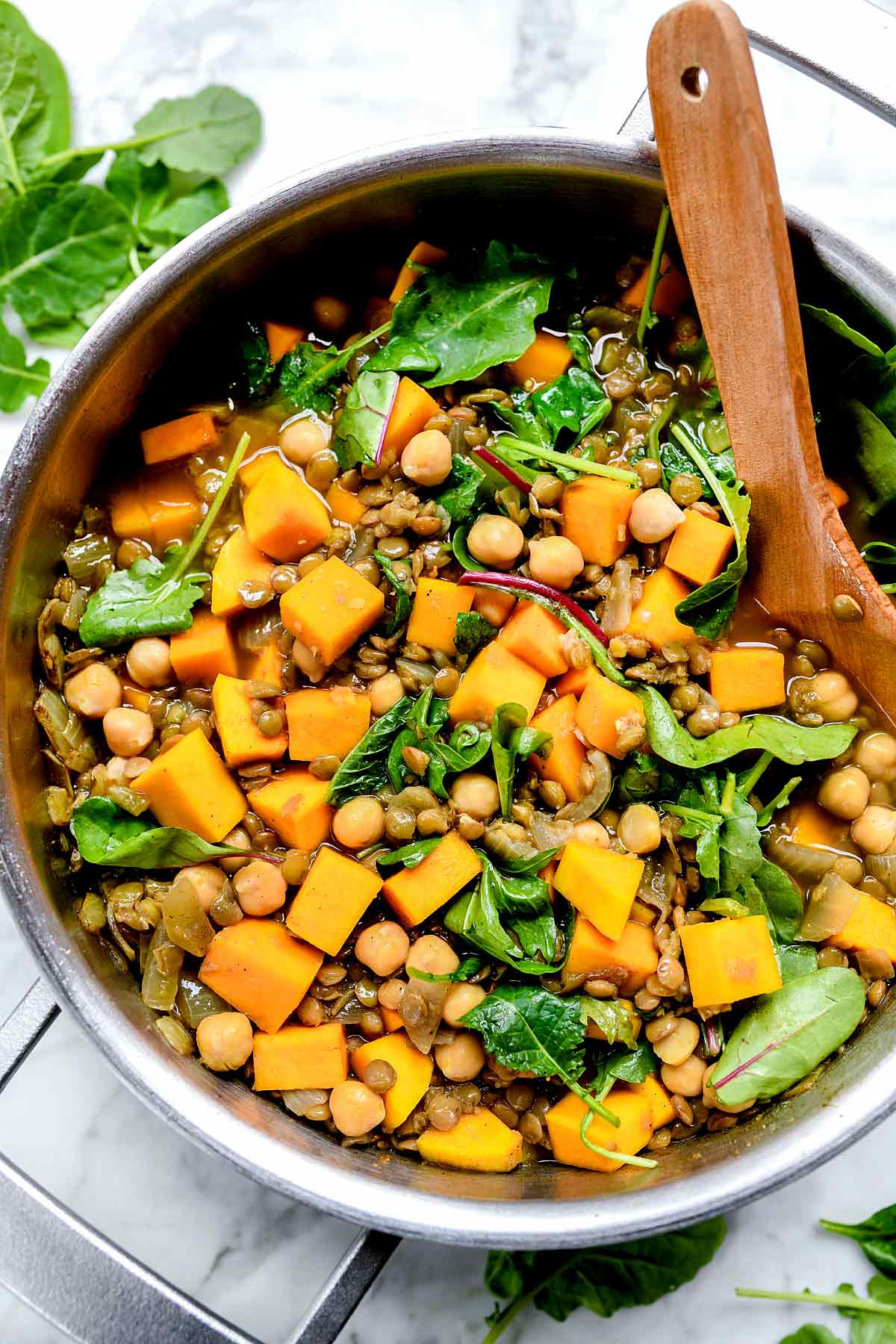 from FoodieCrush
Lentils pack the protein while butternut squash and curry provide creamy, delicious flavor. Top with fresh greens for a meal that checks all the boxes.
from FoodieCrush
This creamy mashed cauliflower with Parmesan and chives is the perfect side for when you're looking for an easy way to incorporate more veggies into your meal.
from FoodieCrush
This colorful bowl is easy to whip together, filling, and packed with all of the mediterranean flavors I love.
from Vikalinka
This vegetarian dish features creamy, comforting orzo pasta studded with roasted butternut squash, nutritious kale, fresh sage, and Parmesan cheese.
from FoodieCrush
Cilantro, heirloom tomatoes, and lime give these protein packed burritos fresh flavors and texture.
from FoodieCrush
Mexican flavored ground beef taco meat fills these stuffed zucchini boats topped with melted cheese and all the taco toppings for an all-in-one, easy dinner. Feel free to sub ground turkey or plant meat (such as Impossible Beef) for the ground beef, if you prefer.
Gimme Some Oven
This Eggplant Parmesan is lightened up a bit with baked (instead of fried) panko-crusted roasted eggplant, and layered with marinara, cheeses and fresh herbs for a super satisfying vegetarian dinner.
from Dishing Out Health
You can make these healthy Greek Shrimp Grain Bowls with zucchini, peppers, and lemon-garlic yogurt in just 30 minutes. They lend themselves well to meal prep or easy weeknight dinners and are full of bright and wonderful Mediterranean flavors.
from Crowded Kitchen
These roasted cauliflower steaks are bursting with amazing savory flavor from a zesty garlic-lemon marinade. Cooking them in the oven lends more flavor and gives them an irresistibly caramelized and crisp exterior with a tender interior. Serve over mashed potatoes or parsnip purée for even more veggies on your plate!
from FoodieCrush
Perfect to meal prep for a quick dinner or lunch on the go, this power bowl is fresh and flavorful.
from Alexandra Cooks
Inspired by cacio e pepe, spaghetti squash is baked and then pulled with a fork to create noodles. It's topped with brothy, garlicky chickpeas and sharp Pecorino for a warm and cozy dish that's hearty and healthy.
from Gather & Feast
These super delicious, savory bowls are perfect for a quick and easy lunch or dinner. Salmon is baked in a homemade teriyaki sauce and served over coconut rice and a mixture of bok choy, Chinese broccoli, and snow peas (but this recipe is easily adaptable to use other greens or veggies, and you could easily swap jasmine rice for cauliflower rice).
from FoodieCrush
Cauliflower is so buttery and pairs so well with basically any other topping, that I almost forget its still a vegetable.
from The Modern Proper
This bright and filling salad is loaded with roasted sweet potatoes, avocado, black beans and kale, and tossed in a creamy lime-cashew-cilantro dressing.
from FoodieCrush
Make the most of your garden with this grilled zucchini dish that is anything but boring.
from FoodieCrush
These easy, healthy quinoa buddha bowls are loaded with a long-lasting rainbow of veggies—sweet potatoes, cauliflower, and broccolini—that are roasted then layered with make ahead/leftover proteins and straight from the pantry quinoa.
from Pinch of Yum
For these insanely delicious tacos, chunks of cauliflower are breaded in a two-ingredient batter, are baked, not fried, then tossed in a hot and tangy buffalo sauce. The cool avocado crema, crunchy shredded cabbage and cilantro are refreshing complements that tie everything together.
from FoodieCrush
Zucchini boats make the perfect vegetable vessel for ground turkey sausage, kalamata olives, sun dried tomatoes, pine nuts, basil, and Parmesan cheese for a Mediterranean spin on everyone's favorite stuffed zucchini recipe.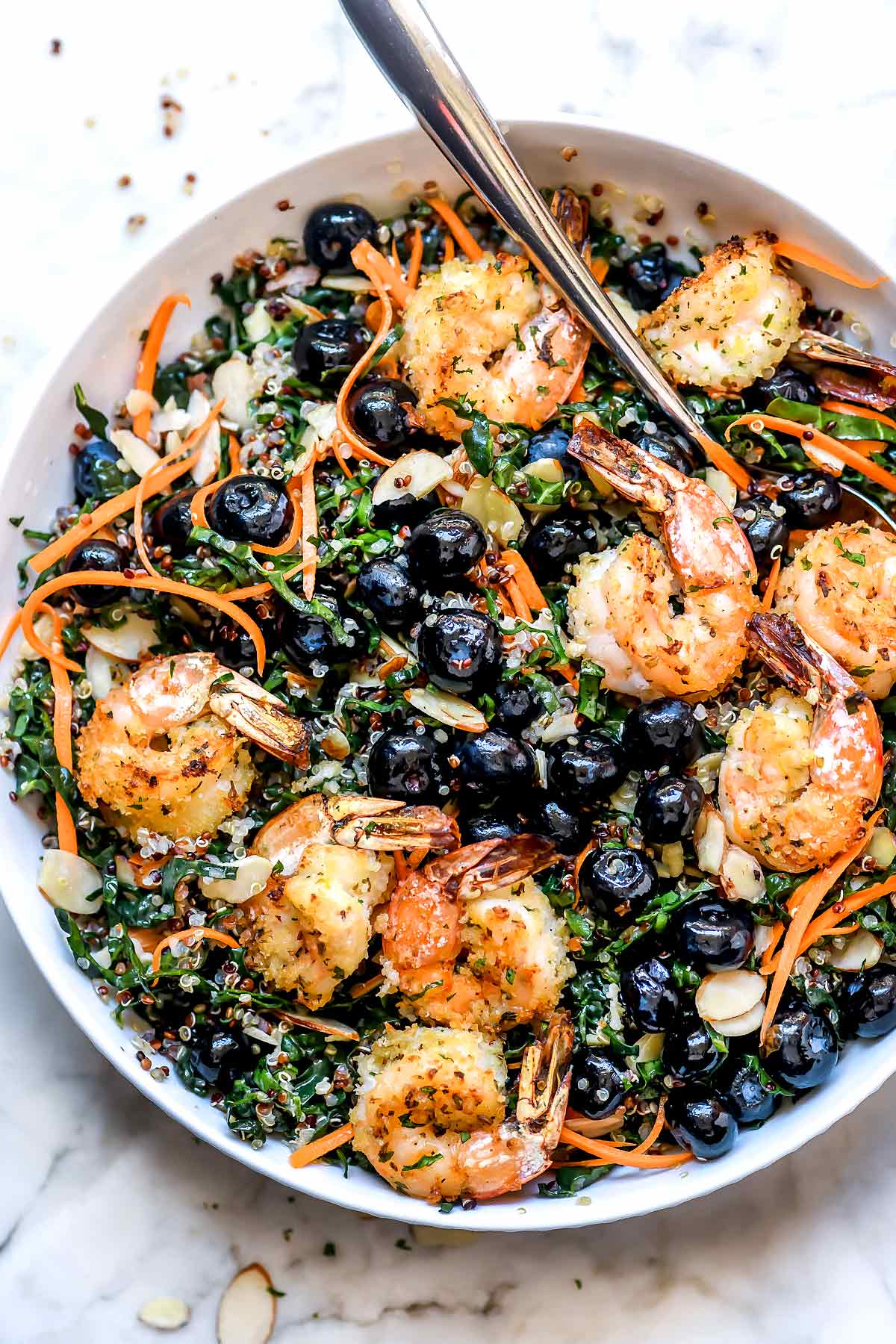 from FoodieCrush
Hearty and nutritious, with pops of antioxidant sweetness, this kale and quinoa salad with baked garlic shrimp puts all things super into the epitome of a super, superfood salad.
More Healthy Recipe Roundups to Check Out
We send good emails. Subscribe to FoodieCrush and have each post plus exclusive content only for our subscribers delivered straight to your e-mail box.
Follow me on Instagram, Facebook, Pinterest and Twitter for more FoodieCrush inspiration.
As always, thank you for reading and supporting companies I partner with, which allows me to create more unique content and recipes for you. There are affiliate links in this post of which I receive a small commission. All opinions are always my own.