There's no need to go fully vegan or vegetarian to take advantage of the benefits of a plant-based diet, and there's no better time than now to start adding more of them into your diet with gusto.
The two main reasons we as humans eat are a) for health and b) for taste. Food is what makes life possible, and that much better, and so much more tasty and delicious.
But eating for health doesn't have to mean sacrificing all of the things that make food so enjoyable. But with so many popular elimination diets out there right now (that often contradict each other), balancing this issue can seem complicated.
But it doesn't have to be!
Benefits of a Plant-Based Diet
Instead of focusing on what to cut out, I've been keeping it positive by simply incorporating more fresh whole foods and vegetables into my diet. Mediterranean and Asian cuisines are perfect examples of how healthy grains and veggies can be made into some of my favorite and most flavorful dishes.
It's good for the environment! Not to go all Food Inc. on you, but did you know that the meat industry puts out more carbon emissions than the entire travel sector? Yikes!
Eating seasonally also is better for the environment dues to less transport, PLUS you're supporting local sellers.
Eating fresh whole foods and vegetables bypasses preservative-filled foods.
These reasons and so many more are why we should all think about eating more plants, like the plant-forward recipe ideas I'm sharing below. These recipes serve as carb-light, nutrient-heavy lunch and dinner options that are heartier and tastier than your standard salad.
Dig in, and like mom says, eat your greens.
FoodieCrush
There isn't a better springtime dish than pasta primavera- it's all in the name! This easy one-pot dish is loaded with fresh seasonal veggies and herbs.
Root + Revel
Calling all sushi lovers! This asian-inspired bowl is nutrient dense and full of protein and fiber. Plus, not to mention spicy tuna, sweet unagi sauce, and wasabi mayo…
FoodieCrush
Spiralized zucchini and quinoa replace rice for a healthier take on one of my family's savory stuffed peppers.
Well and Full
For the times when you just want to sink your teeth into a burger, this vegan black bean variety does the job deliciously.
FoodieCrush
Smooth butternut squash puree and shiitake mushrooms lend their flavors for a lighter lasagna.
Ambitious Kitchen
Full of fresh veggies and Thai flavor, juicy pineapple rounds out this stir-fry with a touch of sweetness.
FoodieCrush
Grilled veggies pair with a creamy, herbed ricotta spread for a melt-in-your-mouth bite.
Pinch of Yum
Take advantage of fresh spring produce by whipping up this green bowl of goodness.
FoodieCrush
Stuff this wrap full of your favorite crispy veggies and a generous dollop of hummus.
Kitchen Confidante
This Filipino rice noodle bowl is best dressed with your fav veggie selection.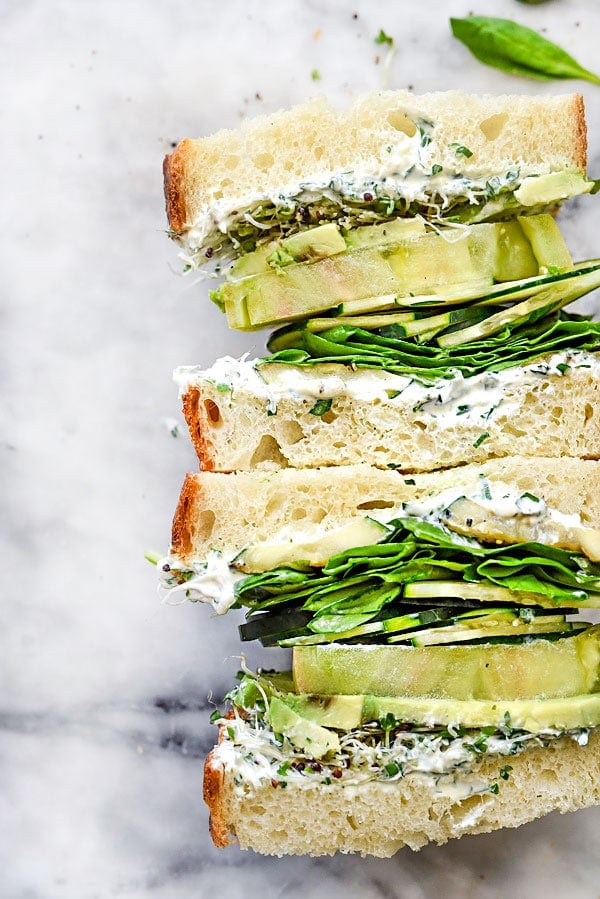 FoodieCrush
A truly heavenly green goddess, this stacked up sandwich has all the elements of a good deli, and is loaded with greens.
Platings + Pairings
Quinoa, chickpeas, & veggies topped with a tangy mojo sauce will power you through the day.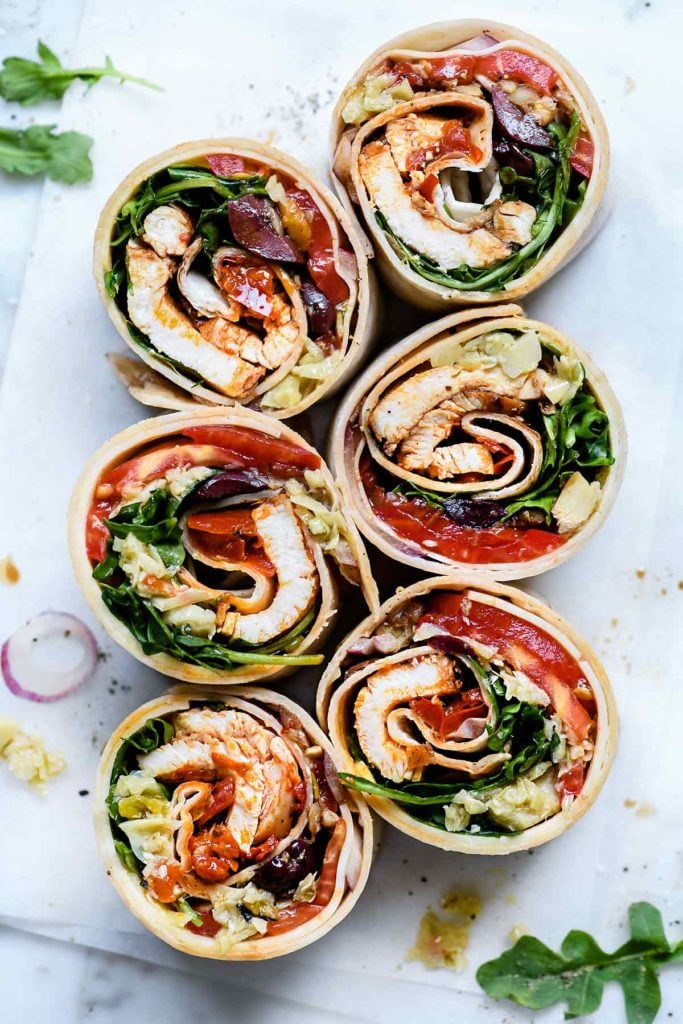 FoodieCrush
Skip the dry, pre-made pinwheel deli sandwiches found in the grocery store for these wraps loaded with lean chicken and fresh mediterranean veggies, like red onion and kalamata olives.
Inspired Taste
If you're looking for a quick and filling dinner option, this lasagna incorporates spinach, zucchini, and mushrooms AND takes less than 30 minutes to prepare.
FoodieCrush
Lentils pack the protein while butternut squash and curry provide creamy, delicious flavor. Top with fresh greens for a meal that checks all the boxes.
Vegan Heaven
Pair these carrot, red lentil, and red onion-filled fritter will all your favorite dipping sauces for a satisfying snack.
FoodieCrush
This colorful bowl is easy to whip together, filling, and packed with all of the mediterranean flavors I love.
Inspiralized
Experience comfort food sans the regret, thanks to spiralized zucchini, carrots, and bell peppers.
FoodieCrush
Cilantro, heirloom tomatoes, and lime give these protein packed burritos fresh flavors and texture.
A Cup of Jo
Seasonal greens keep this pasta fresh and light.
Gimme Some Oven
Vegetarian Mexican food lovers, rejoice! In this recipe, avocado provides healthy fats while cauliflower serves as a low-carb sub in for meat.
Cookin Canuk
The health benefits of fermented vegetables are all the rage right now, and this rice dish is packed with flavor.
Chocolate & Zucchini
When you're craving the delicious umami flavors of sushi, this simple recipe is a healthier, rice-less roll that's easy to make at home.
FoodieCrush
Perfect to meal prep for a quick dinner or lunch on the go, this power bowl is fresh and flavorful.
Slender Kitchen
These all-veg tacos are the perfect balance of creamy and crunchy.
Minimalist Baker
Sub veggie noodles for an even healthier option when you're craving parmesan pasta.
FoodieCrush
Cauliflower is so buttery and pairs so well with basically any other topping, that I almost forget its still a vegetable.
Cilantro & Citronella
Chock full of veggies and spice, this light soup is ready to go in under 20 minutes.
FoodieCrush
Make the most of your garden with this grilled zucchini dish that is anything but boring.
Hey Nutrition Lady
Sub tortillas with lettuce for a vegan-friendly, Indian-flavor infused wrap.
SkinnyTaste
Balance out the sweetness of the potato with savory toppings such as arugula, tomatoes, or black beans. A dollop of sour cream wouldn't hurt either.
More Healthy Recipe Ideas to Make Now
What's your favorite veg-forward meal to make? Share the links or recipe ideas in the comments below.
Craving more life balance, less stress, and better health? Check out my Nourished Planner, the daily planner to help create simplicity and under-schedule your life.
We send good emails. Subscribe to FoodieCrush and have each post plus exclusive content only for our subscribers delivered straight to your e-mail box.
Follow me on Instagram, Facebook, Pinterest and Twitter for more FoodieCrush inspiration.
As always, thank you for reading and supporting companies I partner with, which allows me to create more unique content and recipes for you. There are affiliate links in this post of which I receive a small commission. All opinions are always my own.