Summer salads like this Southwest BBQ Chicken Salad with black beans, corn, avocado, and crunchy romaine lettuce topped with an easy 5-ingredient homemade BBQ sauce are more than just a first course, they make the meal.
Someone recently interviewed me and asked me what was the one food I couldn't live without. Obviously that is a very loaded question for someone who spends their days thinking, creating and obsessing over what to eat and to cook.
I surveyed myself and did the count-off. Chocolate. Cheese. Eggs. Avocados. Wine. Pasta. Oh man, the list goes on and on. But I couldn't really narrow it down to just one ingredient, because it's actually a whole dish I crave over and over again, every day.
Salad.
I LOVE salad. Whether it's a simple lettuce and dressing affair, or a full blown all-in-one-meal-deal like this BBQ chicken recipe situation, salad is the rock to my Gibralter and if I was on a desert island, I'd want to be swimming in my leafy greens.
This salad is loaded with good for you ingredients like:
Protein-rich black beans and lean chicken breast
Good-for-you-fats of avocado that provide 20 vitamins and minerals
Lycopene-rich tomatoes with a 1/3 of your daily needs of vitamin C
Sliced red onion for folic acid and vitamin B for energy
Plus that crunch of romaine lettuce that is high in fiber and fills you up
All of that goodness is balanced out with a fast and simple, tangy and flavorful 5-ingredient BBQ sauce that comes together in minutes. Baste the chicken with the sauce during the last minutes of grilling, pan-searing, or cooking so the sugars of the sauce don't burn and create an unpleasant bite.
I love just a bite of a little fried crunch so I sprinkled on a few quick-fried tortilla strips to satiate that desire. If you want to avoid the frying, check out how I make a baked version in my Lighter BBQ Chicken Chopped Salad.
If you'd like you can certainly add cheese, a good crumbly Mexican queso or shredded cheddar are always favorite options in my book.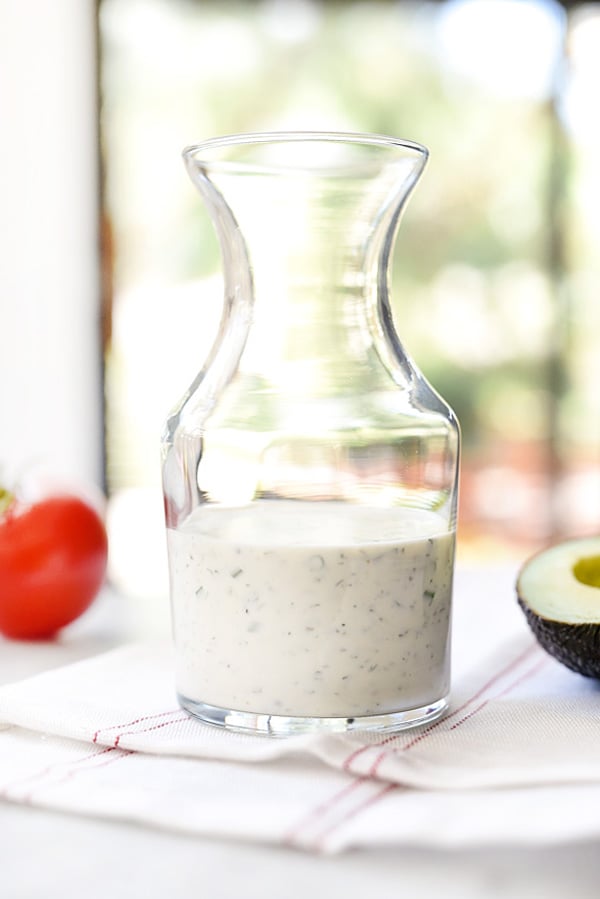 The finishing touch to this chicken salad is a drizzle of more BBQ sauce and ranch dressing topped with fresh chopped cilantro and a squeeze of lime if you like. My homemade ranch dressing is made with real herbs from your spice drawer, low-fat buttermilk and tangy sour cream and mayo, of which you can use the lightened up versions or try Greek yogurt for a lighter calorie count instead.
If you make this recipe, please let me know! Leave a comment below or take a photo and tag me on Instagram with #foodiecrusheats.
Print
Southwest BBQ Chicken Salad
Ingredients
For the BBQ Sauce

1

cup

ketchup

1/4

cup

cider vinegar

3

tablespoons

water

2

tablespoons

brown sugar

2

tablespoons

molasses

1

tablespoon

yellow mustard

1/2

teaspoon

kosher salt and freshly ground black pepper

For the Southwest Chicken Salad

2

boneless

skinless chicken breasts

Kosher salt and freshly ground black pepper

Cooking spray

2 6-

inch

corn tortillas

1

tablespoon

canola oil

6

cups

romaine lettuce

washed, dried, and chopped

1 15-

ounce

can black beans

rinsed and drained

1/2

cup

frozen corn

thawed

6

cocktail tomatoes

quartered or sliced

1

avocado

peeled, pitted and sliced

1/4

red onion

thinly sliced

2

limes

1/4

cup

homemade Ranch dressing or a quality store bought brand

1/4

cup

chopped fresh cilantro leaves
Instructions
For the BBQ Sauce

Combine all of the ingredients in a small pan over medium heat. Cook for 5-10 minutes, stirring occasionally until flavors combine, then remove from heat.

For the Southwest Chicken Salad

Prepare a grill or stovetop grill pan over medium high heat.

To prepare the chicken, start at the thicker end of the chicken breast and use a sharp knife to cut the chicken breast in half into two thinner cutlets. Trim any excess fat and season both sides with kosher salt and freshly ground black pepper. Spray the grill pan with cooking spray (or oil the grill grates) and cook the chicken breasts for 3-4 minutes on each side, or until golden brown. Lower the heat to medium and brush both sides of the chicken breasts with the BBQ sauce and cook for an additional 3-4 minutes on each side until the thickest part of the chicken reaches 160 degrees F. Transfer to a platter and tent with aluminum foil.

While the chicken is cooking, cut the tortillas into thin strips. Heat the canola oil in a small pan over medium high heat and fry the tortilla strips, stirring often, until golden and crisp. You may have to do this in batches. Drain on paper towels and sprinkle with kosher salt while still hot.

Arrange the cut romaine lettuce in a large bowl with the black beans and corn. Slice the chicken into strips and place on top of the lettuce with the tomatoes, avocado, and red onion slices. Squeeze the juice of 1 lime over the salad, then in a small bowl, mix the ranch dressing with the juice from the remaining lime. Drizzle the lime ranch dressing over the salad with the reserved BBQ sauce. Garnish with the chopped cilantro and the tortilla strips and serve.
For more salad recipes that make a meal, check out these links:
30 Days of Healthier Salads That Make a Meal in April
10 Healthy and Hearty Salad Recipes 
As always, thank you for reading and supporting companies I partner with, which allows me to create more unique content and recipes for you. All opinions are always my own. 
Are you following me on Instagram,  Twitter, Facebook and Pinterest? 
Thanks for reading and subscribe to FoodieCrush to have each post delivered straight to your e-mail box.