These 31 crave-worthy shrimp recipes are healthy, easy, and filling, and totally perfect for a busy weeknight or a relaxed weekend dinner.
March is a welcome relief to winter and when the sun begins shining just a bit longer, the days grow warmer, and the tease of beach days whisper their way into our soul and under our skin. It's also the time to of year when our cravings begin to make the turn from rich and delicious comfort food to eating lighter with loads of flavor. And that's where our favorite crustacean makes its way in.
Shrimp are our number one crustacean protein pick because they're low in calories and cook in no time, making them a reliable standby for fast and healthy meals when you can pull them straight from the freezer. Plus, they're usually more affordable than fish or other types of shellfish, and you don't have to worry about mercury.
Whether you sauté them, bake them, grill them, or steam them, shrimp are wonderfully versatile and scrumptious, and we can't get enough.
And so without further ado, here are 31 healthy, easy, and totally delicious shrimp recipes to make in March!
For more healthy cooking inspiration, check out these other posts from our 31 Days Series:
31 Days of Healthy Comfort Food Recipes to Make Now
31 Healthy Lunches to Make Now
28 Days of Lighter Pasta Recipes to Make Now
Make meal planning your month of meals a snap.
First, download this free printable weekly meal planner/to-do list to fill in, tape to the fridge, take to the grocery store, or use for reference next year when you can't remember what the heck were your fave recipes from this one.
And then sign up for your free weekly meal plan and prep list here.
You get the idea. Now get cooking!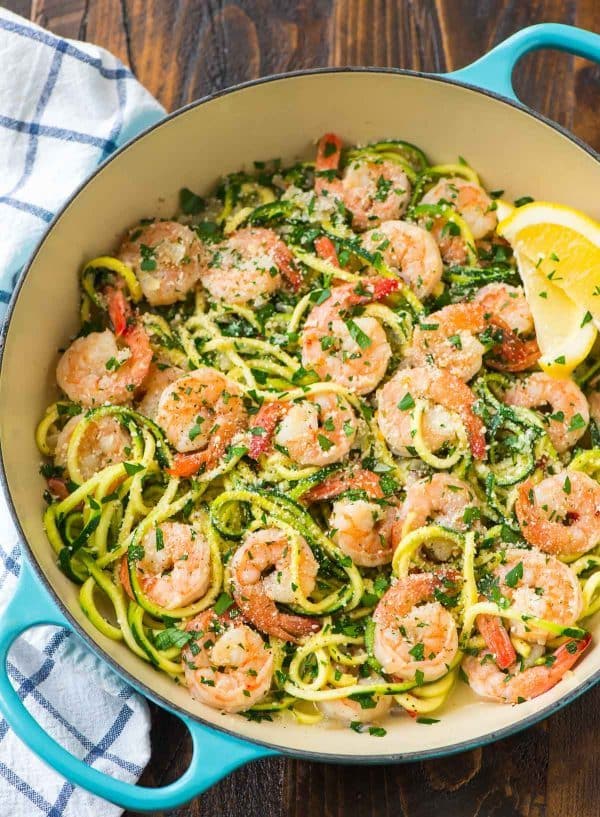 Well Plated
Is there a shrimp dish more iconic than scampi? We're big fans of the flavors, but not big fans of the calories (because you know, carbs and lots of butter). That's why we're singing the praises of this lighter version made with zucchini noodles and a lot less butter and oil.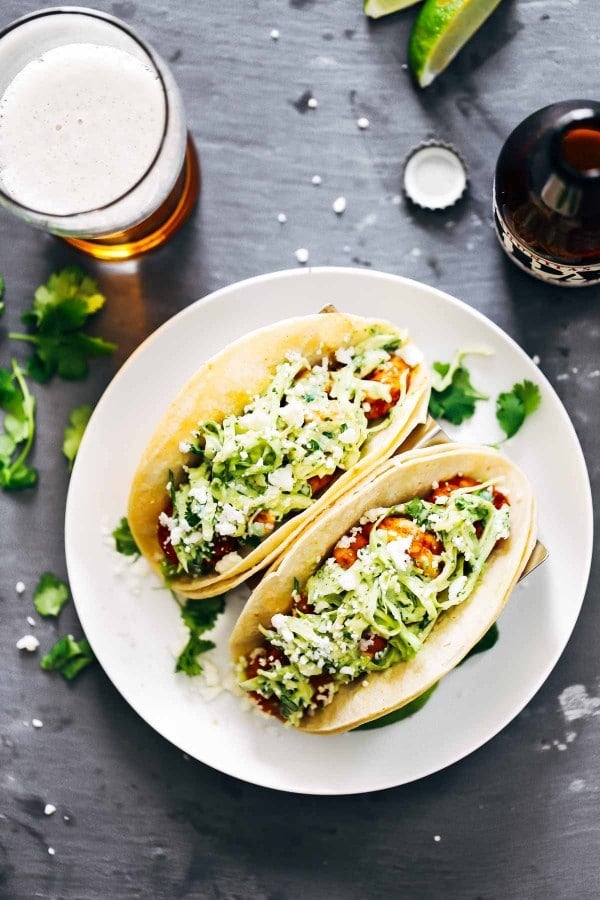 Pinch of Yum
The creamy garlic cilantro lime slaw is reason enough to add these crazy-good Baja inspired shrimp tacos to your Taco Tuesday rotation. The fact that they come together in 30 minutes is just an added bonus.
Recipe Diaries
Greek yogurt lightens up this popular favorite and gives the sweet chili and Sriracha shrimp a creamy sauce that's absolutely irresistible.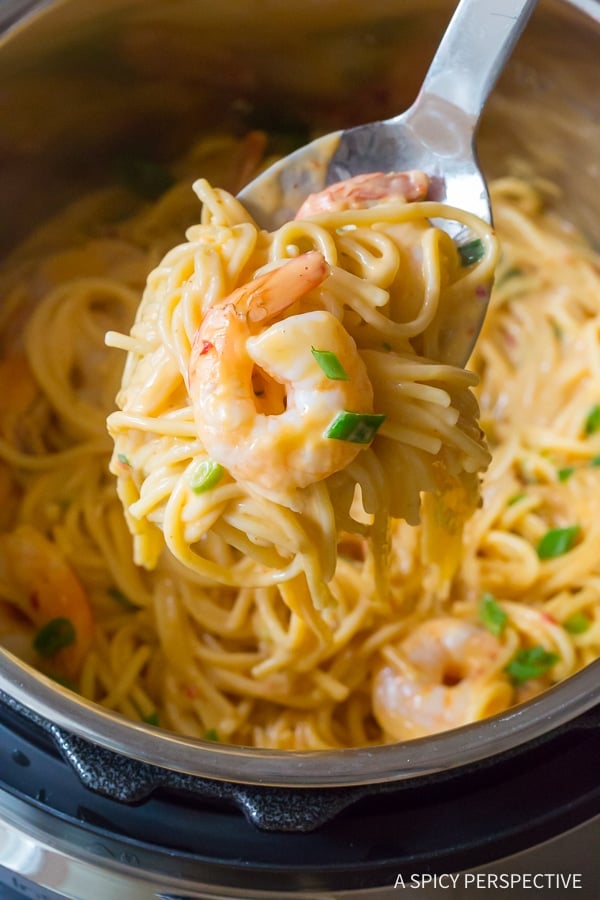 A Spicy Perspective
Have am Instant Pot? Let it do all of the work on your bang bang shrimp!
Gimme Some Oven
The only way to improve upon a classic shrimp alfredo is to add some Cajun spices and turn it into a casserole for an easy weeknight meal!
Little Broken
These super light and refreshing grilled shrimp wraps feature a quick 30-minute marinade with jalapeños, ginger, and coconut milk, and a mango basil salsa you're going to want to put on everything.
Bake. Eat. Repeat
You'd never know this Cajun-spiced alfredo was lightened up, thanks to less butter and cheese, and milk instead of cream. It's so decadent. Plus, it's ready in under 30 minutes.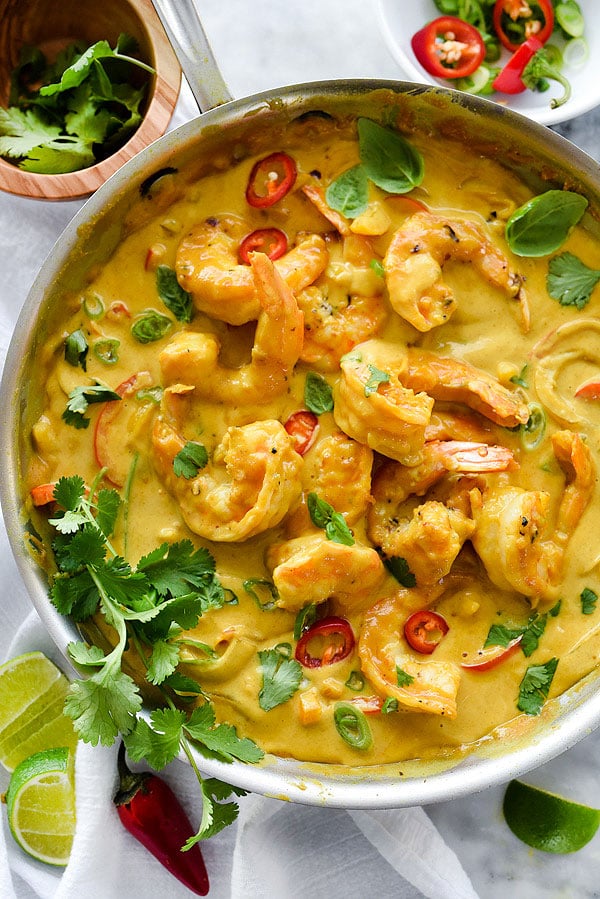 FoodieCrush
Coconut milk, curry, peanut butter, and lime come together to make a rich and flavorful sauce that cloaks these tender shrimpies sautéed with bell pepper. Garnish with fresh cilantro and basil, serve over rice or noodles, close your eyes, and pretend you're in Thailand.
Creme De La Crumb
These versatile and healthy tacos can be made with chicken, lentils, or shrimp, and are topped with the creamiest, most addicting chipotle sauce.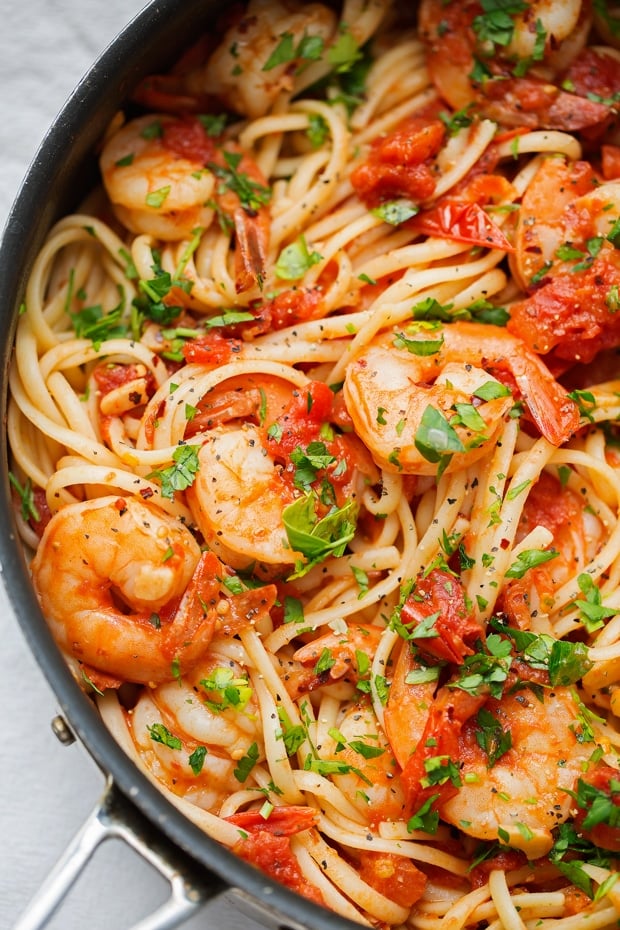 Little Spice Jar
Plump cherry tomatoes, red pepper flakes, and plenty of garlic deliver tons of flavor and spice to this simple fra-diavolo inspired shrimp pasta.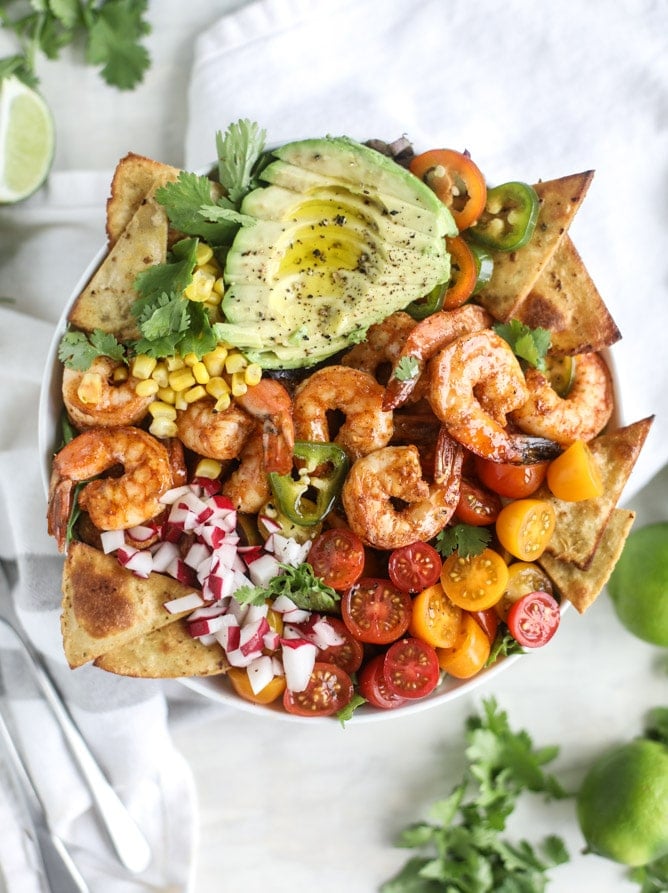 How Sweet Eats
Say adios to sad salads, because this chili and tequila spiked shrimp taco salad will be your new favorite way to get your veggies while still feeling like you're eating a taco.
Gimme Some Oven
Flavored and a creamy garlic-parmesan sauce (made with milk), and studded with zesty sun-dried tomatoes, spinach, basil, and shrimp, this penne dish is definitely a keeper.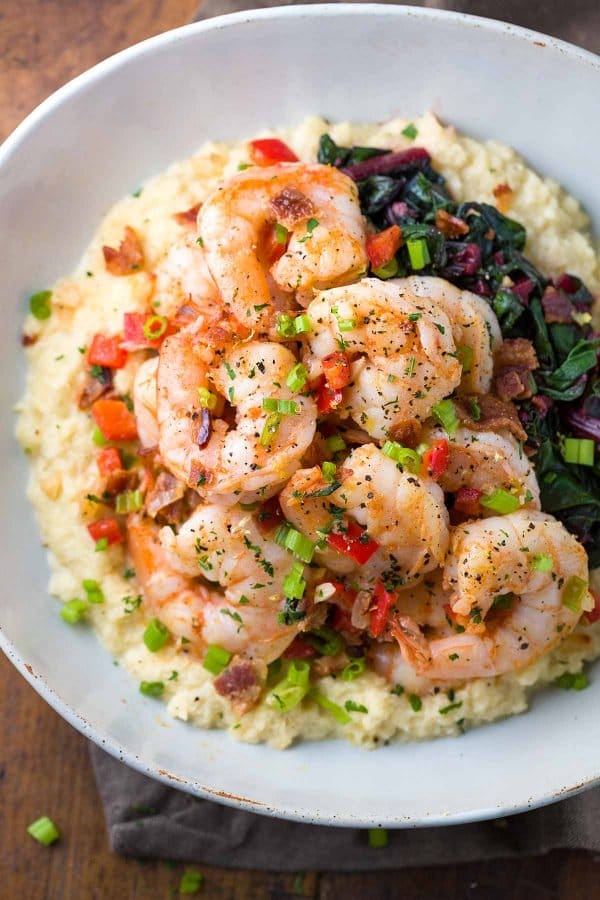 Jessica Gavin
Classic comfort food fave shrimp and grits gets a healthy makeover when butter, cream, and cheese-laden grits get traded in for cauliflower (um, genius), and topped with a bed of sautéed greens!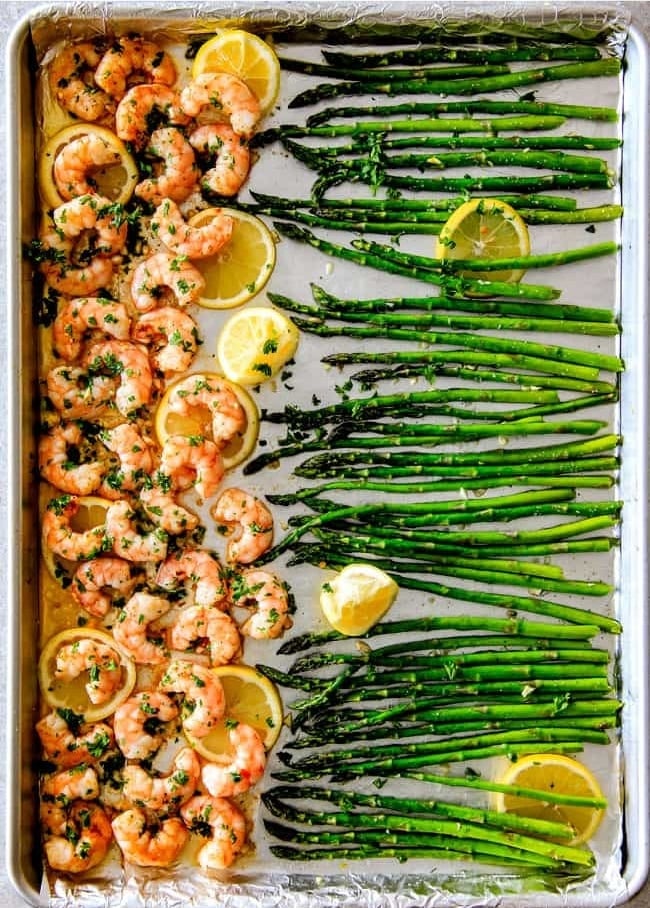 Carlsbad Cravings
Lemon-garlic-butter shrimp and fresh asparagus get baked together and take just 15 minutes from pan to plate! Serve with potatoes, orzo, quinoa, rice, or pasta if you like.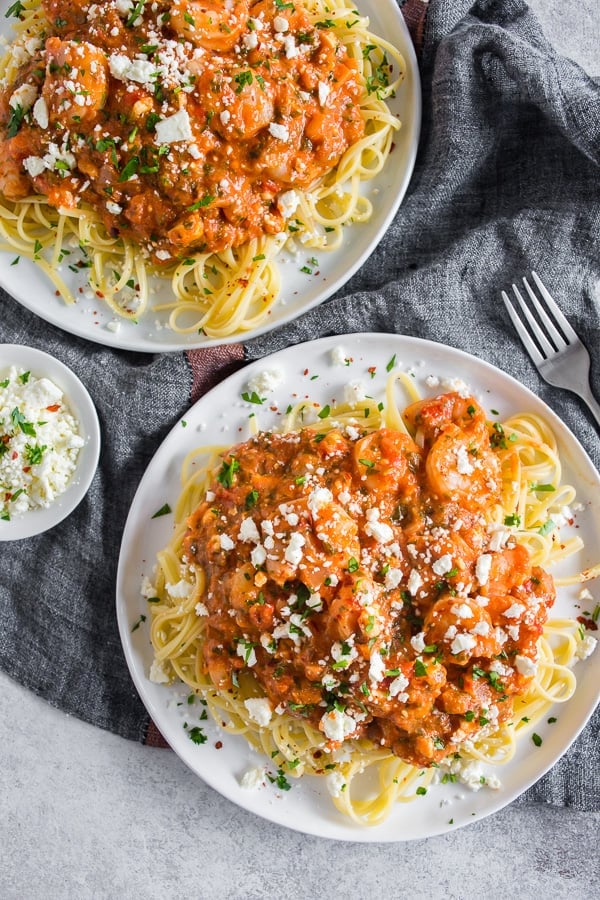 Nutmeg Nanny
Garlicky shrimp and a sherry and feta spiked tomato sauce are a match made in flavor heaven in this easy comfort food pasta.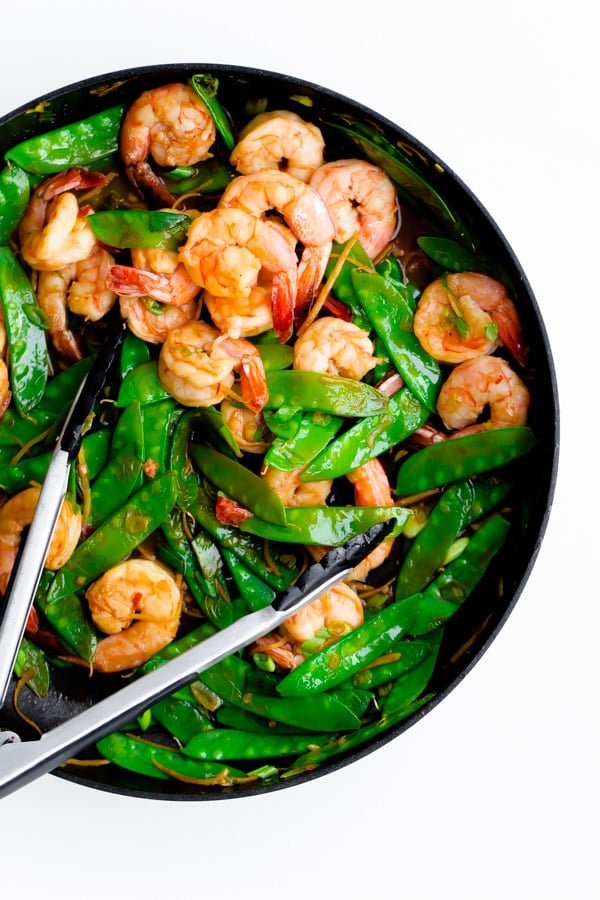 A Beautiful Plate
How can you not love a stir fry that comes together in 15 minutes (or less) from start to finish? This one is loaded with flavor from fresh ginger, scallions, soy and sesame, and is light and healthy too.
Aimee Mars
Coconut shrimp is a favorite for many reasons, but unfortunately it's usually fried and full of calories. Here, the shrimp is baked (and still just as crunchy), and it's tossed with a dreamy honey-lime sauce, instead of one with sugar or corn syrup.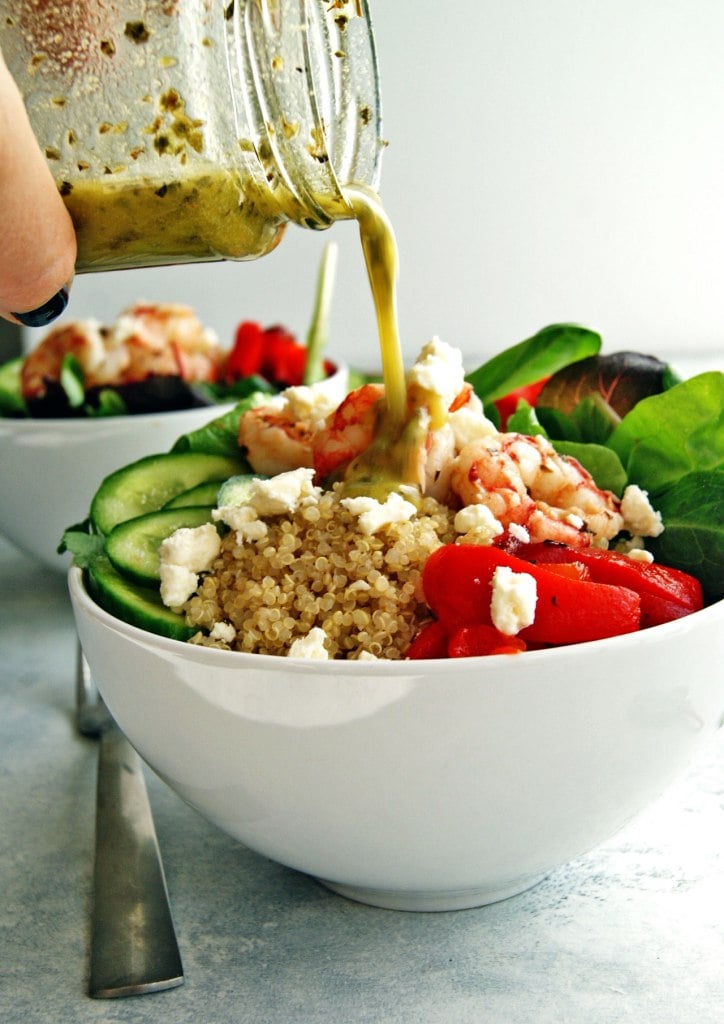 A Nutritionist Eats
Protein-packed quinoa, mixed greens, cucumber, roasted red peppers, and shrimp get drizzled with an herby lemon-dijon dressing, and sprinkled with feta cheese for a light but satisfying dinner you can feel good about.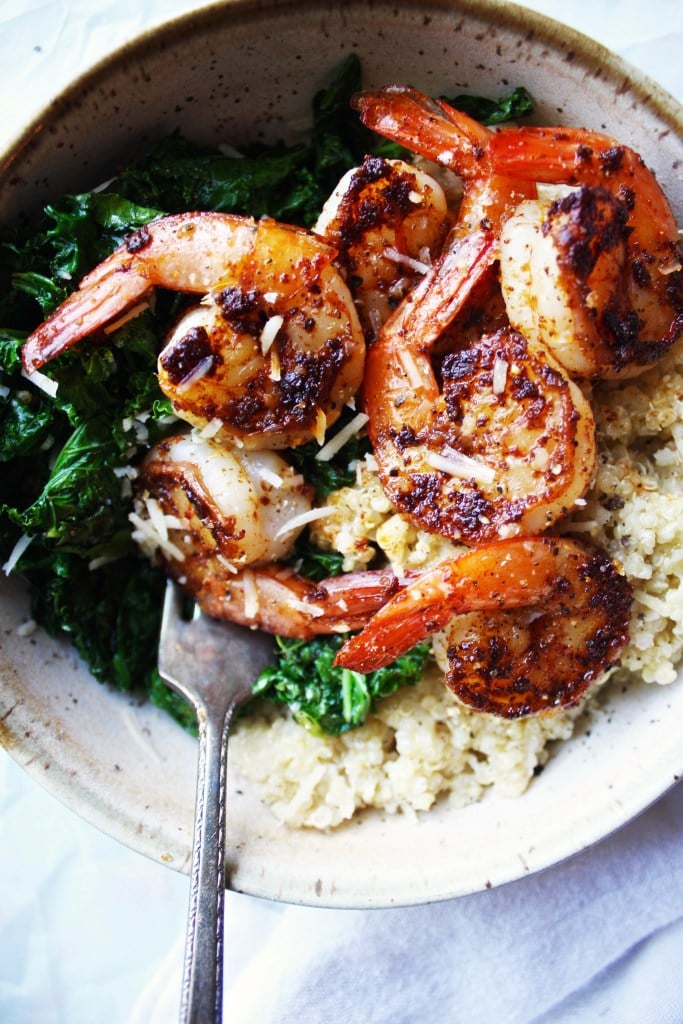 The Garlic Diaries
A bed of fluffy parmesan quinoa is the perfect base for some garlicky kale and spicy seared shrimp in this amazing 30-minute meal.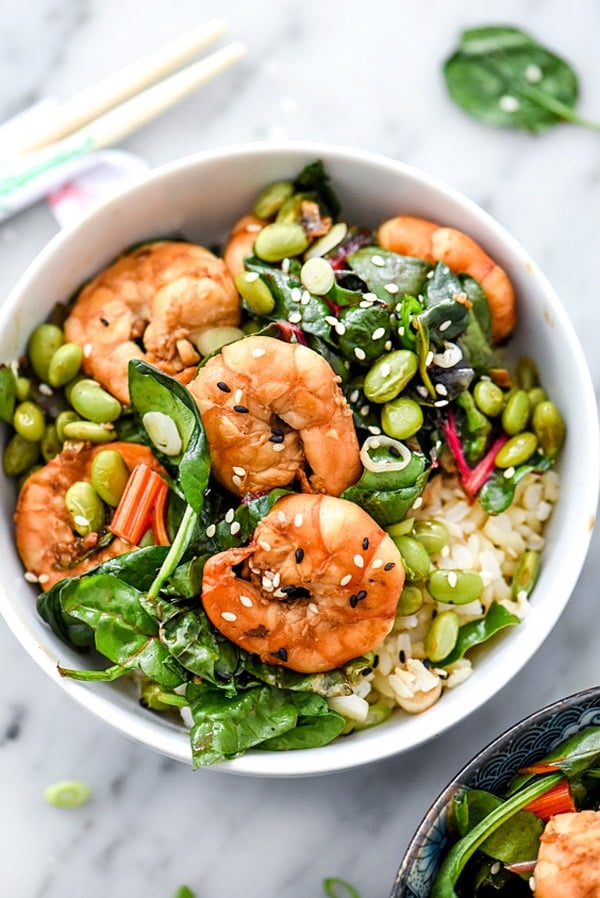 FoodieCrush
These delicious bowls include sesame-garlic-ginger shrimp that are seared to perfection, brown rice, and sautéed swiss chard, spinach, and edamame. You can throw them together on a whim too — just plan a little ahead to marinate your shrimp, and then it all comes together in no time.
Apple of My Eye
This easy, no-frills pasta is proof that if you have a few really good ingredients, you can make something sublime. Garlicky shrimp and sautéed onion are tossed with linguini and olive oil, and topped with freshly chopped parsley and grated parm. And with just four steps, it all comes together in 30 minutes.

The Recipe Critic
Ditch the calorie and carb heavy burrito and try this healthy bowl instead, featuring spice-rubbed, blackened shrimp and a creamy Greek yogurt avocado cilantro Ranch. Psst, this one is ready in just 20 minutes.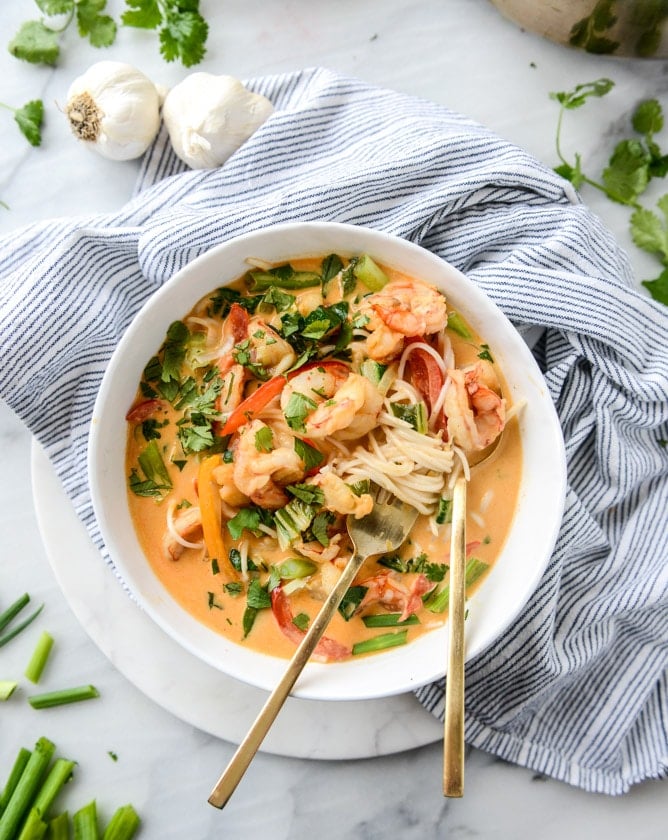 How Sweet Eats
These hearty, ultra soothing noodle bowls are loaded up with healthy veggies and rice noodles bathing in a light coconut curry broth that's lip-smacking good.

Pretty Little Apron
Honey, lime, garlic, adobo, a bit of butter, and plenty of fresh cilantro come together to make an addicting sauce for this breezy 3-step shrimp recipe. Serve over rice or quinoa, and in tortillas or salads.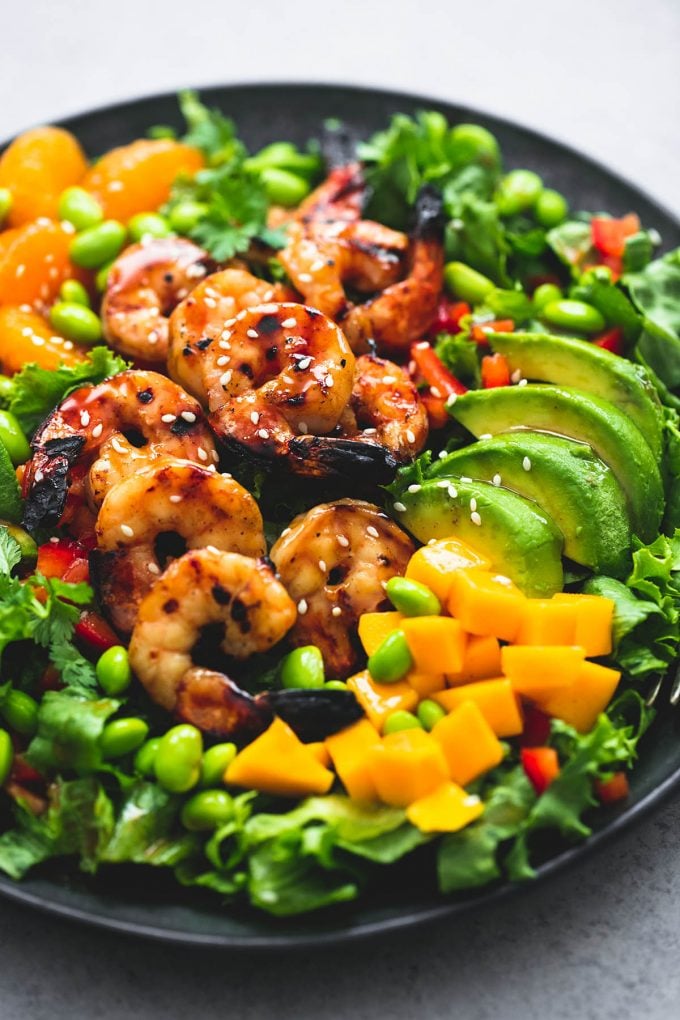 Creme De La Crumb
Big Asian flavors make this bright and colorful 30-minute salad sing. Best part? The marinade also doubles as the dressing.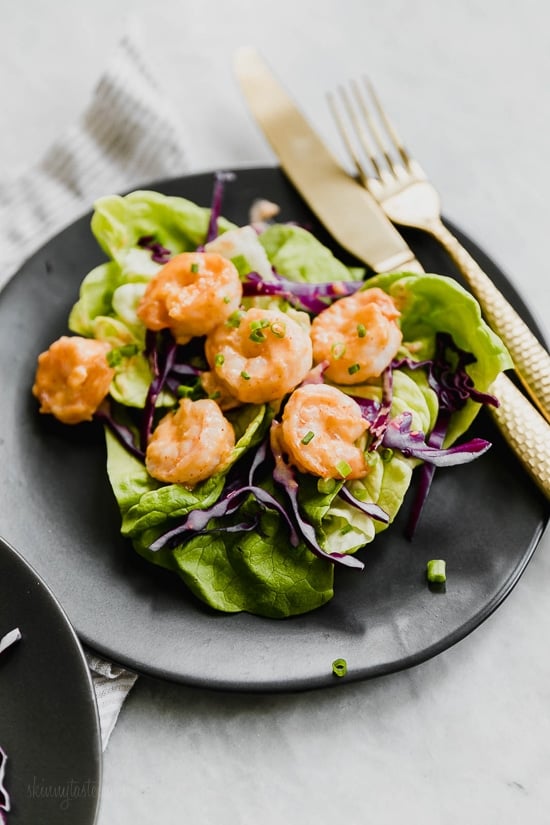 Skinnytaste
You only need 3 pantry ingredients to make the sauce of this irresistible, low calorie shrimp recipe which you'll want it on repeat all through the warmer months!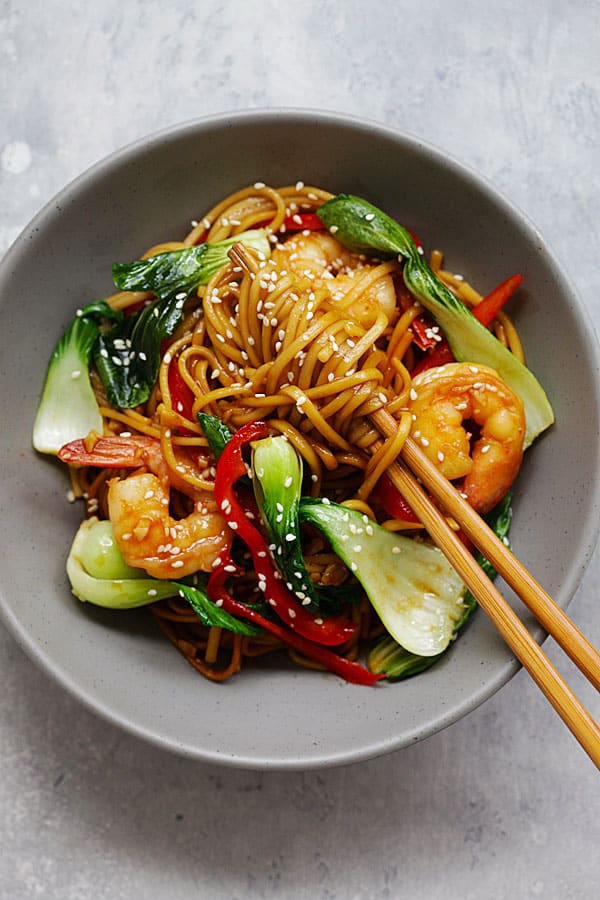 Rasa Malaysia
This lo mein is the real deal and will totally spoil you so you'll never want the gloopy takeout version again. Not to mention you can make it in 15 minutes!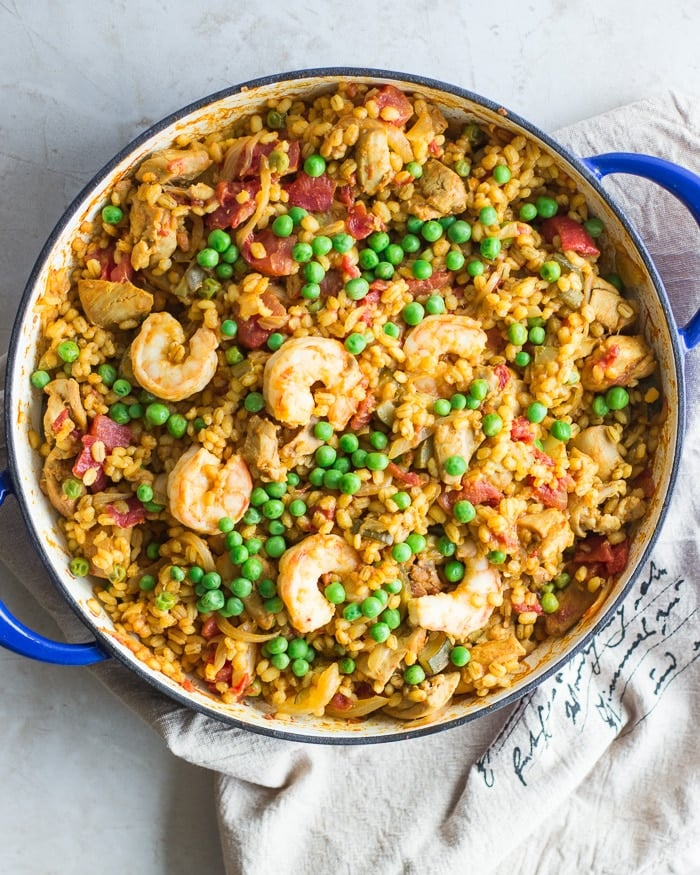 MJ and Hungryman
This healthier take on the classic Spanish dish is a winner. Barley subs in for rice, and the paella is studded with bell pepper, zucchini, and peas. Not only is it hearty and nutritious, it's also full of great aromas and flavors.
Sweet Phi
One pot is all you need to make this family-friendly, easy weeknight meal that's healthy and filling. Here, here for barely any cleanup!
FoodieCrush
Citrusy shrimp, creamy avocado, and crunchy almond slices are a delicious trifecta in this bright and easy salad that can be made in 30 minutes or less
Skinny taste
Pretend you're hanging beach-side in Jamaica with this light and colorful dish that's full of awesome flavor and spice.


THIS RECIPE ROUND-UP WAS CURATED  AND WRITTEN BY FOODIECRUSH CONTRIBUTOR HAYLEY PUTNAM OF SEVEN DAY WEEKEND. FOLLOW HER FOODIE TASTES AND OTHER FLIGHTS OF FANCY ON PINTEREST AND INSTAGRAM.

Thanks for stopping by and visiting FoodieCrush. Have something to say? I'd love to hear from you. Let me know in the comments below.
As always, thank you for reading and supporting companies I partner with, which allows me to create more unique content and recipes for you. All opinions are always my own.
Thanks for reading and subscribe to FoodieCrush to have each post delivered straight to your e-mail box.
Learn more about my printed day-planner Nourished Planner here, and sign up for free, emailed weekly meal plans.
Follow me on Instagram, Facebook, Pinterest and Twitter for more FoodieCrush inspiration.
SaveSave
SaveSave
SaveSaveSaveSave
SaveSave
SaveSave
SaveSaveSaveSaveSaveSave
SaveSave
SaveSaveSaveSaveSaveSaveSaveSaveSaveSave
SaveSave
SaveSave
SaveSaveSaveSaveSaveSaveSaveSaveSaveSaveSaveSaveSaveSaveSaveSaveSaveSaveSaveSaveSaveSave
SaveSave
SaveSaveSaveSave
SaveSave
SaveSave
SaveSave
SaveSave
SaveSave
SaveSaveSaveSave