Homemade pesto is one of the quickest ways to brighten any dish from caprese chicken to pizza and even to macaroni and cheese. This is my tried and true method to make the perfect basil pesto recipe every single time.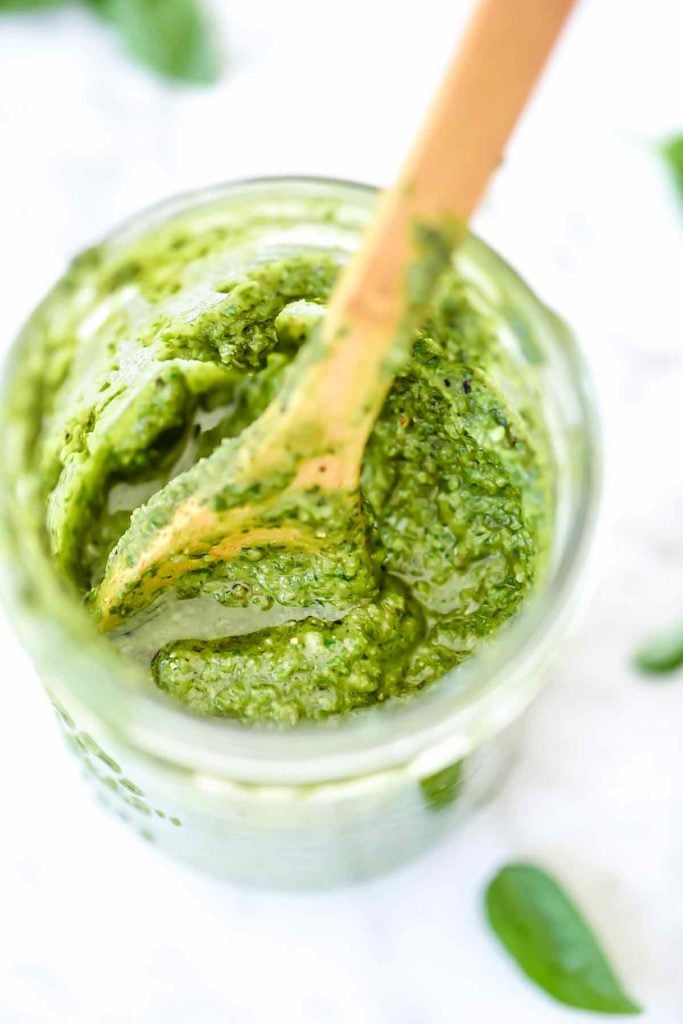 I've made homemade pesto many times and totally loved it. And just as many times I've totally screwed it up. Why? There are likely several reasons, but it's mainly because I veered away from my perfected proportions and added too much garlic or not enough olive oil or didn't season my basil pesto sauce nearly enough.
I'm a big fan of the fact that homemade pesto is one of those recipes you can sub in different ingredients for and get a distinct but familiar flavor. Where the secret sauce comes in is the proportions of those ingredients. Otherwise, things can quickly go afoul. Trust me on this.
Here's what I've learned to make the best, easy, homemade basil pesto sauce you'll be loving all year long.
Basic Basil Pesto Ingredients
The classic pesto is a traditional blend of fresh basil leaves, pine nuts, garlic, Parmesan cheese, salt and pepper, and a good olive oil. Each of these ingredients plays a very important part so always choose the best quality you can find to create the best tasting herby sauce.
Fresh basil leaves are the base of this recipe and my summer garden provides plenty of the bounty. During winter months, I can find fresh basil at the grocery store and during wintertime, often sold in a plantable pot I put in a container and let grow on my kitchen counter for a bit of freshness all winter long.
To prepare the basil, always remove the leaves the leaves from stem to avoid any tough woody bites.
I've read tips of blanching the basil before adding it to the mixing process to reserve the vibrant green hue, but after trying that method I discovered it didn't matter much in the color department and the basil lost some of it's flavor. So now I just keep it easy and go straight with the fresh.
Toasting the pine nuts deepens their nutty flavor. Lightly toast them in a dry skillet or fry pan over medium high, shaking or stirring the pan often, for a few minutes or until you can smell their toasted aroma. But be sure to keep a watchful eye out. I've burned more nuts than I can count because they turn from lightly toasted to burned in just a few seconds. Transfer immediately from the hot pan to a bowl or plate so they don't continue to toast.
Parmesan cheese thickens the sauce and also gives it that salty bite. I use finely grated or ground Parmesan from my deli counter. Avoid the stuff in the green can at all costs.
Use a fresh and fruity olive oil for the lightest flavor. Drizzle the olive oil slowly into the food processor as it whirs away and you'll find yourself with the perfect emulsion.
After seasoning the pesto, I whiz in a good squeeze of lemon juice to keep the color bright and add just a touch of acid to balance out the flavor.
How to Make Basil Pesto
I make this recipe in the food processor. I prefer this method over the blender because the large bladed processor finely minces the ingredients quickly, helping keep the pesto color bright and clean.
Similar to chopping basil with a dull knife, overworking the basil in the processor or in a blender will turn it dark where it was cut. If you prefer using a blender, that works too but I've always had the best results with a food processor.
So what about a mortar and pestle? Sure, you can give that a go if you're feeling like an arm workout. Or go the lazy way and just hit the ON button instead.
Simply blitz all the ingredients until smooth and enjoy your homemade basil pesto.
How to Store Pesto
Eat the pesto straight away or store in a jar with a tightly fit lid for up to 1 week, or use immediately. If storing, add a generous drizzle of olive oil to the top of the pesto. This will form an oily seal so it doesn't turn dark. Simply stir into the sauce before using.
Can You Freeze Pesto?
Pesto freezes beautifully, and this is a great option to keep in mind if you plan on making lots of pesto sauce this summer. You can freeze the pesto in ice cube trays, transfer to freezer-safe bags and keep in the freezer for up to 3 months. If you store this easy pesto in larger containers, you'll have to thaw the pesto out all at once. Just something to keep in mind!
Pesto Ingredient Substitutions
One of the benefits of making a homemade pesto is substituting ingredients with what you have on hand or to create new and unique flavor profiles with what's in season. Or like what typically happens too often at my house, you can use up what's lounging about in your refrigerator.
Pine Nut Substitutes
While pine nuts are my favorite nut to use in pesto, they're definitely more expensive than other varieties and there have been incidents of a condition called pine nut mouth where some pine nut eaters develop a metallic taste in their mouth that makes everything taste like you're sucking on a penny and it lasts for days and up to 3 weeks.
Ugh, that would be the worst for a food lover like me. The cause is unknown but if you wish to steer clear of the possibility, there are plenty of other nut options for you to choose from.
Other types of nuts to use instead of pine nuts are:
Almonds (I like marcona almonds)
Cashews
Pepitas
Pistachios
Sunflower seeds
Hemp seeds (safe for nut-allergies)
Tahini
Basil Substitutes
While basil is the most traditional ingredient in pesto, switching up what is in season or different flavor profiles can be fun to experiment with. Here are a few ideas for what to use instead of basil:
Parsley
Spinach
Mint
Kale
Broccoli or broccolini
Beet Greens
Parmesan Substitutes
Finely grated Parmesan cheese gives pesto it's distinctive salty nutty bite, but it also acts as a thickener too. Use these cheeses in place of Parmesan if you want:
Asiago
Pecorino romano
Grana padano
My Favorite Pesto Uses
Pesto is a fab alternative to mayo, mustard, or even sour cream. Here are a few ideas to sub in for a tastier, herbalicious bite.
Dollop on a baked potato instead of butter
Use as a spread instead of mayo for a turkey sandwich
Make it a savory addition to your morning omelette or slather on avocado toast
Mix with tuna for a Mediterranean-style salad on greens
Plop into a creamy tomato soup with chunks of mozzarella cheese for a slurpy caprese soup
Toss into white rice for an herbed version way better than what comes from the box
Pesto Recipes You Have to Make
Pesto is one of my favorite shortcuts in so many recipes. It's an all-in-one flavor enhancer with each mixable dollop.
If you make this recipe, please let me know! Leave a comment below or take a photo and tag me on Instagram with #foodiecrusheats.
How to Make Basil Pesto
Homemade basil pesto is incredibly easy to make every single time so long as you have the the right quality ingredients with the right proportions.
Ingredients
1/2

cup

toasted pine nuts

1/2

cup

fresh grated Parmesan cheese plus more for garnish

1

garlic clove

roughly chopped

2

cups

fresh basil leaves

washed and stemmed and finely packed

1/2

cup

olive oil

1/2

lemon

juiced

1/2

teaspoon

kosher salt

1/2

teaspoon

freshly ground black pepper
Instructions
Add the roughly chopped garlic, toasted pine nuts and finely grated parmesan cheese to the bowl fo a food processor and process until smooth. Then, add in the basil.

Pulse a few times until chopped then let it run as you drizzle the olive oil into the processor as it runs until emulsified. Season with kosher salt and freshly ground black pepper, give a squeeze of lemon juice, and whiz again until combined.

Taste for seasoning and adjust to your liking.
Recipe Notes
One of the benefits of making a homemade pesto is substituting ingredients with what you have on hand or to create new and unique flavor profiles with what's in season. Check out my blog post for a full list of ingredient substitutions you can try. 
Nutrition Facts
How to Make Basil Pesto
Amount Per Serving (2 tablespoons)
Calories 102
Calories from Fat 90
% Daily Value*
Fat 10g15%
Cholesterol 2mg1%
Sodium 123mg5%
Potassium 42mg1%
Carbohydrates 1g0%
Protein 2g4%
Vitamin A 185IU4%
Vitamin C 2.4mg3%
Calcium 44mg4%
Iron 0.4mg2%
* Percent Daily Values are based on a 2000 calorie diet.
More Easy Italian Recipes You'll Love
Craving more life balance, less stress, and better health? Check out my Nourished Planner, the daily planner to help create simplicity and under-schedule your life.
We send good emails. Subscribe to FoodieCrush and have each post plus exclusive content only for our subscribers delivered straight to your e-mail box.
Follow me on Instagram, Facebook, Pinterest and Twitter for more FoodieCrush inspiration.
As always, thank you for reading and supporting companies I partner with, which allows me to create more unique content and recipes for you. There may be affiliate links in this post of which I receive a small commission. All opinions are always my own.