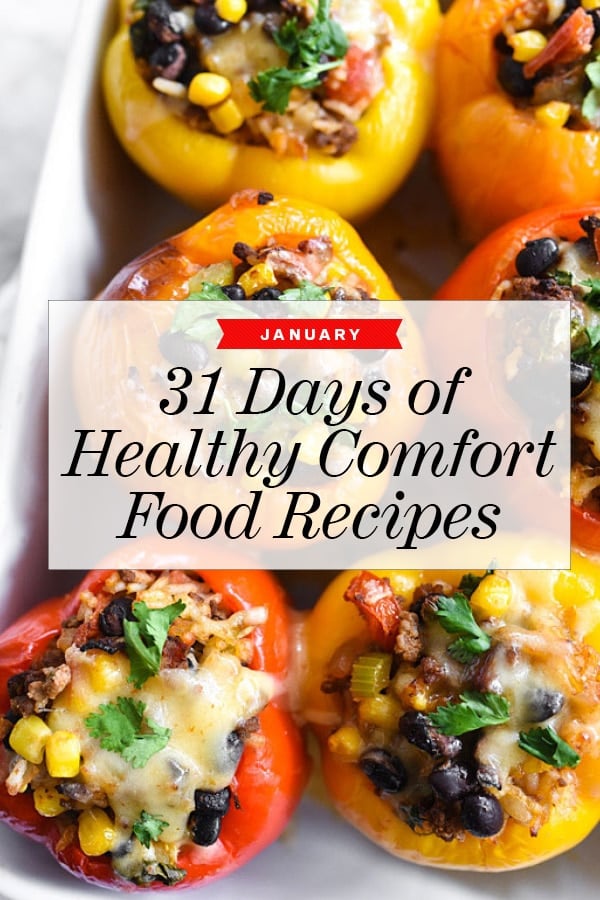 Like clockwork, the stroke of a new year encourages a slew of ambitious healthy resolutions — more green juice, less alcohol, more intentional living, less screen time, more kale, less ice cream.
You get the picture.
One sensible place to start is with our diets, and savvy meal planning is our tour guide. But since we know this is a lot to take in and meal planning takes work, we've decided to make things a bit easier for you.
We've scavenged the depths of the food blogosphere for 31 recipes — one for each day of the month — for you to plan and prepare, and get you through the chill of January. Healthy comfort food recipes are January's theme because, let's face it, we need to ease into this. Excess fat and calories aren't needed this month, but it's still winter, and that means comfort food still rules.
from Recipe Tin Eats
A Greek yiayia in some village is smiling over this dish…
from FoodieCrush
This soul-soothing soup not only cures what ails you, but is both light and filling at the same time. Double win!
from Cookie and Kate
We promise you won't miss the meat in these hearty enchiladas.
from How Sweet It Is
We're all about this fresh and healthy twist on spaghetti and meatballs.
 

from Gimme Some Oven
This is SO not your mother's tuna noodle casserole. And that's a good thing!
from Ambitious Kitchen
Indian comfort food gets a makeover and we're pretty sure we could eat this every day.
from Skinnytaste
You'll never miss the taco shell once you dig into one of these…
from The Clever Carrot
If we close our eyes tight enough while savoring this pasta, we can almost smell meyer lemons and salty Mediterranean sea air…

from Heather Christo
Please excuse us while we wipe the drool from our mouths…
from CenterCutCook
Chicken pot pie in soup form? Hand us the spoon!
from Well Plated by Erin
Healthy chili that sticks to your ribs, not your waistline.
from Apple of My Eye
You can have your spaghetti and still eat it too.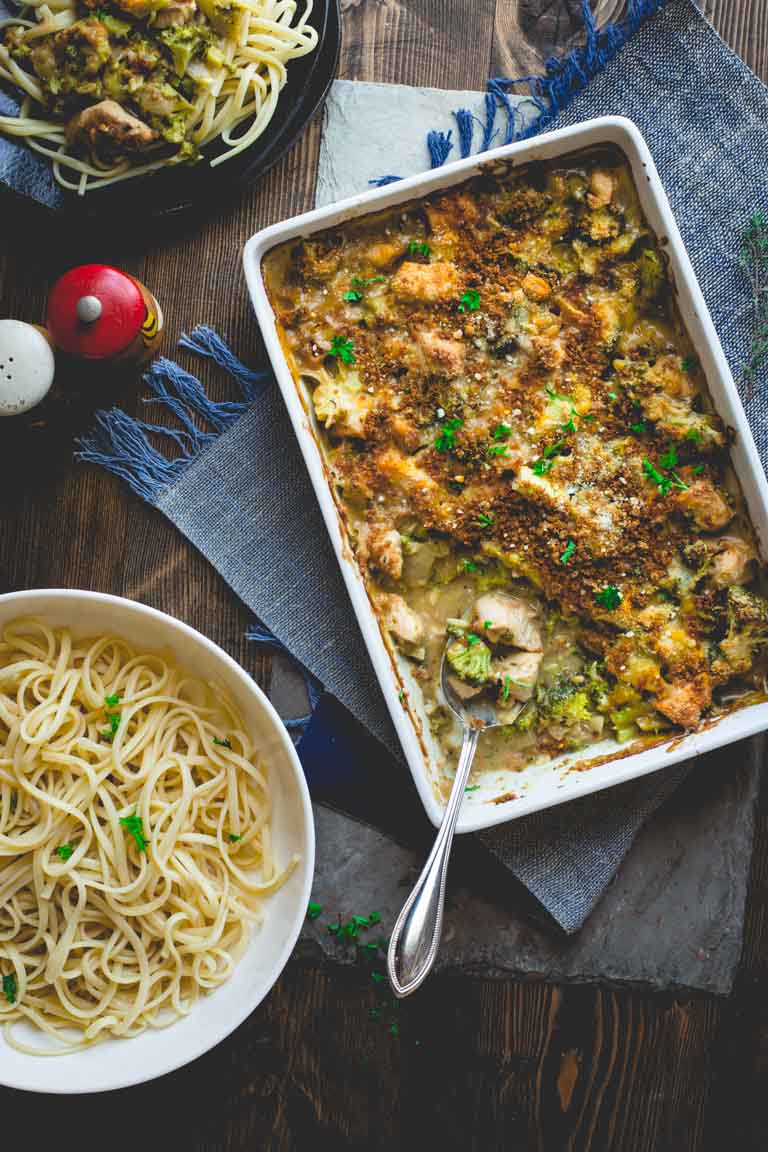 from Healthy Seasonal Recipes
Like your mama made, but without all the guilt.
from Lexi's Clean Kitchen
This soul-warming soup is proof you don't have to sacrifice flavor to eat healthy.
from Little Broken
Who said you can't eat healthfully and still have lasagna?
from Simply Quinoa
An unbelievably creamy soup without all of those pesky calories — yeeeees.
from The Healthy Maven
A dish that totally slays your local takeout favorite.
from Pinch of Yum
A casserole that's both comforting and healthy? Come to mama!
from The Endless Meal
We're crazy for this korma (also, fewer calories means we can still have naan)!
from Diethood
French comfort food at its finest, made easier and healthier in the slow cooker.
from Running to the Kitchen
This savory, hearty, filling, healthy, and comforting dish = comfort food bliss.
from Cafe Delites
Shrimp and chicken tango with zucchini noodles in this light dish with bold flavors and bright colors.
from Blissful Basil
Ummm, Chipotle who?
from A Saucy Kitchen
Your entire meal on one pan — it doesn't get easier than this!

from Food Faith Fitness
Cauliflower is such a wonderful chameleon — you'd never know it's the star of this fluffy, to-die-for pizza. And don't even get us started on that sauce!

from Sweet Peas and Saffron
Superfood never tasted so good.

from Love & Olive Oil
Show January who's boss with this quick and easy pho. It's a winner (pho show).
from Minimalist Baker
That General never knew what hit him…
from Feasting at Home
The Greek's answer to burrito bowls — so tasty and carb-friendly!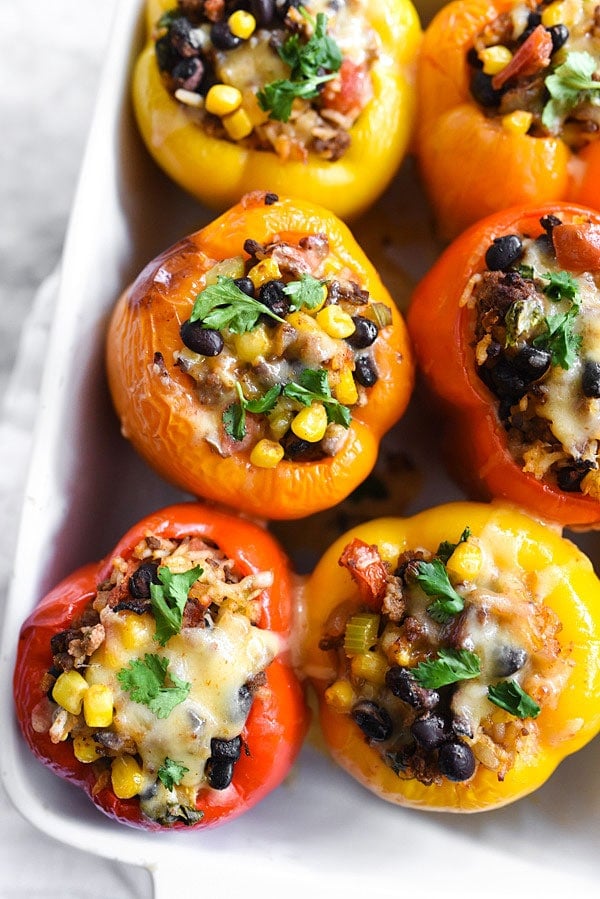 from FoodieCrush
Stuffed peppers that won't make your belly feel stuffed.
from Ambitious Kitchen
We could never give up chicken parm, and luckily with this recipe we don't have to
Thanks for stopping by and visiting FoodieCrush. Have something to say? I'd love to hear from you. Let me know in the comments below.
As always, thank you for reading and supporting companies I partner with, which allows me to create more unique content and recipes for you. All opinions are always my own.  
Are you following me on Instagram,  Twitter, Facebook and Pinterest? 
Thanks for reading and subscribe to FoodieCrush to have each post delivered straight to your e-mail box.