At our house, this easy lemon rice is a side dish staple and with just 5 ingredients, it's a super simple way to jazz up plain old white rice any day of the week.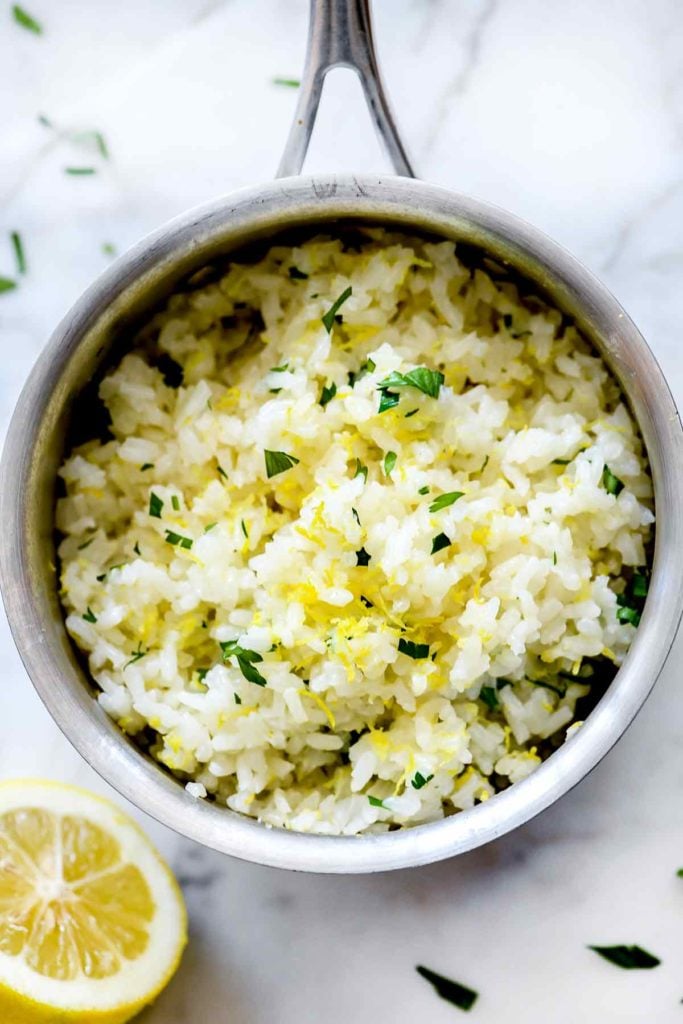 No matter where your set your plate, it's likely that rice will be one of the side dishes served on any international dinner table.
This lemon rice makes regular appearances alongside so much of my main meal cooking, like my Greek marinated chicken, or as a basic side for my Greek pork souvlaki kebabs or turkey kofta skewers, and always with my Easy Chicken Gyros with Tzatziki Sauce.
But this lemon rice doesn't travel only in Greek or Mediterranean circles. It's a fan of crossing all culinary borders, and it does a fine job of fitting into any dinner no matter the main dish's international personality.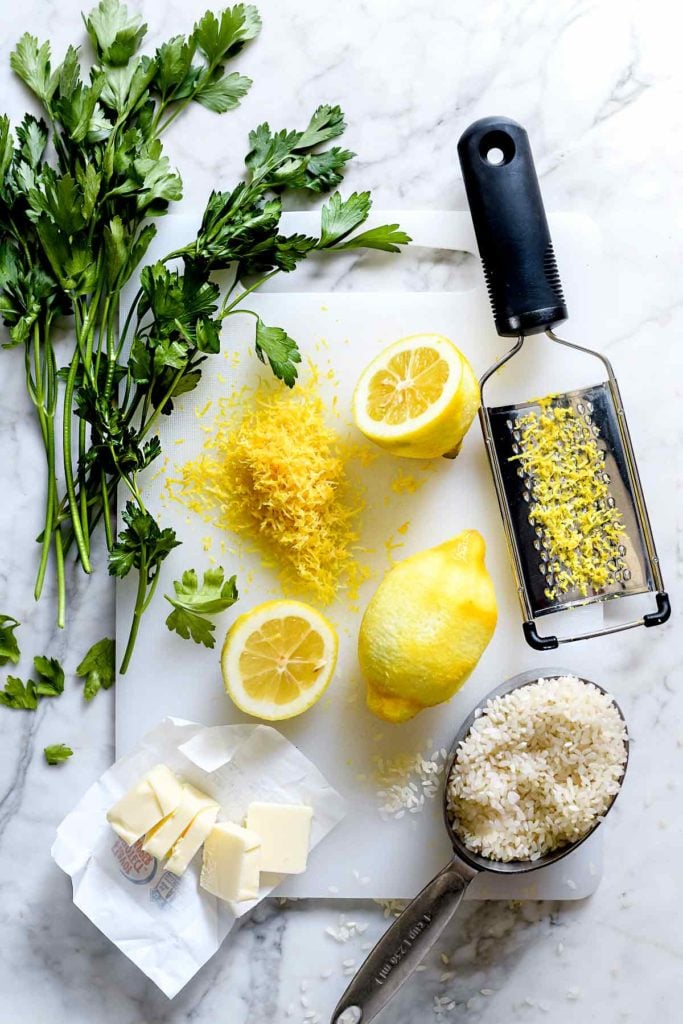 How to Make Lemon Rice
This recipe really couldn't be any simpler. The method is the same as cooking any regular white rice, but with a zest and squeezey juiced lemon effervescence. But lemon juice isn't the only flavor enhancer, I also add the zest of the rind that comes from the fine grating of the citrus rind, releasing the flavorful oils that will really propel the flavor infusion.
To zest the lemon, I use a microplane zester or this OXO hand held grater, rotating the lemon as I grate. And please note, a typical cheese grater won't work for this job because the holes are far too big and not nearly sharp enough.
For the final lemon touch, adding both the lemon juice and the zest to the cooking water at the start of the cooking process makes the rice absorb the subtle flavors of the lemon.
see more: 31 Quick and Healthy Veggie Side Dishes in 30 Minutes or Less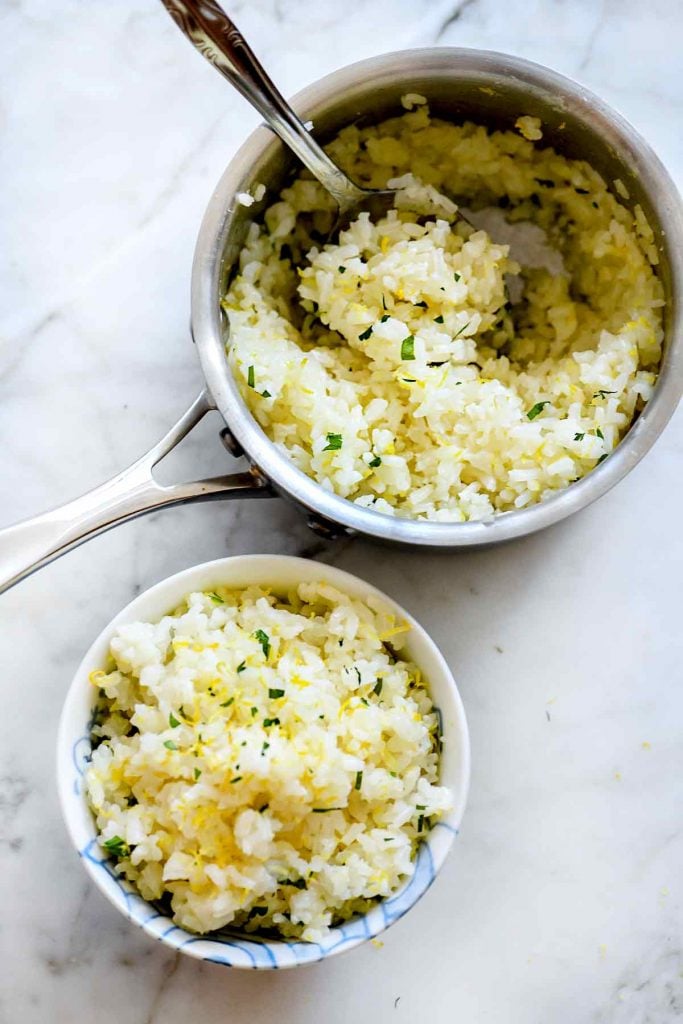 How to Add Personality to White Rice
I'm a flavor builder, so like many of my other rice side dishes, I like to add another layer of brightness with a little chopped parsley and if there's any extra zest, I toss it on too. But adding parsley or anything else is totally up to you and your preference.
I also add butter at the beginning of the cooking process simply because I love the combination of the lemon and the butter. If you're more of a purist, once again, leave it out if you'd like.
Keep the rice simple by adding just the lemon, or switch it up with extra ingredients to match other cuisine flavor profiles, like:
Chopped nuts like pistachios, Marcona almonds, or pecans
Chopped dried fruit like apricots, cranberries, raisins, or currants
Parmesan, feta, or goat cheese
Chopped herbs such as dill, parsley, or cilantro
Sauté chopped onion, red bell pepper, or garlic before adding the rice and water to the pan for a more savory flavor
see more: 30 Dinners to Make When There's No Time to Cook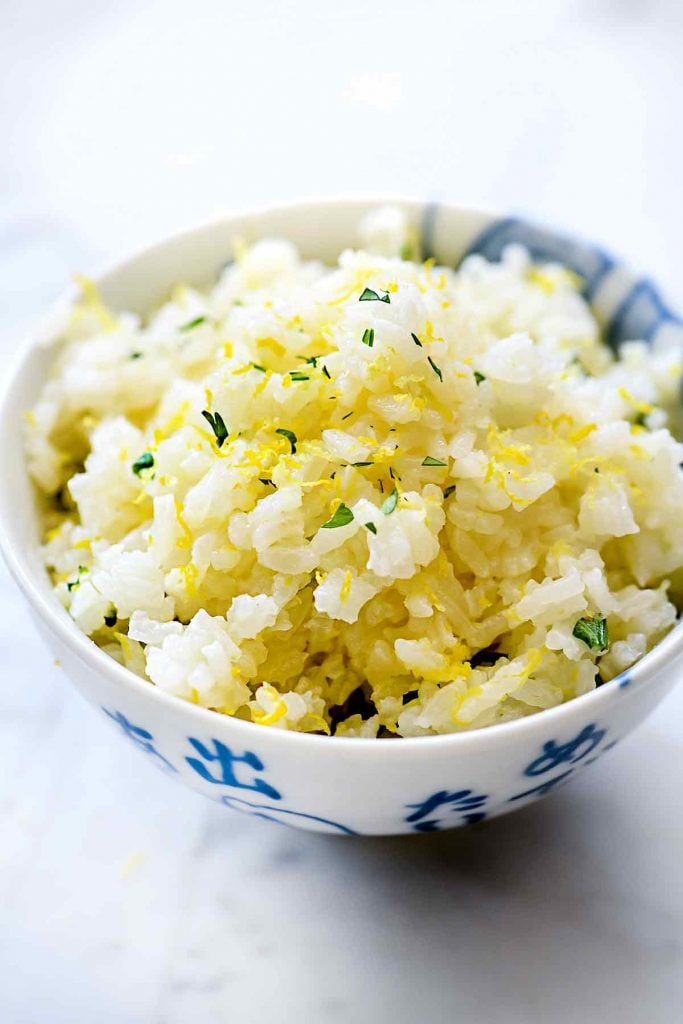 Main Meal Recipes to Pair with Lemon Rice
If you make this recipe, please let me know! Leave a comment below or take a photo and tag me on Instagram with #foodiecrusheats.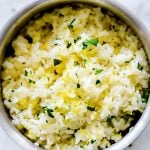 Print
Lemon Rice Recipe
Long or medium grain rice works best for this recipe, but if you prefer using short rice, plan on it coming out a little more sticky.
Ingredients
Zest and juice of 1 lemon

1

cup

white rice

1

tablespoon

butter

1

teaspoon

kosher salt

1

tablespoons

minced Italian parsley
Instructions
Bring 1 ¾ cups of water to boil in a saucepan with a fitted lid. Add the add the lemon zest, lemon juice, rice, butter and salt, stir with a wooden spoon then reduce to simmer and cover. Cook for 20 minutes, then remove from the heat and fluff with a fork. Place a kitchen towel over the pot and, replace the lid, and let sit for 10 minutes. Fluff with a fork and season with more kosher salt to taste and stir in the minced parsley.

More Simple Side Dishes You'll Easily Make Too
Do you have a simple side you love to make or a request for a recipe? Share it in the comments below, or email it to me at [email protected]
As always, thank you for reading and supporting companies I partner with, which allows me to create more unique content and recipes for you. All opinions are always my own.
Thanks for reading and subscribe to FoodieCrush to have each post delivered straight to your e-mail box.
Learn more about my printed day-planner Nourished Planner here, and sign up for free, emailed weekly meal plans.
Follow me on Instagram, Facebook, Pinterest and Twitter for more FoodieCrush inspiration.