This super easy, no-cook, homemade mole sauce is made from scratch, and gives regular chicken enchiladas a delicious twist for a super fast Mexican dinner to meal prep or even throw together for a quick and easy weeknight meal.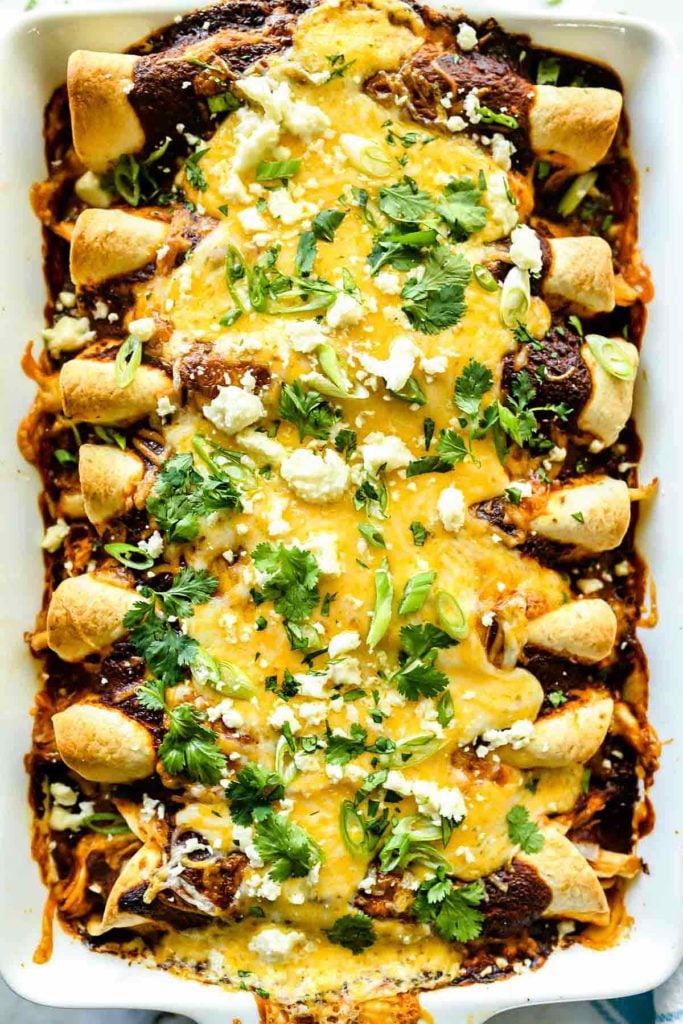 I recently heard about a study that reported that no matter how many recipes they have on their Pinterest wish list or the dog eared in their favorite cookbooks, the home cook generally makes the same 15-20 recipes over and over and over again.
Now, on one hand, this limited recipe strategy can be a bonus, because:
They're recipes you know you and your family will eat.
They're proven recipes that work.
Since you're familiar with them, there's no time wasted leaning into a recipe learning curve.
But on the other hand, those recipes can get you totally get stuck in a rut. And who wants to be the boring cook in the kitchen anyway??!!
Today's recipe is a hybrid of one of my go-to recipes to cook (enchiladas) with a twist (mole sauce!), because:
It's totally familiar = enchiladas. Approachable = chicken. But with the addition of just two ingredients to regular enchilada sauce, this recipe gets serious brownie points for uniqueness.
When they're as easy to make as these, enchiladas are pretty much impossible to screw up.
All you need to know about these babies is how to use a blender, an oven, and how to roll with the best of them.
How to Make Mole Enchiladas
Because mole sauce isn't found at most ordinary Mexican American restaurants, many people aren't familiar with it which leads to the most popular questions about mole sauce: what is mole made of and what does mole taste like?
This mole starts with a no-cook enchilada sauce I discovered when making this Chilaquiles recipe I featured from The Minimalist Kitchen: 100 Wholesome Recipes, Essential Tools, and Efficient Techniques authored by my friend Melissa of The Faux Martha. The enchiladas sauce recipe was so easy to make, and had such depth of flavor I knew it would be just the right base for a mole sauce.
Traditional mole sauce can include nuts, fruits, spices and chocolate (like this one) all in one recipe. But we're taking the easier route, without sacrificing flavor.
This mole sauce has the addition of chocolate, peanut butter, and cinnamon. Yes, it sounds like a super weird ingredient addition, but the sweetness mellows the spice and earthiness of the enchilada sauce, creating a complex flavor from simple ingredients and is ready in 12 minutes. And that includes 10 minutes time to soak the chiles.
You can totally make this entire meal ahead, or at least meal prep the ingredients so you're ready to go.
For all the purist enchilada lovers out there, I do indeed realize that enchiladas use corn tortillas instead of flour. And that they usually dunk those tortillas in oil before rolling. But because my family prefers flour tortillas over corn, I made the executive decision to share our favorite version here.
If you prefer corn tortillas, both yellow and white corn work equally well, but you will want to give them a quick fry first. This makes the tortillas more pliable and less likely to tear. Prepare a skillet with about 1 cup of canola oil over medium high heat and quickly fry the tortillas one at a time for about 10 seconds, then drain on a paper towel. Don't let them get too crisped or they'll be too stiff to roll.
I add a little bit of onion as well as shredded cheese and a bit of sauce to the middle of each enchilada. So technically, yes, these are chicken and cheese enchiladas, and my family loves 'em that way!
I made my chicken in the Instant Pot multi-cooker, but rotisserie chicken , baked chicken breast, or meal prepped chicken is the way to go here.
To cook the chicken in the Instant Pot, add 3 skinless, boneless chicken breasts to the insert of a 6 quart Instant Pot with 1 cup water, 1/2 onion cut into quarters, and 2 cloves garlic with a healthy dose of kosher salt. Cook on high pressure for 10 minutes, then natural release for 10 minutes, and Bob's your uncle.
Add a generous amount of sauce to the bottom of the dish and to the top and layer it up with cheese. I used a colby cheddar blend and topped it with cotija, sliced green onion, cilantro and avocados. Because at our house, just like these enchiladas, avocados will pull any dish out of a rut.
What to Serve With Enchiladas to Make a Meal
Of course you can serve this with rice and refried beans, but I like to balance things out with a lighter touch and recipes like these:
Do you have any favorite Mexican sides to share? Post in the comments or email me at [email protected]
If you make this recipe, please let me know! Bookmark this recipe and leave a comment below, or take a photo and tag me on Instagram with #foodiecrusheats.
Beyond Easy Chicken Mole Enchiladas
These mole sauce chicken enchiladas can be prepped ahead and refrigerated for 3 days before baking, or wrap tightly with plastic wrap then foil and freeze for up to 2 months. To cook from frozen, bake at 375°F for 45 minutes, tented with aluminum foil, then another 10 minutes uncovered.
Ingredients
For the Mole Sauce

2

cups

hot water

4

dried Ancho chiles

stemmed and deseeded

¾

roughly chopped sweet onion

1 15-

ounce

can fire-roasted tomatoes

4

cloves

garlic

smashed

1

tablespoon

honey

2½

teaspoons

kosher salt

1/3

cup

semi-sweet chocolate chips

melted

3

tablespoons

creamy peanut butter

1/2

teaspoon

ground cinnamon

To Assemble the Enchiladas

8 to 10 6-

inch

flour tortillas

3

cups

shredded chicken

1/2

yellow onion

diced

2-3

cups

shredded cheese

3

cups

mole sauce

Avocado

chopped green onion, cilantro and cotija cheese for garnish
Instructions
For the Mole Sauce

In a high-powered blender, add the hot water and submerge the chiles in the water. Let sit for 10 minutes to soften. Add the onion, tomatoes, garlic, honey and kosher salt and blend on high until smooth. Then, add the chocolate chips, peanut butter and cinnamon and blend for 30 seconds to one minute.

To Make the Enchiladas

Preheat the oven to 400°F.

In a 9 X 12 baking dish, add 1 cup of the mole sauce, tilting the dish to evenly coat the bottom of the dish. Fill each tortilla with 1/4 cup shredded cheese and 1/3 cup of the chicken. Drizzle with more mole sauce and sprinkle with the chopped onion. Roll the enchilada and place seam side down in the pan. Repeat and place the enchiladas snugly against one another. Pour 1 1/2 cups of the sauce over the center of the enchiladas and top with more shredded cheese. Tent with aluminum foil and for 20 minutes or until warmed through and the cheese is melted. Remove the aluminum foil and bake for 10 more minutes. Garnish with the chopped avocado, onion, cilantro and cotija cheese if desired.
As always, thank you for reading and supporting companies I partner with, which allows me to create more unique content and recipes for you. All opinions are always my own.
Thanks for reading and subscribe to FoodieCrush to have each post delivered straight to your e-mail box.
Learn more about my printed day-planner Nourished Planner here, and sign up for free, emailed weekly meal plans.
Follow me on Instagram, Facebook, Pinterest and Twitter for more FoodieCrush inspiration. 
SIGN UP FOR FREE!
THANK YOU FOR VISITING FOODIECRUSH.COM

Subscribe to the FoodieCrush email newsletter and have every new post plus exclusive content delivered straight to your email box,
FOR FREE!