Homemade Japanese 7 Spice (Shichimi Togarashi) infuses homemade teriyaki sauce to boost the flavors of this healthy teriyaki chicken bowl, featuring chicken thighs, edamame, and sushi rice.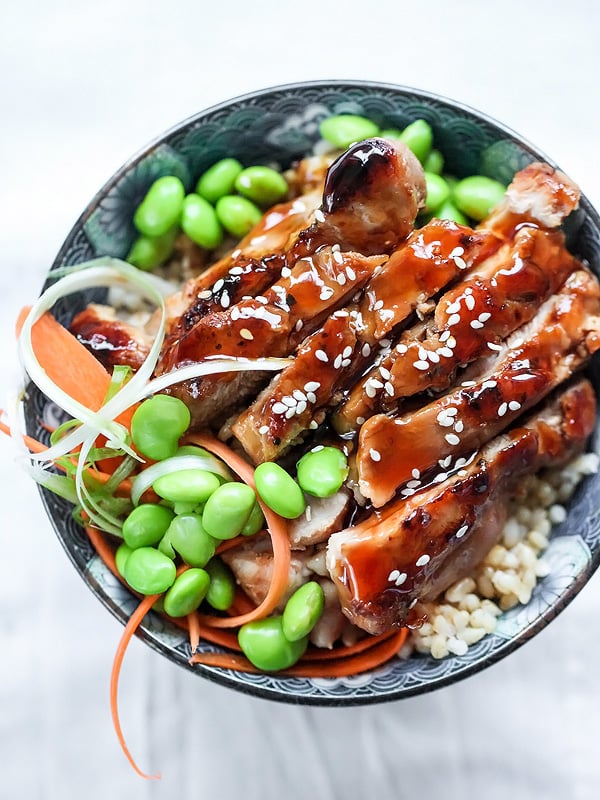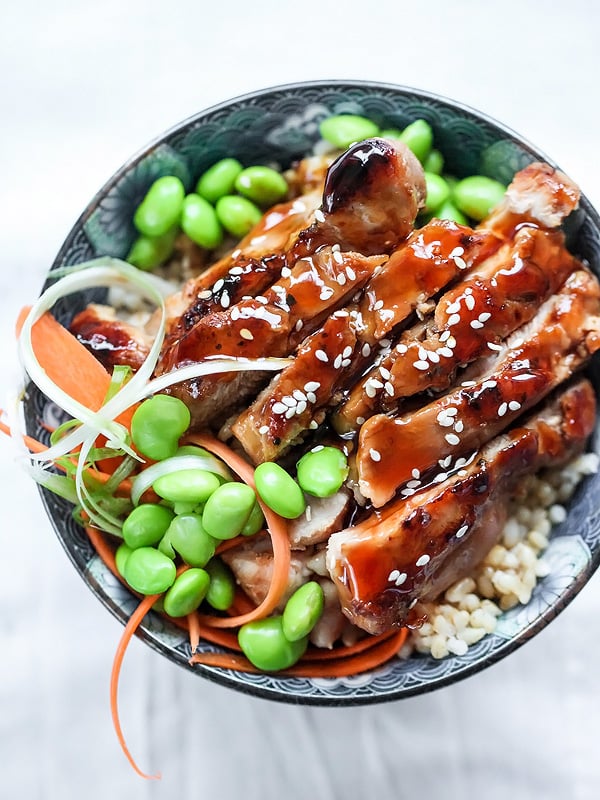 There's a trend afoot. A food trend you're seeing right, left and center, and it starts with a capital F. No, we're not talking french fries, fondue, or finger food. While I dig all of those and am especially partial to another F-word (I mean my my mom's Fudge), they're not on the scale for making major inroads into every cook's kitchen.
So what F word is trending? It's simple, really. The big F starts with flavor. Cooking these days is all about flavor. Trés trendy? Or just good, old fashioned recipe making? I'm betting it's both.
Today's recipe uses the Japanese 7 spice combination ethnically known as Shichimi Togarashi to intensify a classic Chicken Teriyaki Rice Bowl. I use Togarashi all the time to add a little heat to recipes like simple miso ramen and garlic-studded shrimp and soba noodles, but I never thought to make this spice blend at home until I was introduced to this recipe.
I remember going to the food court at West Los Angeles' Century City mall (before their big remodel) where a wicked good rice bowl had customers lined up each and every day for a quick — and cheap — lunch of chicken, rice, and veggies all dressed with a sweetened teriyaki sauce. As my usual cravings lean, I always spiced it up with a little additional heat.
I still crave that bowl. So it is time to make one of my own.
8 Flavors Trending Now
Last year after I discovered the McCormick Flavor Forecast, I dug into if to see what I was missing out on. As a food blogger, I'm always trying to stay one step ahead of the game. Or at least running as fast as I can alongside it. This year's flavor forecast helps mark the 125th anniversary of McCormick. 125 years? That's a whole lotta spices. Yet even with all that history, McCormick isn't looking back. They're looking forward instead.
McCormick's 2015 Flavor Forecast predicts that that global flavors, classic techniques and sassy, new combinations of flavors will be influencing eating habits for years to come. And here's what we have to look forward to:
Global Blends On the Move
History repeats itself with bold and pungent flavors making their way from favorite Middle Eastern and Japanese restaurants into the home kitchen of 2015 to recreate ethnic favorites like a classic Chicken Shawarma Wrap with Cucumber Radish Relish.
Liquid Revolution
Sauces get a bold kick when fresh purees and juices are blended with herbs and spices to intensify dishes like Spiced Shrimp with Roasted Corn Puree & Plum Sauce.
Middle Eastern Mezze
Finger food is at it's height right now in 2015 the mezze is making a splash with zesty herbs and spices making vibrant dips like Cumin and Coriander Marinated Olives.
Sour + Salt
Move over salty + sweet, sour is creeping into the game. Combining coarse salts with surprising sours, like Mango Curry Lime Salt, adds a brightness and zest to finish off any dish in 2015.
Smoked Spices
Ask any BBQ cooking contest champion and they'll agree, with smoke comes flavor, like in a Deviled Eggs with Smoked Creole Mustard that is rich beyond it's years.
Cookies Reimagined
The classic cookie is getting an upgrade with imaginative combinations like Peanut Butter Snickerdoodle Tart with Cinnamon Peanut Crust that will send every spicy foodie to sugar heaven.
Flavor Worth the Wait
Slow cooking is so 2015, and worldwide spices make the braise for dishes like Spiced Chicken Tagine with Preserved Lemon and Olives.
Umami Veggies
Umami burgers and soups were everywhere last year. Look for that "fifth taste" to make it's way to the naturally umami-rich veggie aisle in dishes like Asian Steak Tacos with Spicy Mushroom Salsa.
What's in Teriyaki Chicken Bowls?
Ground red pepper, Valencia orange peel, sesame seed, ground ginger, poppy seeds and ground white pepper are all processed and mixed with the nori (dried seaweed) — a historic umami flavor builder — to flavor my sweetened teriyaki sauce. The Japanese 7 Spice mix adds a little heat to the sauce. If you like your heat on the gentle side, start off with adding ½ teaspoon to the sauce and add more to taste.
I use chicken thighs for my rice bowls because that's what they used at the food court, and in my book, thighs are always juicier and more flavorful than chicken breasts.
Brown rice adds a bit of nuttiness to this bowl and is my personal fave, but if you're a fan of white rice (like my daughter) I use short grain sushi rice for the bowls. A shortcut I can totally get behind are the shelf-stable bowls of brown rice. This is my favorite brand. Just warm in the microwave and you have hot rice in mere minutes and everyone can choose white or brown. Perfect for a quick lunch.
Besides these key ingredients, you'll also need a handful of veggies, plus some sauces and vinegars to build up the flavor of these teriyaki chicken and rice bowls.
How to Make Teriyaki Chicken Bowls
The chicken thighs are lightly seasoned with salt, then cooked on a grill pan (I have this one) on the stove. Once the chicken is cooked through, I give it a brushing of the Japanese 7 spice infused teriyaki sauce and cook the thighs for an additional 2 minutes on each side or until nice grill marks appear.
If you brush with the sauce too early, the sugar might burn and cause a crispier crust on the chicken. But if that's your thing, go for it.
I use my serrated veggie peeler to thinly slice raw carrot and green onions that I add cold to the bowl. The heat of the rice, chicken and sauce is enough to warm these tender veggies along with the thawed edamame. Other veggie options could include blanched broccoli florets, red bell pepper, peas and water chestnuts.
Can I Make This with Cauliflower Rice?
Of course! If you don't have regular rice on hand or are trying to limit your carb intake, you can most definitely use cauliflower rice.
Can I Prep These Bowls in Advance?
Yes, but I recommend storing each component of these Japanese rice bowls in separate containers. You should reheat the teriyaki chicken in a skillet over low heat to prevent it from drying out.
Tips for Making Teriyaki Chicken Bowls
After grilling the chicken, cover it loosely with foil and let it rest for a few minutes before slicing it. This gives the juices time to redistribute and makes for a juicier bite of chicken.
You should be able to find most of the ingredients for these teriyaki bowls in the Asian aisle of your grocery store. The edamame will be in the frozen section next to the other frozen veggies.
If desired, you can add other veggies to your teriyaki chicken bowl, but I love how simple these bowls are. There's no need to add lots of extra ingredients when the bowls taste so good already!
More Bowl Recipes You'll Love
If you make this recipe, please let me know! Leave a comment below or take a photo and tag me on Instagram or Twitter with #foodiecrush.  
Print
7 Spice Teriyaki Chicken Rice Bowls
Homemade Japanese 7 Spice infuses homemade teriyaki sauce to boost the flavors of this healthy teriyaki chicken bowl with edamame.
Ingredients
1

pound

boneless

, skinless chicken thighs (about 4 pieces)

kosher salt

½

cup

soy sauce

½

cup

sugar

¼

cup

mirin

2

tablespoons

cornstarch

2

tablespoons

water

4

teaspoons

rice vinegar

1

teaspoon

Japanese 7 spice

, (Shichimi Togarashi—recipe below)

2

cups

cooked sushi rice or brown rice

1

carrot

, thinly shaved

4-6

green onions

, thinly shaved

1

cup

frozen shelled edamame

, thawed

Sesame seeds

for garnish
For the Japanese 7 Spice (Shichimi Togarashi)
½

sheet nori

, (dried seaweed)

1

tablespoon

McCormick Gourmet™ Valencia Orange Peel

4

teaspoons

McCormick ground red pepper

2

teaspoons

McCormick sesame seed

1

teaspoon

McCormick ground ginger

1

teaspoon

McCormick poppy seed

¼

teaspoon

McCormick ground white pepper
Instructions
Rinse the chicken in water and pat dry with paper towels. Season the chicken lightly with kosher salt and set aside.

Add the soy sauce, sugar and mirin to a small sauce pan. Mix the cornstarch in the water and add to the sauce pan. Bring the mixture to a boil, then reduce to simmer. Add the rice vinegar and Japanese 7 spice and cook for 5-10 minutes or until the sauce thickens, stirring occasionally.

Spray a grill pan with cooking spray and bring to medium high heat. Add the chicken thighs but don't crowd the pan. Cook the chicken for 5-7 minutes on each side. Baste each side of the chicken with the 7 spice teriyaki sauce and cook for an additional 2 minutes each side. Remove from the pan, lightly tent with foil and rest for 3-5 minutes. Repeat with the other chicken thighs if needed.

To prepare the bowls, spoon rice into the bottom of the bowl then layer with shredded carrot, shredded green onion and edamame. Slice or chop the chicken thighs and place on top then drizzle with the 7 spice teriyaki sauce. Garnish with sesame seeds.
For the Japanese 7 Spice (Shichimi Togarashi)
Process nori in a mini food processor or blender until fine flakes form. Add remaining spices and blend. Store tightly in a covered jar in a cool, dry place.
Nutrition
Calories:
943
kcal
|
Carbohydrates:
161
g
|
Protein:
49
g
|
Fat:
11
g
|
Saturated Fat:
2
g
|
Cholesterol:
144
mg
|
Sodium:
2487
mg
|
Potassium:
949
mg
|
Fiber:
9
g
|
Sugar:
41
g
|
Vitamin A:
4922
IU
|
Vitamin C:
12
mg
|
Calcium:
117
mg
|
Iron:
6
mg
More Chicken and Rice Recipes to Make
We send good emails. Subscribe to FoodieCrush and have each post plus exclusive content only for our subscribers delivered straight to your e-mail box.
Follow me on Instagram, Facebook, Pinterest and Twitter for more FoodieCrush inspiration.
This post is in partnership with McCormick®. As always, thank you for reading and supporting companies I partner with, which allows me to create more unique content and recipes for you. There may be affiliate links in this post of which I receive a small commission. All opinions are always my own.
SaveSave
SaveSaveSaveSave
SaveSave