Chicken quinoa bowls have staked their healthy claim on quick and easy meal-prep dinners that are flexible enough to mix and match ingredients for take-to-work lunches that never get boring, too.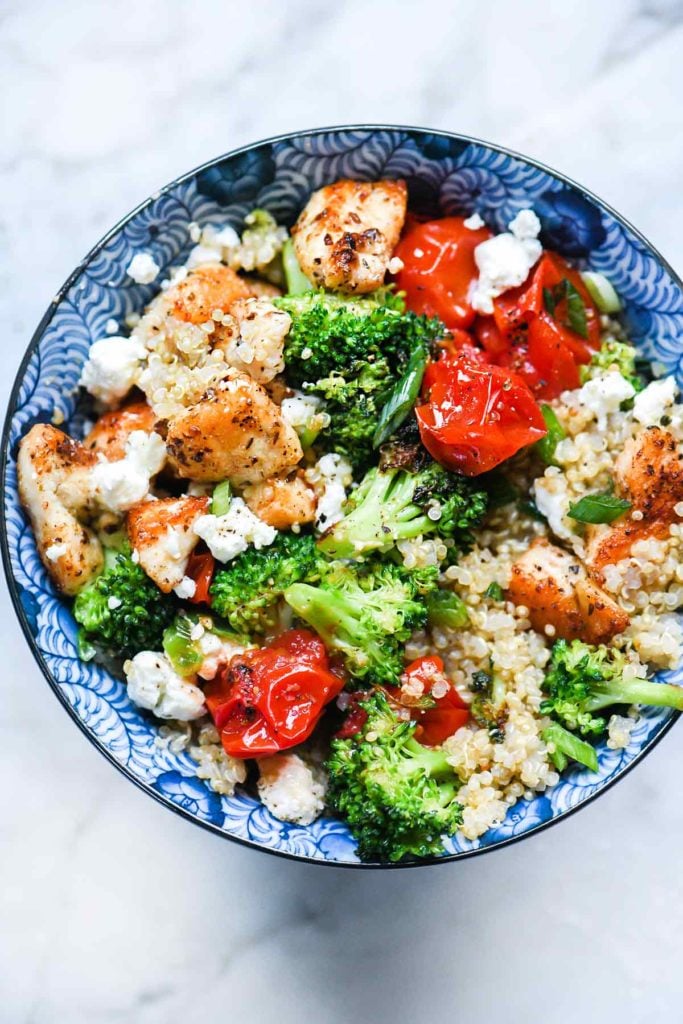 Healthy Chicken Quinoa Bowl
This quinoa bowl combines what seems to be my ever-lasting, default flavor combo, inspired by Mediterranean flavors ala Donny and Marie: it's a little bit Italian, and a little bit Greek goddessness. And it all tastes good to me.
Over the years I've found myself adopting more and more recipes inspired by the Mediterranean diet to my weekly eating plan. I eat more anitoxidant-rich vegetables and fruits (avocado all day!), healthy legumes and whole grains, and loads of fresh herbs. I don't eat a whole lot of red meat, but chicken, turkey, and EFA-loaded fish like salmon are my friends and olive oil tinged with lemon is one of my favorite flavorings.
And wine. Yes, wine is heart-healthy too.
I've known about the heart-healthy benefits of the Mediterranean style of eating ever since my days designing health and wellness magazines, way back when you had to shop for quinoa in specialty health food stores and when my editors made sure I didn't sound alike a complete goof when I said "kwin-O-aaa" instead of "KEEEN-wa." Bless their hearts, they were always looking out for me.
What's in These Chicken Quinoa Bowls?
Simple is the name of the game when making these Mediterranean bowls. I've popped instructions below on how to meal prep this quinoa dinner recipe, should you find that kind of information handy.
Here's what all you'll need to make quinoa bowls:
Chicken breast
Olive oil
Lemon
Garlic
Dried oregano
Kosher salt and pepper
Cooked quinoa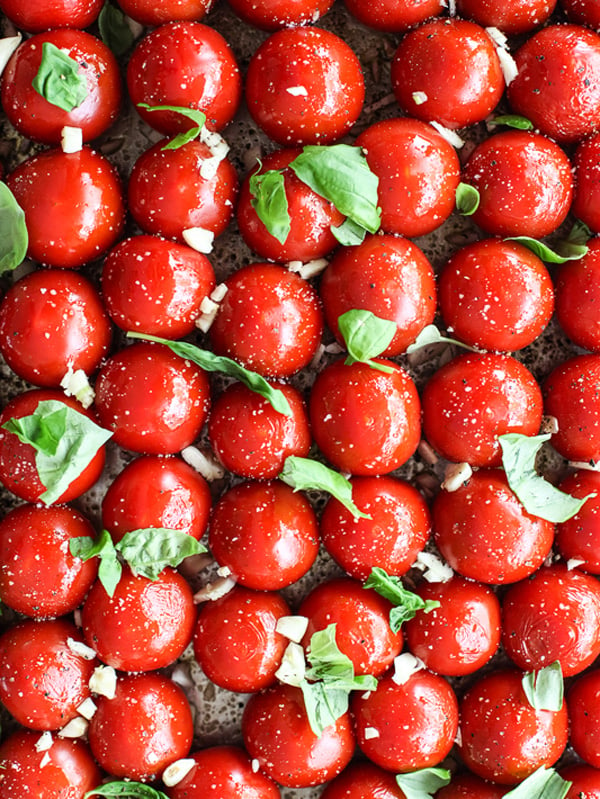 How to Meal Prep Quinoa Bowls
This chicken and quinoa recipe is a super easy one to pull off any night of the week, and is a favorite of mine for quick dinners because I can literally toss a few leftovers together and dinner (or lunch) is served.
It starts with meal prepped (or leftover) easy broccoli with feta cheese. I usually serve this as a side to my chicken and turkey recipes or salmon recipes because it comes together fast and is easily doubled for eating later.
Another meal-prepped ingredient that I can serve as a side are my super easy roasted tomatoes. I make them into caprese toasts, blend them to into soup (just toss them all in the blender and add a little milk or cream if you like), add to frittatas, toss into salads, or use as my FAVORITE tomato sauce for pasta or grains. I'll usually make a batch then store them in a quart jar and drizzle with extra olive oil then store in the fridge until the time is right to add to something spectacular, and spectacularly easy.
The chicken is based on this grilled lemon chicken skewer recipe, but here I'm making it in the fry pan. It's first cut into chunks then given a quick garlic, olive oil and lemon marinade for it's simple Mediterranean flavor spin. I cook it in the sauté pan then toss the tomatoes and broccoli in for a quick warm up.
How to Cook Quinoa
Conventional teachings instruct the home cook to prepare quinoa the same as rice, in portions set to a formulaic ratio that's brought to a boil, then covered and simmered until done. Personally, I rarely find success cooking it that way and end up adding more water as it cooks, and more water, sometimes ending in a gummy mess.
Instead, I follow the idea of cooking quinoa just like pasta, in a pot of salt-seasoned water at a rolling boil, checking for doneness and those little quinoa finally emerge and the quinoa is a tender bite. Then, simply use a fine mesh strainer to drain. If serving warm, fluff with a fork and cover the pot with a dish towel and top with a lid to absorb some of the excess moisture as it keeps warm. If eating the quinoa at room temperature, spread the quinoa on a plate or a baking sheet to cool and dry so it doesn't get clumpy and gummy.
1 cup of dried quinoa typically yields about 3 cups of cooked quinoa.
Tips for Making Chicken Quinoa Bowls
One step not to skip is rinsing the quinoa before cooking it. Why do you rinse quinoa? Most quinoa has already been rinsed before being packaged, but giving it another rinse ensures the natural coating that can lend a bitter taste has been rinsed away.
You're welcome to add more veggies to this chicken quinoa bowl, if desired. Go ahead and meal prep any veggies you have lying around that are about to go bad. Pretty much any vegetable pairs well with the feta and chicken.
For a grab-and-go lunch, add the chicken quinoa bowl ingredients to jars at the start of the week so you don't have to prep anything during the week. Put the chicken on the bottom, followed by the veggies and quinoa.
More Healthy Quinoa Recipes to Make
If you make this recipe, please let me know! Leave a ⭐️⭐️⭐️⭐️⭐️ rating on this recipe below and leave a comment, take a photo and tag me on Instagram with #foodiecrusheats.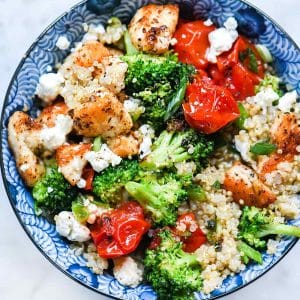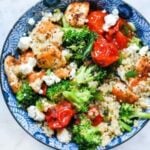 Print
Mediterranean Chicken Quinoa Bowl with Broccoli and Tomato
Chicken quinoa bowls have staked their healthy claim on quick and easy meal-prep dinners that are flexible enough to mix and match ingredients for take-to-work lunches that never get boring, too.
Ingredients
For the Chicken:
1 6-

ounce

skinless, boneless chicken breast

¼

cup

+ 2 tablespoons olive oil

1

lemon

, juiced and zested

2

cloves

garlic

, pressed or minced

2

teaspoons

dried oregano

½

teaspoon

kosher salt

¼

teaspoon

freshly ground black pepper

½

cup

Easy Roasted Tomatoes
For the Quinoa:
1

cup

dried quinoa

1

teaspoon

kosher salt

Crumbled feta cheese
Instructions
Slice the chicken breast into 1-inch chunks and add to a gallon freezer bag. In a small bowl, whisk the olive oil, lemon juice and zest, garlic, oregano and salt and pepper then add to the bag, seal, and marinade for at least 30 minutes up to overnight.

Heat the remaining 2 tablespoons olive oil in a non-stick skillet over medium high heat. Add the chicken to the skillet and cook until browned on all sides and cooked through, about 10-12 minutes.

Reduce the heat to medium and add the broccoli and tomatoes to the pan with more olive oil if needed, and warm through.

Meanwhile, cook the quinoa. Rinse it in a fine mesh strainer under cold water first. Bring a sauce pan of water to a boil over high heat, then add 1 teaspoon of kosher salt and the quinoa. Boil it like pasta, until al dente, stirring occasionally, about 8 to 10 minutes. Drain, fluff with a fork, and return the quinoa to the pot, cover with a kitchen towel, then a lid and let sit for 5-10 minutes.

To assemble the bowls, divide the quinoa between the bowls and top each with half of the chicken and vegetable mixture. Season with more kosher salt and freshly ground black pepper to taste and drizzle with more olive oil if you'd like. Sprinkle with feta cheese crumbles and serve.
Notes
The roasted broccoli and roasted tomatoes can be made ahead and stored in the refrigerator for up to 3 days before adding to the cooked chicken to warm before composing the quinoa bowls.
Nutrition
Serving:
1
g
|
Calories:
481
kcal
|
Carbohydrates:
45
g
|
Protein:
24
g
|
Fat:
23
g
|
Saturated Fat:
3
g
|
Cholesterol:
42
mg
|
Sodium:
1321
mg
|
Potassium:
726
mg
|
Fiber:
7
g
|
Sugar:
2
g
|
Vitamin A:
405
IU
|
Vitamin C:
48
mg
|
Calcium:
88
mg
|
Iron:
4
mg
More Good for You Mediterranean-Inspired Recipes to Try Now
We send good emails. Subscribe to FoodieCrush and have each post plus exclusive content only for our subscribers delivered straight to your e-mail box.
Follow me on Instagram, Facebook, Pinterest and Twitter for more FoodieCrush inspiration.
As always, thank you for reading and supporting companies I partner with, which allows me to create more unique content and recipes for you. There may be affiliate links in this post of which I receive a small commission. All opinions are always my own.