Inspired by the famous Italian chopped salad at La Scala, this yummy salad recipe is packed with awesome ingredients and loaded with amazing crunchy textures and flavors thanks to marinated chickpeas, salami, artichoke hearts, sun-dried tomatoes, Asiago cheese, and a zesty red wine vinaigrette.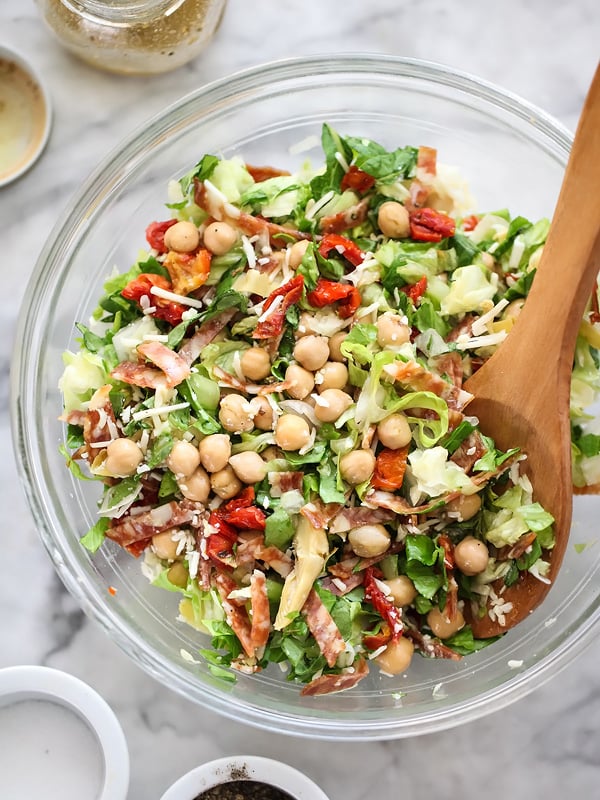 Salad might run through my veins like sugar does through those of a baker.
In fact, I'm not sure if I've ever gone more than 2 days without a salad in at least one of my rounds of eating. There's always a side salad with dinner, it could be more fruit filled or sometimes there's no lettuce at all. It's a mix and match type of game more often than not.
But where I hit my real pleasure point is when I make a big daddy salad for a filling lunch or dinner.
Pack it with protein.
Add salty bits.
It definitely calls for a sprinkle of cheese.
And where would we be without the sharp tang of pucker-induced salad dressing?
And while we're talking tangy puckers—not Tanya Tucker—I have a giveaway of over $250 worth of AWESOMENESS (jewelry anyone?) at the end of this post, so set your mouth, and your mouse, to scroll…
The Original: La Scala Chopped Salad
One of my favorite salads of all-time, forever-more, is the La Scala Chopped Salad. If you've never heard of said salad, you're missing an institution in the salad legion hall of fame. Okay, I just made that honor up, but all the same, Beverly Hills' La Scala salad may very well be the godfather of eating fresh, vibrant foods that has since become known as California cuisine. Sorry Wolfgang, but Jean Leon definitely came first.
Since moving away from L.A. I've found that just about the only things I miss are my nightly walks with the dogs on the beach…and food. But there's no reason to go without. I simply make my own.
It's a simple salad, with two kinds of lettuce chopped small, there are always chickpeas, either salami or turkey and a sharp dressing that always leaves me wanting more. And now I've made it even simpler—and faster—when I use DeLallo SaladSavors® salad toppings to give it that extra sharp punch.
Over the years I've done some serious research in discovering the secret to this salad and I think I've finally hit the nail on the lettuce head thanks to my adaptation of a recipe from the L.A. Times that is attributed to La Scala's original recipe which of course, I have never been able to find online, but this one comes close. Is it exact? Probably not, you know how those chef's can be, all secretive of their recipes. But it comes as close as my memory allows, so I say it's perfect.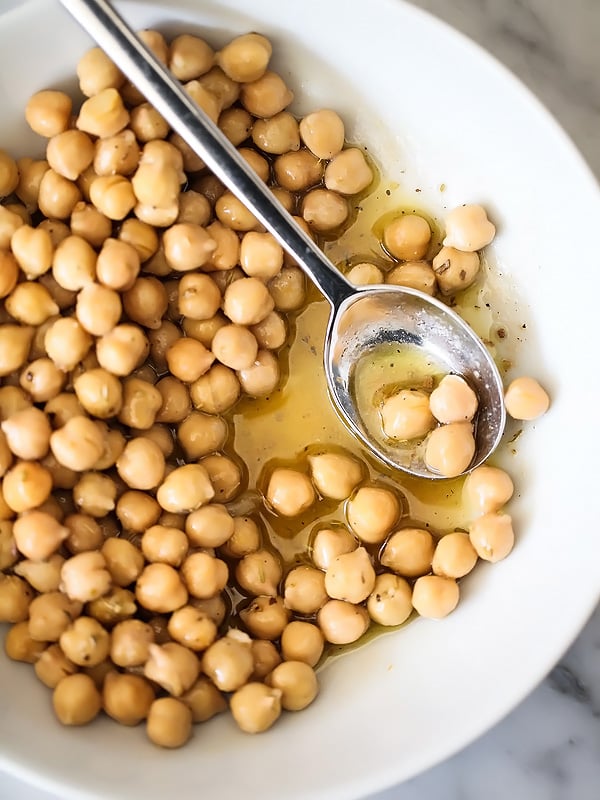 Fixins' to Befit a Legend
This salad isn't just greens and veggies. It's mix of proteins are the stand out stars.
It has a healthy dose of chickpeas that are marinated for about 30 minutes in a bit of the simple salad dressing that I simply shake together in a small mason jar.
This dressing calls for dry mustard instead of Dijon, and I think it's truly the secret ingredient here. It definitely gives the dressing a different flavor than when I use standard Dijon and I really like it.
Making this salad even easier are DeLallo SaladSavors® and can I tell you how much I depend on them? They make it amazingly easy to create a salad on the fly which you'll usually find me doing. I used them for no less than 4 potluck salads these past two weeks—to rave reviews I might add.
DeLallo's salad add-in ingredients  are pre-portioned so you can simply choose your flavor pack, pick up your fresh lettuces and SNAP! you take all of the guess work out of which flavors go with which and they're serious time savers.  The salad quandry equation has been solved.
DeLallo makes it so seriously easy. And perfectly suited for my chopped salad.
The Sausage King
True to La Scala's original, I added some local salami to the salad and that would be from Utah's own Creminelli Sausages, specifically their Calabrese from one of my favorite local gourmet stores, Caputo's Market & Deli.
Caputo's Market is THE place to go in SLC for imported meats, artisan cheeses, artisan chocolates and other gourmet sundries, and MAN! They make some killllller sandwiches. If you visit or live in SLC, you simply HAVE to try their house-cured pastrami. I could eat it day in and day out.
But I Digress…Back to the Salad
Another secret of what sets apart a GREAT chopped salad from merely a good chopped salad is using two different lettuces. I use romaine for flavor and Iceberg for major crunch. Leave your delicate herb and spring mixes for another day. This salad requires heft!
Be sure to chop the lettuces not just in ribbons, but in small bite size pieces. La Scala nearly minces there version. I've kept mine more in tact.
I've given my version of the La Scala salad a more Italian bent, because those are the flavors I crave. Marinated artichoke hearts and sun-dried tomatoes add a sweetness to contrast the vinegary dressing and mash-up perfectly with salami. And the grated Asiago cheese is just the right texture for a salad like this.
If you make this recipe, please let me know! Leave a comment below or tag take a photo and tag me on Instagram or Twitter with #foodiecrush. 
Italian Chopped Salad with Marinated Chickpeas
Inspired by the famous Italian chopped salad at La Scala, this yummy salad recipe gets its amazing crunchy textures and flavors from marinated chickpeas, salami, artichoke hearts, sun-dried tomatoes, Asiago cheese, and a zesty red wine vinaigrette.
Ingredients
1/4

cup

DeLallo extra virgin olive oil

2

tablespoons

red wine vinegar

1

small clove garlic

pressed

1

teaspoon

dry mustard

1

teaspoon

dried thyme

1

teaspoon

dried oregano

kosher salt and freshly ground black pepper

1 15

ounce

can of chickpeas

drained

4

cups

romaine lettuce

chopped

4

cups

iceberg lettuce

chopped

1

package DeLallo SaladSavors® Sharp flavor

with Asiago cheese, marinated artichoke hearts and sun-dried tomatoes

3

ounces

Calabrese salami

or pepperoni, thinly sliced
Instructions
Combine the olive oil, red wine vinegar, garlic, dry mustard, thyme and oregano in a small jar and season with a pinch of kosher salt and freshly ground black pepper. Shake the dressing well.

Place the chickpeas in a bowl and pour 1-2 tablespoons of the dressing on the chickpeas to marinated for 30 minutes and reserve the rest for later.

Add the chopped lettuces to a large bowl. Chop the DeLallo SaladSavors™ artichoke hearts and sun dried tomatoes into bite size pieces. Add to the lettuces with the sliced Calabrese and half of the Asiago cheese. Add the chickpeas in the dressing to the lettuce mixture then pour about half of the reserved dressing over the lettuces and toss to coat. Add more dressing if desired.
And Now to the Giveaway!
DeLallo Foods and I are giving away a prize package worth over $250. It's easy to enter, simply fill out the widget below and you'll be entered to win:
(1) Katie Waltman Cupids Arrow Necklace (you may have seen me wearing it here)
(1) Dog Eared Balance Bracelet in Orange and Gold (orange! gold! my two favorite colors!)
(1) Williams Sonoma Wooden Bowl and Severs (I have a set just like this!)
One (1) of each kind of DeLallo SaladSavors® (six total)
One (1) of each kind of DeLallo Whole Wheat Pasta
One (1) 16.9 oz. bottle of DeLallo Extra Virgin Olive Oil
One (1) 8.5 oz. bottle of DeLallo Balsamic Vinegar
One (1) 8.5 oz. bottle of DeLallo Golden Balsamic-Style Vinegar
Make it a great day friends, good luck on the giveaway, and cook something good.
Yum.
As always, thank you for reading and for supporting companies I partner with, which allows me to create more unique content and recipes for you. All opinions are always my own.  
Are you following me on Instagram, Twitter, Facebook and Pinterest? Thanks for reading and  subscribe to FoodieCrush to have each post delivered straight to your e-mail box.  
SaveSave