These light and juicy turkey burgers cooked on the grill are going Greek, with the addition of sun-dried tomatoes, oregano, feta cheese, and a creamy homemade tzatziki sauce, for a healthy lunch or dinner recipe!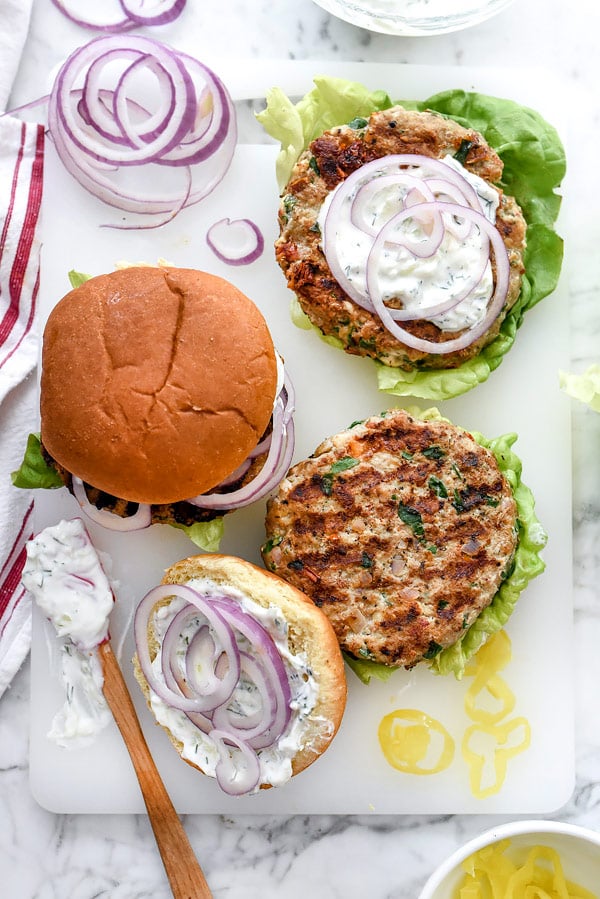 This post is in partnership with Kroger
January is all about making easy swaps in the kitchen to prepare dinners that are a bit more healthful—but still cure your cravings.
I mean, I love, love, love a great quinoa salad, and I'm totally down with eating my favorite egg white fritatta nearly every day of the week. And a 10-minute salmon dinner? There's absolutely nothing wrong with that.
But when the burger cravings strike during my New Year-mindful-mode, and I'm somehow able to harness the willpower not to make my favorite garlic burgers, I turn to this burger recipe instead.
Again this year I'm happy to create and share recipes as a Kroger blogging ambassador where I'm featuring all sorts of products from Kroger grocery stores for my family, and for yours.
The Simple Truth line from Kroger are an array of products you'll find throughout the store that are either organic or natural, and are free from 101 artificial ingredients and preservatives. That alone makes them very easy to fit into nearly every meal I make.
This recipe marries two of my favorite things: Burgers and Greek-inspired flavors. Whether it's pasta, salads or even slow-cooker breakfasts, I just can't seem to get enough of Mediterranean flavors.
Natural ground turkey is the base of this recipe. I like the Simple Truth brand because while low-fat, it isn't fat free so it still has flavor and is always fresh in the meat case.
Since there is so little fat in this meat, I add an egg yolk and some olive oil to the turkey mix as binders so they don't fall apart when grilling.
The med-inspired flavors are pretty classic. Fresh chopped spinach I buy already washed and stemmed (such a time-saver), sun-dried tomatoes, red onion and feta cheese are all added to the mix.
While many meatballs, meatloafs and any other meat-ish dish that call for eggs as a binder are simply cracked right into the mix, I prefer to whisk my egg separately in a bowl with the oregano, garlic (I prefer it pressed rather than minced) with the salt and pepper. Then, I add it to the burger mix to make a more homogenous blend by forgoing a fork and simply digging my hands straight into the mix.
They're gonna get dirty anyway while shaping the patties so why not just go for it now?
I refrigerate my burgers for at least an hour after shaping them to firm up and hold up when cooking. You could also prepare these and let them rest in the fridge before cooking/grilling for up to 2 days.
The next level of Greek flavor comes from a garlicky tzatziki sauce, making it a great sub for mayo, ketchup, or mustard. I prefer to make my sauce and then refrigerate it for at least 30 minutes so the flavors meld.
And to avoid a slippery sauce, don't forget to squeeze the water from the grated cucumber before mixing.
These burgers can be cooked inside on a non-stick grill pan or outside on a traditional grill. Be sure to oil your grates well if you're cooking outside so the burger doesn't stick due to that low-fat thing again.
Whole wheat buns garnished with butter lettuce and sliced red onion complete this burger outfit, but if you're diligently watching the carbs or looking for gluten-free options, these are just as delicious served protein-style and wrapped in a lettuce leaf as a bun.
Tip: Use a meat thermometer to make sure your burgers are completely done. They should be cooked to 165 degrees to make sure they're done, but not overdone and dry.
Recipe Ideas to Serve With Your Greek Turkey Burgers
If you make this recipe, please let me know! Leave a comment below or take a photo and tag me on Instagram with #foodiecrusheats.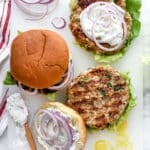 Greek Turkey Burgers with Tzatziki Sauce
Turkey burgers made with the Greek flavors of garlic, oregano, spinach, sun-dried tomatoes and feta cheese are a healthful option for burger lovers everywhere.
Ingredients
For the Turkey Burgers

1

pound

ground turkey

½

cup

fresh spinach leaves

chopped

⅓

cup

sun-dried tomatoes

chopped

1/4

cup

red onion

minced

¼

cup

feta cheese

crumbled

2

cloves

garlic

pressed or minced

1

egg

whisked

1

tablespoon

olive oil

1

teaspoon

dried oregano

1/2

teaspoon

each Kosher salt and freshly ground black pepper

4

soft whole-wheat hamburger buns

Bibb lettuce leaves

Sliced red oinon

For the Tzatziki Sauce

½

cucumber

halved with skin and seeds removed

3/4

cup

low-fat plain Greek yogurt

2

cloves

garlic

pressed or minced

1

tablespoon

red wine vinegar

1

tablespoon

fresh dill

minced

Pinch

of kosher salt and freshly ground black pepper
Instructions
In a large bowl, add the ground turkey, spinach, sun-dried tomatoes, red onion and feta. In a small bowl, whisk together the garlic, egg, olive oil and dried oregano and kosher salt and freshly ground black pepper then pour over the turkey and mix with your hands to combine. Divide the burger mixture into 4 portions and mold into patties. Place on a cutting board or plate dividing the patties with parchment paper and refrigerated for 30 minutes up to overnight. You could also individually freeze the patties at this point for up to 3 months.

Prepare the tzatziki sauce by grating the cucumber. Gather the cucumber together and place in a paper towel and press the water out of the shredded cucumber and place in a medium size bowl. Add the yogurt, garlic, red wine vinegar, fresh dill, kosher salt and freshly ground black pepper and mix well. Cover and refrigerate for 30 minutes or up to 3 days.

Heat a non-stick grill pan over medium heat and spray well with cooking spray.

Place the turkey burgers on the grill, cover with an upside down sheet pan or lid and cook for about 5 minutes per side. Be sure to watch the burgers and monitor your heat as the burgers will brown quickly if the heat is too high.

Slather buns with tzatziki sauce and garnish with lettuce leaves and red onion. Or serve bunless in the bibb lettuce leaves.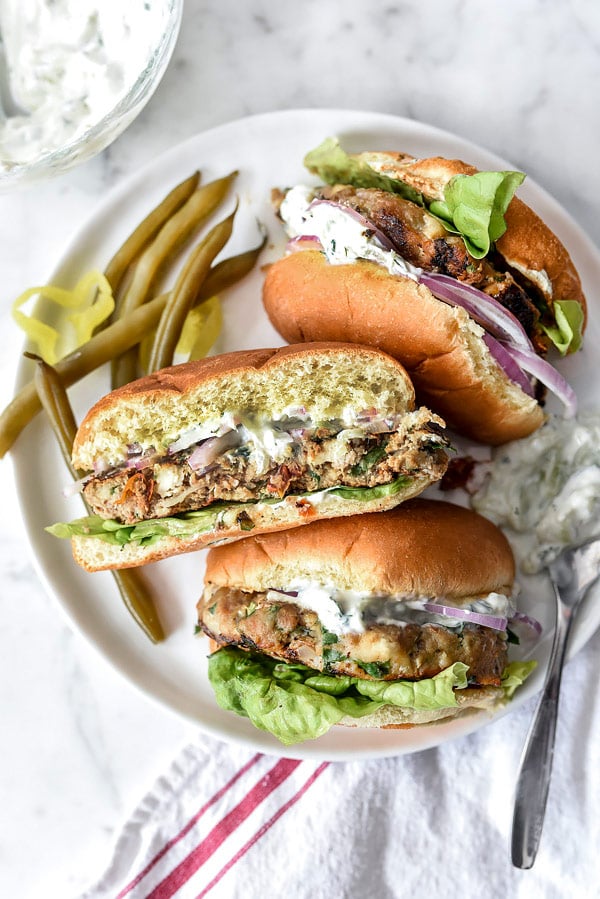 Hey, thanks for stopping by, make it a great day and make something healthful, and good.
This post is sponsored by Kroger. As always, thank you for reading and for supporting companies I partner with, which allows me to create more unique content and recipes for you. All opinions are always my own.
Are you following me on Instagram, Twitter, Facebook and Pinterest?
Thanks for reading and subscribe to FoodieCrush to have each post delivered straight to your e-mail box.
This post is in partnership with Kroger
SIGN UP FOR FREE!
THANK YOU FOR VISITING FOODIECRUSH.COM

Subscribe to the FoodieCrush email newsletter and have every new post plus exclusive content delivered straight to your email box,
FOR FREE!