It's time to move beyond quinoa with10 ancient grains you should be cooking with now, plus 30 recipe links to cook from.
Kamut. Freekeh. Teff. These aren't foreign countries, they're ancient grains, and just like blue jeans with torn knees and backyard chicken coops, they're making a comeback.
A rise in allergies and a hard look at our overall health has resulted in more people reaching for whole grain alternatives. Unless you're gluten-free, you may not have experimented with ancient grains beyond barley, couscous, or quinoa. But if you have, we're impressed!
In the past few years, we've developed a serious obsession with quinoa, (which admittedly, we're still bonkers for) and while it still shines bright in the limelight, there's a wealth of unique, under-the-radar grains out there that have been waiting for thousands of years for us to rediscover.
Read on, to decipher which grain is which, what they're good for, and how to cook (and bake) with these incredible, ancient whole grains.


1. Kamut
Pronounced "kah-moot," this Egyptian wheat varietal is rumored to have been found in King Tut's tomb. We think he was on to something! Rich in protein, iron, zinc and magnesium, kamut comes in the form of a berry, similar in appearance and texture to farro, spelt and wheat berries.
While kamut is not gluten-free, it is easier on the belly, since it does contain a more digestible gluten, making it more ideal for those with mild gluten-intolerances.
How to Prepare Kamut
The grain has a nutty flavor, and is a great alternative to rice. It's ideal for soups, salads and casseroles, but you can also buy kamut flour to use in place of wheat flour.
Almond Kamut Granola from Naturally Ella
One Skillet Creamy Chicken and Kamut Casserole from Healthy Nibbles & Bits
Kamut Salad with Oranges, Leeks & Blue Cheese from Cookin' Canuck



2. Farro
There are actually three different varieties of farro: Einkorn, Spelt and Emmer (the kind most commonly found in the U.S.) so shopping for farro can get a little confusing. You can buy whole farro (with all of the nutrients intact), semi-pearled (where some of the bran has been removed — this type is most common), or pearl (where all of the bran has been removed). It also comes in three different grades: cracked, medium, or long. Many of the labels tend to just read "farro," which is frustratingly vague, given how many different types there are.
Are you still with us? Good, because farro actually has many pros.
Farro's health benefits are almost identical to quinoa, but its appearance, texture and taste are much more akin to barley and spelt berries. It's super trendy among chefs at the moment, so expect to start seeing it pop up more on menus.
How to Prepare Farro
It's a versatile, hearty grain, with an earthy, nutty flavor profile, and it makes a killer risotto—like this one. It's not gluten-free, but like kamut, it is lower in gluten, and easier to digest.
We can't get enough of it in stews and salads, but also enjoy it as a porridge, when we need a diversion from our morning oatmeal.
Broken Farro Porridge with Coconut Milk, Almonds, & Roasted Plums from Blogging Over Thyme
Mediterranean Farro Salad from Gimme Some Oven
Farro Risotto with Prosciutto, Parmesan and Brussels Sprouts from Domesticate Me



3. Freekeh
Do we love freekeh? Freekeh right we do! The term "freekeh" is actually the name of the method used to prepare this wheat derivative. These grains are prematurely-harvested while they're young and green, then they're roasted, which lends a nice smoky flavor. The thousand plus year-old grain is popular in Middle Eastern and Mediterranean diets, and it's most similar to bulgur (see #4).
Freekeh can be found either whole or cracked (which just means the grain has been shortened, which in turn reduces its cooking time). It's full of fiber, protein, zinc and iron, and it's low on the glycemic index. 
How to Prepare Freekah
Freekeh is most commonly used in salads, but it's also great for thickening soups, making pilafs, and stuffing meat or vegetables. It's hearty texture and fiber content make it a stellar addition to vegetarian burgers.
Roasted Cauliflower, Freekeh and Garlicky Tahini Sauce from Cookie and Kate
Chipotle Black Bean Freekeh Sliders with Avocado Lime Crema from The Corner Kitchen
Freekeh Salad with Blackberry Ginger Vinaigrette from Scaling Back



4. Bulgur
If you've had tabouli (that awesome Lebanese salad also spelled "tabbouli," and "tabouleh" that's almost always on the menu at any Middle Eastern restaurant), you've had bulgur before.
Bulgur is also referred to as "cracked wheat." It's high in fiber, iron, phosphorous, magnesium and B vitamins, and a decent amount of protein, not to mention, it's also low on the glycemic index.
How to Prepare Bulgur
Bulgur is a type of wheat that has been parboiled, dried and then cracked, much like types of freekeh, so it too is quick-cooking—yay for saving time. It's versatile to cook with, and has a slightly nutty flavor that we love. It does have gluten, but don't worry, we'll soon be getting to the grains that don't!
Add bulgur to salads, use it in place of oats, as a warm and filling breakfast cereal, or sub it for rice.
Blackberry Coconut Bulgur Breakfast Bowl from Cookie Monster Cooking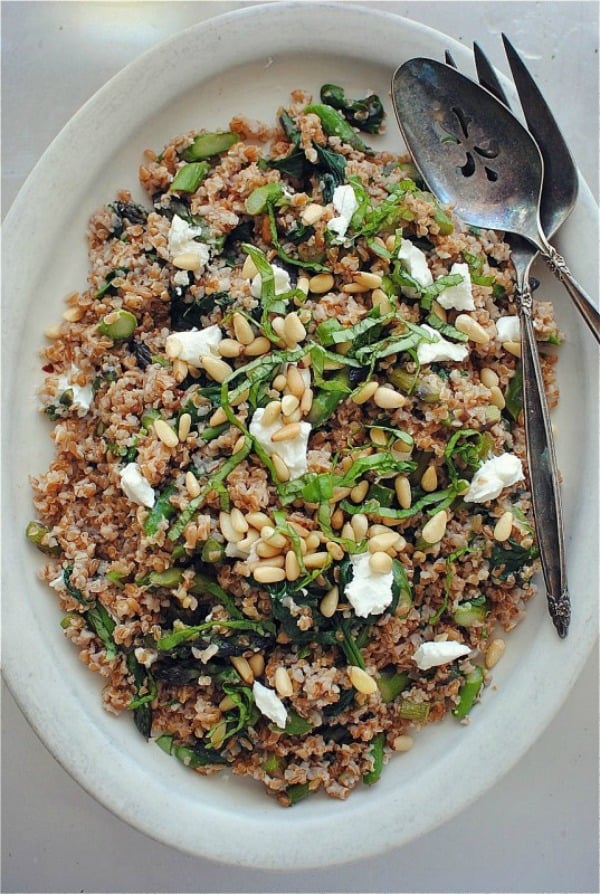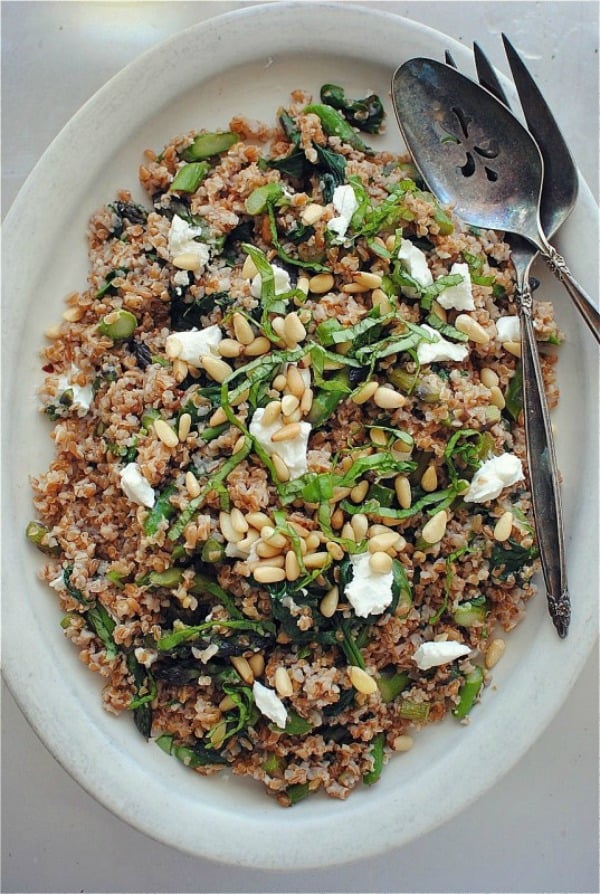 Bulgur Salad with Spinach, Pine Nuts and Asparagus from Bev Cooks
Bulgur, Black Bean and Mushroom Enchilada Casserole from The Wanderlust Kitchen



5. Wheat Berries
These plump little "berries" are actually kernels of whole grain wheat (minus the hull, or shell). They bare a strong resemblance to barley, only they're darker in color (sort of a reddish-brown hue.)
Wheat berries are high in fiber and iron and are also a good source of protein with a chewy, nutty flavor and offer a number of dietary possibilities.
How to Prepare Wheat Berries
You can cook the berries much like you would oatmeal or porridge, or make a salad out of them. We think they're awesome added to casseroles, soups and stews too.
Cook the wheat berries like you would pasta, bringing salted water to a boil, then simmering them for about an hour, or until they're tender.
Brown Sugar Apple, Wheat Berry, & Yogurt Parfaits from Pinch of Yum
Chickpea Za'atar Salad from Green Kitchen Stories
Lemony Wheat Berries with Roasted Brussels Sprouts from Oh My Veggies


6. Teff
Teff, an Ethiopian-grown grain just so happens to be the world's tiniest grain, so tiny in fact, you'd easily mistake it for a seed. Despite its modest size, this supergrain is rich with health benefits, so much so, that it's been deemed "the new quinoa." A-listers such as Gwyneth Paltrow and Victoria Beckham have gotten onboard the teff train, and the grain's popularity is quickly gaining.
Teff is full of protein, iron and calcium, plus, it's entirely gluten-free. It's also been found to help regulate blood sugar, as well as help people maintain a healthy weight.
How to Prepare Teff
Teff comes in a variety of colors — white, brown and red, and it has a nutty flavor, making it a tasty addition to salads. You can also make a breakfast porridge out of it, eat it raw, or even bake bread with it. Teff is most commonly ground into a flour to make injera — a spongey beige crepe-like bread, popular in Ethiopia.
The only downside to teff? Like many things that come in small packages, teff is not cheap. We recommend not going overboard with this one, but we do think you'll find it's worth the splurge.
Banana Nut Teff Parfait from Eating Bird Food
Chia Teff Salad with Lemon Scallion Dressing from The Healthy Apple
Teff & Oat Flour Yogurt Pancakes from Fresh Tart



7. Amaranth
Like teff, amaranth is a petite gluten-free grain, except that it is native to Peru rather than Ethiopia. Dating back around 6,000 years or so, it was once popular in Mexico, among the Aztecs, who not only incorporated it into their diets, but also worshiped it in religious rituals. A grain so good, you could worship it? We're in!
This tiny, mighty grain does wonders for your health. It's super high in fiber, protein, amino acids, calcium, potassium, iron and phosphorous, and it's the only grain said to contain vitamin C.
How to Prepare Amaranth
Prior to being cooked, amaranth could easily be mistaken for quinoa, but the cereal grain is most akin to oats, sorghum and wheat, making it ideal for hot cereals and porridges. When cooked, it resembled cream of wheat.
Amaranth is also great for gluten-free (or simply healthier) baking, and can easily be added to muffins, breads, crackers, pancakes, and other baked goods. It can even be popped, and enjoyed just like popcorn. It has a slightly crunchy texture that some actually compare to caviar — just the texture, not the taste.
Blueberries 'n' Cream Amaranth Porridge from Naturally Ella
Smoky Amaranth Black Bean Burgers with Roasted Red Pepper Sauce from Vegan Richa
Puffed Amaranth, Pistachio and Dark Chocolate Granola Bars from Making Thyme for Health



8. Buckwheat
Ever had soba noodles? Then you've had buckwheat. Buckwheat looks, acts, and tastes like a grain, but we have to let you in on a little secret; it's not! Why it has "wheat" in the name is beyond us, because it is completely unrelated to wheat, thus making it, you guessed it, gluten-free.
Buckwheat is actually a fruit seed, with an apparent identity crisis. But we're okay with that because it's pretty awesome. It's related to rhubarb and sorrel, and it was first cultivated in Southeast Asia, some 6,000 BCE. Buckwheat is another superfood, full of fiber, protein, potassium, copper, iron, magnesium, zinc and Vitamin B6.
How to Prepare Buckwheat
You can cook buckwheat like you would rice, toast it like quinoa, in a skillet with some butter, and then make a salad out of it, or add it to your homemade granola.
We also love buckwheat flour for baking, because we love the complexity it lends and the warm, nutty flavor it brings to pancakes, waffles, crepes, cookies,  tarts, and the like.
Basic Buckwheat Waffles from Edible Perspective
Kale Noodle Bowl with Avocado Miso Dressing from A House in the Hills
Chocolate Chip Almond Butter Cookies with Buckwheat, Maple, and Oats from The Bojon Gourmet



9. Spelt
Many of us are familiar with spelt flour (or we've at least heard of it), but spelt also comes in the form of berries (like wheat berries). Spelt is a species of wheat, and it was cultivated around 5,000 BCE, and  introduced to the U.S. in the 1890s.
Spelt isn't gluten-free, but it is lower in gluten, making it easier to digest, and it's also high in protein and fiber, and is a good source of iron and zinc. The chewy berries are slightly sweet and nutty, and are similar to barley.
How to Prepare Spelt
Try them in recipes that call for rice or small, short pastas. You can cook the berries like risotto, using two cups of liquid (either stock or water) per cup. Gradually add your liquid as you go along. The berries should be tender, but should still retain their shape and texture, so they're sturdy and chewy.
If you want to cook the berries more like rice, simply add a third cup of liquid (per cup of grains), and cook them longer, simmering them for about 1 ½ hours. And of course, you can always bake with spelt flour, which is most often used in bread baking.
Sarah's Cucumber Spelt Salad from Renée Kemps
Spelt Tabbouleh with Jalapeño Vinaigrette from The Lemon Bowl
Cilantro Lime Spelt Berry Salad from Oh She Glows



10. Sorghum
If you've heard of sorghum, you're probably just familiar with its liquid form, a thick, amber-colored syrup that's a cross between honey and molasses but has had a recent revival in the south, made popular by chefs like Sean Brock. And while sorghum is a stellar sweetener — particularly for roasting veggies, sweetening cocktails, or drizzling over a hot slab of cornbread — it's actually a grain. In fact, it's an ancient cereal grain that's been around for oh, a modest 8,000 years.
Sorghum was first cultivated in Egypt, and then soon became popular throughout Africa, India and Asia. In addition to being gluten-free, sorghum is rife with health benefits. It encourages good digestion and healthy blood sugar levels, and is rich in copper and magnesium.
Sorghum grains grows tall and stalky, similar to corn, and you can even pop sorghum, like you would popcorn. It's also an excellent alternative to wheat flour. So no matter how you enjoy it, it's arguably one of the most versatile grains, especially in this gluten-free grain jungle.
How to Prepare Sorghum
Lightly toasted in a dry pan, sorghum adds a nutty flavor to most dishes or when boiled for just 30 minutes makes a versatile side dish when cheese, veggies and herbs are added. Like several other of our super grains, sorghum makes a great whole grain alternative to popcorn, too.
Sorghum, Sweet Potato & White Bean Salad with Kale Pesto from She Likes Food
Whole Grain Sorghum Pecan Granola from Salted Plains
Roasted Cherry Tomato, Arugula and Sorghum Salad from Cookie and Kate
Get More Information
Beyond Quinoa: The New Ancient Grains | NY Times
Whole Grains 101 | The Whole Grains Council
Nature's Superfoods Whole Grains | Bob's Red Mill
A big thank you to Bob's Red Mill for supplying samples of the grains mentioned to be photographed.



This post is by FoodieCrush contributor Hayley Putnam. Follow Hayley and her foodie tastes and other flights of fancy on Pinterest and Instagram.


As always, thank you for reading and for supporting companies I partner with, which allows me to create more unique content and recipes for you. All opinions are always my own.  
Are you following me on Instagram, Twitter, Facebook and Pinterest? 
Thanks for reading and subscribe to FoodieCrush to have each post delivered straight to your e-mail box.