The sweetness from just-picked garden tomatoes is hard to find year round, so I roast my tomatoes on a foil-lined sheet pan to give them an irresistible candied flavor in this summery caprese salad.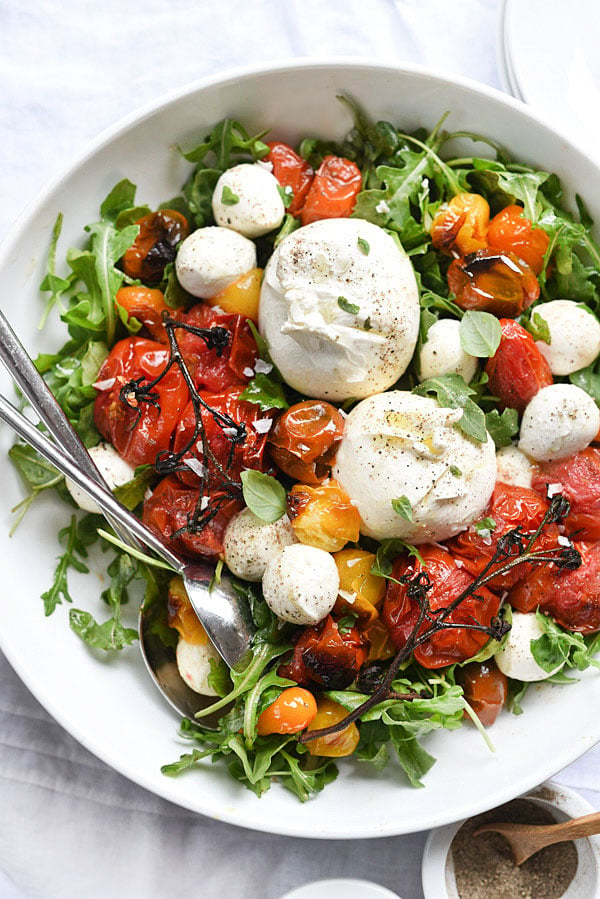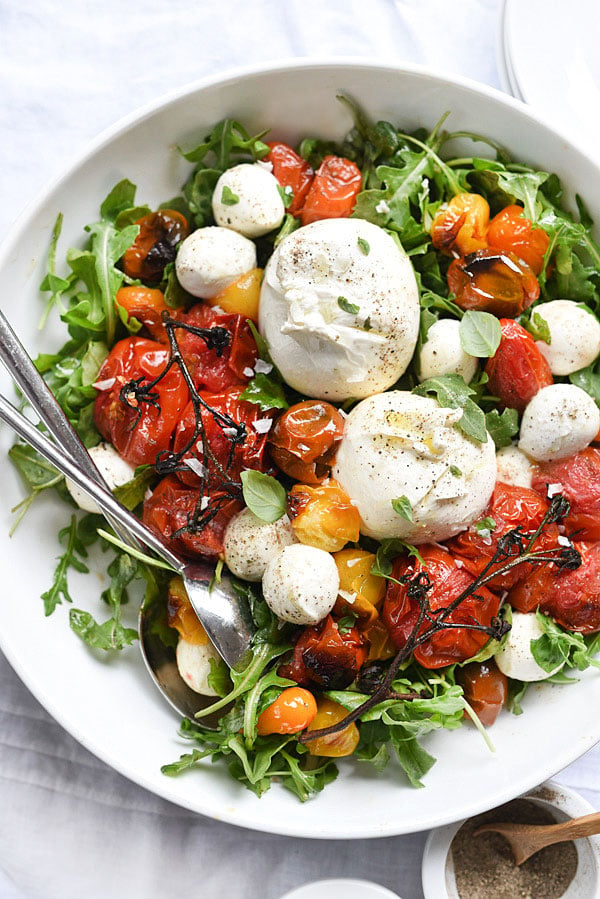 I created this recipe in partnership with Reynolds Wrap as part of their Endless Table series (have you seen their stunning Instagram account yet? Tip: Look at it in grid view!) because I want to share one of my kitchen secrets with you, the secret that produces some of the freshest salad flavors that, SURPRISE! are thanks to your oven!
Caprese salad is probably my hands down, most favorite, go-to salads…ever.
I've made it with avocado. I've made it with cantaloupe. I've made it with quinoa. I've made it as a spiralized zucchini salad and of course I've made it traditional style with burrata and summer's best heirloom tomatoes because what bone fide cheese lover (me!) doesn't love burrata (I do!).
But there's just one issue I have when it comes to making my favorite versions of caprese salad.
Flavorless tomatoes.
We've all been there. Tomatoes are out of season but you still have a craving for that juicy, sweet bite. You disregard your better intuition and after making that first slice with the knife, you whimper a bit after discovering you've been duped by that shiny red tomato's outside, revealing a dry, flavorless inside.
That is when my caprese love goes swiftly downhill.
But I have the key to enjoying sweet tomatoes all year round, and all it takes is a scattering of tomatoes on a sheet pan lined with Reynolds Wrap to get the sweet job done.
The Method: Roasting for Sweetness
I read somewhere that most at home cooks prepare the same 30 dishes over and over again, never venturing from that same list of recipes. I can certainly relate to that notion. It's efficient to rely on what works, the practices we know and the methods we trust.
Roasting tomatoes in the oven is a method I've used in so many recipes here on the blog, for basic recipes like my all-purpose Simple Roasted Tomato Sauce, or to create a simple showstopper like this Rosemary Flatbread with Baked Goat Cheese.
The technique is easy and thanks to Reynolds Wrap, clean up is a breeze. I've roasted tomatoes of every size, shape and color so which ones you choose is really up to you.
About the Recipe
To get the roasting started, simply line a lipped baking sheet or jelly roll with Reynolds Wrap aluminum foil so that it hangs over the sides of the pan, adding another sheet going the opposite way if needed for size. The aluminum foil wrapped baking sheet will keep the juices released from the roasted tomatoes from spilling in the oven and making a mess of things.
Crimp the overhang of the foil tightly along the edges of the baking sheet and scatter you tomatoes on the sheet with a few cloves of garlic. Drizzle with olive oil and season with kosher salt and freshly ground black pepper. You don't even need to peel the garlic, it's really that easy.
Alongside the tomatoes and garlic cloves I like to add a few fresh herbs to my tray of about to be roasted tomatoes. Which ones you use really just depends on what you have handy or in the fridge or if you're lucky, from the garden. Thyme or marjoram are my most likely favorites because of their sturdy nature, holding up well to the oven's heat while imparting major flavor.
This salad doesn't even need a blended salad dressing. The roasted tomatoes will release a lot of juice in the foil lined pan. Don't toss the juice! Instead, drizzle over the salad along with the olive oil and balsamic then season it all with kosher salt and freshly ground pepper. Oh that tomato juice is heavenly roasted goodness!
I used a combination of burrata and cigeline mozzarella balls for this salad because I like switching up the size and shapes of the tomatoes and mozzarella for presentation's sake. If you can't find burrata, just use the fresh mozzarella balls or even fresh mozzarella slices instead.
I love the bitter bite of arugula leaves in this salad. If you aren't a fan, substitute with spinach or watercress or simply forego it altogether.
Because you simply can't go wrong with roasted tomatoes and mozzarella together.
If you make this recipe, please let me know! Leave a comment below or take a photo and tag me on Instagram with #foodiecrusheats and #reynoldskitchen 
Print
Roasted Tomato and Burrata Caprese Salad
The sweetness from just-picked garden tomatoes is hard to find year round so I roast my tomatoes on a foil-lined sheet pan to give them a candied flavor. Then I pair the still warm tomatoes with classic caprese flavors of mozzarella and balsamic to enjoy this salad all year round.
Ingredients
2

cups

cherry tomatoes

4

cloves

garlic

, no need to peel them

3

tablespoons

extra-virgin olive oil

, divided

½

teaspoon

of kosher salt and freshly ground black pepper

4

cups

baby arugula

1-2

balls of burrata cheese OR 8 ounces of small fresh mozzarella balls such as Ciliegine

, or a combination of both

2

teaspoons

good quality balsamic vinegar

¼

cup

fresh basil leaves
Instructions
Preheat oven or toaster oven to 400 degrees. On a small sheet pan lined with Reynolds Wrap Aluminum Foil, toss the tomatoes and garlic with 1 tablespoon of the olive oil.

Add salt and pepper and toss to coat. Roast in oven for 15 minutes and set aside.

Place the arugula in the bowl or on the serving platter.

Drain the water from the burrata or mozzarella cheese balls and add to the arugula then nestle the warm tomatoes with the mozzarella and drizzle the juice release from the tomatoes over the salad.

Drizzle with the olive oil and balsamic vinegar then season with the kosher salt and freshly ground pepper. Toss gently to coat if desired.

Gently tear the basil leaves into smaller pieces and scatter over the salad and serve.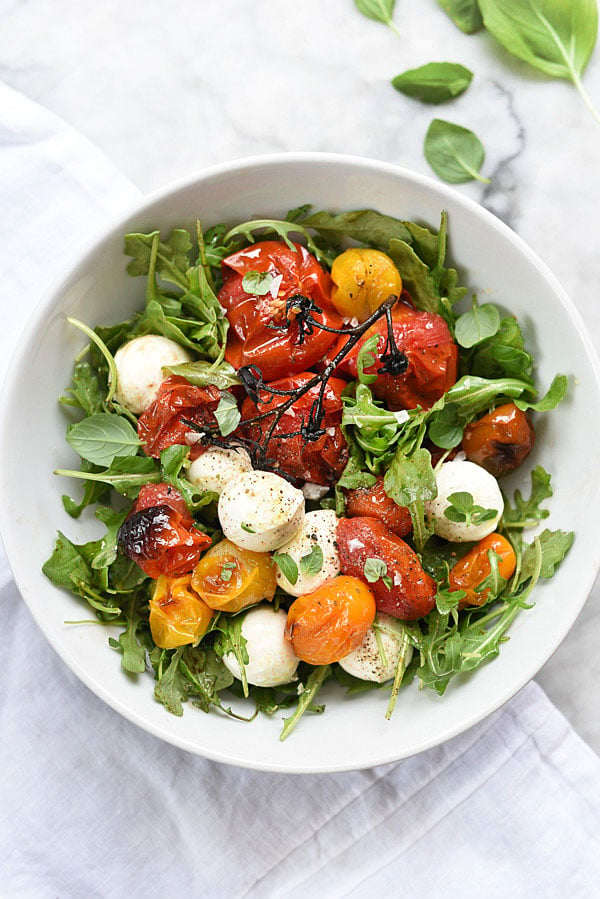 Have a great day, and I hope this recipe inspires you to get into the kitchen and make something good.
This post is part of a partnered series with Reynolds Wrap. As always, thank you for reading and supporting companies I partner with, which allows me to create more unique content and recipes for you. All opinions are always my own.  
Are you following me on Instagram,  Twitter, Facebook and Pinterest? 
Thanks for reading and subscribe to FoodieCrush to have each post delivered straight to your e-mail box.