Greek flavors inspire citrus infused chunks of chicken thanks to a tart marinade that keeps the chicken juicy with a lemony punch.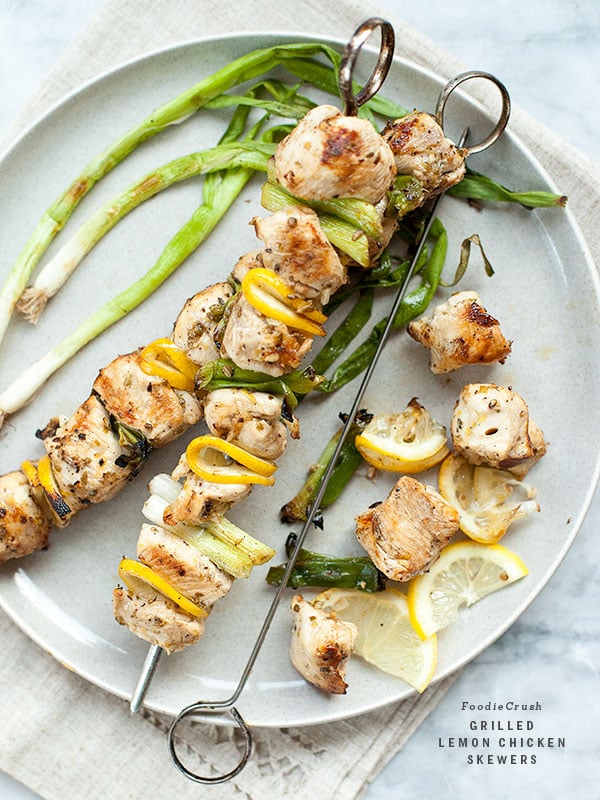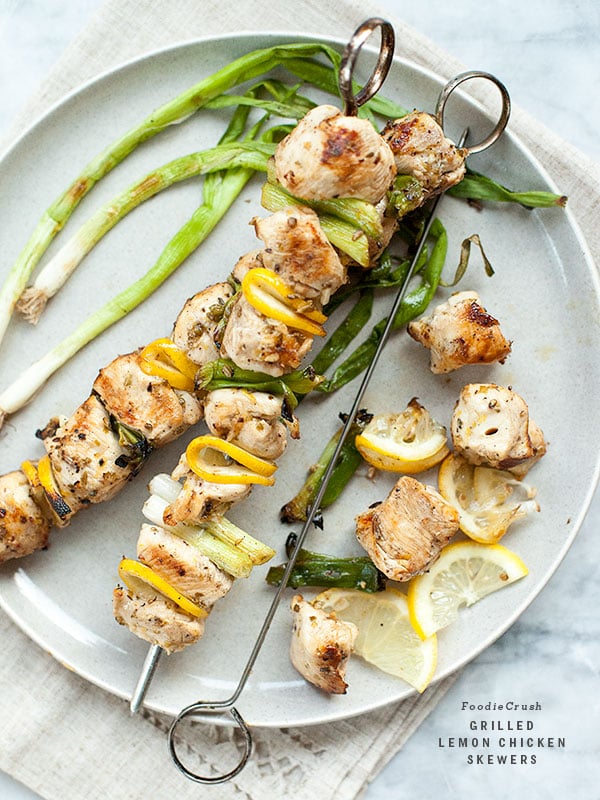 I wish I had a joke for you about when a chicken walked into a bar and met a lemon, some garlic and olive oil and they all got bagged together. But I'm not very good at jokes, that's my Uncle T's job.
But this recipe does indeed call for lounging in a bag. Not sure where the joke went but there's got to be one in there somewhere.
This is one of those recipes that no matter what the season—or how bad the humor—whether I'm grilling outdoors or baking inside, is a go-to, never-fail, crave-worthy dinner option. And the best part is after a good soak—in the bag, in the refrigerator—it's beyond easy to deliver to the dinner table with practically zero clean-up.
Skewers and kabobs can be really, really good, or go really, really bad. Small pieces of meat left unattended can turn into crispy little burned nuggets of unrecognizable char or simply become dry and overcooked when you're distracted by obsessively checking your Instagram feed.
And while I do enjoy a good vegetable laden skewer, more often I like my protein to hang out on its own with just a simple flavoring in between, and set the cherry tomatoes, zucchini discs and bulbs of mushrooms off to their own devices to mingle on their own skewered line.
That's why I'm such a fan of my Greek-inspired Grilled Lemon Chicken Skewers in all of their glorious, lemon-marinaded simplicity
Growing up, one of my favorite dinners from the grill was Greek Souvlaki. But back when I was at home, in the late afternoon if my mom didn't have a plan for dinner, she would ask if I wanted to go with her to the store, which for a bored kid too young for her own set of wheels sounded like a welcome excursion.
My mom would drive up 40th Street to Snider Bros. Butchers where they sold far superior than grocery store variety meats. Stepping out of the car onto the hot, blacktop parking lot, we'd walk into the store's doors with a blast of air conditioning to the face. There was always a flurry of mothers waiting for their ticket to be called, strolling about choosing choice cuts for their families to light up on the grill as only a mom, or a dad, can do.
We'd arrive home from Snider Bros. with a butcher paper wrapped selection of pork and chicken Souvlaki skewers, already marinated and ready to go.
It was a happy day when I'd hear the crackle of the butcher paper unwrap over the hum of the swamp cooler and the mumbles of the nightly news that was always turned on in the kitchen, then hear my mom tell dad to put down his clippers—he is a serious back yard weed eliminator—and get the grill going or we wouldn't be eating until 10 o'clock.
I guess that's where I get my late night dinner schedule from.
Due to the big box stores overtaking much of the butcher market in my little hometown, Snider Bros. sadly closed their doors about two years ago. Lucky for me there is still a location in Salt Lake City that I frequent to get my Pork Souvlaki craving in order and it gives me and Smudge an excuse to take an afternoon drive now that we've become a shopping force to be reckoned with.
But since I usually have all of the ingredients on hand, it's almost easier to make my Grilled Lemon Chicken Skewers from scratch, to the hum of the swamp cooler and the songs of One Direction, than to jump in the car and make that drive.
A few recipe notes:
While 4 cloves of garlic may seem a little vampire laden, I find the amount to be just right given the sauce is used only for the marinade and not for basting. Repeat, do not use the sauce for basting! It's been cuddling with raw chicken and the rule of the kitchen is to toss anything that's had raw chicken relations.
Feel free to switch up the herb combos in the recipe. Tarragon, rosemary and even dill would make a great compliment to the lemon flavors. 
The lemon zest is what really infuses the lemon flavor into the chicken. Don't skip this step.
If the chicken sticks to the grill, its not yet ready to be turned. The chicken will release from the grate when it's ready to flip and if you're of the checking the temperature type, the chicken will be done when it reaches 165 degrees.
No skewers in your future? This is still a great marinade for whole breasts and chicken thighs both on the grill and in the oven.
If you make this recipe, please let me know! Leave a ⭐️⭐️⭐️⭐️⭐️ rating on this recipe below and leave a comment, take a photo and tag me on Instagram with #foodiecrusheats.
Print
Grilled Lemon Chicken Skewers
Greek flavors inspire citrus infused chunks of chicken thanks to a tart marinade that keeps the chicken juicy with a lemony punch.
Servings
5
makes 5 skewers
Ingredients
2

boneless chicken breasts

3

lemons

4

cloves

garlic

, minced

1

tablespoon

dried oregano

¼

cup

olive oil

1

teaspoon

kosher salt

½

teaspoon

freshly ground pepper

7-8

green onions
Instructions
Slice the chicken breasts lengthwise into thirds, and then slice again into about 1-inch chunks. Place chicken chunks in a freezer bag and set aside.

Zest one of the lemons and add to a medium size bowl. Juice that lemon plus one more, add to the lemon zest and then add the minced garlic and oregano and stir. Slowly drizzle in the olive oil and whisk to combine. Add kosher salt and pepper. Pour the marinade into the freezer bag with the chicken chunks and let marinade for 30 minutes or up to 3 hours in the refrigerator.

When ready to grill, prepare the grill by lightly oiling the grate with vegetable oil or cooking spray and set to medium high heat.

If using wooden skewers, prepare them by soaking in water for 10 minutes. If using metal skewers, no prep is necessary.

Slice the remaining lemon in thin rounds and then slice the rounds in half. Trim the bottoms of the green onions off and cut into 1-inch lengths.

Thread one piece of the chicken onto a skewer then two slices of green onion, and then another piece of chicken. Fold a slice of lemon in half and thread next to the chicken, grouping closely on the skewer. Add another piece of chicken, then green onions and repeat the pattern until you've reached the end of the skewer, ending with chicken. Discard any of the remaining marinade.

Grill chicken, turning often so each side browns and has light grill marks, until cooked through, about 10-15 minutes or until chicken juices run clear.
Nutrition
Calories:
204
kcal
|
Carbohydrates:
9
g
|
Protein:
11
g
|
Fat:
15
g
|
Saturated Fat:
3
g
|
Polyunsaturated Fat:
2
g
|
Monounsaturated Fat:
10
g
|
Trans Fat:
1
g
|
Cholesterol:
29
mg
|
Sodium:
498
mg
|
Potassium:
260
mg
|
Fiber:
3
g
|
Sugar:
2
g
|
Vitamin A:
238
IU
|
Vitamin C:
38
mg
|
Calcium:
56
mg
|
Iron:
1
mg
Thanks for reading and please keep in touch by subscribing to FoodieCrush and follow me on Twitter, Facebook and Pinterest. This site includes affiliate shopping links of which I receive a small percentage of sales to allow me to create new and special content like this for my readers, so thank you for your support. All opinions are my own.